If you have a brand new website Bluehost shared hosting is the way to start. Bluehost is one of the best web hosting service provider in the industry, who is famous for its high quality Linux shared hosting and award-winning customer support. In below Bluehost review, we will talk about its features, price value, reliability, control panel, and customer support to reveal why Bluehost is highly recommended by its customers and most of web hosting review websites.
BlueHost – A Introduction
​BlueHost first started operating in 1996, primarily offering shared hosting services. It was founded by Matt Heaton, who was the CEO from 1996-2011. In 2010, amidst much controversy and speculation, EIG (Endurance International Group) acquired BlueHost. Since 2011, Dan Handy operates as the CEO of the company.
BlueHost specializes in shared hosting to this date, but they've now started offering additional types of hosting like VPS, dedicated servers, and managed WordPress hosting. BlueHost claims to host over 2 million websites worldwide, making them one of the top hosting companies on the basis of hosted sites volume.​
Features At a Glance:
Customer Support: Bluehost support system is good. You can get in touch with them via telephone, live chat or email. They take normally 10 to 30 minutes to respond back after lodging any type of complaint or query. Normally people have no issues in dealing with their customer representatives to solve their issues.
Refund Policy: As normally nowadays every company is having 30-day money back guarantee policy.

Hassle-free scalability

allows you to upgrade your plan to a VPS or a dedicated server without having to face the hassles of moving your website.

Free, unlimited email accounts

for the top-end plan

.

Email storage is within your total account storage. There are some limits as to how many emails in an hour you can send, so if your site is demanding in terms of sending emails, use some third party solutions like EmailOctopus.

Feature-packed cPanel

– integrated with CloudFlare, Page Speed Grader, Google Apps and a lot of other tools. Their custom user interface looks a lot better than the regular cPanel default skin.

Free domain

(for 1 year) along with your shared hosting plan
Hosting Plans : Get Coupon & Discount Offer
Bluehost is a renouned hosting company. Every internet marketer want to get best hosting for their blog which force them to go for Bluehost. We have got some amazing offers for Bluehost buyers that includes Bluehost coupon code and discount. To know more about these offers let's get details of their hosting plans
Bluehost is providing three types of different shared hosting plans with different prices to meet all types of requirements of the users. They have manage to provide their customers package which starts from as low as 3.49$/month only (price may change you can click on the banners to know accurate price). There there types of Shared Hosting Plans are the Basic plan, Plus Plan and Business Pro.

Bluehost shared hosting comes in three different packages, and you can choose the one that is right for you according to your unique needs.
If you want to create only one website, you should buy the starter package.
If you plan to host multiple sites, go with the "plus" package.
If your needs include using HTTPS, you should go for the business pro package which comes with one dedicated I.P and SSL.
My recommendation for most users would be the "plus" package as it offers everything you need (unless you are a business user in need of the dedicated IP and SSL).
Bluehost has a variety of options for those clients who want to be managed WordPress hosting services. Just scroll down if you were looking for best managed WordPress web hosting online.
Managed Bluehost WordPress Hosting Review
The company provides 4 types of managed WordPress hosting plans .
Amazing Plan !! The pricing of the Enterprise plan is 85$ per month (price may change you can click on the banners to know accurate price). Not Bad at all if they are providing such a great features with the managed WordPress hosting service.
VPS Web Hosting Review
This hosting company has 4 VPS plan which has different range of features and prices.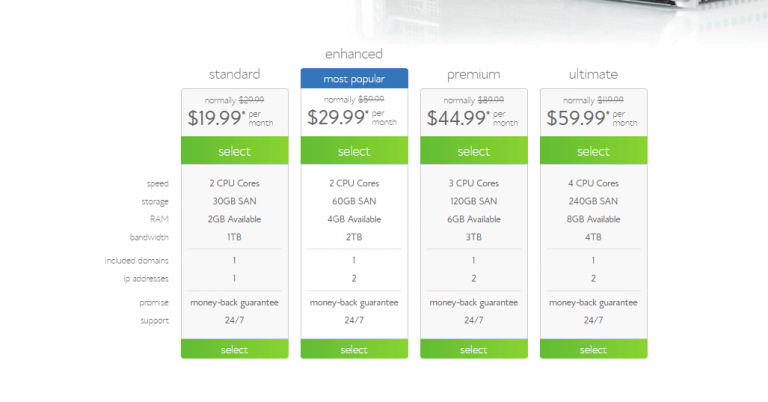 For those people who want to run big websites on this server will not feel or regret after buying this Ultimate VPS plan as this is a complete package of all the features.
AHHH !! What is this ? You have not yet satisfied with all the above plans.
Don't Worry!! Bluehost Company is not only big by their name. Means they know how to serve every category of clients with their different types of products and services.
Yes, they have dedicated hosting plan will give you dedicated services and make you the owner of your owned server.
They have one more service which they offer to their users are Cloud Sites.
Have a look below
Cloud Hosting Review : Plans Features & Prices
Grab Bluehost for $3.95 – 2/3 Year Term
You can sign up for a 2-year or 3-year plan which will allow you to grab your hosting from Bluehost for just $4.95/month or $3.95/month respectively. With every hosting package you will be entitled to one free domain name.
Here is a special deal for TheGuideX readers to grab Bluehost hosting for only $3.95 and $4.95. ThisBluehost discount will not last forever, so if you're planning to grab a decent hosting package for your new site, grab your Bluehost plan now. Remember, you will also be entitled to a free domain along with your new hosting account.
Sunny Kumar is a professional Blogger and Affiliate Marketer from New Delhi. He has been blogging for 2 years and get featured on various blogs and websites.
He uses his blog
TheGuideX
to provide quality content & tutorials to guide newbie bloggers improve their blog. His blog mainly focuses on Blogging Tips, Affiliate Marketing, Social Media Marketing, Search Engine Optimization, Traffic Building and much more.
Latest posts by Sunny Kumar (see all)
Summary
If you are searching for Bluehost Black Friday Cyber Monday web hosting deals, offers, discounts and coupon then we will help you to save your money.