Are you thinking of creating a landing page in WordPress? If yes, then this article is for you. Below we have shared how to create a landing page using Elementor in WordPress. Follow the below instructions carefully, and you will be done with your landing page. You can also use other tools, for instance, systeme.io for creating your landing page.
In this modern era, online presence has become a vital component. Youth worldwide do most of their shopping online, and they spend most of their time browsing the internet. Not only that, adults and even older people too are getting fascinated by the online platform. The reason for telling all that is simple; it proves the internet drives people.
Now, most companies, manufacturers, and sellers are shifting to online platforms to sell their products and do business. If you are willing to take your business online, the social media presence is crucial, but another important thing is having a website.
A website is just like an online brochure of your products or business. It contains all the different information about the business and allows users even to purchase it. In technical language, a website is a collection of web pages. One of the most important pages is the Landing Page.
As you visit a website or click on any link, that page that opens first is the landing page. It needs to be appealing and informational as it is the first thing that a customer sees when they visit your website. Through this article, we will let you know how to create a landing page in WordPress.
But before that, let us know in detail what a landing page is.
What is a Landing Page?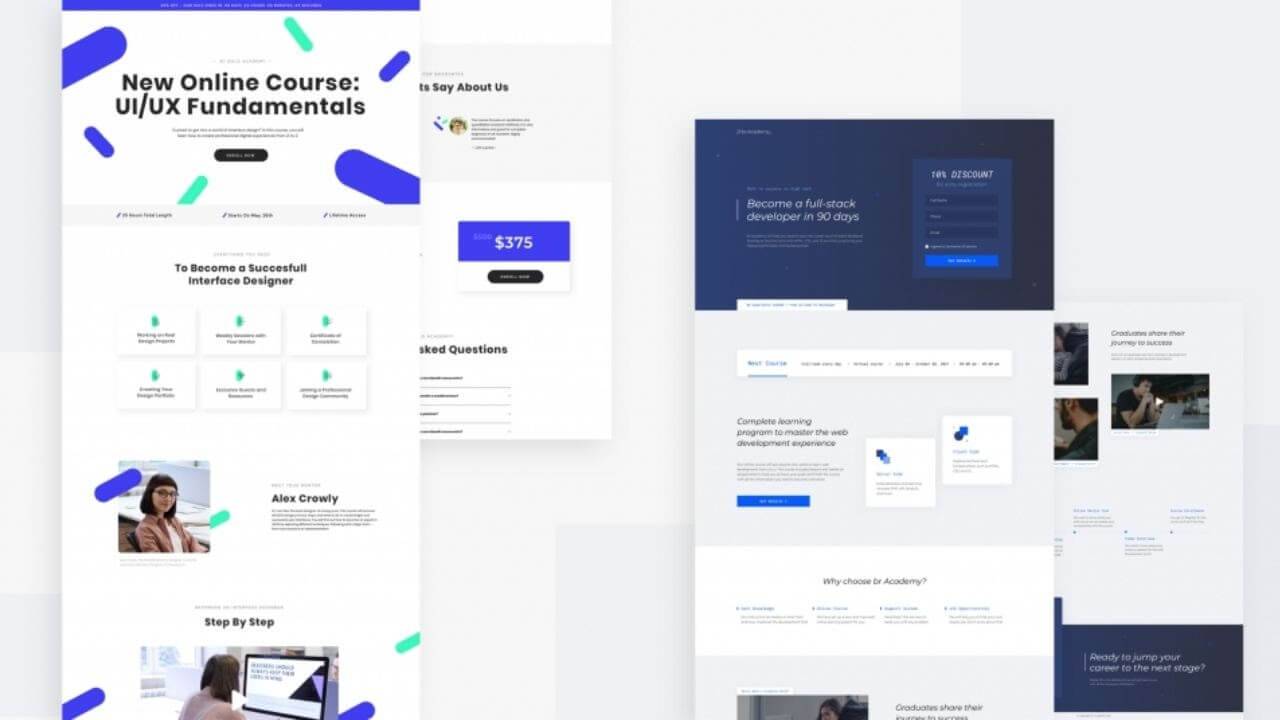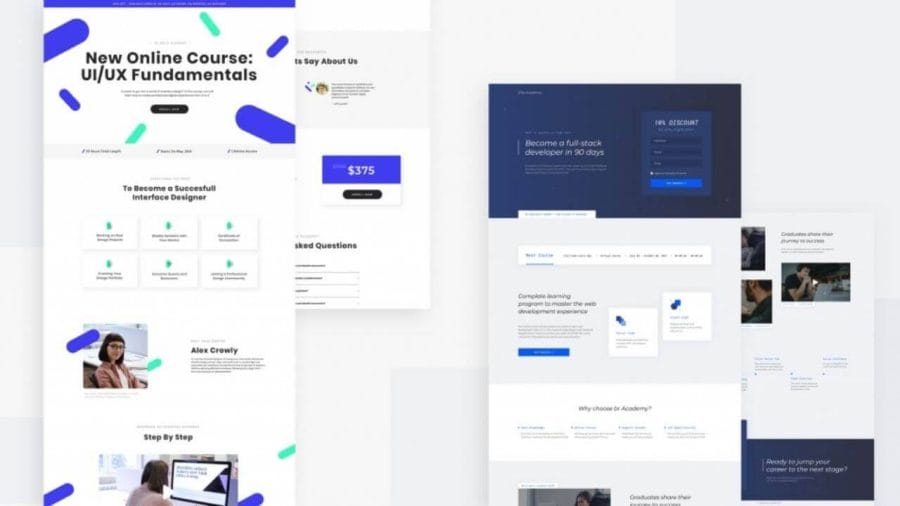 When a user clicks on your ad, website link, or email, the page they land on is known as the landing page. The main purpose of the landing page is to convert the potential users into your customers.
Your landing page must be intriguing and exciting. It is like bait to attract more audiences and users. Once the user has landed on this page, they are asked to either sign up or buy any product. If they initiate the step, then know that your landing page has been successful in its purpose.
The landing page should be directed towards one main purpose. For instance, if you have a website that sells plants and planters. If your landing page only encourages people to buy the products, there is a chance of increased traffic. But if you also advertise about your blog posts or social media and buy products on your landing page, then your audience may get diverted.
So, landing pages are built to increase sales and direct people more towards your business. But many people confuse the landing page with the home page, and these two are different. Let us understand the difference between these two pages.
What is the Difference Between the Homepage and a Landing Page?
A homepage is the first and the front page of a website that users will see when they enter the domain name or URL. At the same time, a landing page is a standalone page where users land from some third-party traffic sources like an ad or link.
The homepage encourages the visitors to engage further with your website and explore other pages and products. Compared to the landing page, the homepage offers more links and provides users with more choices.
Technically a landing page is also referred to as a "squeeze page," that is, it is built for converting visitors into potential buyers. It has a precise design with only a few links. It is designed to make a purchasing decision or ask the user for information for future outreach.
The main difference between these pages is that you can create only one homepage for your website, but there is no such restriction for landing pages. You can create as many landing pages for different purposes as you want.
For your paid advertising campaign, you can have a particular landing page and, for email and social media visitors, a different one. One more thing that you can do is, create a landing page for a particular service or product.
So, these were the few main differences between the landing pages and the homepage. All that being said, now creating landing pages is very straightforward. With WordPress, you do not need CSS, HTML, or PHP to create innovative and appealing landing pages.
If you want to know how to create a landing page in WordPress, continue reading this article. We've got the best method that has been proven effective and useful. It is easy to operate and affordable for all kinds of businesses. It is ideal for boosting your business.
But before jumping on these methods, you have to be sure what kind of landing page you want. There are different kinds of them, and please take a quick look at them and decide your choice or need.
Types Of Landing Page
As discussed earlier, we can create many landing pages for various purposes. It is the page where the user is directed after clicking on them.
There are different types of landing pages. Let us know about them one by one.
1. Squeeze Page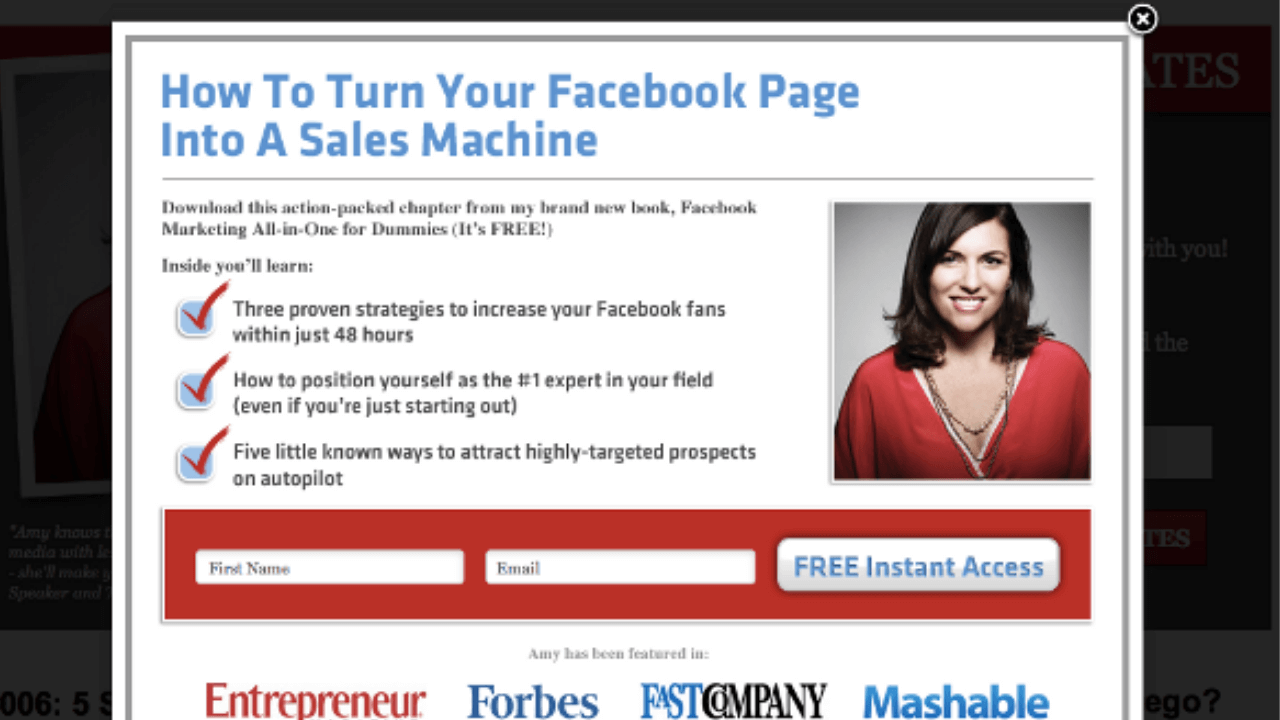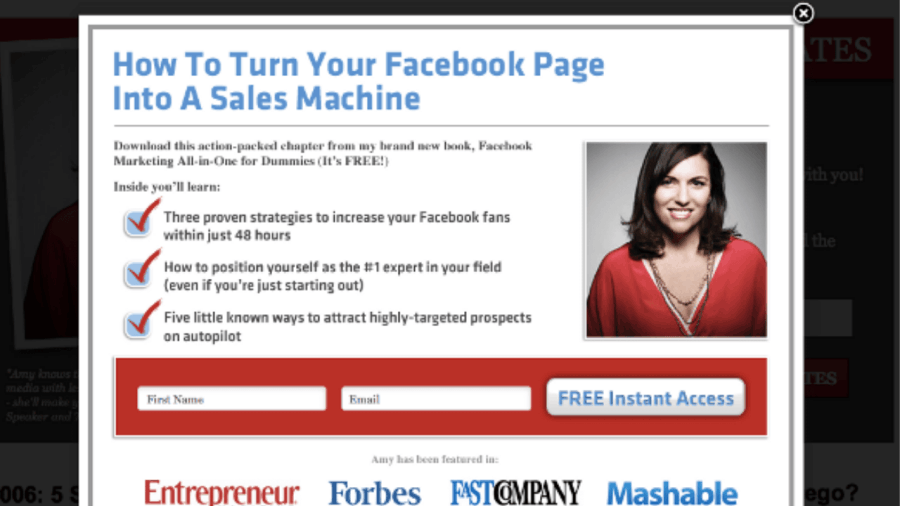 A squeeze page is a type of landing page that is particularly developed to obtain the email addresses of potential customers. It is a way to squeeze visitors in providing their email, which is why it is known as Squeeze Page.
They use incentives, scarcity, and other psychological tactics to gain possible customers. Despite various advertising aspects that have been generated in past years, email still holds a prime position. It helps the companies contact their visitors and use it for future marketing.
A squeeze page usually has only one call-to-action button and no further investigation. You can find a headline, copy, and a few images on a squeeze page.
2. Long-Form Landing Pages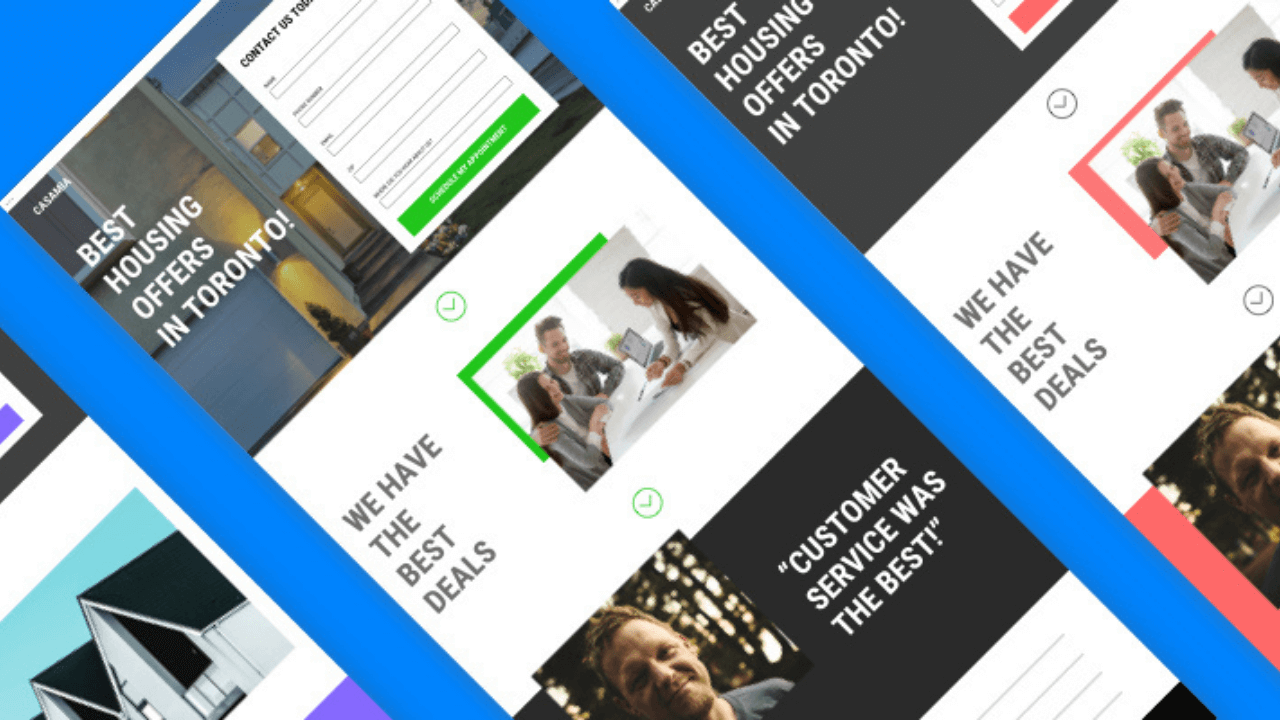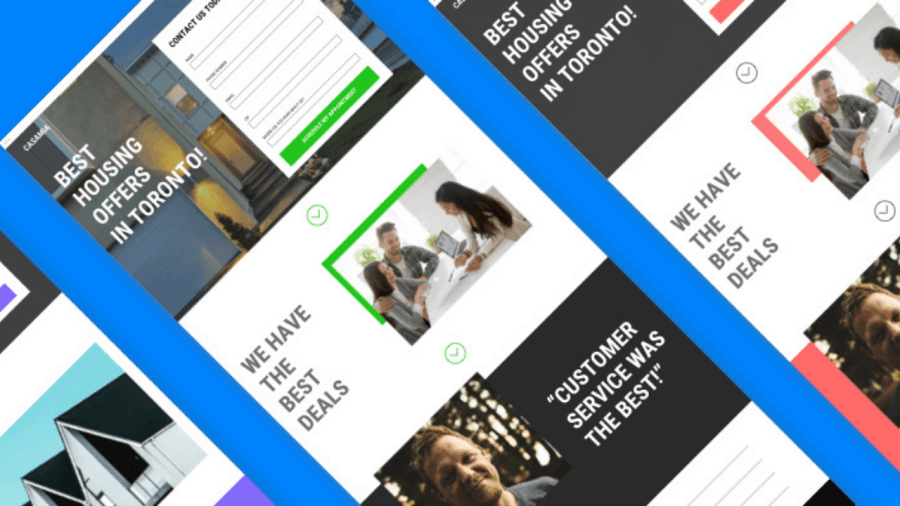 Long-form landing pages are also known as sales letters. They are much like infomercials for digital marketing. These pages focus on a product's advantages and keep emphasizing it until the visitor is convinced to buy the product from that particular company. The long-form landing page provides comprehensive information about the offer on products.
The more time visitors spend on the long-form landing page, the greater is the chance of them being converted into potential buyers. You will find the written content more on this page in place of images.
3. Click Through Landing Page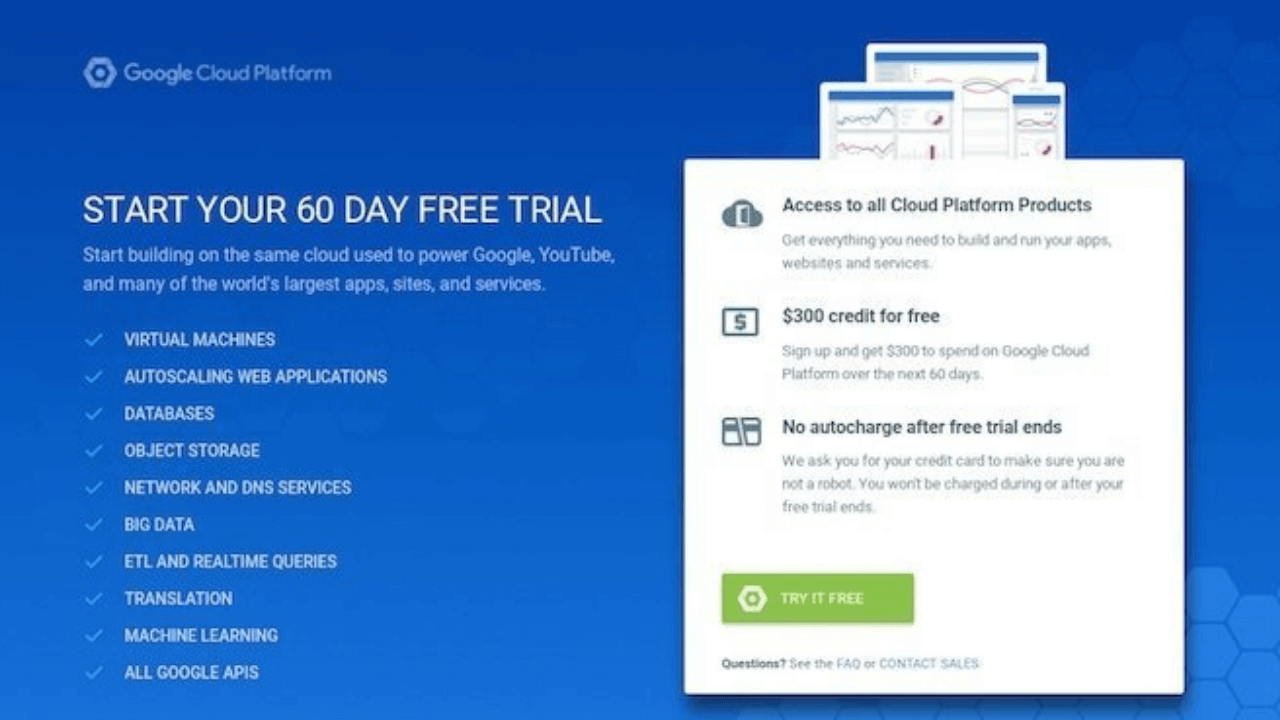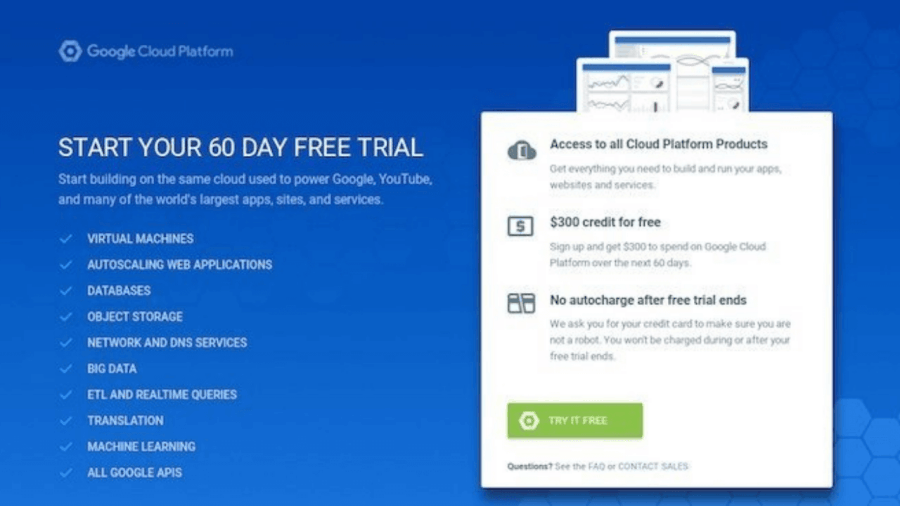 The click-through landing page is a complete insight into the product. It provides information on the offer with the advantages of the product or service and a general description of it.
It does not have any off-navigation process. On this page, you will find a single button that takes you to the page to make a purchase. It is best to keep it precise and short and at the same time convince the visitors about the advantages of the product or service.
You can assume these pages as a middleman between the ad and your cart. It attracts visitors with a unique value proposition to convert them into buyers.
4. Product Details Landing Page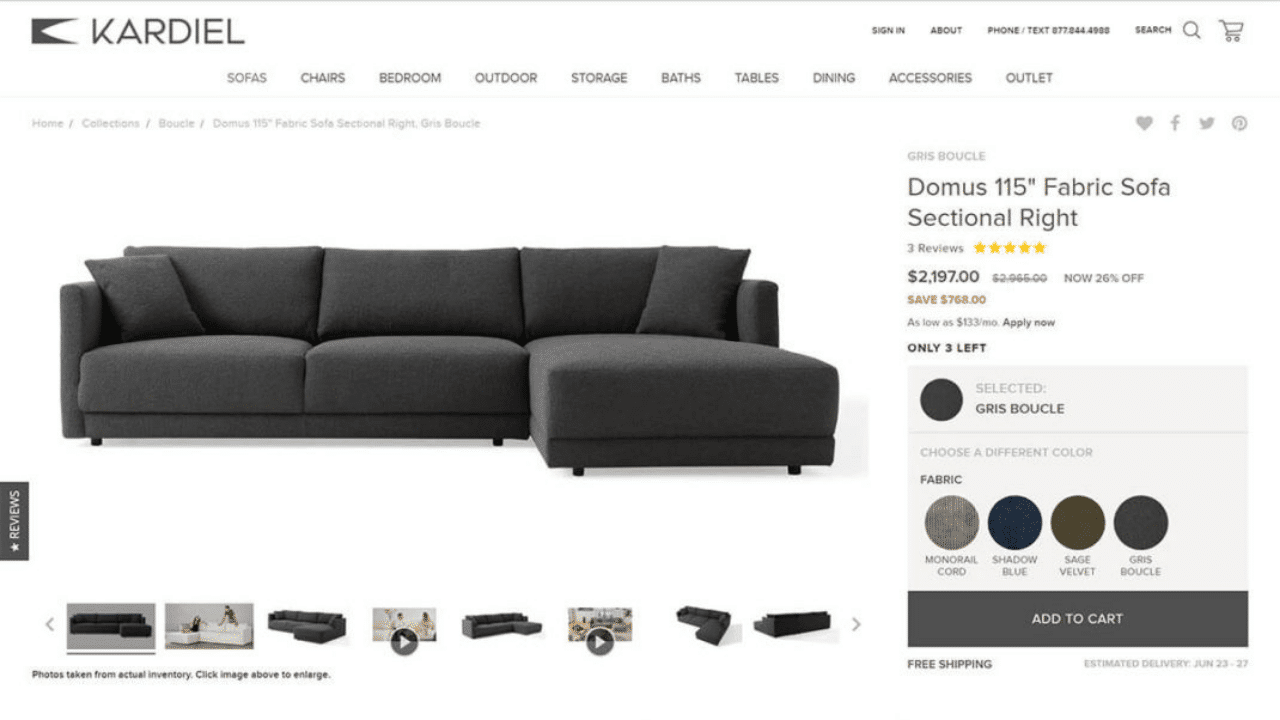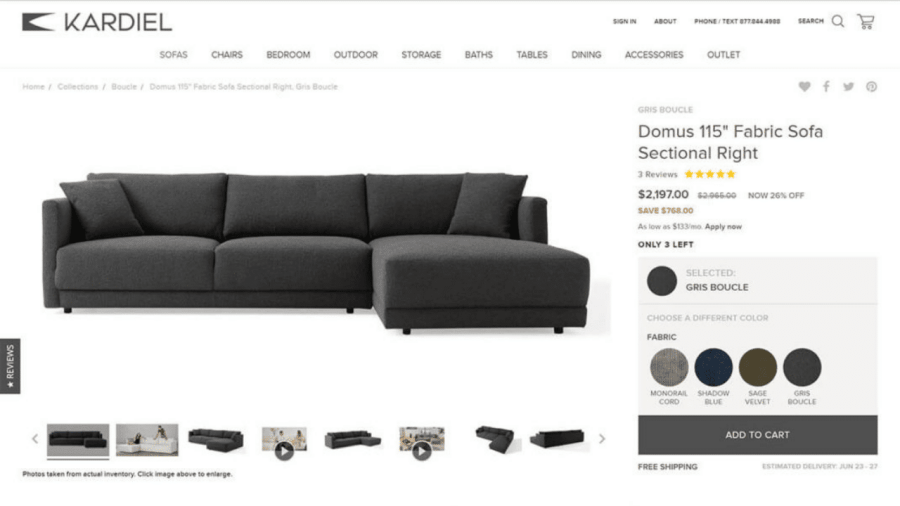 On the company's main website, you can find the information page of the product. They have all the essential details about a product or service. Visitors can efficiently study them to decide whether they want to purchase.
A product detail page is a web page on a website that represents the description of a particular product. You can learn about size, color, price, shipping information, reviews, and other relevant information.
5. Video Landing Page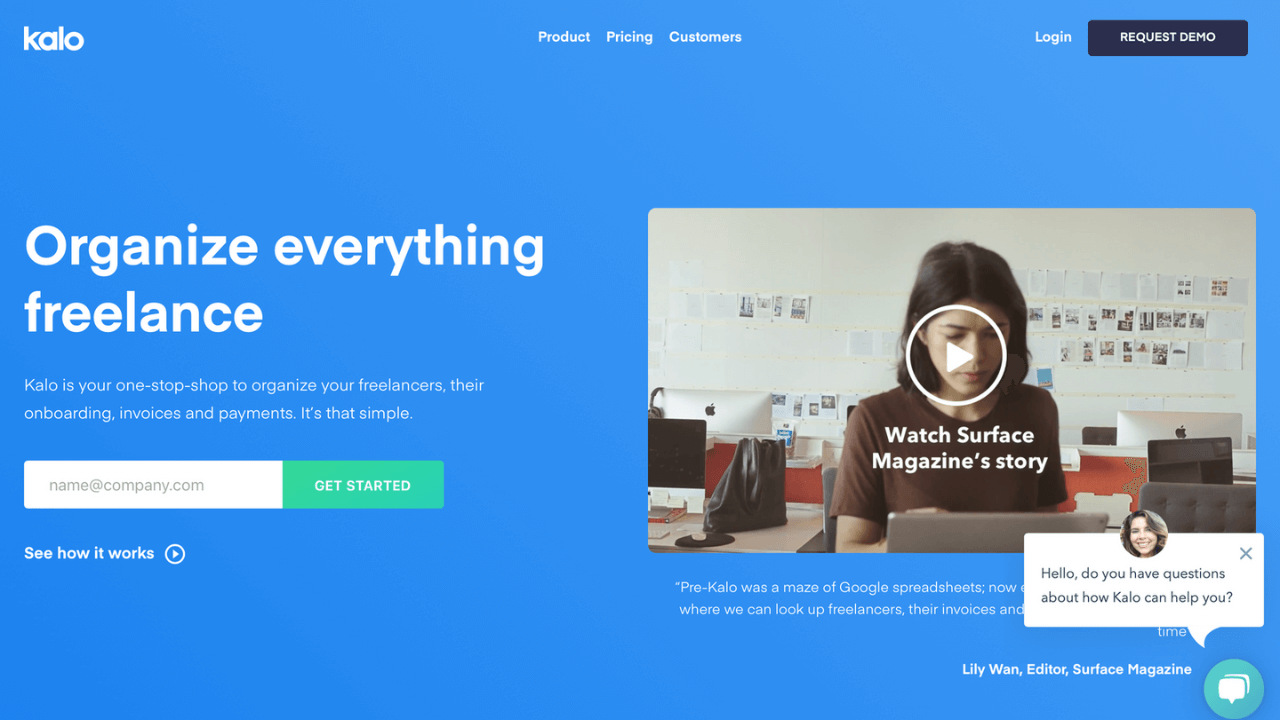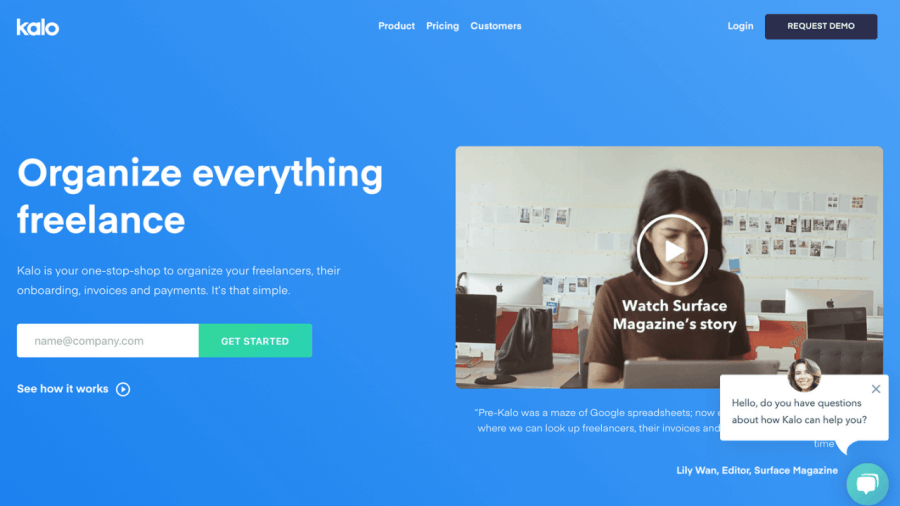 A video landing page is a type that has only a video or sometimes some relative content. The purpose of the video is to describe the products or services altogether. It should not be boring; the video should gain the viewers' attention and website them about the respective product.
The most important feature of a video is that it should be short and precise. The length will bore the viewer, and they might get confused about the product. You can also include some images and other copies with headlines and a video if you like.
That was all types of landing pages that you can create. Now step by step, let us look at how to create a landing page with WordPress.
How to Create Landing Page Using Elementor?
There are various possible methods available that help you generate the landing page. A specific landing page is handy when you want to display ads online like google ads and social media ads like Facebook and Instagram.
We selected the most effective and tested way through Elementor. It is the most used WordPress plugin for designing landing pages. To create a landing page in WordPress using Elementor, follow the below steps.
First login into your WordPress site, for this, type the "/wp-admin" to your domain name. For example, if your site's domain is example.com, then type example.com/wp-admin and press enter. You will be directed to the WordPress login page, and there enter the username and password.
The first step to creating a landing page is to install a theme. For it, go to your dashboard and hover your mouse over "Appearance," and click on "Theme," and then click "Add New" found on the top of the screen.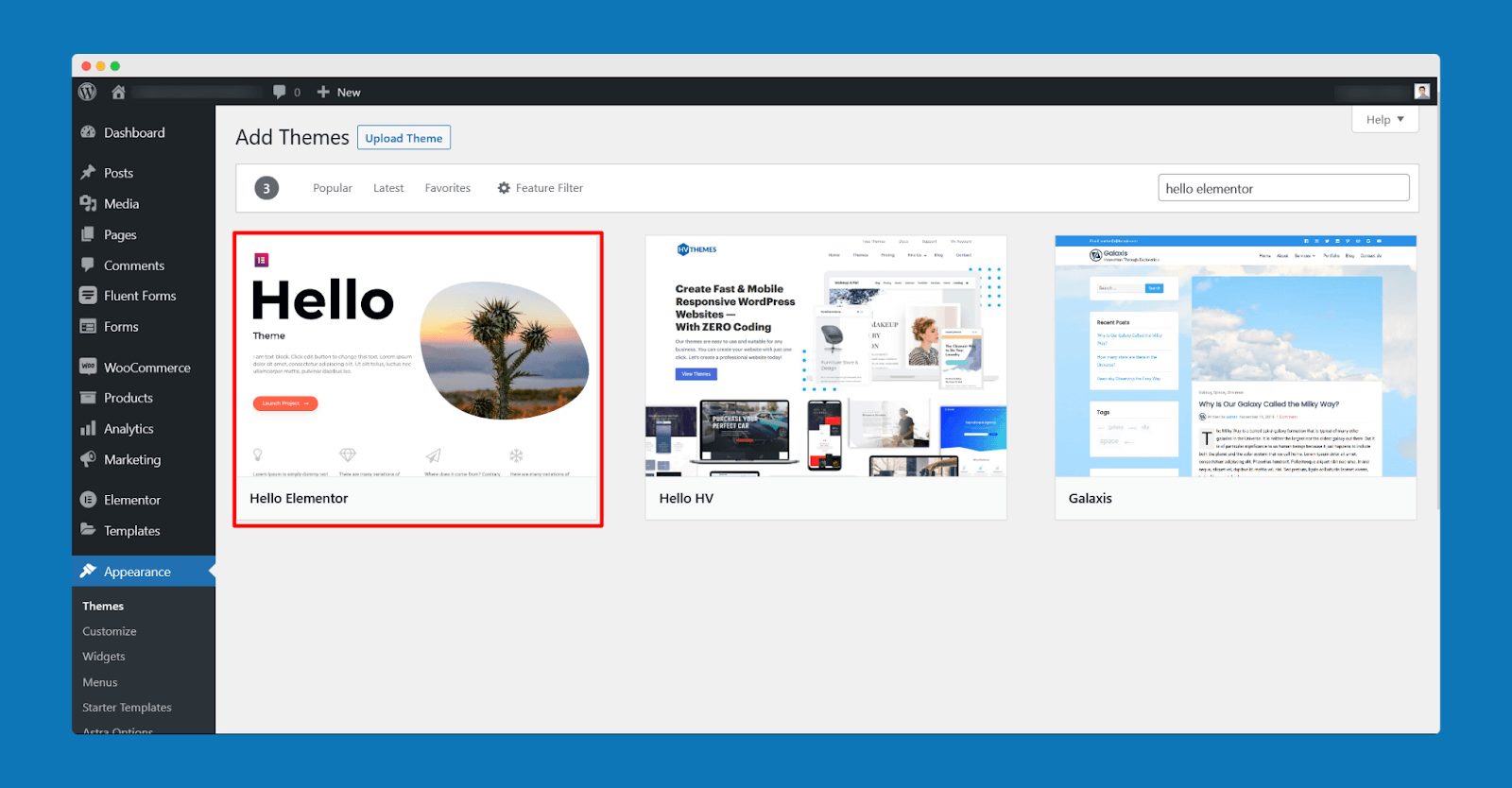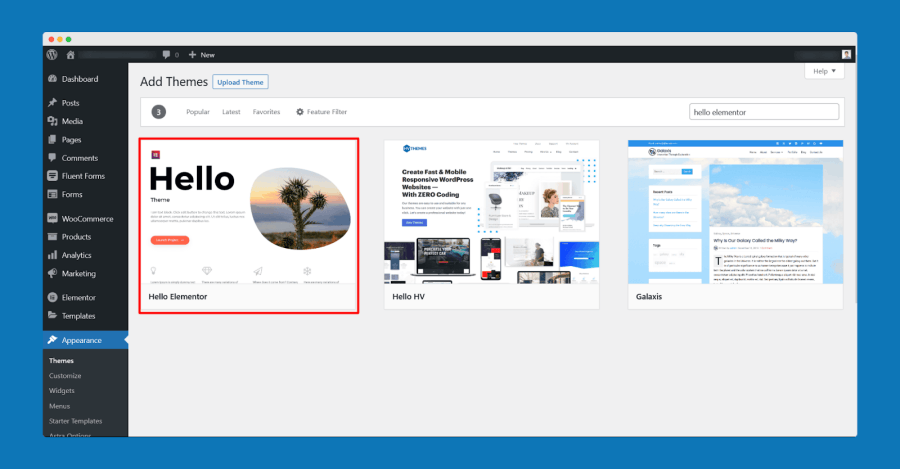 On the right side, you will find the search box through which you have to search the theme "Hello Elementor." The search result will display click on "install" to launch the theme and then click on "Activate."
Note: You can use any theme, it is not necessary to use Hello Elementor.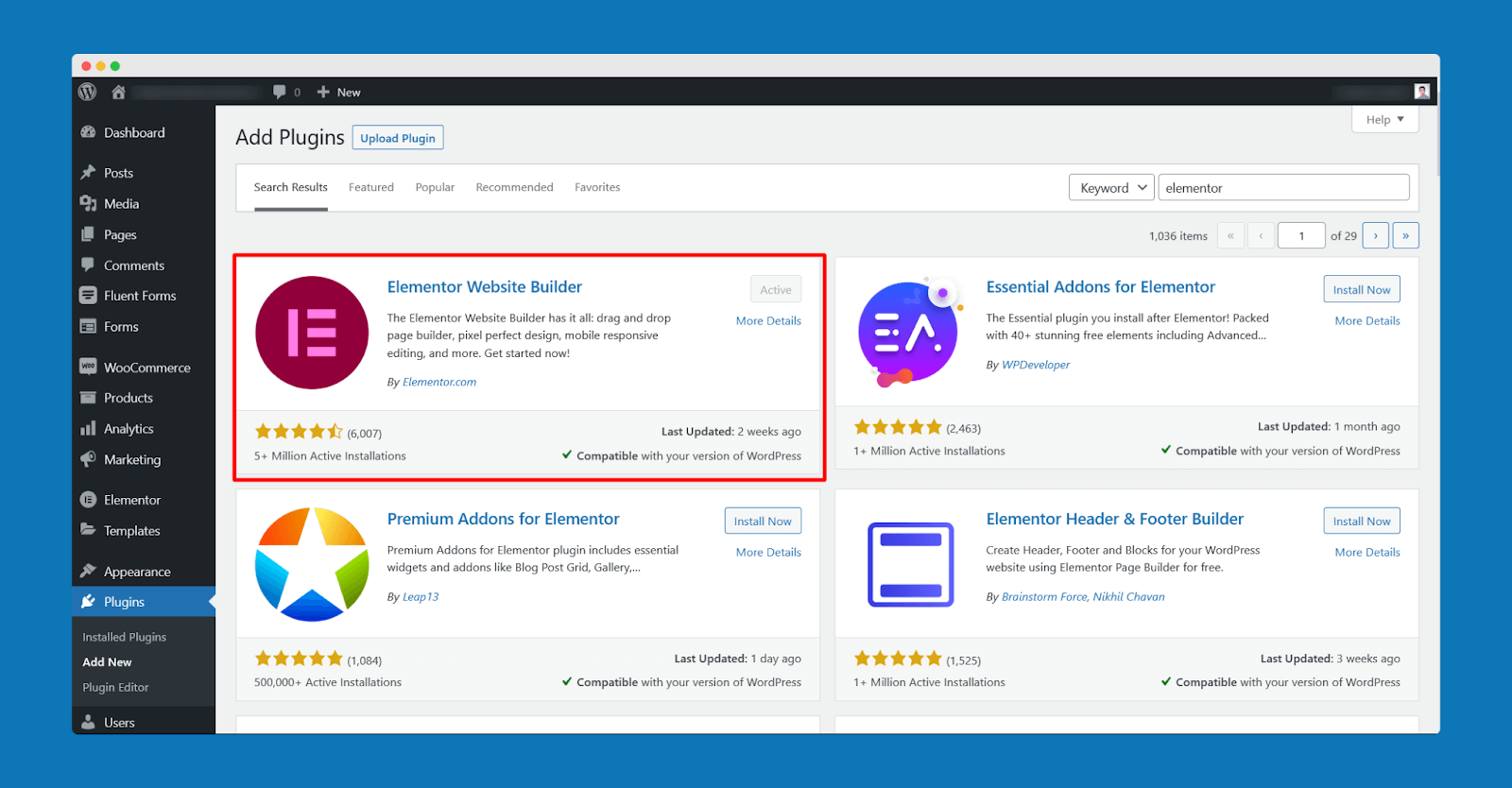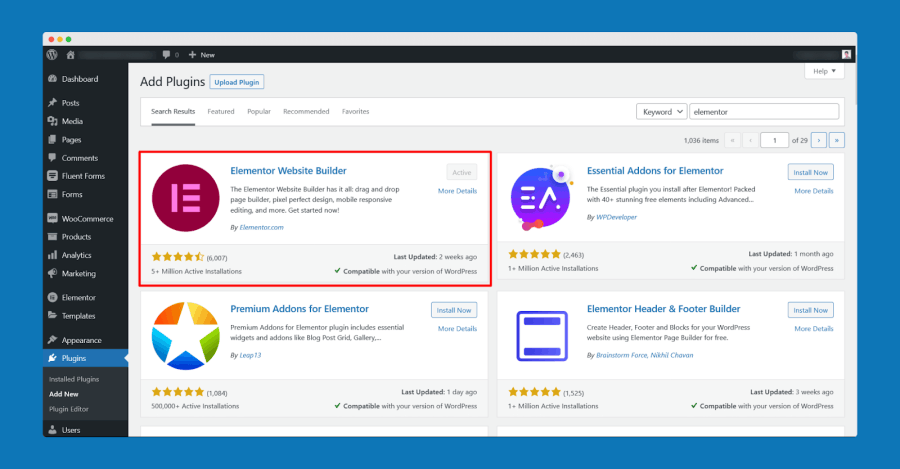 Once the theme is installed, the next step is to install the Elementor plugin. To install it again under the dashboard, hover the mouse over "Plugins" and click "Add New." It will direct you to a page; search for Elementor. You will get the plugin. Click on "Install Now" and "Activate" to launch it.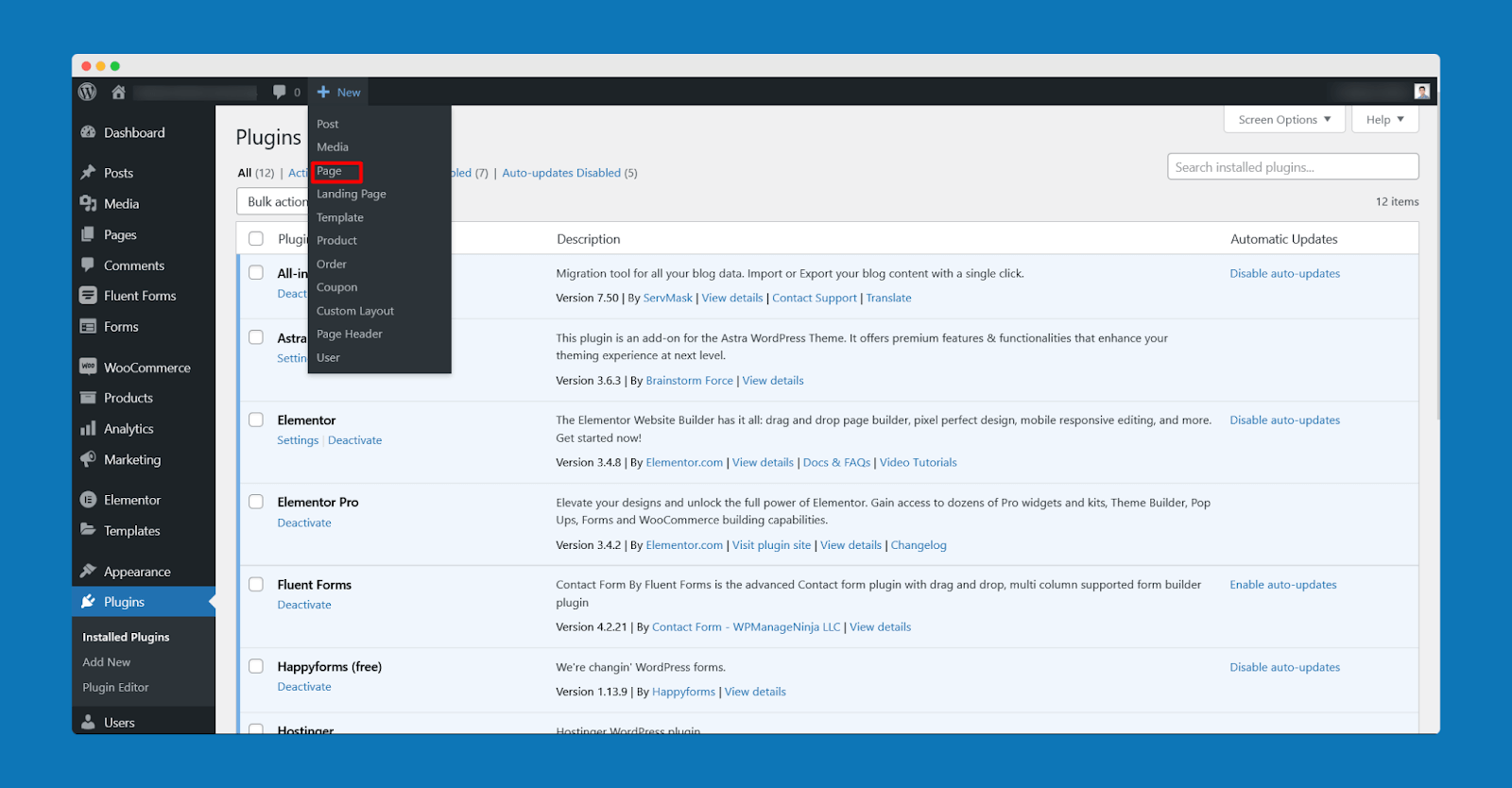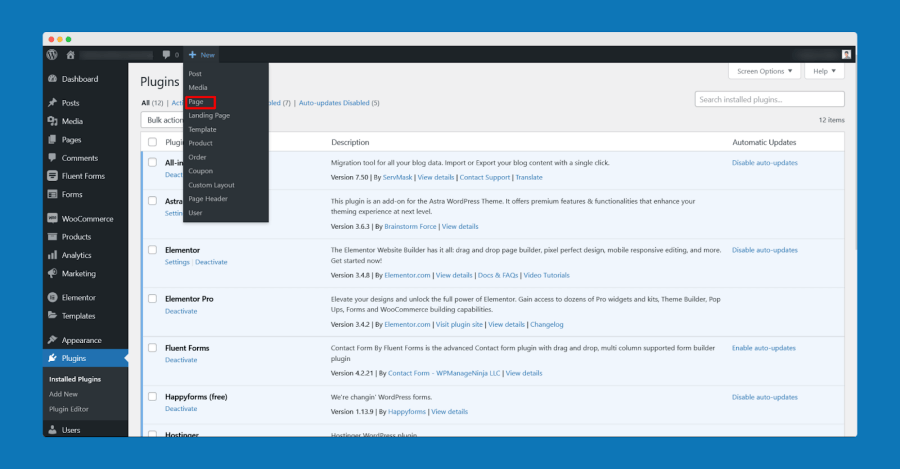 Once the plugin is installed, you will have to choose a design for your landing page. You can either create the landing page from scratch or choose the pre-made templates. Firstly, you will have to create a page to choose the design. For that, on the topmost of the screen, you will find the option "New" just beside your domain name. Just go to it and click on "Page."
A page will open in place of "Add Title" type the name of your page, and then on the top, click on "Edit with Elementor." You will be directed to a page at the bottom of which you will see a setting icon; click on it. Then change the "Page Layout" from default to "Elementor Canvas," and you will receive an empty layout. On that same page, you will see a file icon; click on it to import the design.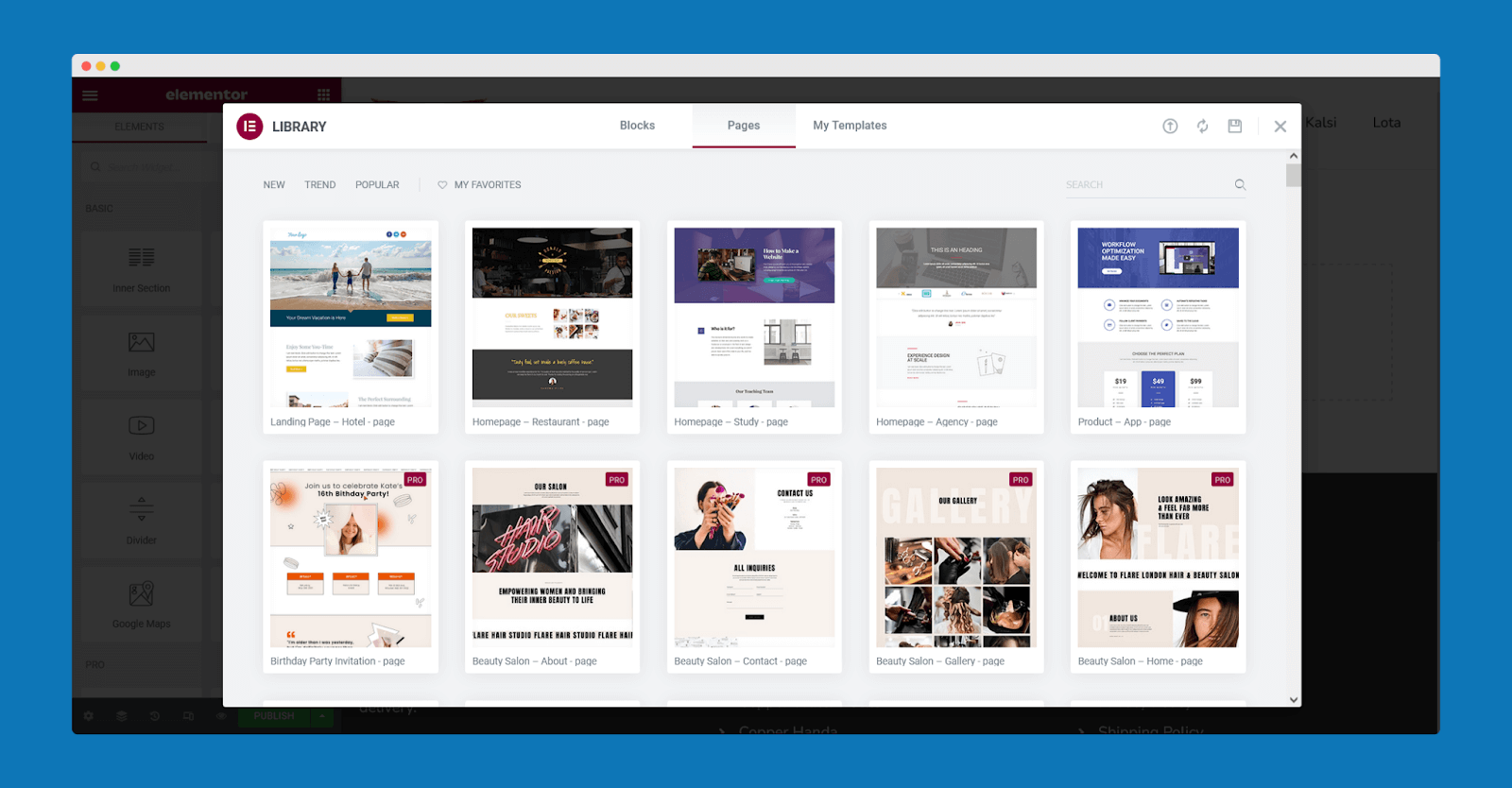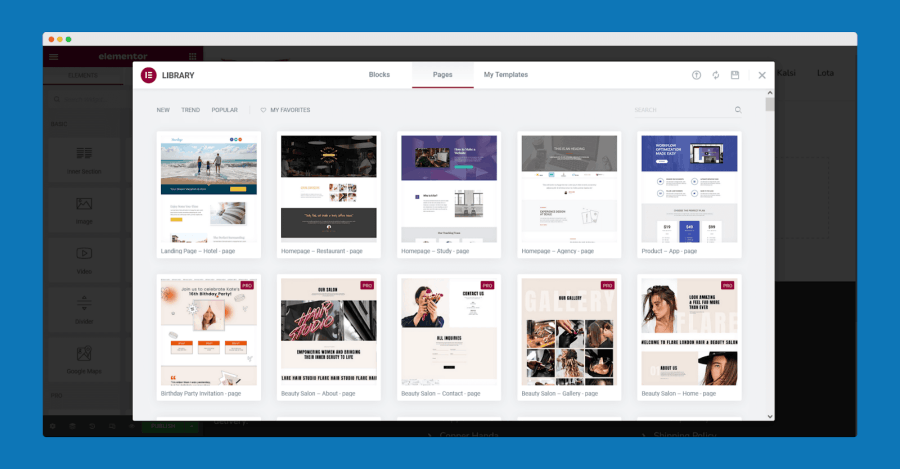 Search for the "landing page" in the search box and select the one you want, just on the design you want. You will get a preview of the design, click on the "Insert" option to add it, and you will receive the entire design.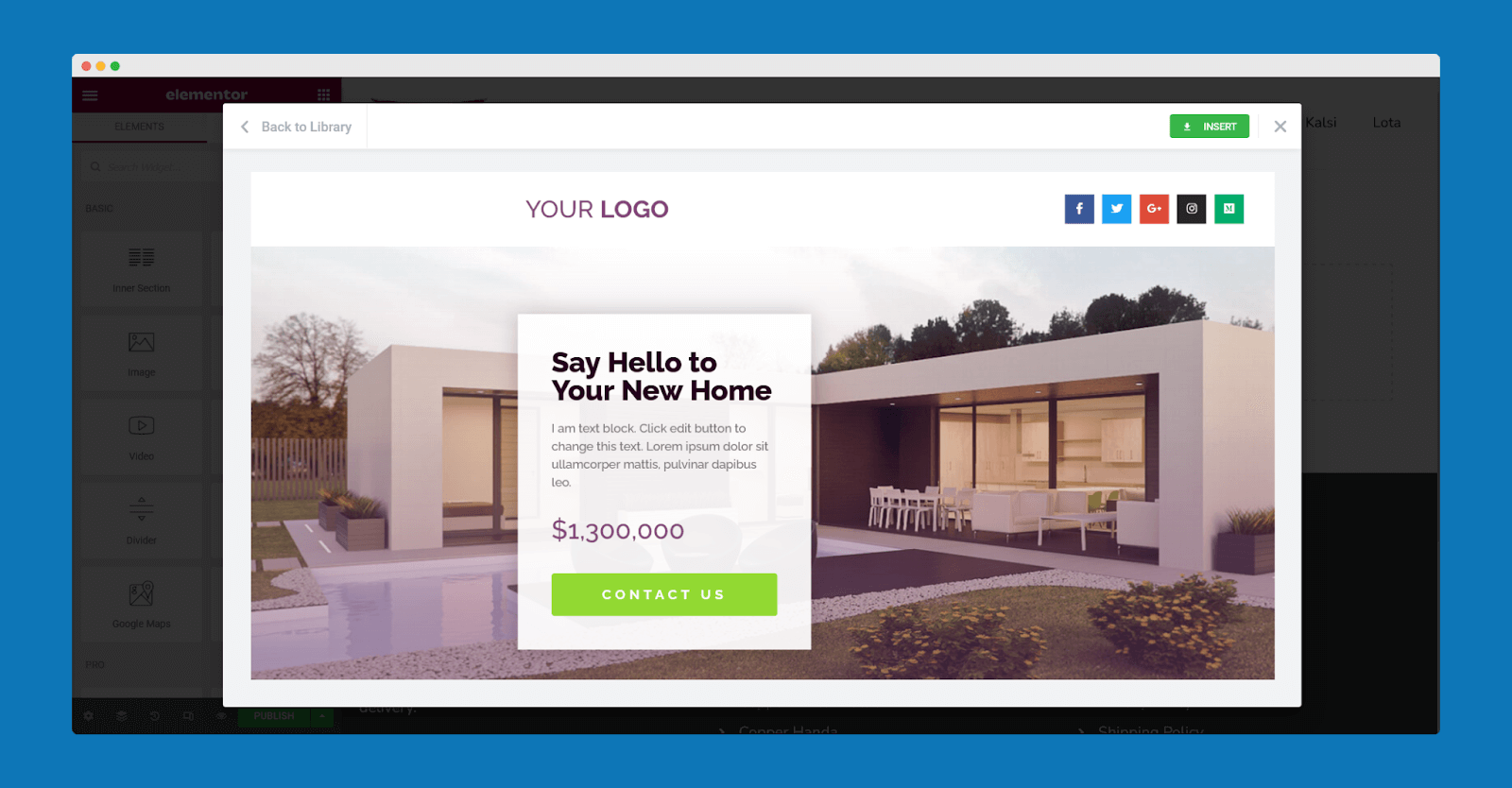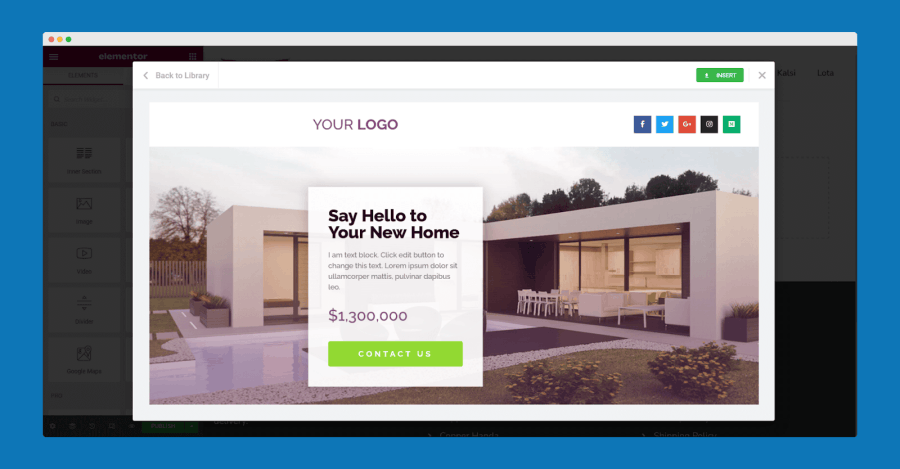 You have a design now, you are free to customize it. To change the background image, "Right Click" on it and then select the "Edit Hero" Option. Go to the Style tab, and under the image option, click on "Choose Image" and then select from the computer.
Note: The method we have shared to design a landing page with elements is just an example. You can create and edit your landing page template in different ways. There are hundreds of editing options.
To change the text and color, select the desired section and make the changes from the left side box. You can also change the video in the same way as you changed the background images and also add the email sign-up form.
To remove any section, go back to Elementor and click on the cross button of the desired section. To add a new section again, click on the File option and click on the "Blocks" present at the top. You will find different sections from which you can choose.
Do all the necessary changes, and once it is all done, you can preview the landing page. For it, go to Elementor, and at the bottom, you will find a preview option that allows you to see how your landing page will look on desktop, mobile, and tab.
If you are adding an email signup form, then you also need to add the email that your visitors will receive when they fill up the form. You can find the whole process online. Once everything is done, click on either "Publish" or "Update."
Frequently Asked Questions (FAQs)
In this article, we have covered all about the landing pages and how to create a landing page in WordPress. If you still have some doubt relating to it, you can check the frequently asked questions below:
1. How Do I Create A Landing Page For Free?
On clicking on ads or some e-commerce link, the page that you land on is known as a landing page. Its purpose is to encourage and excite visitors to purchase from a particular website.
You can create a landing page in WordPress for free. The Elementor plugin is a landing page builder that lets you create an appealing and beautiful page without charges.
We have already mentioned the detailed steps to create a landing page using Elementor, if you want you can also follow similar steps with other page builders like Divi, Visual Composer, etc. Follow the complete method and create an intriguing page to boost your business.
2. Do You Need A Website To Create A Landing Page?
This is one of the most asked questions about the landing page. Many think that you need to have an elaborate website for creating a landing page. But in actuality, that is not the case.
You can create a landing page, and for that, you don't need to have a website. Nowadays, social media has become a great way to sell your products or contact your customers. Therefore you can create a landing page to direct your audience to your social media.
This helps increase your audience, subscriptions, followers, and customers and overall enhances your business.
3. Can You Have A Landing Page Without A Website?
As we discussed earlier, you don't need a website to create a landing page. You can have them even without a website.
You can redirect your customers to your Facebook or Instagram page or store. Or you can even drive them to your YouTube channel.
For small businesses, it is the best tool as there are many WordPress plugins like Elementor that allow you to create the landing page for free.
4. How Should A Landing Page Look Like?
The purpose of the landing is to convert the visitors into your potential customers, and it needs to excite enough about the product to enquire further.
A good landing page should offer strong and explain the value and benefits of the product or services. There should be a headline and subheadings and, of course, a call-to-action option.
Next and the most important thing is to add an image or a video to make the landing page more appealing.
5. What Is A Better Landing Page Or Website?
It depends on your business, budget, and the result that you want. A landing page is best to convert your visitors into buyers, and they give insight into a particular product or service.
If you want to explain your services and sell your products in detail, then a short landing page won't do much. For that, you will need a website.
So, they both have their benefits that should not be compared. You can have a landing page without a website and vice versa.
6. Does Google Like Landing Pages?
There is nothing like Google hates landing pages. For optimization sites, any content through which you land on another website is a landing page.
The one thing that Google does not like is the low-quality landing page. If you are creating the landing page in WordPress, then you can see the rank of your landing page there.
Just follow the general rule of Google while creating the landing page like keyword optimization, content length, content quality, links, and anything else the algorithm checks. With a high google rank, your audience increases.
Final Words
Now you have detailed knowledge about the landing page and how to create a landing page in WordPress. The landing page is the one where visitors who click on your ad or link land, and it boosts your business by attracting visitors to make a purchase.
A landing page is a very beneficial tool to uplift the sales of your product or service, and it should be appealing and precise to gain the attention of the users. You can create the landing page in WordPress using the Elementor plugin, which we have mentioned in detail above.
We hope this article about how to create a landing page in WordPress is helpful to you. Do share this content on social media, if you found it helpful for you in any manner. If you are facing any problem in creating a landing page then let's know in the comment section below.