Embedding YouTube videos to your WordPress website is an easy task. You only need to go through some steps to show videos to your website visitors. However, you can do that in some simple ways.
Because WordPress is the world's most used content management system, its user-friendly interface is smooth and unique. WordPress allows its users to integrate YouTube videos through its in-built mechanism, YouTube embedding codes, and third-party plug-ins.
Embedding videos on WordPress not only help the search engine to rank your site high and increases user engagement. In this comprehensive guide on 'How you can embed YouTube videos on your WordPress site,' we will show you the most preferred ways to make it happen.
Also, In the last part of the article, we will introduce you to the best plug-ins you can use to embed YouTube videos on your site.
What are the benefits of embedding videos on WordPress?
Visuals help the viewers comprehend the content in seconds. Half of the world is either traveling somewhere or watching videos on YouTube.
In statistical terms, 82% of users on the internet consume content through videos.
YouTube and Facebook are profound content managing and consuming platforms worldwide for their video hosting mechanism. So, it can be your site, too, if you learn how to integrate YouTube videos on your site.
Here are reasons you should add videos to your site.
1. Videos Boost Ranking
You might have read about search engine optimization in your website creation manuals. Search engine optimization, abbreviated as SEO, is the content ranking mechanism Google and other browsers use.
Search engines (Google) boost the ranking of websites if they contain videos and text. The top-ranking websites on google search pages generate more leads and higher conversions than low-ranking sites. And thus, they establish a brand and make more money.
The best way for you to dwell higher in the search engine results is to embed videos on your website. You can integrate YouTube videos into your WordPress site in some simple ways discussed in this article.
2. Videos increase the website's engagement
Google counts the time a visitor spends on your website. If your content is engaging and valuable, none can stop Google from ranking your website higher than your competitors.
And because videos are easy ways to consume content for anyone with no degrees and skills, their engagement with viewers is higher. Everyone can watch videos by simply clicking on them if you have already embedded them on your site.
Thus, readers spend valuable time watching your engaging videos, which is the best indication for search engines to boost your content.
The reason you should never directly upload videos on WordPress
A website's uptime is an essential parameter for measuring its efficiency. Your uptime defines how fast your website starts on the user's computer. Low and stagnant uptime only frustrates the users and makes them leave your site.
When you directly upload the sizable video on the site's server, you decrease its bandwidth and, thus, the uptime. Because of the heavy traffic on your WordPress site, the site may go down for some time or can be completely shut off.
Therefore, we recommend readers embed videos through plug-ins or the website's default features.
Complete Roadmap to Embed YouTube Videos on WordPress
Now, if you have decided to upload videos, we have created a complete roadmap for you.
1. Embedding Videos through WordPress In-built Feature
Embedding YouTube videos on the WordPress site through its mechanism is not a hassle. You can win over it with some simple and quick steps.
Select the desired video on YouTube, and copy its link from the URL tab, as shown in the image below.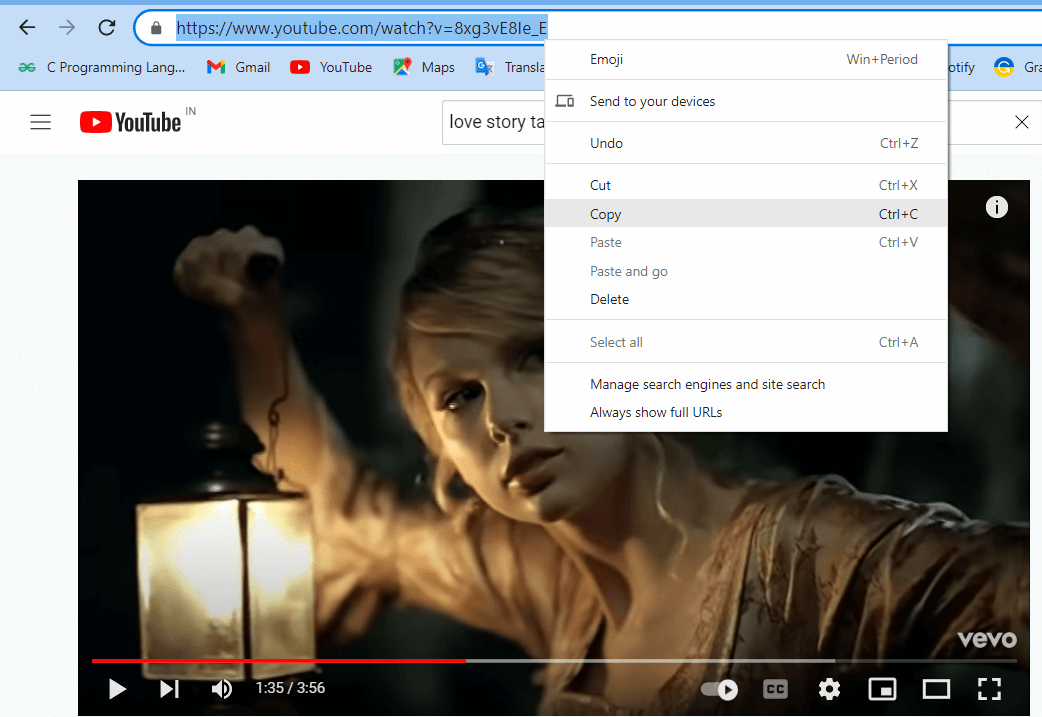 After you have copied the video link, log in to your WordPress website and paste the link on the page you want to show the video at.
On pasting the link to your video on the page, the page looks as follows;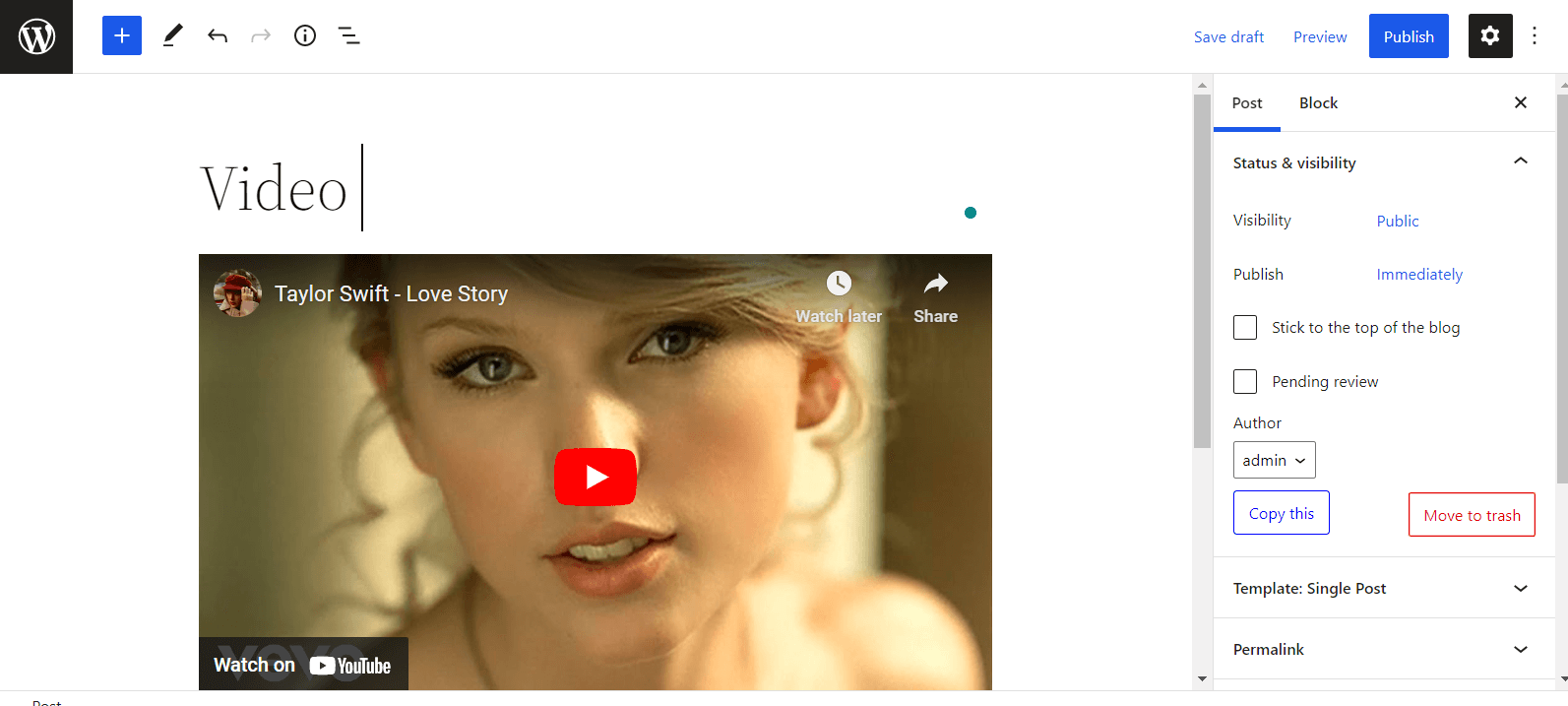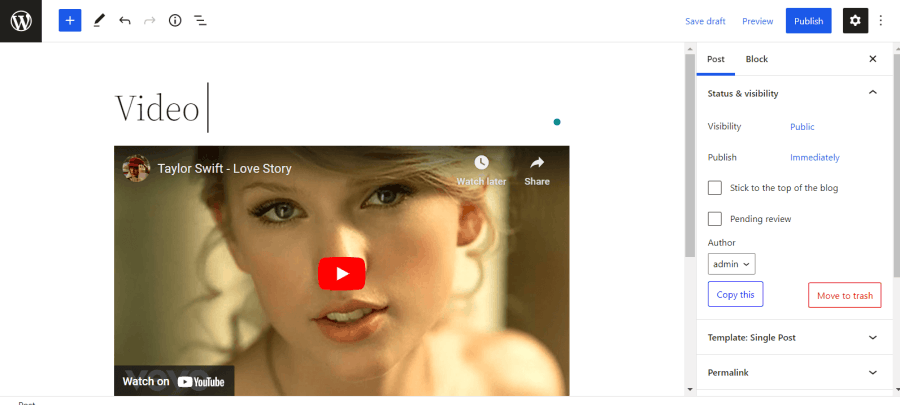 WordPress will show your embedded video on the page with no time delay.
2. Embedding videos through YouTube embedding codes
Another straightforward way of adding YouTube videos to your WordPress site is adding embedding video codes into it. With my step-by-step roadmap, you can embed YouTube videos at the moment.
YouTube search for the video you want and click on the share button below the video.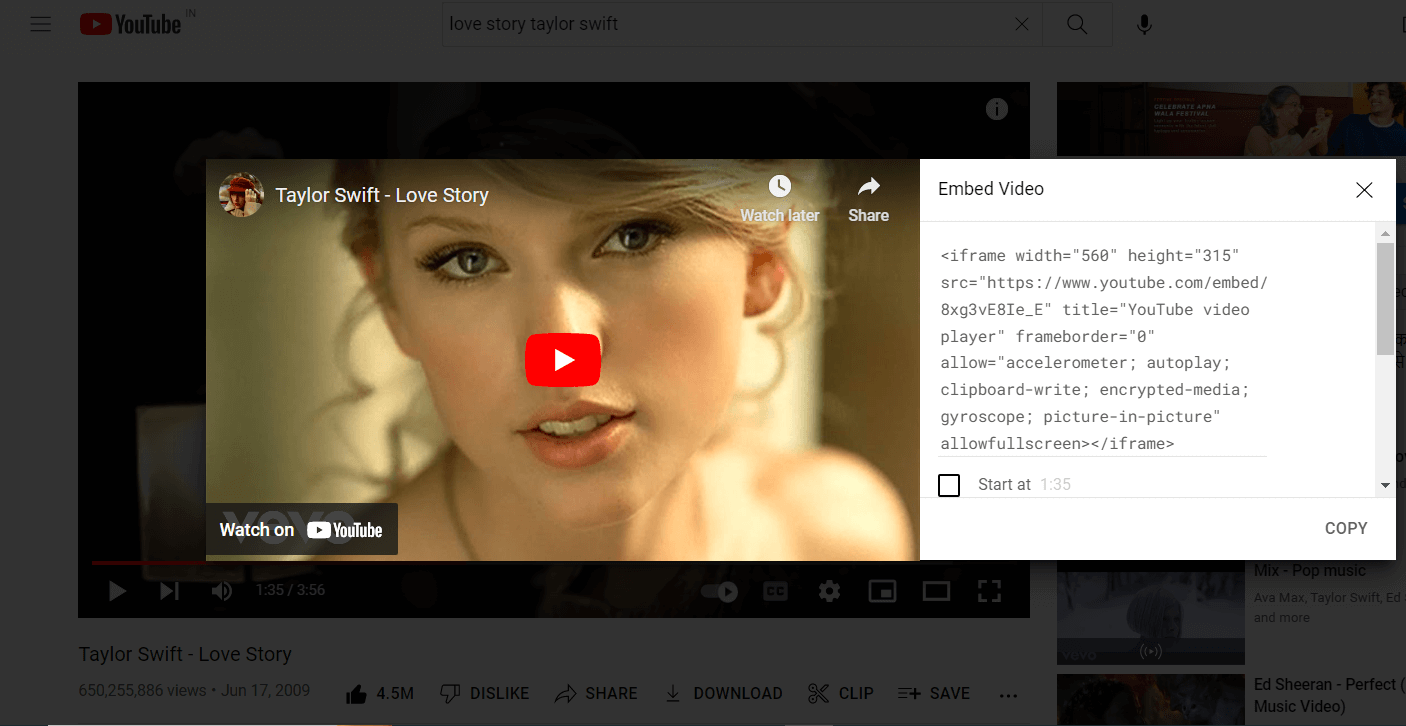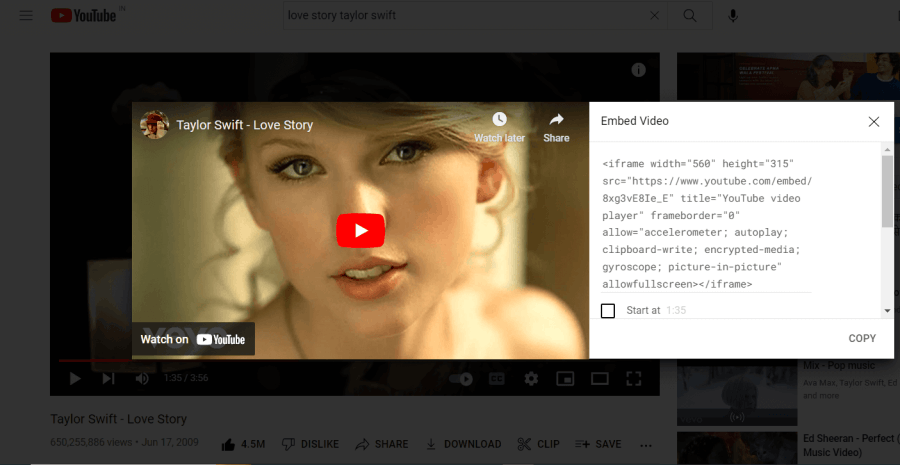 With this, you will see an options window comprising an embed button. By clicking on the embed button, the video embed codes will appear. You need to copy these embed codes.
3. Using plugins to upload videos
This is the oldest method, as said by experts. However, embedding videos through plug-ins is better than directly uploading them on your website.
You can find many plug-ins which add videos on your website with the least operations involved.
Here are the steps you can follow:
Login to your WordPress account and search for suitable plug-ins.


We are using Embed Plus for YouTube to show you the step-by-step procedure, which you can download and install directly from your WordPress account.
On the successful paste, the video from YouTube appears. The viewers can now watch and share this video from your website.
Most Preferred Plugins to Embed YouTube Videos in WordPress
Now we understand plug-ins can create impressive video galleries on WordPress-powered websites, but we also need to know some best alternative plug-ins to operate them in need.
Installing Video Gallery is not a hassle. You can download the updated version from your WordPress dashboard and create full video galleries.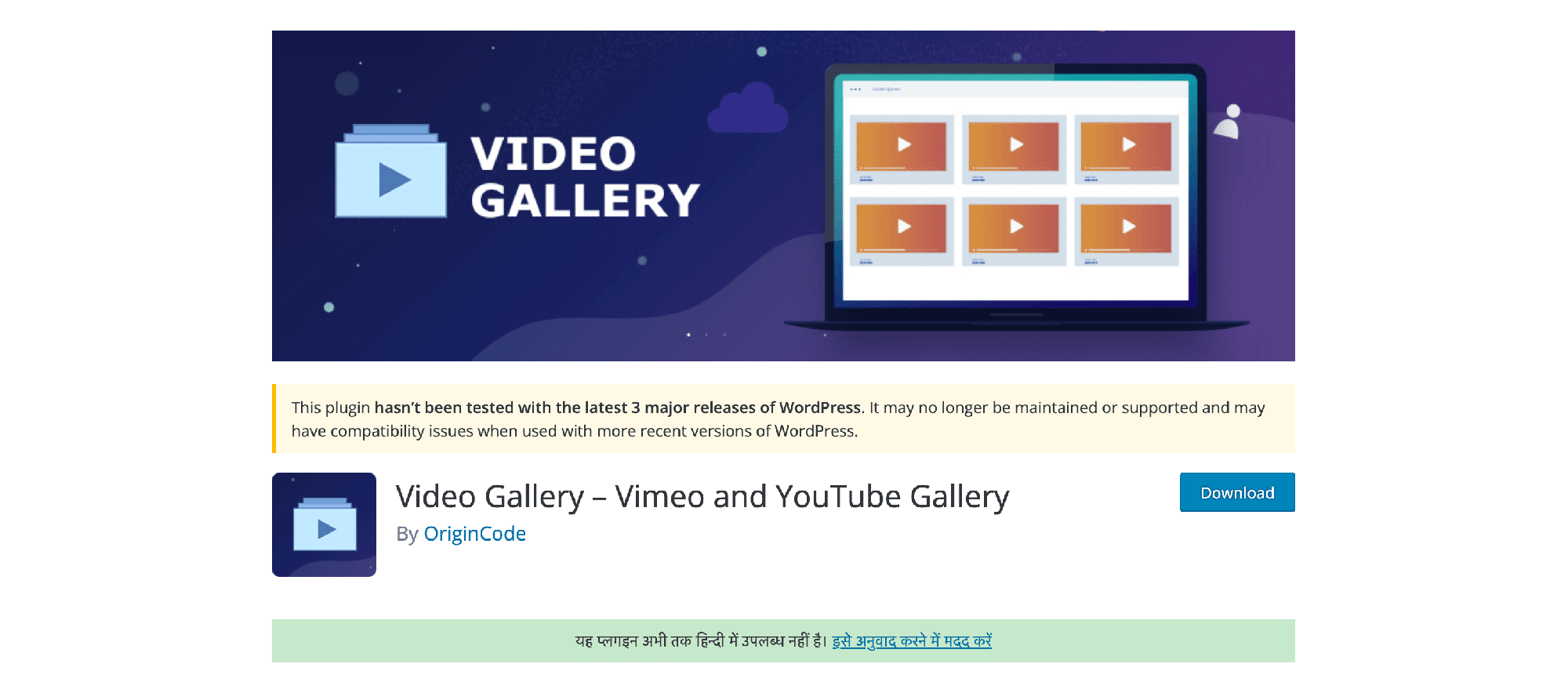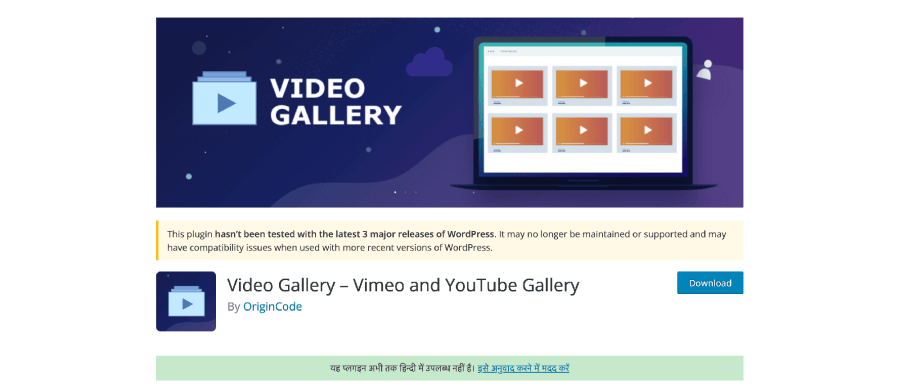 The Video Gallery is the ultimate toolkit for creating multiple fascinating YouTube and Vimeo galleries on WordPress-enabled websites. With an optimum approach to increase the site's engagement and rank it on the search engine page, the Video gallery is a bundle of innovative features.
Video Gallery offers hundreds of design options for customizing galleries and changing colors, fonts, and effects.
It enhances engagement with these key features,
Video and content slider
Different blog view styles
Thumbnails and Justified gallery view
Lightbox-video gallery option
Smash balloon is what you need. Smash balloon is a widely used add-on software website owners use. With its enticing features, you can manage, customize, and create YouTube video galleries on WordPress websites.


Smash balloon can automatically feed YouTube video content on your site in a unique and customizable manner.
The plug-in is best for increasing the website's uptime, managing content, enhancing visibility, and increasing engagement. Smash balloon renews its features regularly and fixes bugs with changing APIs.
It operates with some key features, such as
Customizable, responsive, and mobile-operated YouTube feeds
Multiple layouts and feeds
Fast lightening
In-built YouTube feed widget
Final Words
Now you understand embedding YouTube videos on your WordPress site is not a hurdle. With this, you are able to make better decisions about the options available.
This guide has covered how to embed videos through the WordPress default mechanism and by using a WordPress plugin. We have also suggested you not directly upload videos on the website's server as they can exhaust your site.
However, embedding videos through a website's in-built mechanism is the best way. To do it, you only need to copy a link to a YouTube video and paste it into the website. As simple as that.
Still, if you have any doubts, you can comment below, and we will devise a solution for you.