Yes, I know!
You guys have been waiting for the February month income and traffic statistics report of TheGuideX.
So here I am!
The month of Feb has been "FAB" for TheGuideX.
The traffic stats of TheGuideX is quite better than the previous month (January). And as well as the income figure is also a little better than the previous month.
I have not made any major changes on the look of the website because I am in love with the "Digital Pro" theme. And therefore, I am going to stay with this theme for some more time. (Until I find something better)
In the month of Feb, I also attended some blogging and digital marketing events. And that was quite a good experience.
Now with the end of February 2018 "TheGuideX" has completed 1.5 years successfully. TheGuideX was started in September 2016 and since then it has been there.
So the traffic stats and income stats which you are going to see have taken me "1.5 yrs" to make. (Just keep in mind)
Okay so, first of all, let's look at the traffic stats of TheGuideX for the month of February.
Monthly Traffic Report of TheGuideX (Jan 2018)


As you can see, I was very close to touching 17,000 pageviews this month. In the last month (Jan), the page views were around 16,125.
But there were 31 days in the month of Jan and there were only 28 days in the February month.
So it is quite good.
The bounce rate has been decreased by 3% compared to the previous month.
Which is also good.
And all other Audience metrics are quite similar to the previous month.
Now, let me share with you the "TRAFFIC SOURCE" Report.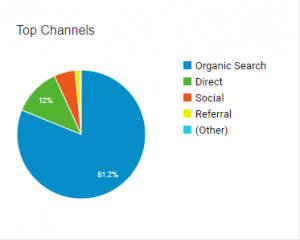 As you can see, the search traffic is still dominating TheGuideX traffic source.
One of the interesting things is that the organic traffic has decreased by 4% and the direct traffic has been increased by 4%.
I don't know whether it is good or not. But it is there.
And because of the Facebook Algorithm update, the social traffic is continuously on the decline.
But the social traffic is also quite good compared to the previous month and I am continuously working on it to make it even better.
Okay, so enough of traffic stats discussed.
Now let me share with you my earnings of Feb month of 2018.
Monthly Income Report for TheGuideX (February 2018)
Mainly there are Four sources through which I was able to generate some good income for me in the month of Feb.
Those four sources are Viglink, Commission Junction, WordPress theme customization, and Google Adsense.
Last month, we did not have any sponsored post on TheGuideX. But Viglink was back in the action last month.
The Overview of the sources of Income in the month of February for TheGuideX.
Commission Junction (CJ): $646
Viglink: $326
WordPress Customization: $150
Google Adsense: $100
The total sums up to $1222 (Approx to Rs. 79576.64)
Yes, this is what I was able to earn in the month of February.
The Income BreakDown:
Commission Junction Earnings for the Month of February : ($646)
Viglink Earnings for the month of February : ($326)
Final Words:
If you guys have been following my blog for a long time, then you would be probably knowing that how it all started.
First few months of my blogging career, I was not able to earn anything. But then also I choose to continue this thing because I was loving it doing.
And then after some time, I started making a very few bucks after 6 months of my blogging. Now the income is looking quite good but earlier it was not very good.
So if you are in a position where I used to be in the first few months of my blogging then I will suggest you have patience.
Because patience, will be needed in this journey.
And after that, you will for sure generate some good "MONEY" for yourself.
Latest posts by Sunny Kumar
(see all)