Whenever it comes to web hosting, HostGator and GoDaddy are two of the well-known companies. Both of them offer affordable hosting plans and have similar features. However, as a buyer, you might be confused about which company to choose from.
To help you out with this question, I am going to explain HostGator Vs GoDaddy full comparison between these two hosting giants. The guide will dive into different parts like performance, speed, customer support, pricing, and so on.
However, talking about an overview, GoDaddy is a well-known company when it comes to domain registering. On the other hand, Hostgator is a leading company in the web hosting business. But GoDaddy is only limited to selling domains only. It sells everything that you might need to get your business online.
Choosing web hosting is always a confusing task, especially when you are just starting up. First of all, there are quite a lot of hosting types available out there. Above that, you need to have an idea of what configuration server you need to choose and so on.
But not to worry, as we go further in this article, we will be discussing HostGator vs GoDaddy comparison and hopefully answer all the questions that you might have in your mind.
So here we go:
Introduction – HostGator vs GoDaddy
Before we go ahead and start discussing the complicated things, it is better to know a little bit about these two web hosting companies.
HostGator is one of the leading web hosting companies in today's time. The company was started back in 2002, and it is one of the affordable web hosting companies online. Millions of websites from all around the globe are hosted on HostGator.
The company belongs to Endurance International Group EIG. Also, it is the same company that is backing up some of the other hosting giants like iPage Hosting, BigRock, BlueHost, and so on. Furthermore, according to Wikipedia, in 2018 Inc Magazine ranked HostGator as the fastest-growing company.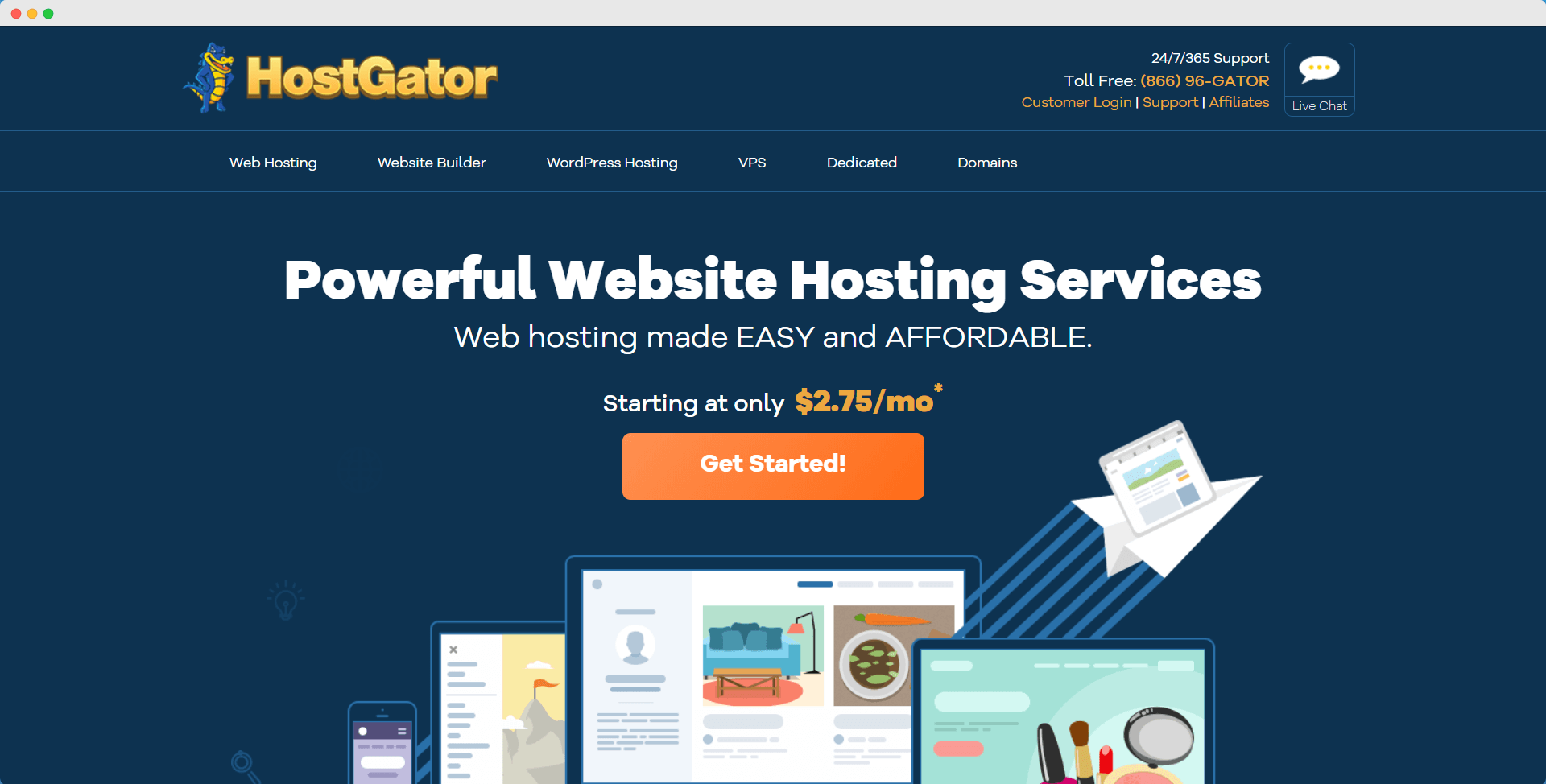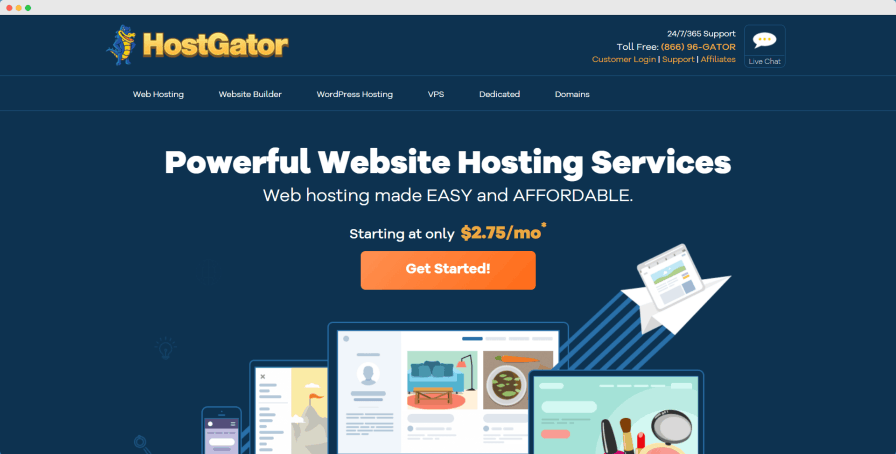 With HostGator, you will find all types of web hosting. The company sells shared hosting, cloud hosting, WordPress hosting, VPS, dedicated servers, and so on.
Activate Hostgator Discount Coupon
GoDaddy is one of the most popular web hosting and domain registration company out there. It is the biggest and most affordable web hosting company available in today's market. Also, they are the leading name among the domain registration companies.
According to GoDaddy, they have served over 17 million customers worldwide. Also, they have affordable pricing across all the web hosting types.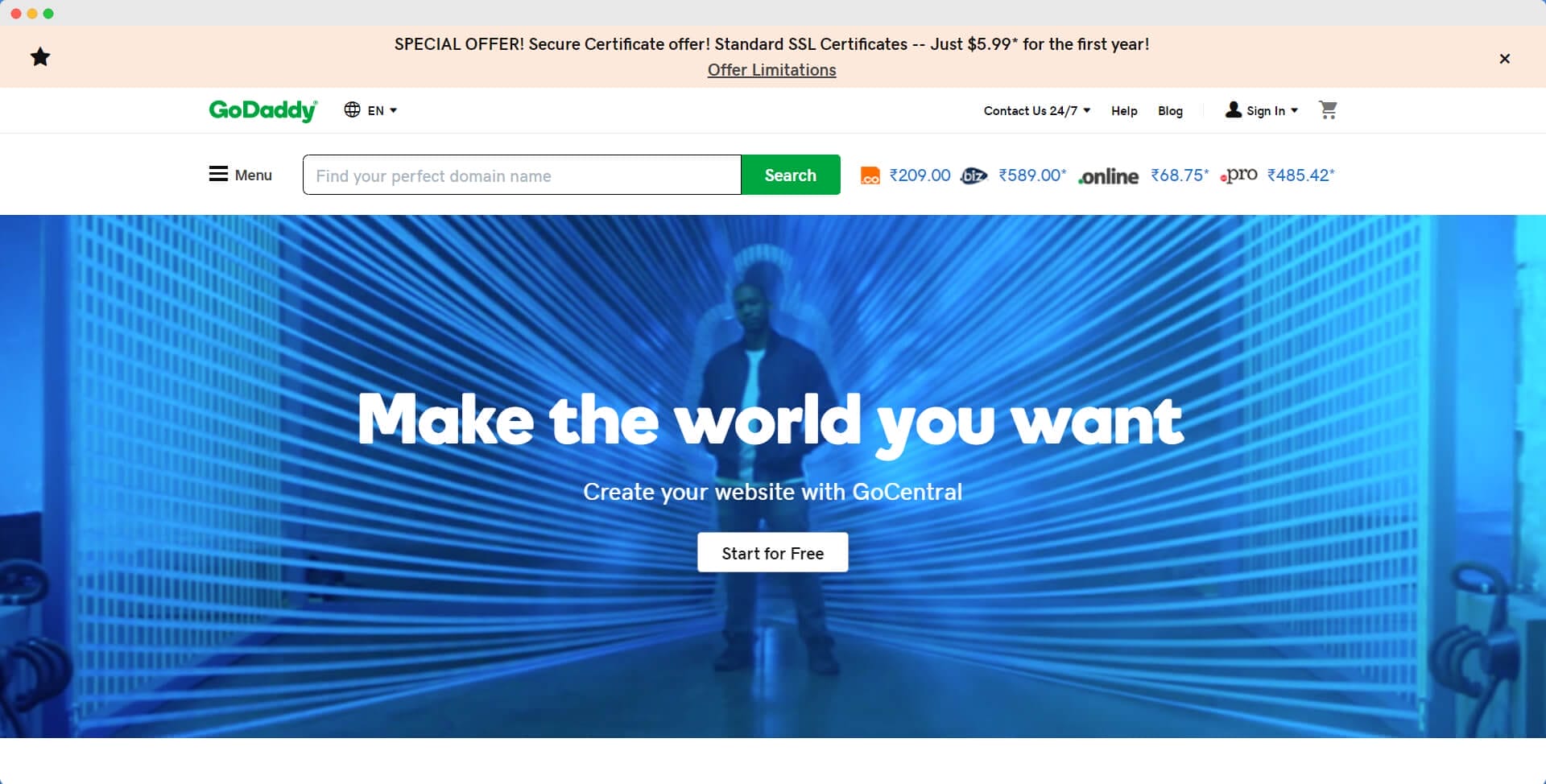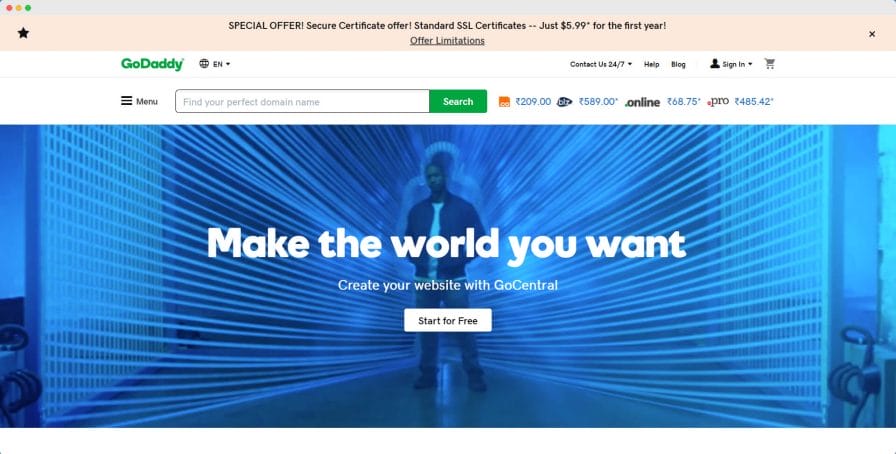 According to Wikipedia, in 2013, GoDaddy was reported as the largest ICANN accredited register in the world. Furthermore, from GoDaddy, you will be able to buy different types of hosting, such as Shared Hosting Plans, WordPress Hosting Plans, VPS Hosting, Cloud Hosting Packages and from Dedicated Hosting for your website needs.
Activate GoDaddy Discount Coupon
Quick Look at HostGator Features
Here is the quick look at the features of hostgator web hosting.
1. cPanel
All the HostGator shared hosting plans come with cPanel. cPanel is the world's most popular web hosting control panel. It is extremely easy to use and offers extensive support. So if you are a newbie, you will not face much of a problem to make your website live.
2. Manage Multiple Domains
With HostGator's baby and business plan, you will be able to add unlimited numbers of domains to your shared hosting plan.
So if you are running a bunch of websites and don't want to get individual hosting for each website, these two plans will come handy for you.
Although the basic or Hatchling Plan as HostGator calls, it only allows you to add one website.
3. Unlimited Bandwidth and Disk Space
Unlike other web hosting companies, HostGator does not have a bandwidth or storage limit. As a result, you can store as many files as you want on your web hosting.
Plus, if you get a high amount of traffic, your website will not get down. Nor, HostGator will charge you anything extra for bandwidth usages.
Also, the best part, HostGator offers unlimited bandwidth and disk space across all the shared web hosting plans.
4. Free SSL
All the HostGator's Shared Hosting plans come with a free SSL certificate. As you already know that SSL is an important factor for any website out there, and it is recommended that you use an SSL certificate on your website.
And when you purchase HostGator's Shared Hosting, you don't need to buy an SSL certificate additionally. It is included in your web hosting plan only, and it can be installed on your website with just a few clicks.
Activate Hostgator Discount Coupon
Quick Look at GoDaddy Features
Here is the quick look at the features of godaddy web hosting provider.
1. Free Domain Name
One of the best parts of GoDaddy web hosting is that it comes with a free domain name. As a result, you don't have to purchase a domain name and web hosting plan separately. Instead, you can purchase any of GoDaddy's shared hosting plans, and you will get a free domain with it.
However, the basic plan does not include any domain name. So you need to choose between Economy, Deluxe, and Ultimate web hosting plans only.
2. Easy To Use Control Panel
GoDaddy web hosting comes with an easy to use control panel. Using this control panel, you will easily be able to install different web apps, manage backups and security, and create your website.
3. Unmetered Bandwidth
GoDaddy web hosting plans come with unmetered bandwidth. As a result, they do not limit the bandwidth your website can use. However, the bandwidth usages need to compile with the GoDaddy's web hosting agreement.
However, if your website receives a huge amount of traffic or it requires any sort of upgrade. GoDaddy will mail you and let you know about it.
4. Resource on demand
Godaddy offers resources on demand. So if any point in time, your website requires more power. Then you can easily increase your CPU, RAM, I/O, and storage with 1 click of purchase. This saves you from upgrading your whole web hosting plan. Instead, you are adding more resources to your existing web hosting plan only.
Activate GoDaddy Discount Coupon
HostGator Hosting Vs GoDaddy Hosting
| Features | HostGator | GoDaddy |
| --- | --- | --- |
| Pricing | $2.75/Monthly | $1/Monthly |
| Free Domain | Not Available | Available |
| Uptime | 99.9% Uptime | 99.9% Uptime |
| Money Back Period | 45 Days | 30 Days |
| Customer Support | 24x7 Support | 24*7 Support |
| Bandwidth | Unmetered | Unmetered |
| Control Panel (cPanel) | Available | Available |
| Pre-Discounted Link | TRY NOW | TRY NOW |
Hostgator Vs GoDaddy Uptime
HostGator and GoDaddy both offer really 99.9% uptime and amazing performance.
However, if you really talk about the data, HostGator said to offer consistent 99.98 to 100% uptime for several months. Even to make us believe that they offer the best uptime in the market, they say that you will get one month of credit in your account if the uptime drop below 99.90%. And it is a bold statement to make.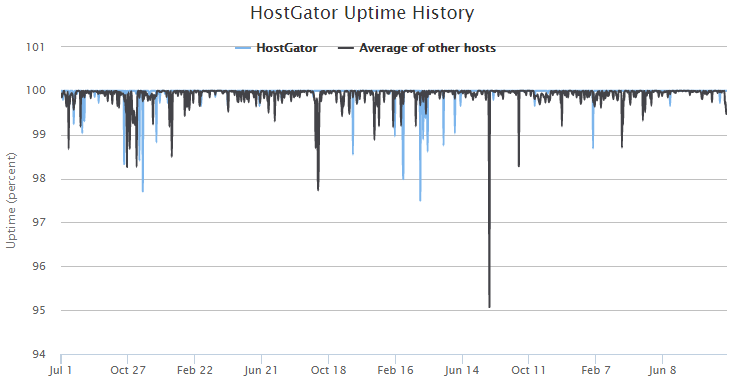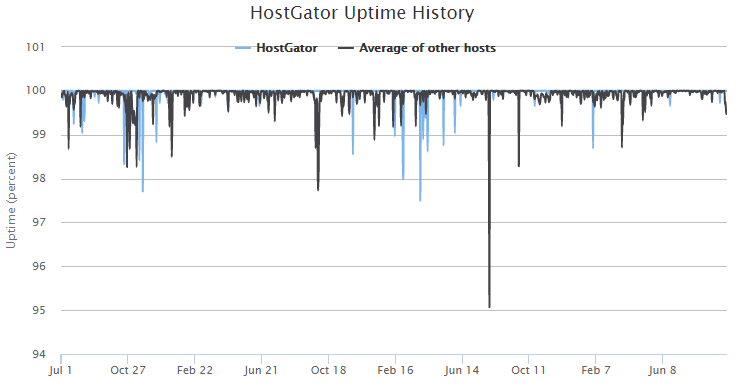 On the other hand, Godaddy offers you pretty great uptime. According to different reports and data, Godaddy said to offer 99.84% uptime.
But to be honest, when you compare Godaddy's uptime with other web hosting companies, GoDaddy's uptime is average only.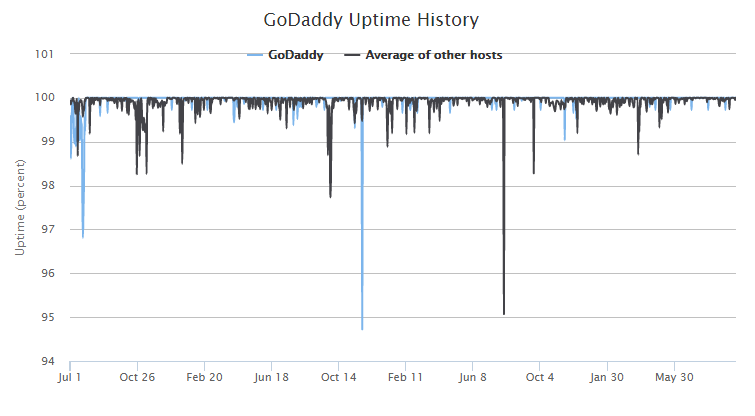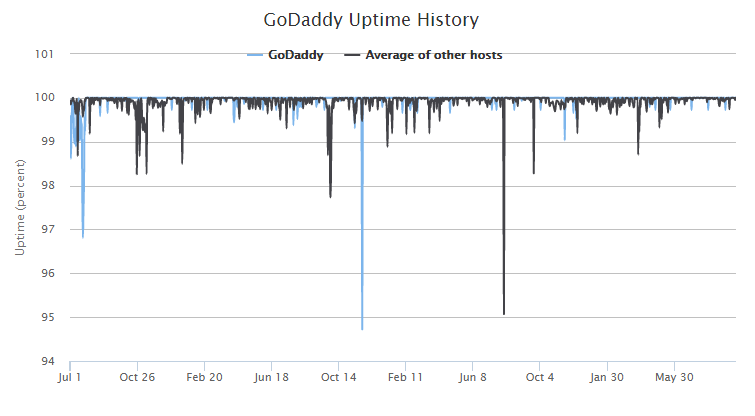 GoDaddy Vs HostGator Speed Test
Website loading speed is an extremely important factor. It does not only helps your users to get their information as fast as possible. But it also helps you with SEO rankings. And to conduct a speed test between both of the web hosting companies.
We set up two websites and installed WordPress and used the same theme and content. Then I went ahead and used speed testing tools like Pingdom and tested both of the websites.
And according to the results:
Pindome Report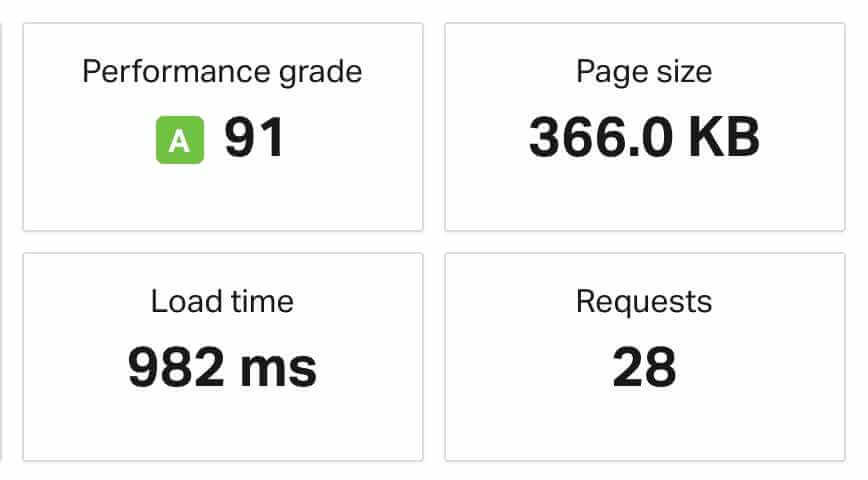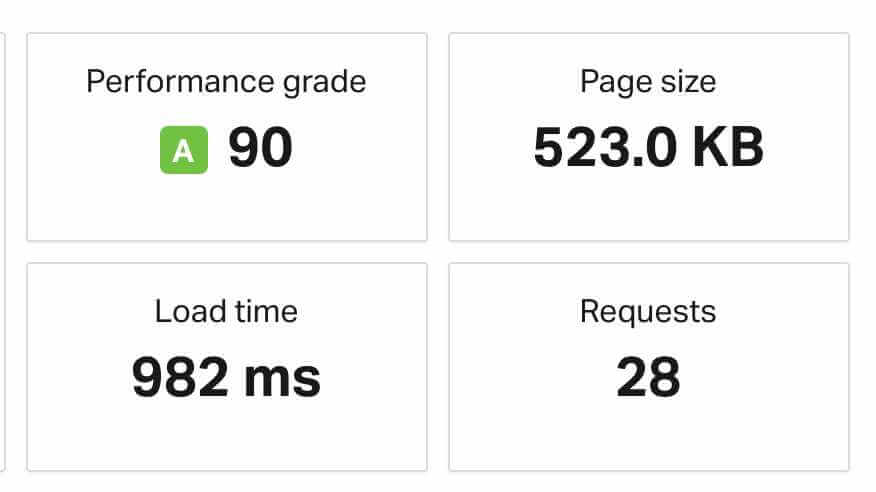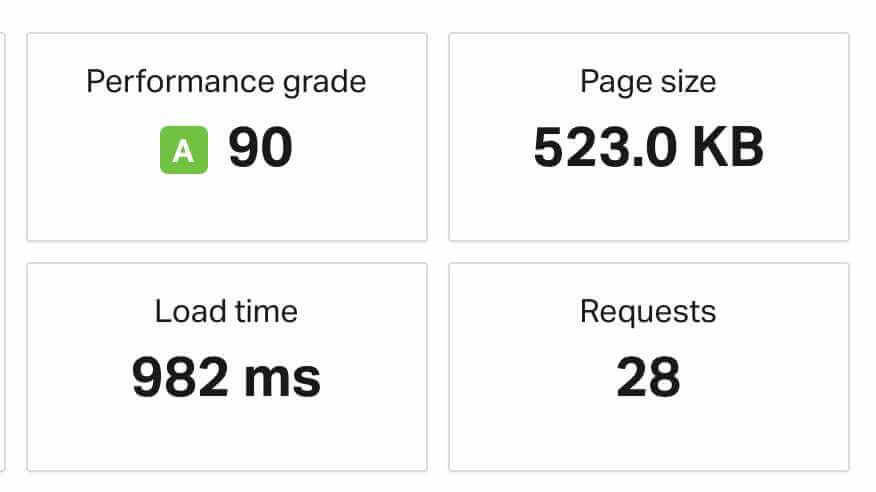 Activate Hostgator Discount Coupon  Activate GoDaddy Discount Coupon
As you can see in the result above when we tested these two websites on a different platform (obviously with the same theme + plugins and content along with analytics code), the result was a bit different.
The website which was hosted on Hostgator takes 982ms to load and the page size was 366 KB, which is very remarkable.
However, on the other hand, the website hosted on GoDaddy took the same timing of 982ms to load – but the page size is 523 KB, which is larger than the size mentioned in Hostgator.
So by looking at this data, you can clearly understand which is the best web hosting company in terms of speed.
HostGator Vs GoDaddy Response Time
Response time is also one of the most important factors of any web hosting company. As it directly impacts the loading time of your website.
In case, if you don't know what website response time stands for. Well, it simply refers to the time a web server takes to connect your request to the server and send data back to your browser.
To test these results, we have again used dummy websites.
Bitcatcha Report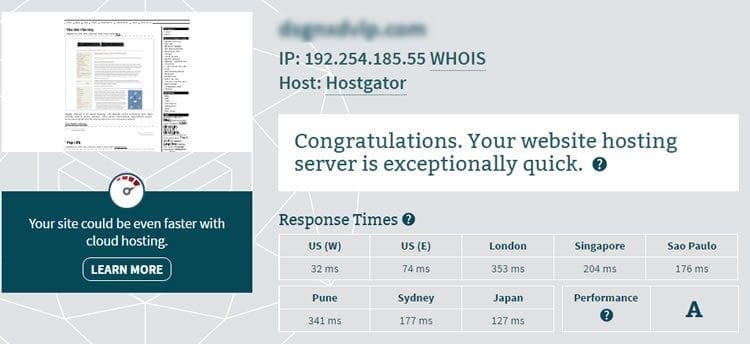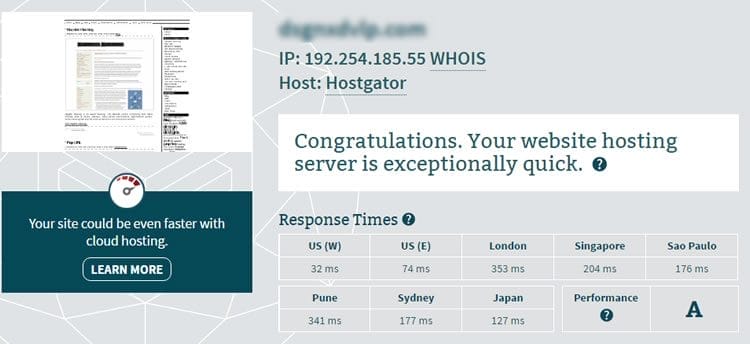 According to the results, HostGator performed better than GoDaddy. It has an average response time of 185ms, and the response time was consistent as I have run the test for several days.
However, on the other hand, the GoDaddy response time was not really impressive. Godaddy has a higher response time than Hostgator.
The average response time during the test was 216ms, which stands for 1 second. And it is not an ideal number when your website goes live with content and starts getting traffic.
Activate Hostgator Discount Coupon  Activate GoDaddy Discount Coupon
GoDaddy vs HostGator Customer Support
Customer support is also an important factor that you need to consider while choosing a web hosting company. As customer support is the only one who can help you out when your website goes down or you face any sort of trouble.
And when it comes to customer support, HostGator is a well-known name. The company offers you 24/7 customer support, and there are various ways to reach them. For example, you can use their ticketing system.
Or you can tell them your complaints through email and phone. Plus, all your complaints get answers quickly. So you don't really have to wait for a longer period of time to get your queries solved.
Talking about GoDaddy, well, they claim to have an award-winning customer support team. And trust me, they do offer amazing customer service. After all, they are one of the leading companies, so they have to have a good support team.
Just like HostGator, you can reach to GoDaddy in various ways. Like you can call them or raise a ticket or email them your complaint. They also have a live chat option where you can talk to the customer support team anytime and get your issue solved within minutes.
– Handling traffic spikes
According to traffic spike simulations done by Mark Berka on his web hosting rankings page, both HostGator's and GoDaddy's shared hosting plans face some difficulties when handling sudden traffic spikes.
For example, when faced with 100 concurrent visitors, around 33% of requests handled by the HostGator server returned an error, while this figure was 55% for GoDaddy.
At five concurrent website visitors, HostGator's server handled the visitors very well, but GoDaddy was still having some problems, with around 4% of server requests timing out.
Overall, if you expect your website to serve a large number of visitors, Hostgator is a better choice.
Money-back Guarantee Policy of Both Hostgator vs GoDaddy
Both web hosting companies have a money-back guarantee policy. So if you don't like their services or you get the thought that you have chosen the wrong hosting plan or company. You are always free to ask for a refund.
However, to help you know better about the money-back guarantee policy. Let me just talk about them individually:
1. HostGator
HostGator offers 45 days money-back guarantee with every hosting plan that you choose. Also, you should know that the guarantee only applies to a newly purchased hosting plan.
You will not get a refund for other services like domain registration or any other add-on services.
2. GoDaddy
GoDaddy offers you 30 days money-back guarantee. The guarantee only applies if you have purchased web hosting for a year. If you have purchased a web hosting plan for a month or other tenure, then you have only 22 days to ask for a refund.
However, for better information, I would suggest you to read both of the company's official refund polices to get your doubts cleared.
Backup
Backup is extremely important for your online business. As there is a high chance that your website might get hacked, or you might accidentally delete all your files.
Hence, you need to have a backup of your website's database, files, and emails. However, the good part is that both HostGator and GoDaddy offer self-managed backups free of cost.
But in case if you need any sort of backup plan from the company. Then HostGator would charge you $15-$20 to restore the backup. While GoDaddy charges about $180. In case if you are using their WordPress Hosting service, then the backup restoration charges are free.
You should also know if you are using WordPress, there is no need to pay any amount to keep your backups stored. You can always use a backup plugin to manage backups by yourself.
GoDaddy vs HostGator Plans and Pricing
Both HostGator and GoDaddy has affordable pricing. Talking about HostGator, it has three web hosting plans named as Hatchling Plan, Baby Plan, and Business plan, and they cost you $2.75/mo, $3.95/mo, and $5.95/mo respectively.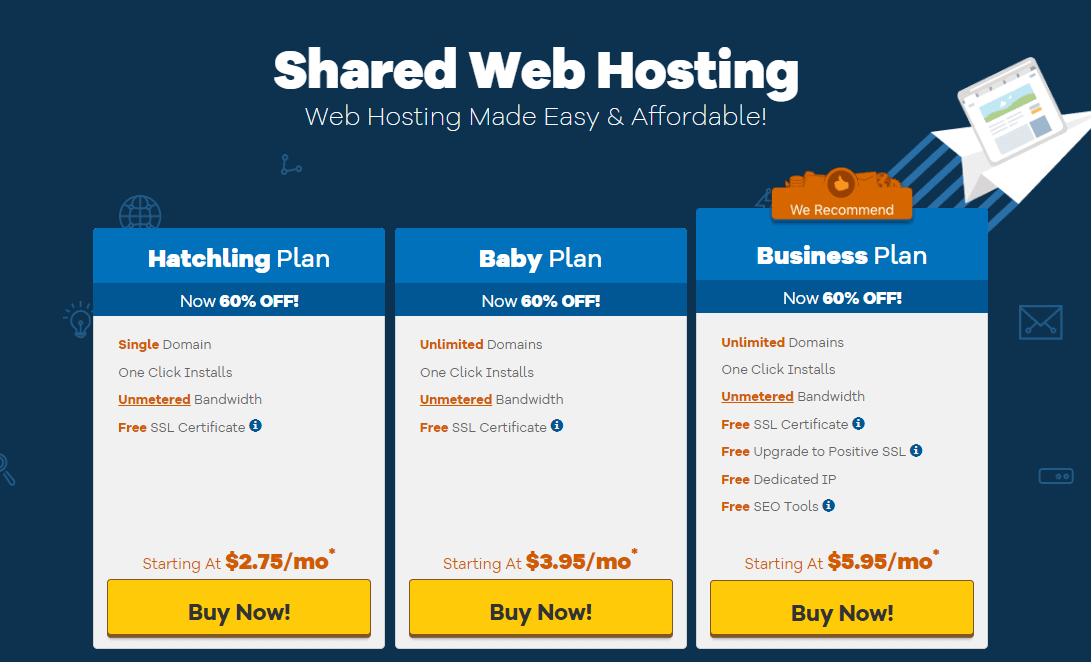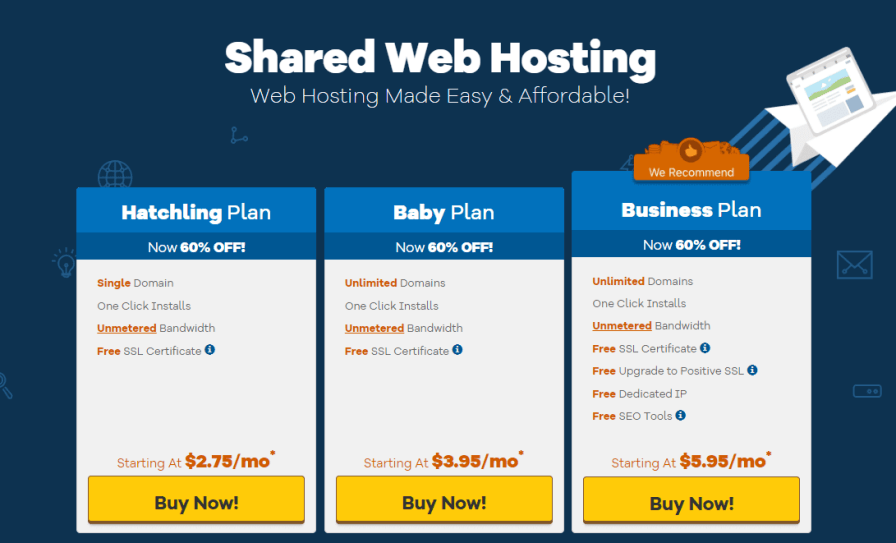 The Hatchling plan lets you host only a single domain, and the other two plans let you host unlimited domains. With all the hosting plans, you are getting unmetered bandwidth and unlimited storage along with a free SSL certificate. However, the Business plan does come with some of the extra features like Dedicated IP, SEO tools, and so on.
Talking about GoDaddy, they have four different plans, which are the Starter, Economy, Deluxe, and Ultimate. These plans cost you $ 3.99/mo, $ 5.99/mo, $ 7.99/mo, and $ 12.99/mo, respectively.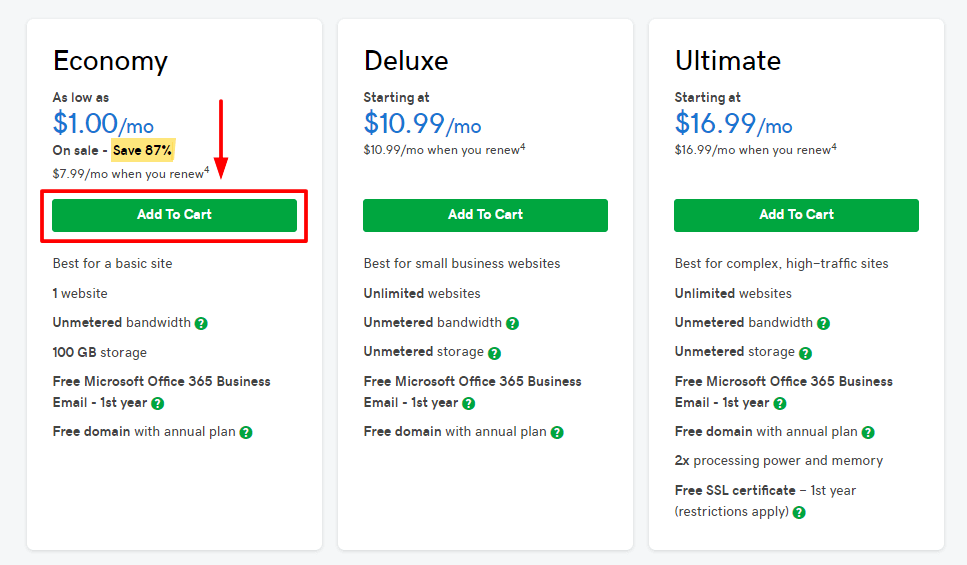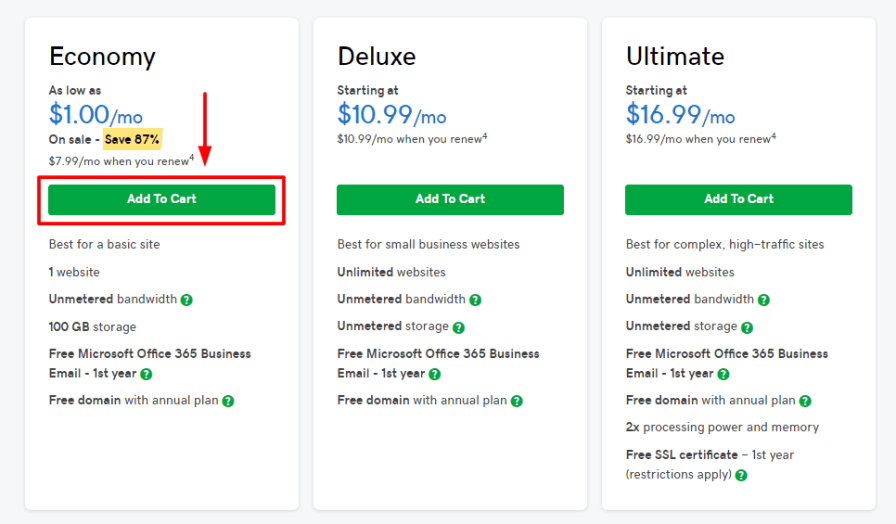 All of these plans come with unlimited bandwidth. However, you will get storage based on the plan you choose. Like the basic and economy plan comes with 30GB and 100GB storage capacity, whereas the other two plans have unlimited storage.
Also, all the plans excluding starter come with a free professional email account and a free domain name.
Activate Hostgator Discount Coupon  Activate GoDaddy Discount Coupon
Maximum Discount Promo Codes.
HostGator and GoDaddy regularly announce unbelievable discounts to grab the attention of potential customers. It is wise to take advantage of these offers, instead of paying the total fees. The coupon code makes a huge difference.
Most of the time, you have to search for the best coupons to strike a great deal. The below links will give you the best discounts on GoDaddy hosting and HostGator hosting which are available right now!
GoDaddy Maximum Discount Promotion Codes.
If you're interested in godaddy and looking for some exclusive coupon codes, then here I'm sharing some best coupon codes ever offered by Godaddy to its user.
You can use these coupon codes and start your business now!
If you're looking to start your business online with godaddy, then this coupon code is for you. You can use this coupon code to grab your web hosting plan at just $1/month only.
This coupon code is only valid on Economy web hosting plan and you'll get a lot of freebies including a free non-premium domain name of your choice.
Coupon: CJC1HOS5  Activate Deal  Go To GoDaddy
This is one of the best coupon code ever offered by GoDaddy. With using this coupon code, you can claim your first .COM domain name at just 0.99 cents only.
This coupon code is valid on first-time domain purchase only and it can't apply on renewal of your domain name. So grab your domain name now before it gets taken.
Coupon: CJC99COM  Activate Deal  Go To GoDaddy
HostGator Maximum Discount Promotion Code.
And if you're interested in hostgator, then you can use the coupon code I shared below to save huge bucks on your domain name and hosting registration.
This is the most exclusive coupon code for Hostgator. You can use this coupon code to grab your web hosting plan at a massive discount of 60% OFF along with a free domain name,
This coupon code is only valid for selected users, so grab this deal now before it gets expired.
Coupon: GUIDEX60  Activate Deal  Go To HostGator
Which Is The Best Web Hosting? HostGator Or GoDaddy?
According to my testing, both web hosting provider are the tough competitors and best rivals in the market – but I find HostGator as a better option compared to GoDaddy. It offers excellent performance and comes with affordable plans. Also, it has value for money plans.
To summarize everything up, here is why HostGator is better:
HostGator has an average response time of 185ms.

It offers higher uptime than godaddy.

HostGator's plans are cheaper than GoDaddy.

You will get a free domain name, email, and SSL certificate with their starter plan.
Activate Hostgator Discount Coupon
Wrapping Up!
So that was a HostGastor Vs Godaddy comparison. I hope this comparison helped you with every bit of information you needed.
Also, before you go ahead and settle down with any of the web hosting companies, make sure to check their plans and offerings, and choose a company based on your requirements.
In case if you need any sort of help or have questions to ask, do comment below, and I will surely help you out.