Are you looking to set up a multisite option in WordPress and don't know how to set it up effectively? Setting up multisite is easy with WordPress and I'll let you know the whole steps for setting it up.
In this article, you can learn everything you need to know about the multisite feature in WordPress. We will share tips on how to install and configure this. These tips may be useful for novice users, but experienced developers may also find useful tips here.
WordPress Multisite is a round of platform evolution over the years. It was included when WordPress 3.0 came out, and from various updates, they have done very good to make it more effective and useful to setup WordPress multisite.
So before explaining the process to set up multisite, first we will know…
What is WordPress Multisite?
With this feature, on the same WP installation, you can create a network of an unlimited number of sites. They use a common database, but their files are located in different tables and have different directories for uploading files.
When we talk about multiple sites, we mean no restrictions, https://wordpress.com/ itself is primarily Multisite. And so you understand, this is provided by about 10% of the sites in the world. At the same time, the service does an excellent job with the load and provides maximum functionality for users.
Who will Get Benefit from this Feature?
Primarily for those who need to use WP and still run many sites.
Multisite is the perfect choice for dealing with multiple sites. After all, you no longer need to install CMS over and over again. Now it only takes one setup.
For example, you decide to add a blog to a company site where you will be sharing content. And then add a portfolio to attract more clients.
Now you do not need a separate CMS for each subsequent site, and then constantly connect to different control panels. Instead, you will have one account and the ability to create additional dashboards and use the same database.
What are the Benefits of WordPress Multisite?
Multisite has several key advantages over managing multiple sites separately. Here I'm sharing some major benefits of using WordPress multi-site feature;
1. Disk Space
This is one of the major benefits of using the WordPress multi-site option, you save space as you end up with only one group of files, including both WP files and plugin files stored on the server.
2. The Convenience of Updating
Although WordPress has provided the feature to auto-update theme and plugin as per your convenience – but with WordPress multisite, every time you update WordPress or update plugins or themes, you can do it in one go instead of installing it separately.
3. Build a community.
Multisite is great for building communities. You can send content to different addresses, enable users to share content, and subscribe to each other.
4. Website Development
Everyone can get the opportunity to make their site inside it. This is a very handy feature if you are organizing any community, from school to club. You can also take money for creating a website on the network or some individual functions.
Benefits of Multisite Control
By installing the function, you become the super administrator of your network. What does it give you?
The ability to create accounts for each user.

You will be able to set the desired access level for each user account.

You will be able to manage every function of every site on the network.

The ability to install, update, and edit themes and plugins.

Create new and edit existing materials on the sites.

Take advantage of the super admin menu.
And most importantly, you can create different sites for different people, and at the same time not waste energy installing and configuring WP from scratch.
And our instructions will help you do this.
What is the Difference?
How does Multisite work, and how does it differ from the usual work with websites?
You assign a super administrator for the entire network. This administrator gets full access to the panel, which contains the interface for working with the network and various functions like installing plugins.
This panel is almost identical to the standard toolbar that WP uses by default. The difference between the two lies in the one detail that you get the ability to create users and assign admins for each website. Each admin will have access to a separate control panel.
Important addition: The super administrator can create websites and use any functions on the website, and a simple administrator cannot add their plugins to the main network.
There is an important nuance regarding the configuration of files and databases.
Multisite contains many tables in the database. This is to keep these databases separate from each WP site.

All data is recorded in these tables. By installing standard WP, ​​you will create eleven tables, and nine of them are created and duplicated for each additional site.

The wp-config.php file contains additional code. With this code, the CMS receives information that Multisite is active. This is the only difference.

The wp-uploads folder contains an additional subfolder that contains all the data.
The Pros & Cons of Multisite
WordPress is considered as the best CMS for many purposes, whether it's a small blog or a huge sales company. But there are a few pitfalls here.
Let's start by looking at the pros and cons of Multisite.
Pros of Multisite
There are plenty of pros for using a WordPress multisite. Here in this guide, I've listed some of them;
The main pros of using a WordPress multisite is that you can easily upgrade anything you need on all websites in a single click. You can even upgrade or update the plugins, themes, and other core features.
Along with it, you'll get an option to install everything you need.
For example, the same theme can be installed on several selected sites and you can install plugins in the same way. Additionally, the other benefit of using multisite is, you can create a unique control panel for any of the site admins.
Cons of Multisite
There are a few cons of using WordPress Multisite. And here in this guide, I'll also list them to make sure you are aware of all these pros & cons before deploying a multisite network.
So, the major issue of the multisite network is, many plugins may not launch or work as expected on the network side and you need to heightened security measures to protect each site. If one of the sites gets hacked, all other sites on the network may be at risk.
Along with it, if you run into problems with the server or accidentally damage the site, it can affect the operation of the entire network. Novice users can also get confused about managing a network of sites.
What is Multisite for?
The multisite is suitable for people who work at educational institutions. It will help them and allow the students to easily create their website.
If you're from a government agency or from a news company, then again it is most suitable for you. It helps to create different departments and divisions for your agency, firm, and for distinct divisions.
So you can efficiently work without messing up anything.
How to set up WordPress Multisite
So the wait is over;
Now I'm sharing simple steps through which you can easily create a multisite using WordPress and use it effectively.
You can follow this guide to create your multisite website and in case if you get any issue, you can simply reach us using the comment section below.
So read it till the end, and the first step is to…
Choose a Best Web Hosting Provider
The most important step begins before installing WordPress Multisite. This is a choice of quality hosting.
Of course, small networks can run on any hosting. But if you are determined to build a serious network and want to keep it running continuously without interruption, we recommend using a proper server instead of some traditional hosting with only a few domains and limited space.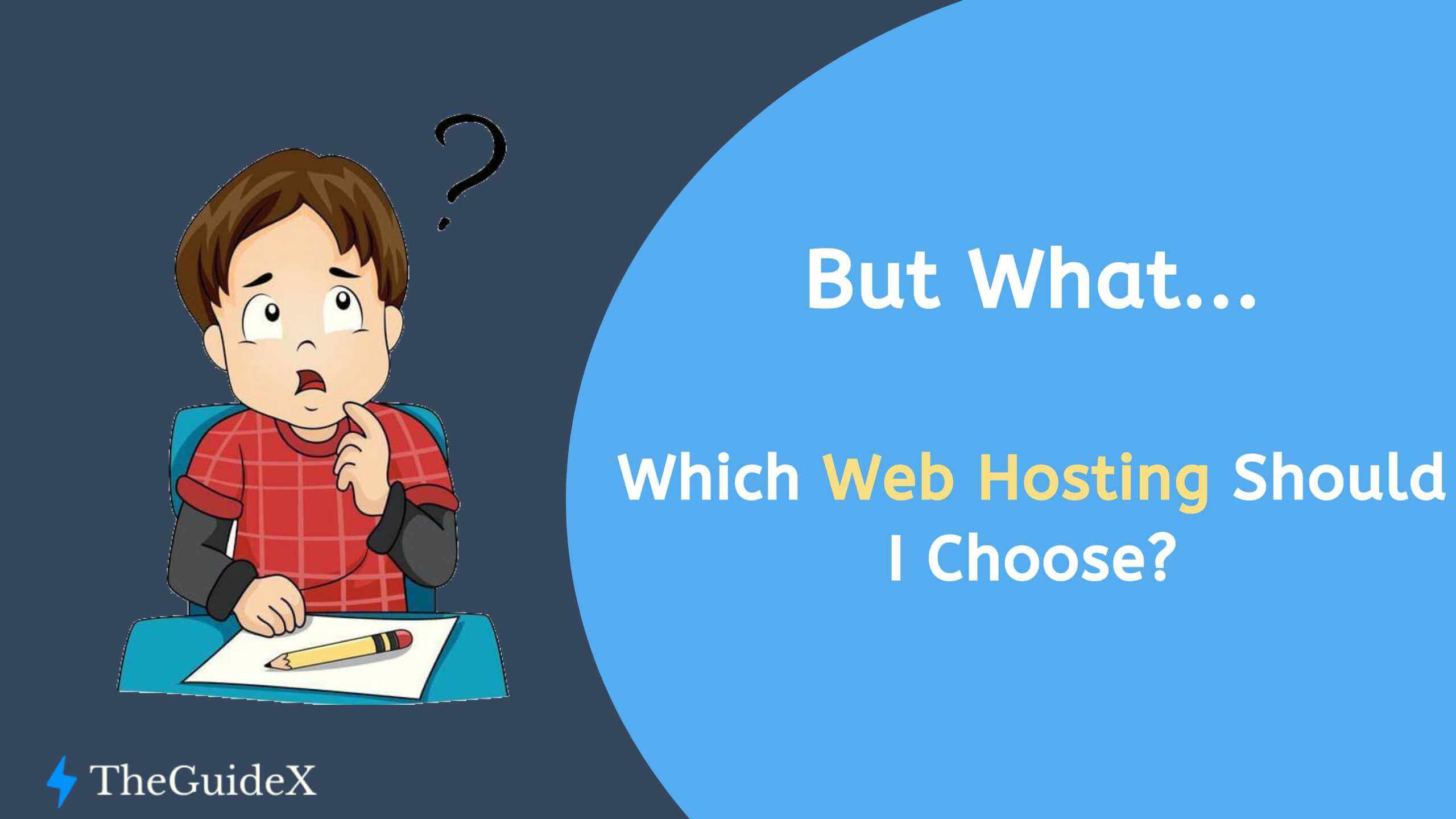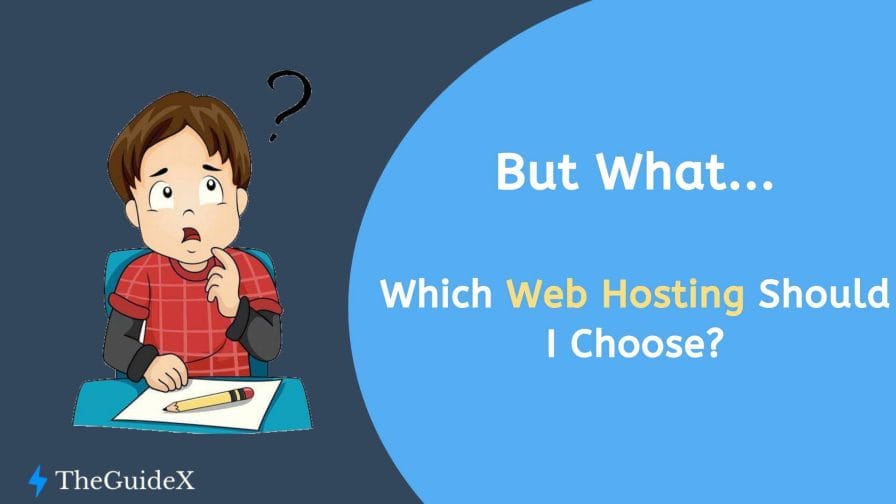 For example, a server with a VPS would be a good choice. Many hosting providers offer such a service, so it is better to choose the one with the most optimal set of features. InterServer is high-quality hosting that can ensure uninterrupted operation of the network, security from hacking, and fast page loading speed.
So choose the hosting according to your needs. For better recommendations, you can read our post on choosing the best web hosting for your website, where we shared the top-notch hosting provide after analyzing them on various factors.
Once you choose the hosting, now you've to…
Install WordPress on Your Hosting
So the next step is to install WordPress on your web hosting. The step is simple and it will just take a minute or two to install WordPress on your domain name.

This can be done using an FTP client. Or you can install it through the hosting control panel.
But when installing WordPress, you should have to take care of a few things – and this is choosing the domain structure for installing WordPress.
This is usually a choice between subdirectories and sub-domains.
If you don't know what it is, let's look at an example.
Most likely you have seen this many times in large companies or on the websites of government agencies.
For instance:
Root Domain: http://domain.com
Subdirectory: https://domain.com/thesecondsite
Subdomain: https://abc.domain.com
Setting up sub-domains usually requires additional configuration in the hosting control panel. You can learn more about choosing a domain structure effectively in our guide here.
Once you are done installing WordPress, we can move towards the third step, which is…
Editing WP-Config.php file
Multisite starts up differently from other functions.
If you've never set up this feature before, it's best to back up your site.
You need to go to cPanel. The hosting control panel will contain your site's FTP client.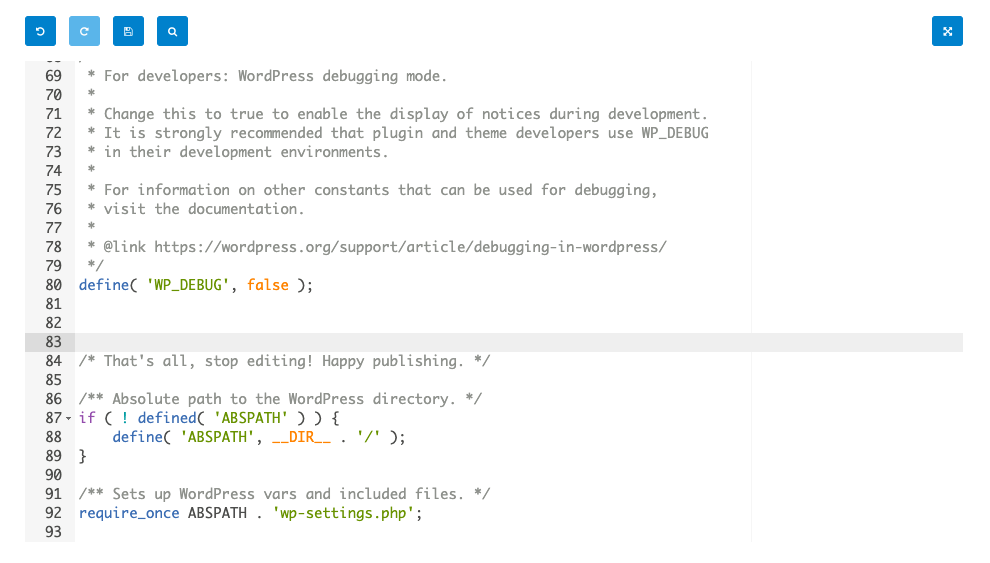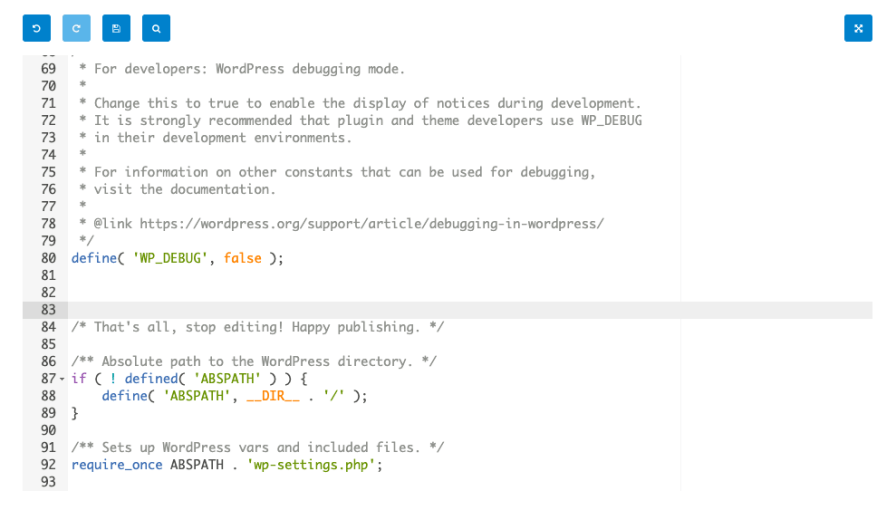 You need to find the wp-config.php file. Opening this file, you will see a huge code. You need to scroll to the bottom and find the last line saying
/* That's all, stop editing! Happy publishing. */
You need to paste the copied code right before it.
/ * Multisite * /

define ('WP_ALLOW_MULTISITE', true);
Everything is so simple.
The function is now activated and you can see it in the admin panel.
After that, the function will become active, and you can add websites to the network.
Now you've to…
Activate Multisite from Network Setup
So once you added the code which I shared above in the wp-config.php file, it will enable the multisite option for you. You can simply find the option in your WP-Admin are by visiting "Tools > Network Setup".
You may get a warning about the need for mod_rewrite Apache. But a good hosting provider includes this automatically.
You need to decide what you will be using, sub-domains or subdirectories.
Which one you choose depends on what goals you are pursuing: creating a website for a business, a community, or your analog of hosting.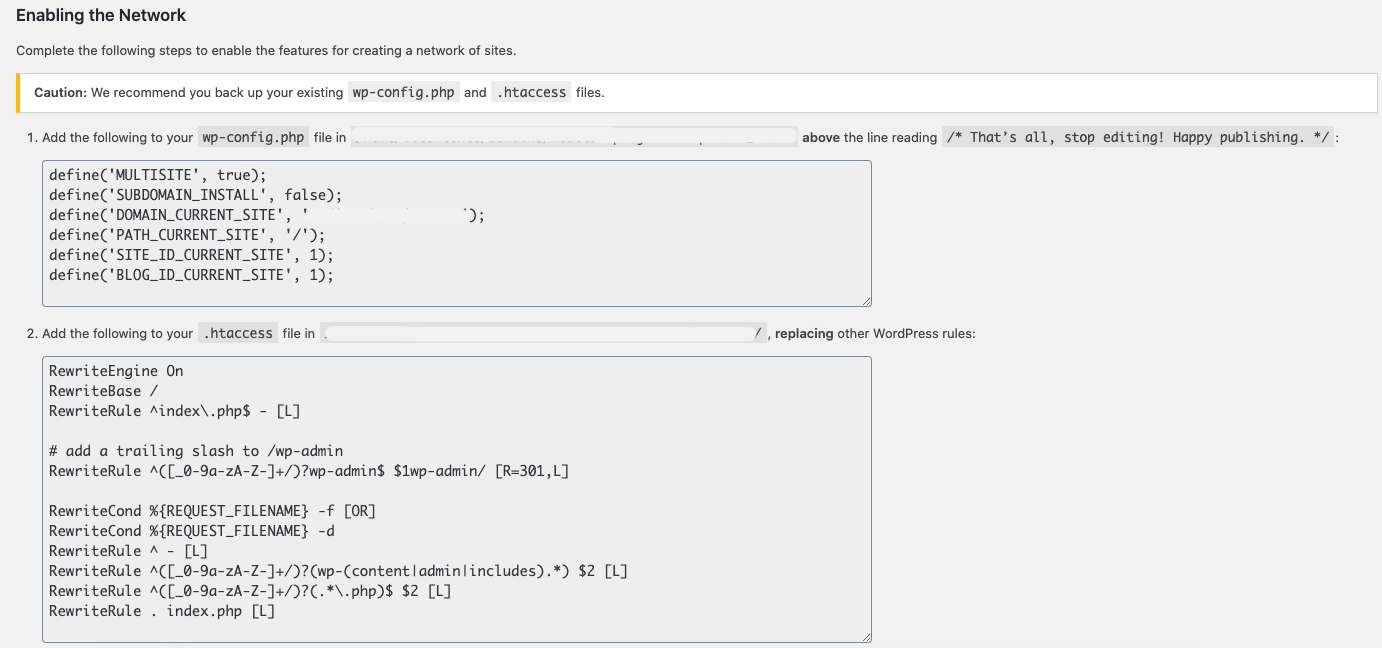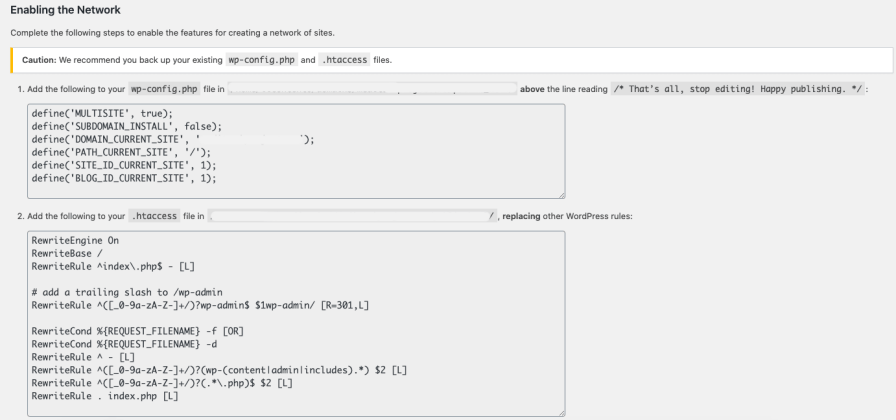 An important detail: at this stage, we recommend that you check the administrator's details, especially the correctness of the email in the account settings.
Now you need to click the Install button and everything else will be done automatically.
Once the process is done, you have to…
Login as Super Admin
Now login to the network as Super Administrator.
Here you can set any settings you need and install everything you need for the site to work. In the Network Admin panel, you will find modules to manage all the sites and users on your network.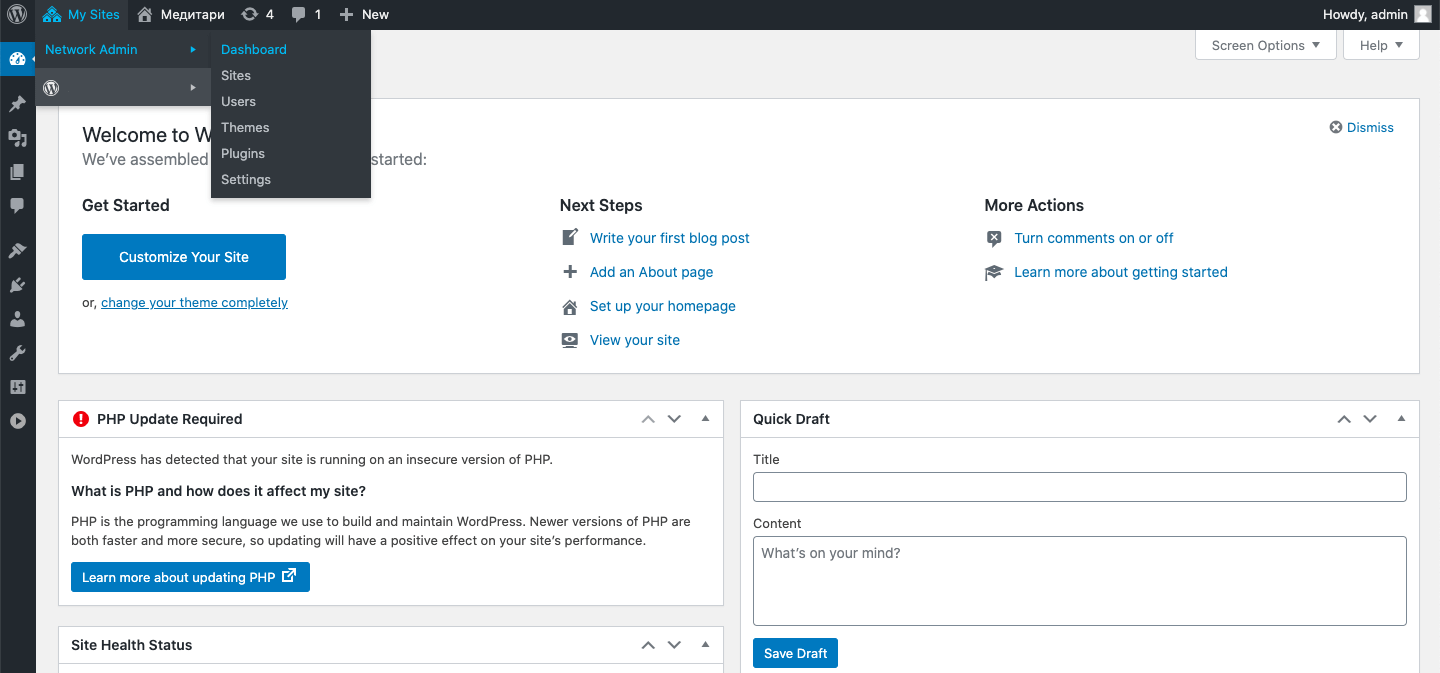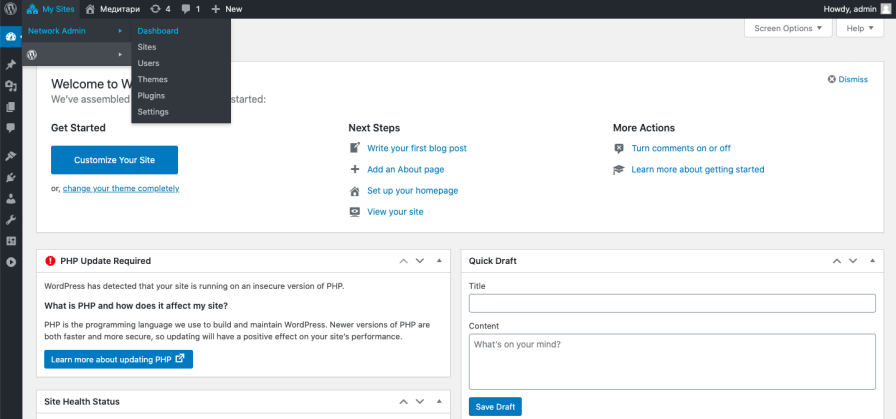 And when you enter the Sites tab. This will give you more options in the Network Admin > Dashboard.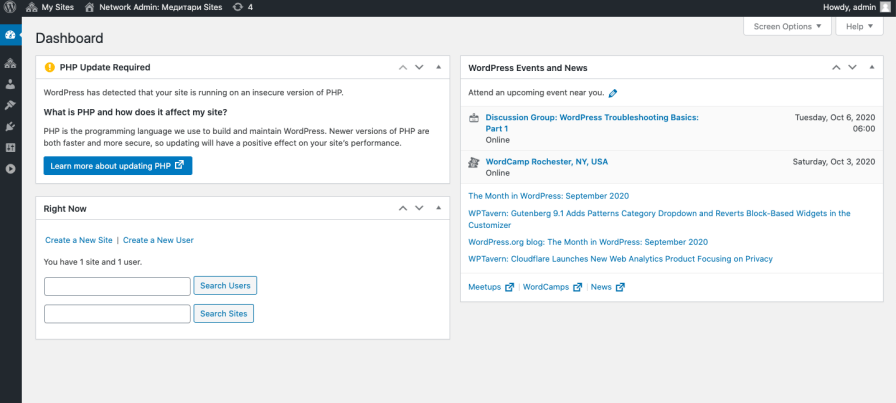 In the sidebar, you will find the Settings tab. Click on this and fill in the details to create a new site and to create a new user. This is a convenient way to create a site right from the super admin dashboard.
Now after doing this, enable the…
User Registration on your WordPress Multisite
You need to register with the WordPress multi-user network.
Why?
A Multisite administrator usually gives several people the ability to create their website. To do this, the user must be able to register his account.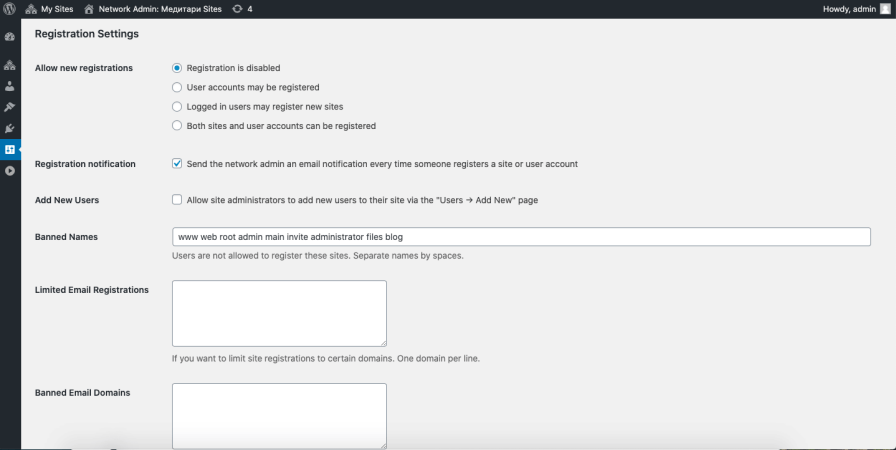 In Multisite, these registrations are disabled by default. This is for safety.
At this stage, you need to choose whether you need email notifications that a new user or site has been created.
You also have the option to restrict registrations to certain email addresses. You can also choose which sites will prohibit user registration and which will allow it.
Once you have done enabling the registration settings in your WordPress multisite, you've to do a few more settings, which enables various settings in your site.
Doing New Site Settings
You will find useful functions in this tab. For example, settings for sending personalized letters to users. Or, you can take advantage of useful features like displaying a blog post on every site on the web.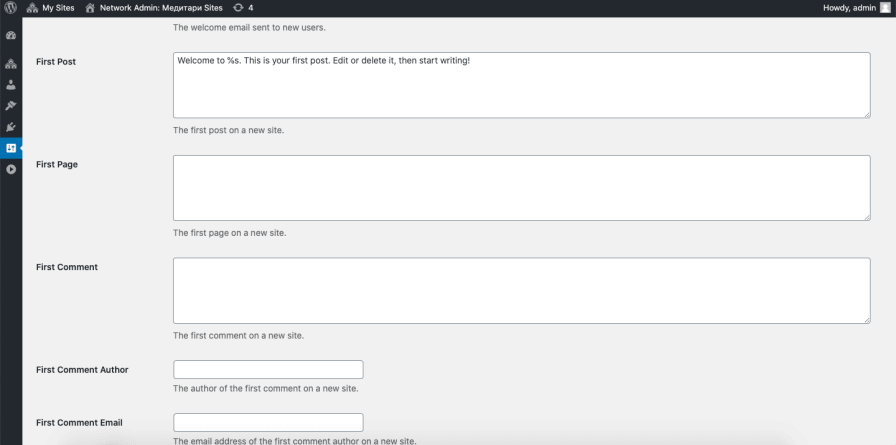 And the sites can sometimes overload the network, making it worse. To avoid this, in the Settings section, you can limit the amount of space for each site.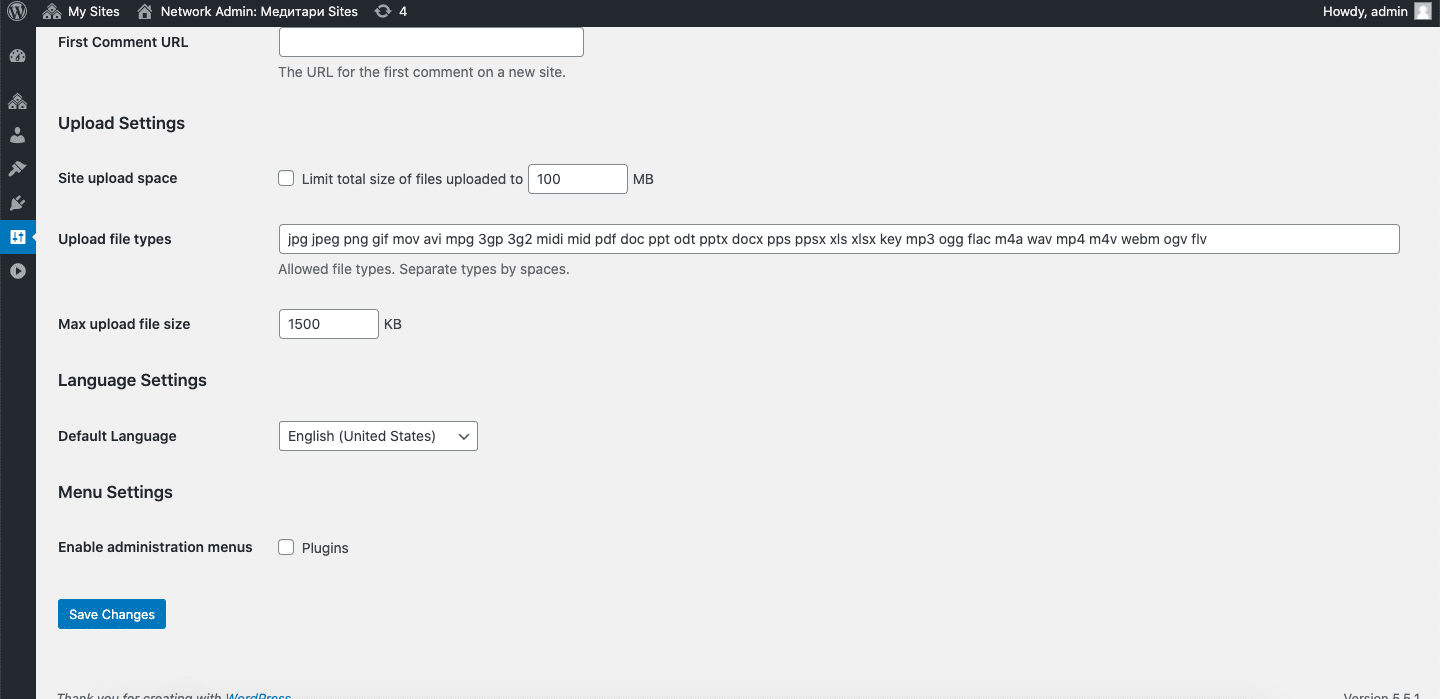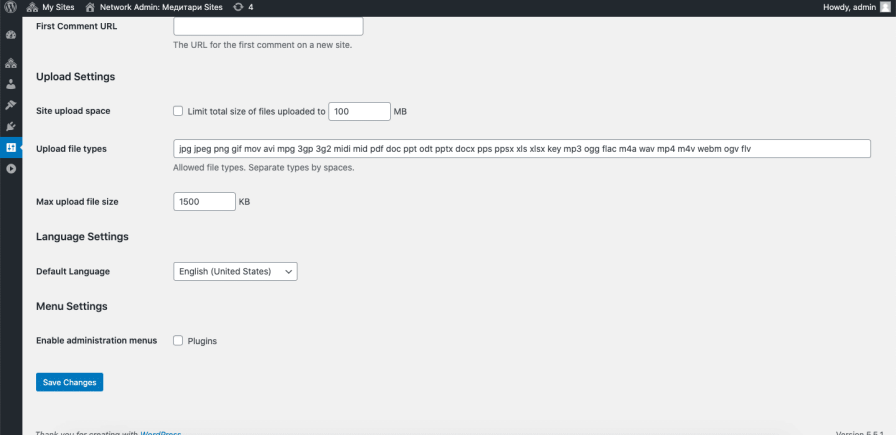 Here, if you want to speed up your network, you can set limits for downloaded files, especially media files. To do this, you set the maximum file size for all sites on the network at once. You can also click here to read our guide on optimizing the WordPress website efficiently.
You can even customize the level of user access to plugins. You can also allow users to install, configure, and uninstall plugins themselves.
And lastly, by completing these steps, you will fully set up your Multisite. Practice on a separate site and you will be able to get bonuses from using this function.
Using WordPress Multisite
As we mentioned above, there are several benefits of using a WordPress multisite.  It can even help you to make money, maintain the community, and do a lot of work efficiently and easily.
Here I'm sharing some ways of using the WordPress multisite.
Creation of site networks.
You can use Multisite for a variety of purposes, from building a community to developing a business, from developing your website or blog to building a network of a government or corporate sites.
If you host multiple sites, Multisite saves you the hassle of setting them up individually. With this, you can link your separate domain to each site. By the way, no one from the outside world even guesses that these sites work from one installation.
Making Money With Multisite
Having created a network where users will create their sites, you can charge money for various services: site improvement, payment for plugins, additional themes, domains, and more.
By the way, one of the largest services powered by Multisite is Edublogs. This is a huge educational blogging service where you can create websites for free, but you have to pay for various features. You can stick with the same model for your network.
Maintaining the Community
A multisite is great for building and maintaining communities. You can create a network of sites hosted by users from your community.
Moreover, they will be able not only to create sites but also to communicate, subscribe to each other, and share interesting content. And you can control the entire network, make updates and maintain it technically, giving freedom of action to each user.
Conclusion
Multisite is an extremely useful feature that can save you hours of work installing and configuring WordPress. Once you've created and configured your site network once, you can manage all of your sites from one place without wasting time on each site individually.
Despite some nuances with the security or operability of such a network, in most cases, the pros overlap the cons.