There is no surprise that Bluehost is the leading web hosting company available out there. Thanks to their affordable web hosting plans and quality of services, lots of people prefer web hosting. Even it is not just offering quality web hosting, but it is also giving you an opportunity to make money using their affiliate program.
Bloggers from all around the globe are actively promoting Blue host and making money, and you can do the same. So the question is How To Make Money With BlueHost Affiliate Program?
Founded in 2003, Bluehost is a leading web hosting provider in the market and it is officially recommended by WordPress.org itself. It offers quality and best web hosting services to help people make a good quality of websites that are visually appealing.
It offers one of the best web hosting affiliate programs, and by promoting them, you can earn $65 or more commission on per sale. And the best part about this web hosting plan is that anybody can join them and start promoting their hosting product via their blogs, YouTube, etc.
Well, in case if you have a similar question in your mind, then I am here to help you out.
So here we go:
What is the Bluehost affiliate program?
Bluehost is one of the top web hosting providers available out there. The company is mainly popular for its WordPress hosting, and it is recommended by experts all around the globe.
To start making money out of BlueHost, you will need to sign up for Bluehost affiliate program, which is absolutely free to join. Once joined, simply promote their hosting blogs through different channels.
The company is offering different web hosting services such as Shared Hosting, WordPress hosting, VPS hosting, and Dedicated hosting.
How Much Money Can I Make with Bluehost Affiliate Program?
Talking about the commission, Bluehost pays you $65 on each successful sale you make. Also, the commission rate goes up depending on how many sales you make in a particular month. So the better number of sales you many in a month, the higher commission you will get.
Also, they do have a tiered commission range. So you can get affiliate commission up to $130 per sale. However, I would advise you to have a talk with your affiliate manager and he or she would help you with a higher commission rate.
Why join Bluehost Affiliate Program?
There are quite a lot of benefits that Bluehost affiliate program offers. Some of the key benefits are:
You will get $65 per sale, which is more than any other web hosting company out there.

So far BlueHost has paid 5 million dollars in commissions only. So you can understand how popular this affiliate program is.

You can earn an unlimited amount of money from Bluehost. There are no limitations on how many sales you can make per month.

It is absolutely free to join and pretty easy to sign up.

BlueHost Affiliate Program offers 90 days of cookie life, so there is a higher chance of making more money.
Requirements to Join Bluehost Affiliate Program?
BlueHost affiliate does not have any requirements for marketers. But you will need to have a website and a PayPal account, and you are all done.
Also, the best part is that they don't have any traffic requirements at all. So if you have a brand new website with zero to little traffic, you can join BlueHost Affiliate.
How to join the Bluehost Affiliate Program:
We can join their affiliate program by directly signing up in the Bluehost website as Bluehost has their own affiliate system which integrated directly into their website.
This helps to get accurate tracking including click-through ratios, conversion rates, impressions, and payments.
Step 1:
Go to the Bluehost Affiliate page and click on the signup button to join their Affiliate Program.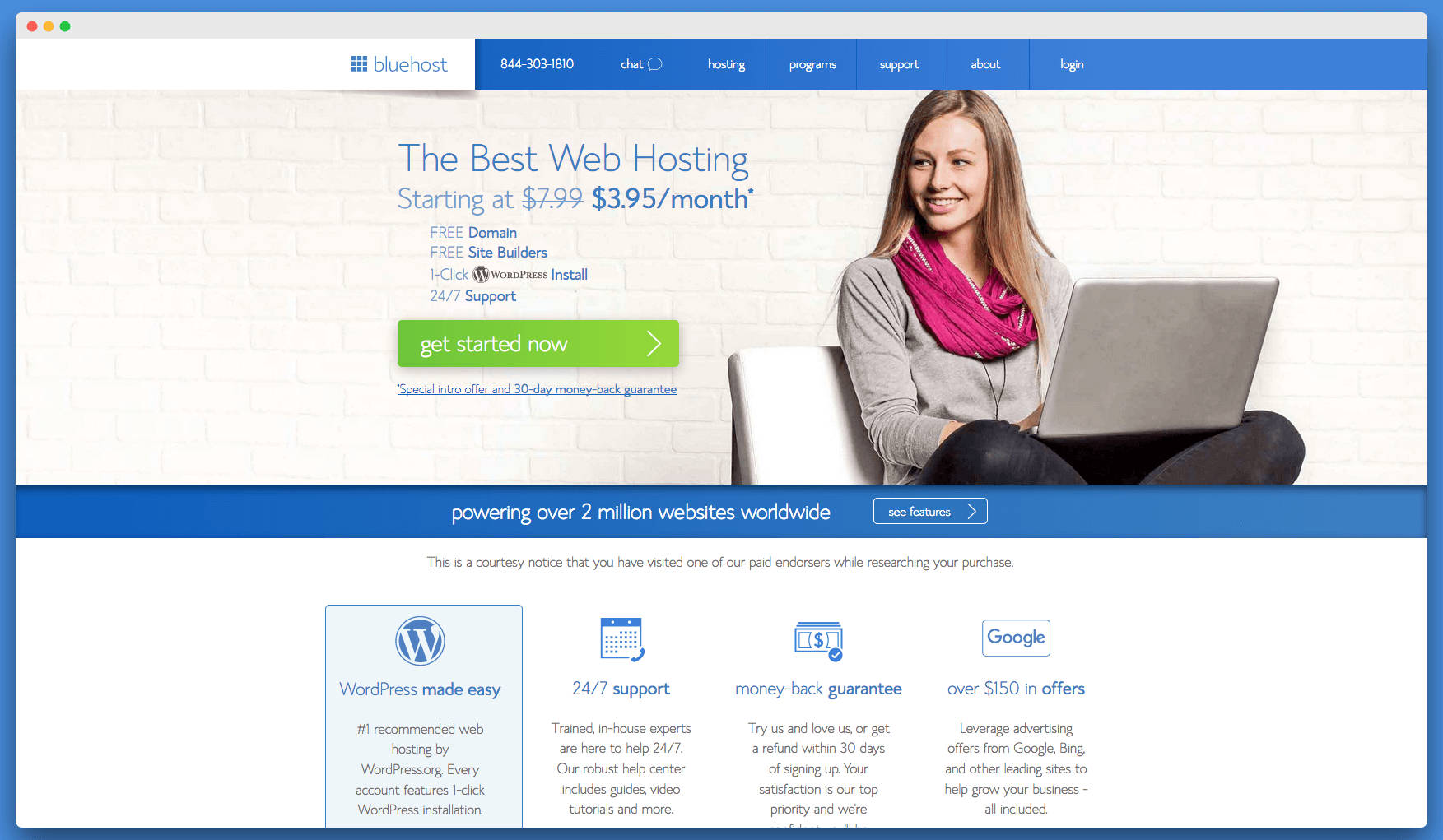 Step 2:
Then, you will need to create your account username, password, and confirm password.
Along with that, you will also need to fill up your personal details like your name, phone number, address, company, and others.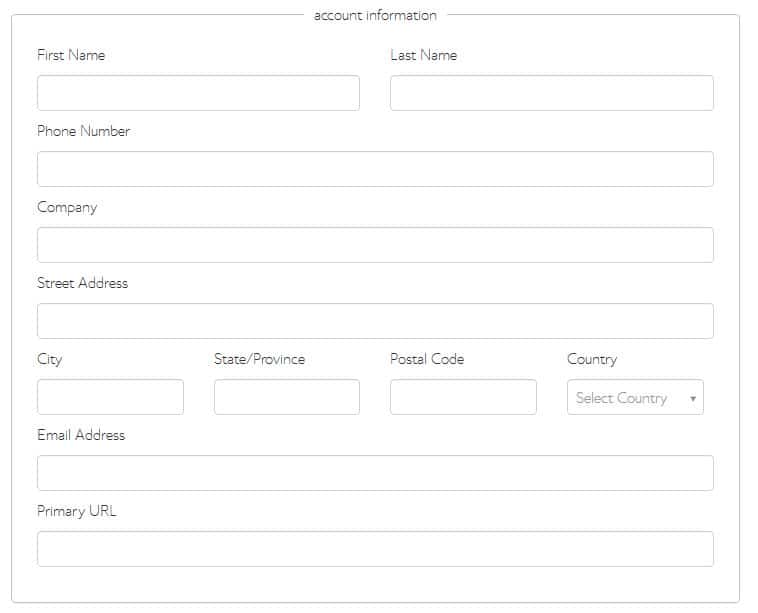 Then update your payment information by entering your PayPal email ID. In case if you don't have a PayPal account, then consider creating one at first.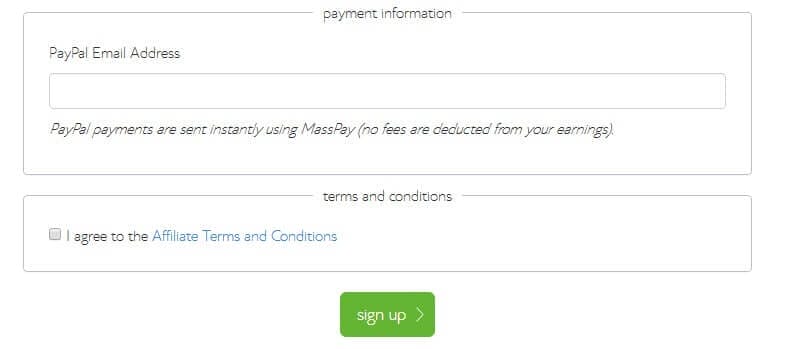 Step 3:
Finally, agree to their terms and conditions and hit the sign up button.
Once done, you will get redirected to the BlueHost Affiliate Program, and from here, you will be able to create Affiliate links, get stats, change settings, and so on.
How To Make Money With BlueHost Affiliate Program?
In order to make money with the Bluehost affiliate program, your job is to promote their services. However, in case if you are trying out affiliate for the first time, then you may not understand how to promote web hosting.
But not to worry, here are some of the top ways to promote the Bluehost affiliate program:
1. Write Blog About It
Blogging is one of the best ways to promote affiliate products. People out there are always looking for information online, and you just need to help them with information.
You can start by doing perfect keyword research and find some low, competitive keywords related to blogging/hosting or web development.
The next step for you would be to create awesome yet engaging content and promote BlueHost hosting plans through your article.
You will need to convince the reader why BlueHost is best for their needs, and you will soon get an email from BlueHost saying you have made your first sale.
To help you out, here are some of the blogging topics that you can try out:
You can pick topics like how to start blogging, where you can mention Bluehost as the hosting option.

Compare BlueHost with other hosting companies.

Talk about the best or cheap web hosting companies online.

You can talk about how to create websites or how to use WordPress.
2. Make Videos
Video content is also getting hugely popular these days. So you can also consider making video content where you can promote BlueHost.
For example, you can make a video talking about how to create a WordPress blog or website in just five minutes. In this video, you can talk about BlueHost's benefits and how it can help your website.
Similarly, you can also talk about other topics related to blogging or web development. The rule is to pick topics that are related to web hosting one way or another.
3. Email list
If you have quite an old website with a good number of visitors, there is a high chance that you already have an email list. Email lists are extremely helpful it helps you to promote your website content and build a community of readers.
So in case if you already have an email list, you can go ahead and send an email to your email subscribers talking about Bluehost and giving them offers. So if any of your readers are actually interested in the product, they might purchase it.
When to withdraw BlueHost Affiliate Commission?
You may wish to withdraw your BlueHost affiliate commission right after you make your first sale. However, it is not possible.
You will need to reach at least a $100 limit to request payment. This means you will need to make at least two sales.
However, the good thing about BlueHost affiliate is that once you receive your first payment. You will be able to withdraw your amount whenever you wish to. Also, you will receive the payment within 45 to 60 days after you make your affiliate sales.
Wrapping Up!
Bluehost is one of the most popular affiliate programs and with this affiliate program, you can earn thousands of dollars monthly like other bloggers earn these days.
So that was the answer to your question. Overall, I would like to say that BlueHost is one of the most profitable affiliate programs available out there.
They do have a good payout commission and comes with great tracking features. So you will not miss out on affiliate sales. Now go ahead and sign up on the BlueHost affiliate program and see if it is working for you or not.
Also, if there is anything you would like to ask, then do feel free to comment below and I will help you out.