Exploring an international audience can be a great way to scale your website's success, only if done right. Going international can also be a lifeline for a website that is not doing well locally. Translations form the foundation of availing your website's content internationally. With WordPress, this process has been greatly simplified.
There are a couple of extensions which you can install to automate the translation of your website into multiple international languages. However, these plugins fall short of some of the key elements of going global successfully. There are still some questions, for which they do not have an answer.
How can you edit machine translations at the front end to maximize translation efficiency?

How can you get experts to edit translations for the languages you don't speak?

How can your website's content be translated in a way that is ranked highly by search engines, so that your international audience can easily find you?

How can you save on the cost of translation to maximize ROI?
All of these questions can be answered by a single tool; Linguise. How does it do this?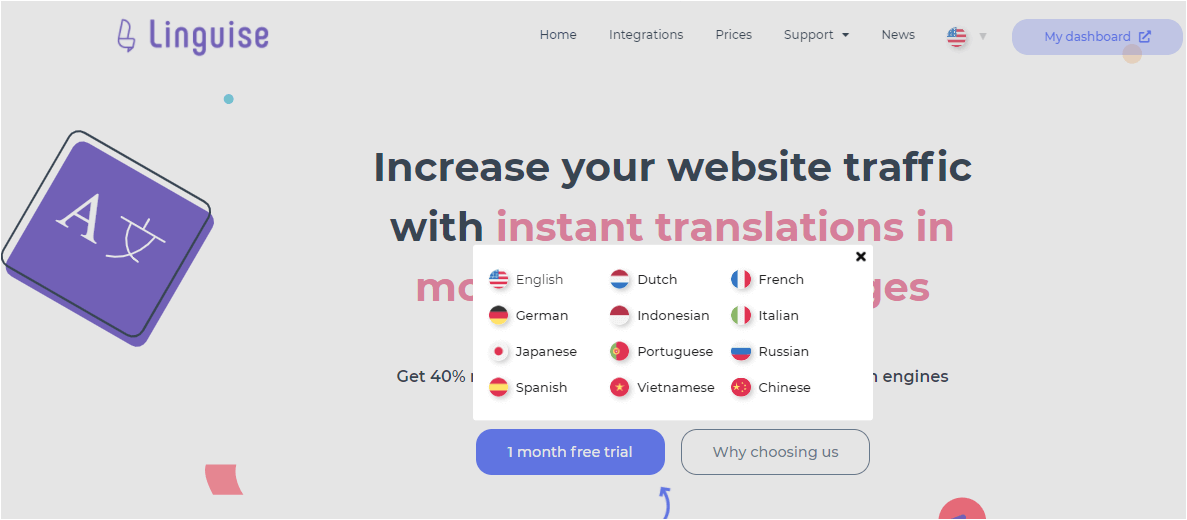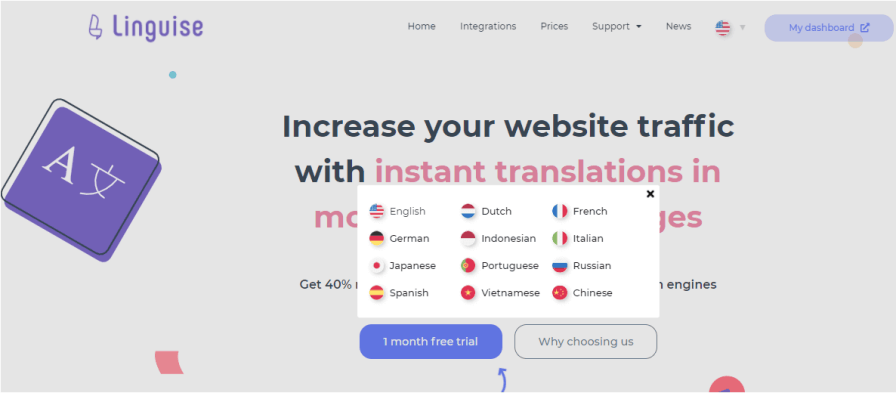 In this post, we will discuss how you can automate and edit translations in your WordPress website using Linguise, and how it ensures you realize your maximum international potential.
The Basics of Linguise
Linguise is a neural network SaaS designed to automate the translation of your WP website content. Just like the current translation solutions, it has inbuilt machine learning capabilities that will automatically incorporate suggestions after a few demonstrations. It is a highly flexible solution capable of translating over 80 languages.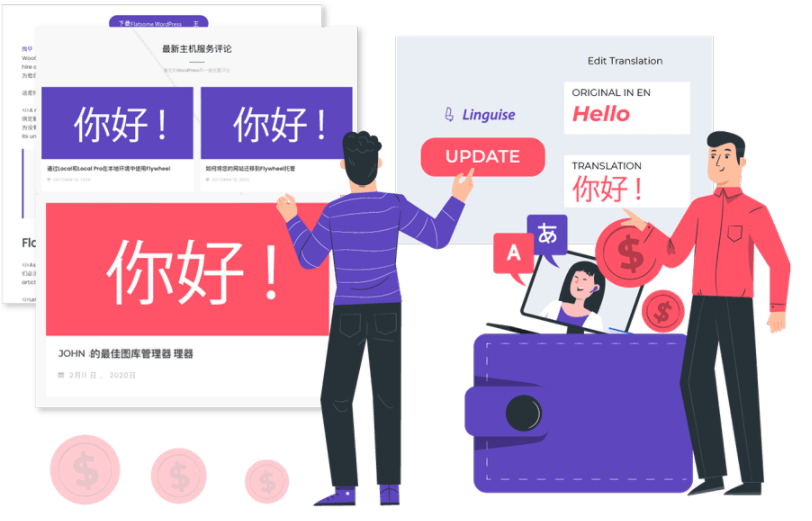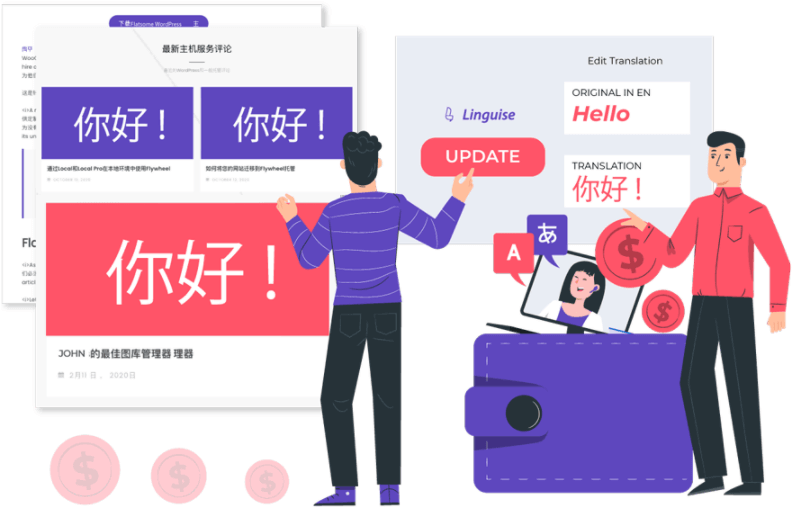 It is compatible with all WP plugins and themes and can also translate them. It also offers you the opportunity to edit the translations at the front end and invite experts to edit the languages you don't speak. Let's get into the details.
If you already have Linguise installed, click here to skip to automation and editing, if not, let us show you how you can set it up easily.
How to Setup Linguise in WordPress?
The process of setting up Linguise is slightly different from the conventional way of installing plugins on WordPress. Unlike other extensions on WP, everything on Linguise is centrally managed on the official site.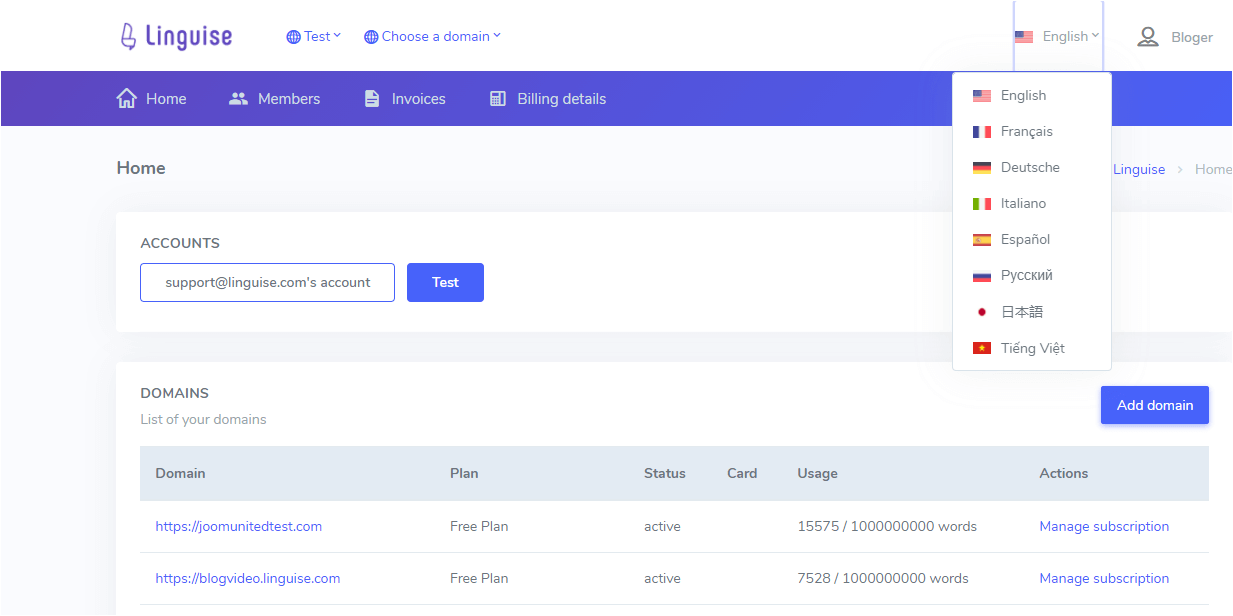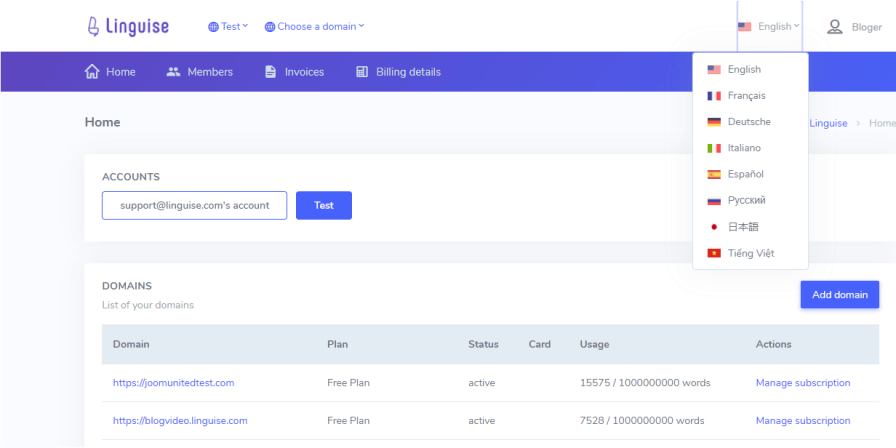 Most of what we'll be discussing here today is based on the official site rather than your website's admin dashboard. So let's get started.
Although it does not follow the conventional method of installing plugins in WP, setting up Linguise involves these simple steps.
If this has been enough for you to set up Linguise, you can skip the following section with stepwise details. If not, let's get into the details.
Registration
To get registered on linguise and use their multilingual plugin, you've to go to the official website, Linguise.com, and fill in your email and a password (strong but easily memorable) and click on submit.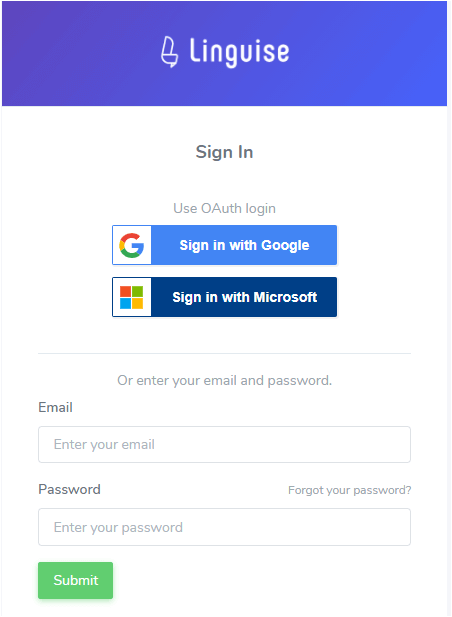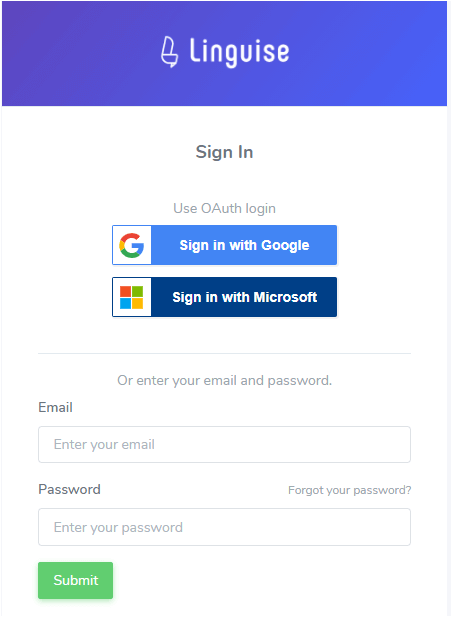 Once you've created your account on linguise, you've to add your domain name so that you can start generating multilingual text for your website.
To add the domain name and generate the API key, you've to navigate to the "Add Domain" button inside the Linguise dashboard.
It will further open a page, from where you can easily…
Generate Domain Name API Key
The domain API key functions to uniquely identify your website as the owner of a Linguise account. You can log in with your credentials and it will always take you to your personal page. Identifying your website in Linguise will enable the service to accurately track the changes in your account such as payments made, members added, etc.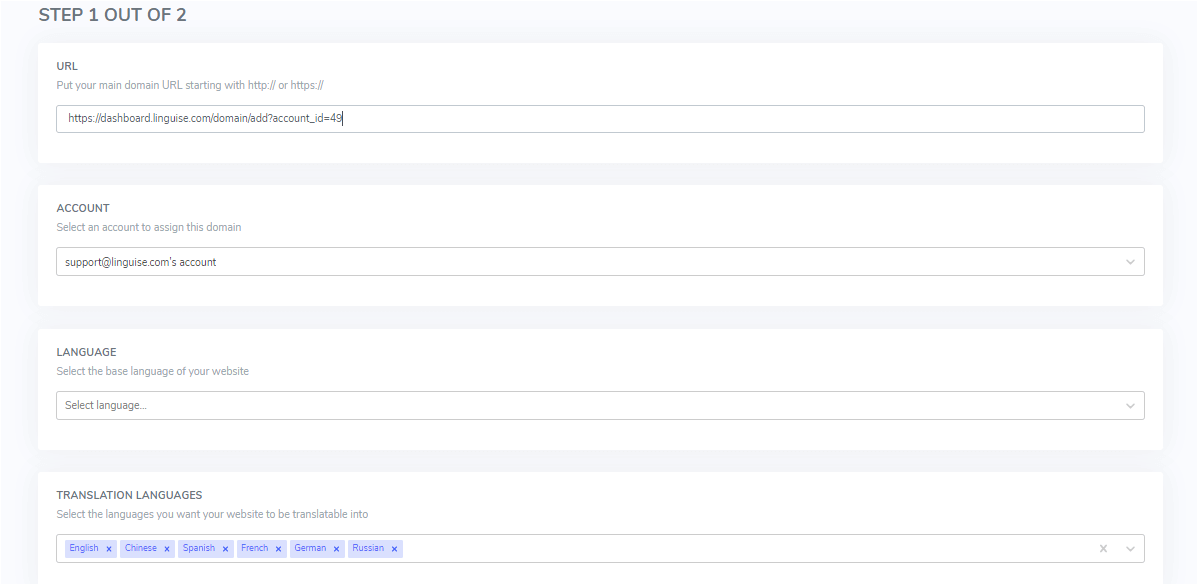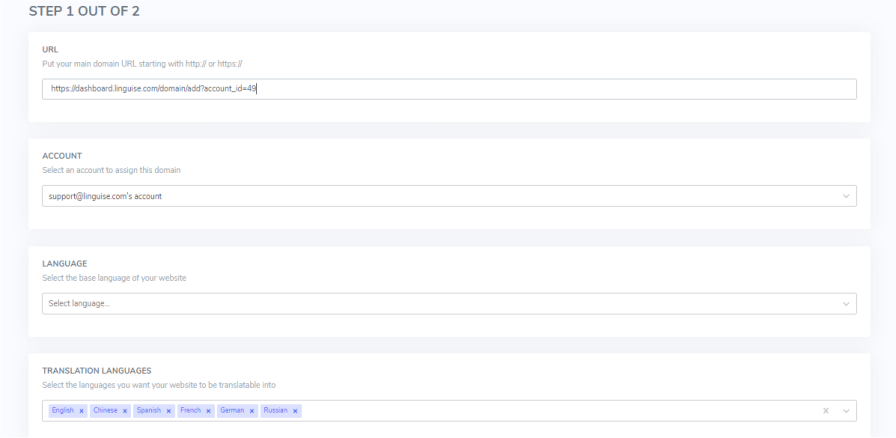 On the "Domain Add" page, you've to enter your domain name URL, the original language, and other languages you would like your website to be translated to. There are over 80 options for you to choose from!
Once you've entered all the requested details, click on the "Next" button to start generating your API key.
Here you'll also get an option to choose whether you want all pages on your website to be translated or only a few. Based on your requirements, you can choose from here.
Also, after creating an account on Linguise, you've been granted 4,00,000 words of free translation quota for free. However, this is a trial period and the service is not free forever, after this, you'll start incurring charges at an affordable rate.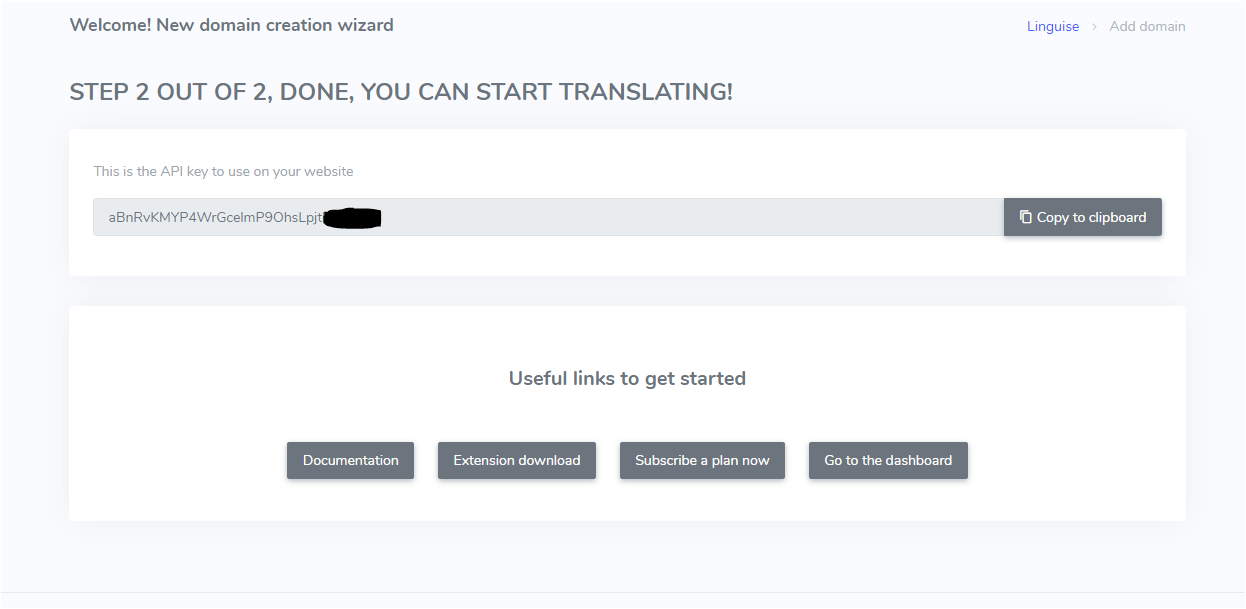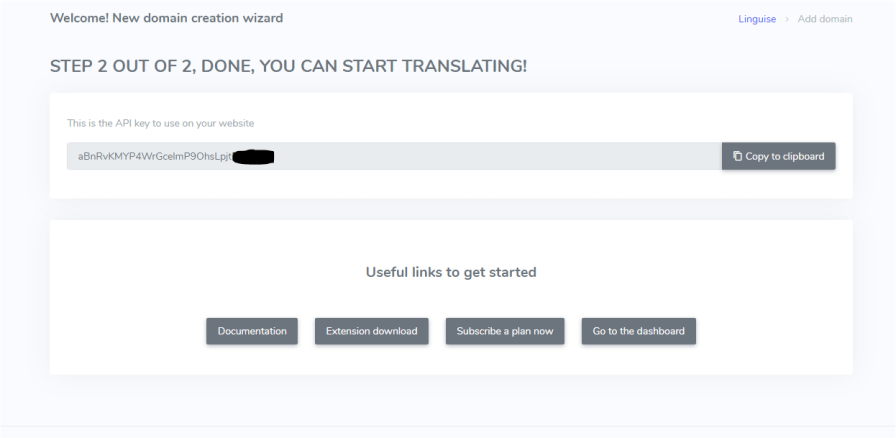 Now back to steps, when you click on the "Next" button on the domain API key page, it will take you to the next page where you'll find a cryptographically generated key (API Key) for your domain name.
You've to copy it to a secure place and then move back to downloading their WordPress plugin.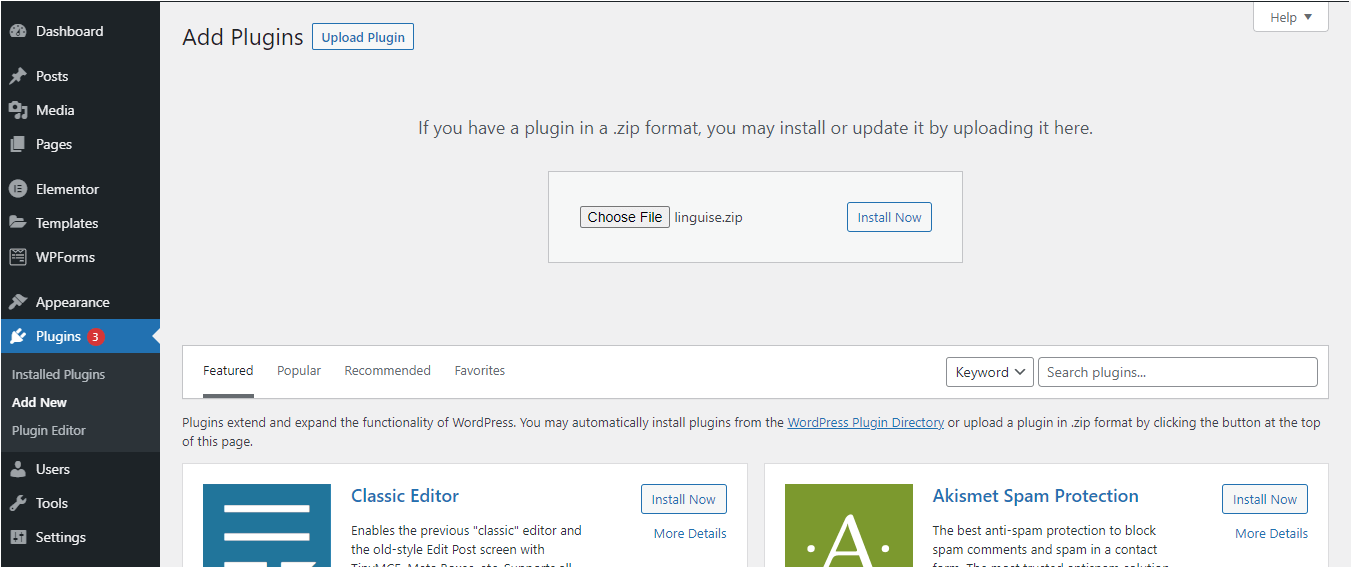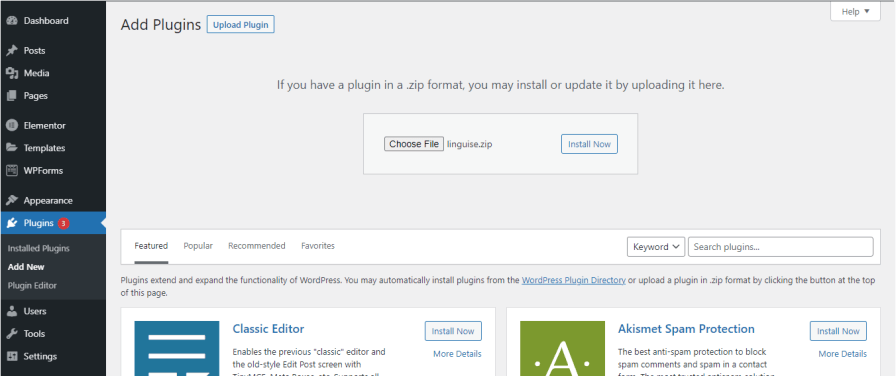 To download their plugin, you've to click on the "extension download link" to start downloading a zip file of the plugin. Once you've downloaded the zip file of the plugin, go back to your website's dashboard and click on "Plugins > Add New > Upload" and choose the plugin file you've downloaded.
Once the plugin is uploaded to your website, click on the "Activate" button showing on the blue button to activate it.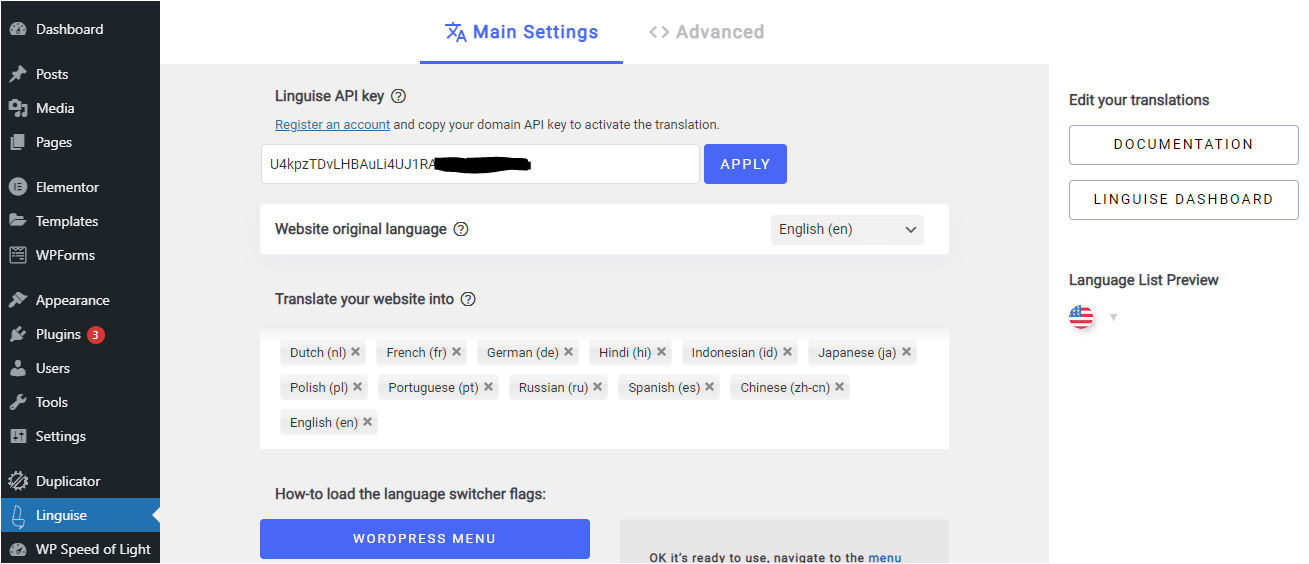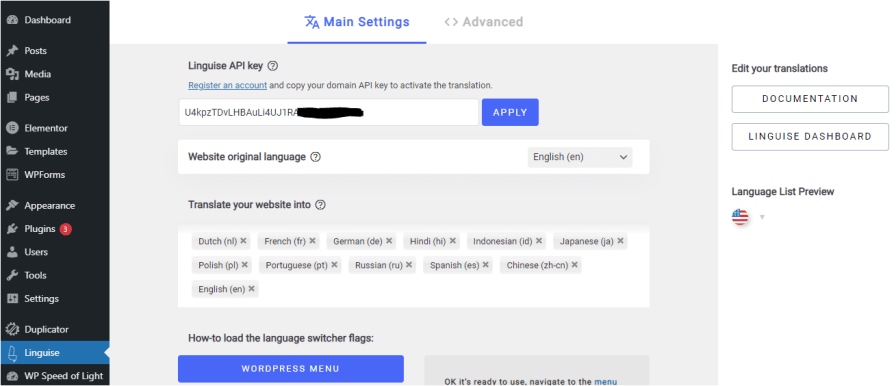 Now, visit the plugin setting page by clicking on the "Linguise icon" showing on the left sidebar menu. It opens the linguise setting page and here you've to paste the domain API key which you generated from the linguise domain page.
Once you've pasted the code, click on the apply button. It will automatically retrieve the configuration you set for your domain on the Linguise dashboard.
Once it is configured using the domain API Key, you can easily load the "Language Switcher" option by visiting the "Appearance > Menu". Here you'll get an option saying "Linguise Language", simply drag and drop it to your menu and then click on the "save changes".
You can also find a video illustration of this here.
Automatically Translating WordPress Website with Linguise
By now, you've already done the heavy lifting in setting it up, the rest can be done with a few clicks. After loading the language selector, switching between languages is easy. You just click on the language switcher and select the language you wish your content to be translated to in the front end and that's it.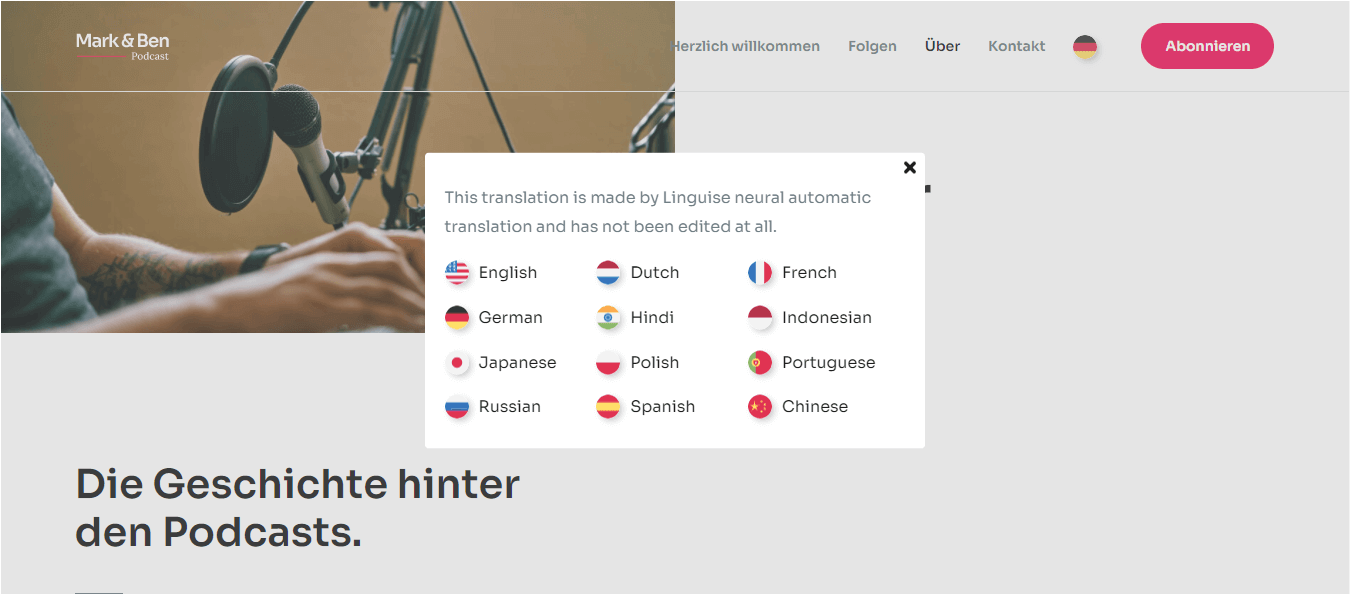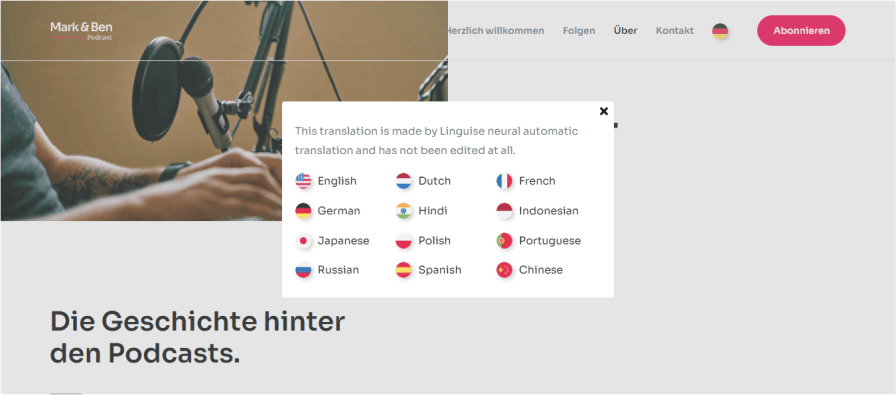 The translation happens instantly, there is no waiting time.
In exploring an international audience, translating your content in a language that they understand is only the first step. It only allows you to taste the waters without guaranteeing you any success. Search engines play a crucial role in ranking websites so that your international audience can find you.
How can you ensure that your website is ranked highly internationally by search engines so that your audience can easily find you? Through international SEO. Linguise plays a vital role in international SEO. Let's see how it does this.
How Does Linguise Ensure your Translations are Search Engine Optimized?
Linguise is more than just a translation service. In addition to translating the components of a website on the UI, it also translates the elements that make up the website on the back-end including inline HTML and CSS code (bold texts or hyperlinks).
Translation of Inline HTML and CSS elements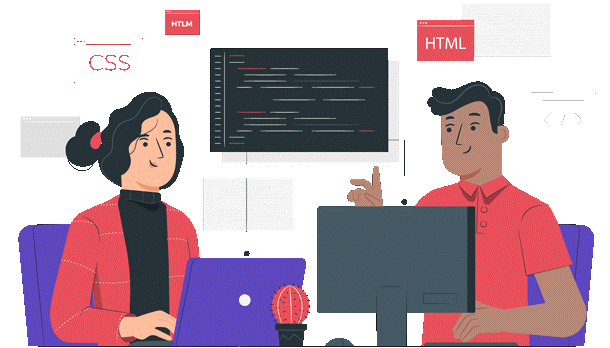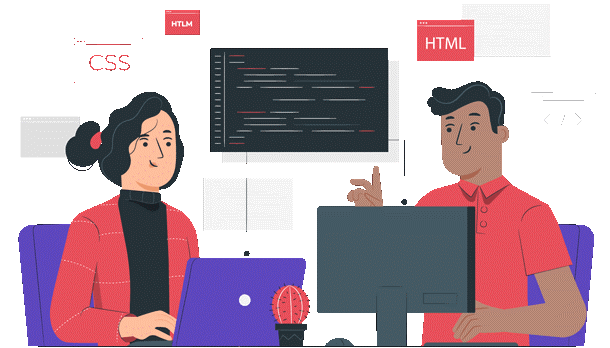 Since Inline HTML and CSS code is split into different components to be assembled differently in different languages, automated translation systems find it complicated to accurately translate. These require a special system customized for each language to assemble the parts correctly.
Linguise has this kind of system, a customized system designed to accurately translate HTML inline content alongside any other metadata on your website that is relevant for SEO (such as titles and descriptions). All of this is automated as soon as you set up Linguise on WordPress.
XML Sitemap Translation
Search engines, such as Google, need to be informed that there are international versions of your website. These search engines use bots to enquire this information. How do you provide this information? Through implementing Hreflang.
Hreflang is a tag attribute that informs search engines of the availability of international versions of your website and which language is being used on a specific page. Suppose your overseas audience makes a search in this language, Google will display this page to them.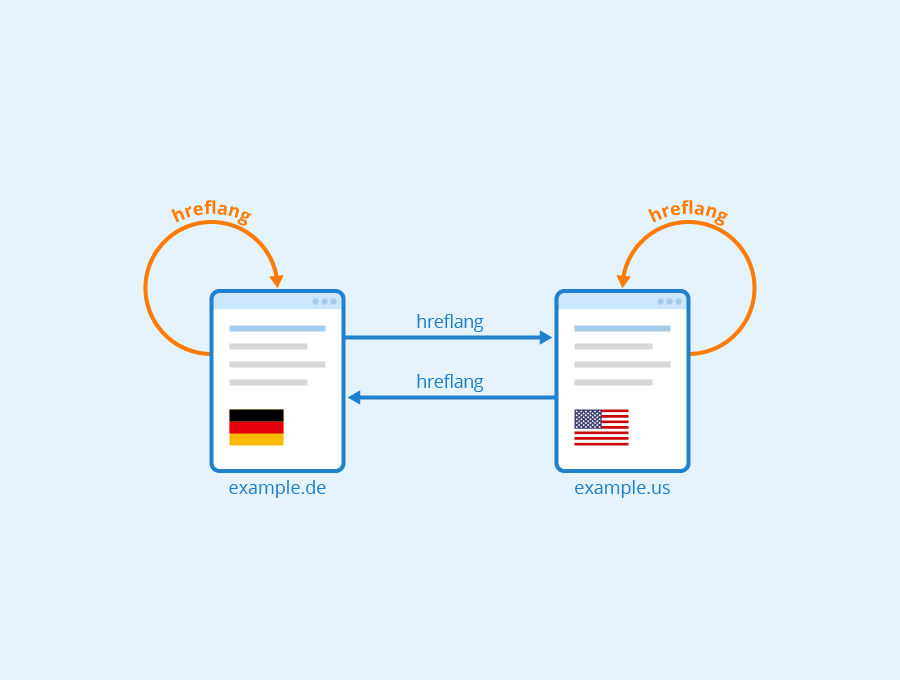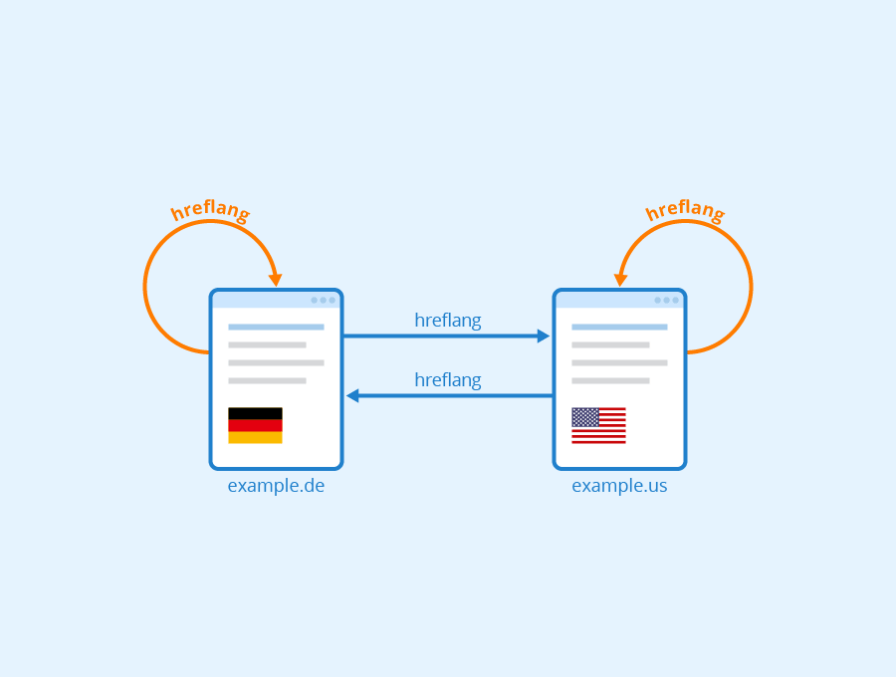 There are 3 ways to implement hreflang: HTML head, HTTP header, and XML sitemap. Linguise translates your XML sitemap to inform Google of the international versions on your website.
Since Linguise can support over 80 languages, it utilizes XML sitemaps because this option is made for websites with numerous versions. You just have to add an XML sitemap in your Google Search Console and you're ready to go.
Machine Translation Editing
Needless to say, automated machine translation is never 100% accurate despite being the most convenient option to translate websites. There is some content that will inevitably elude the software. It could make mistakes on:
Long sentences with complex structures,
Puns,
Technical terms,
Cultural references and so much more.
Additionally, the service is highly likely to miss out on local slang, which functions to localize your content with the international audience. For these reasons, it is always a good idea to revise and edit the translations to maximize accuracy.
Linguise provides you with an opportunity to edit translations on the front end. For the languages you don't speak, this service allows you to invite experts to edit those translations. That's not all, you can manage their access to these translations by defining their access roles.
Editing Translations from the Front-end
One of the most admirable features of Linguise is the Live Editor. This feature permits you to edit translations from the front-end. Let's see how.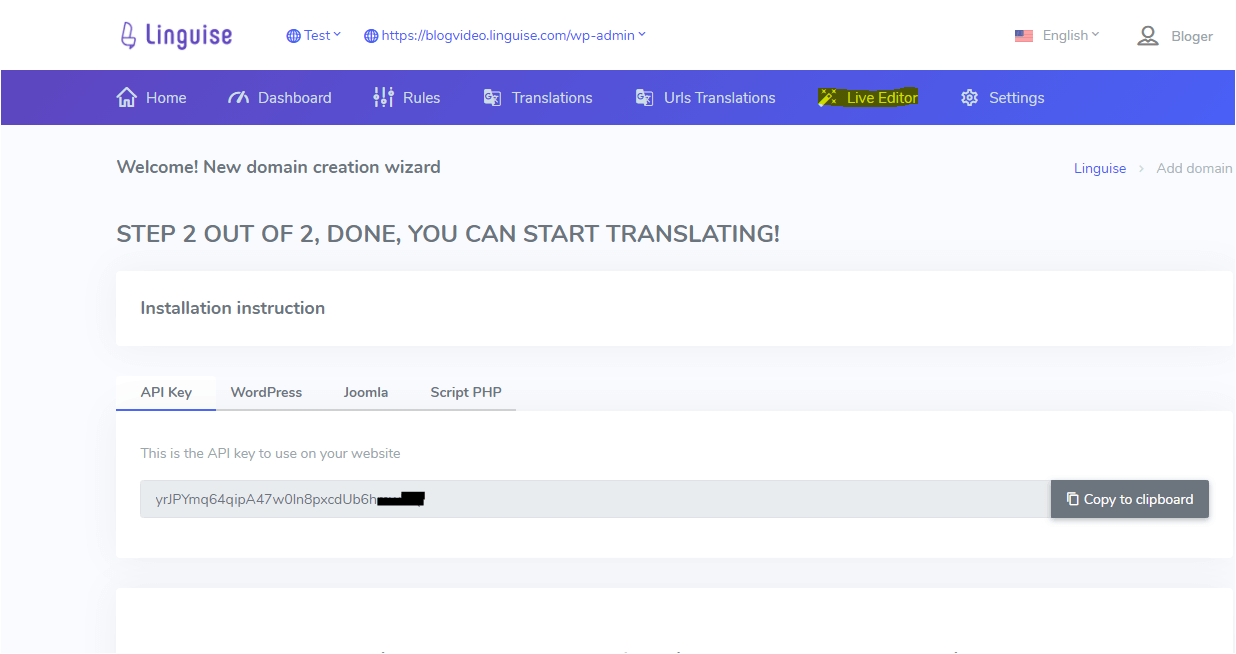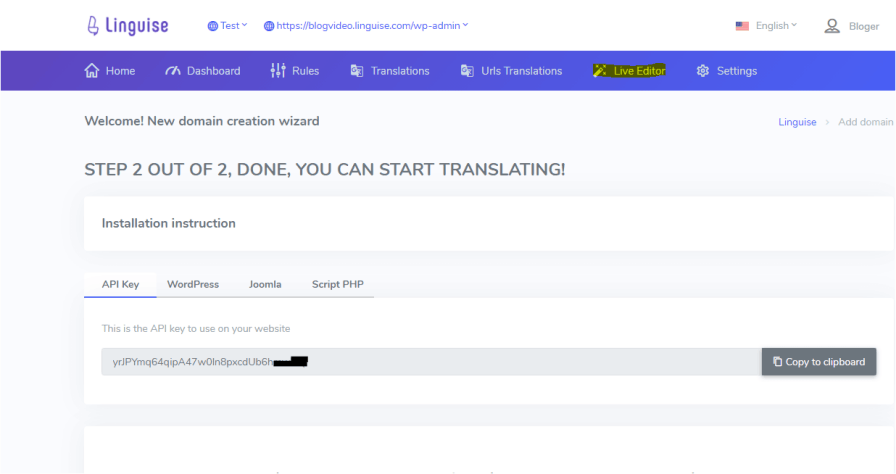 To do so, you've to visit your Linguise dashboard and click on the "Live Editor" option showing in the Linguise's menu bar. On the next page, you've to click on the "Open Live Editor" button.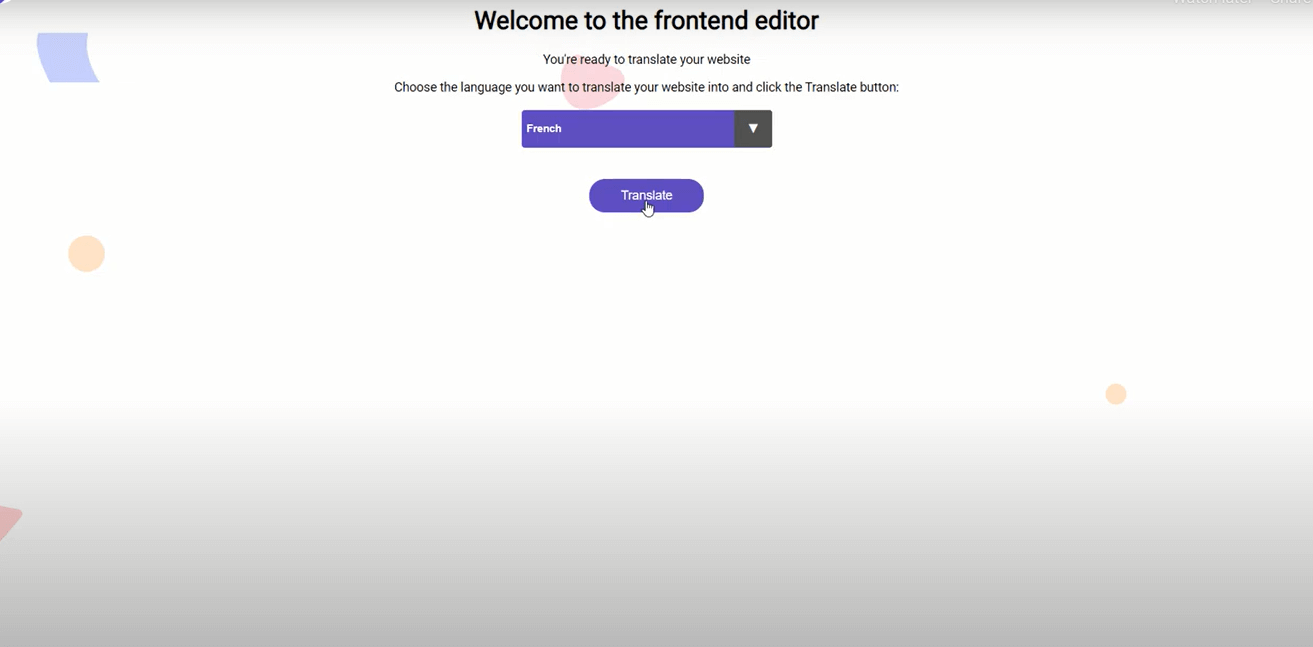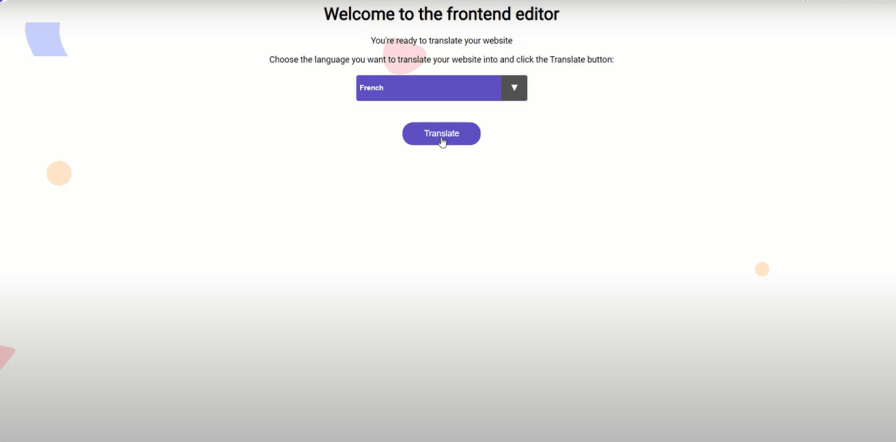 Now, you've to select the language you want to translate your website to and then click on the "translate" button.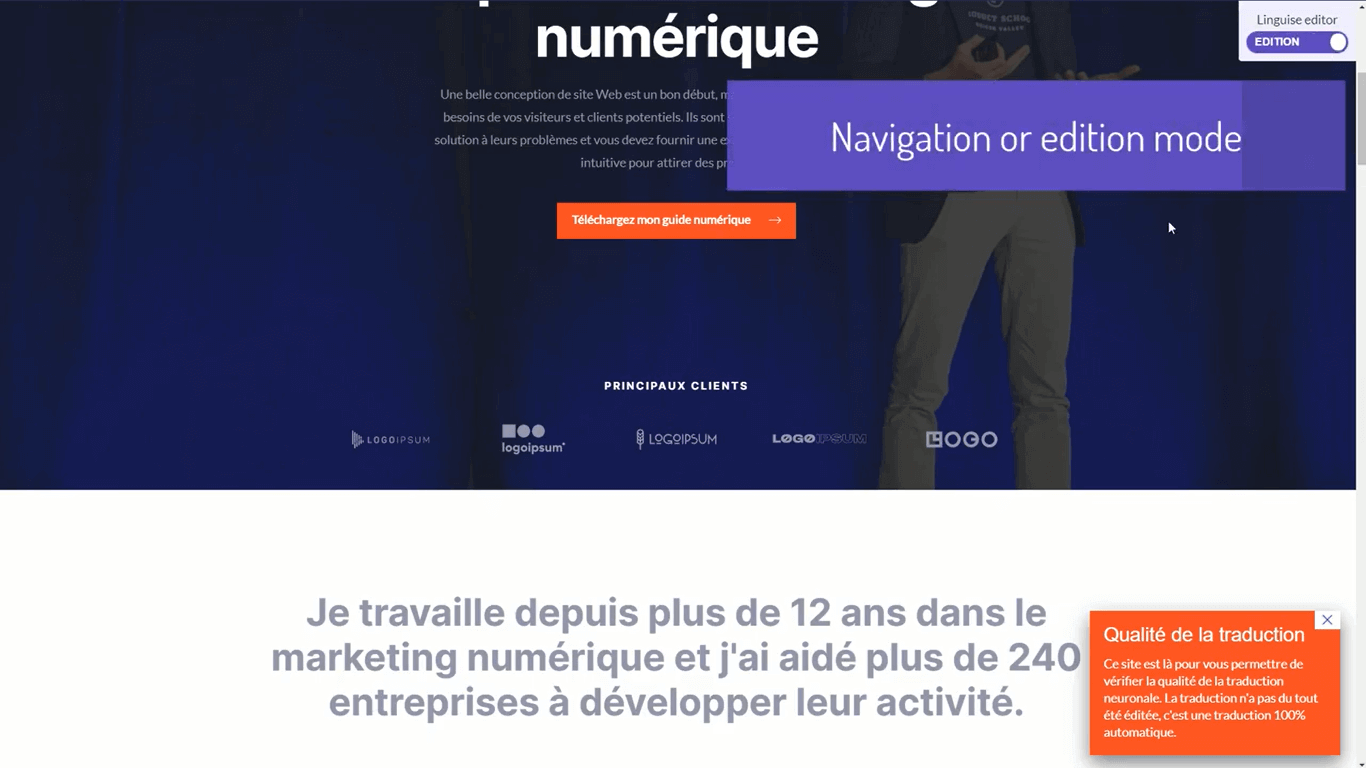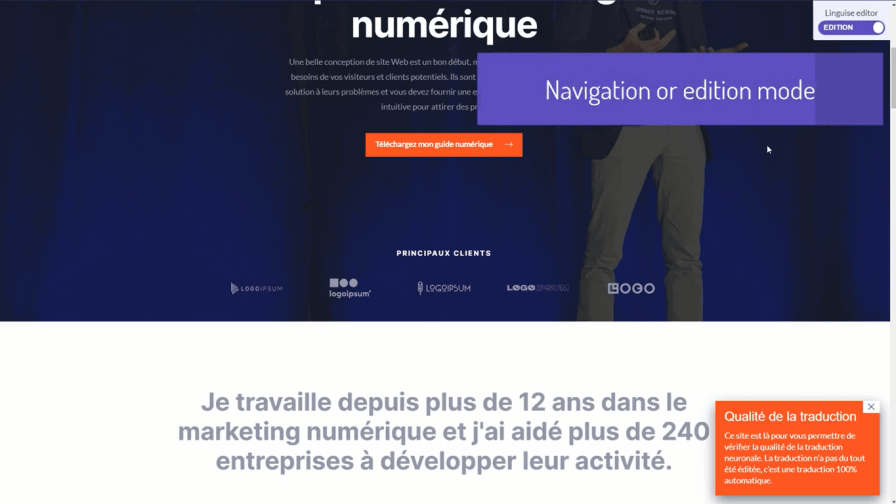 Click on the "Navigation/Edition" button to enable the switch mode. Here you've to click on the text you want to edit and make your changes to the translation box.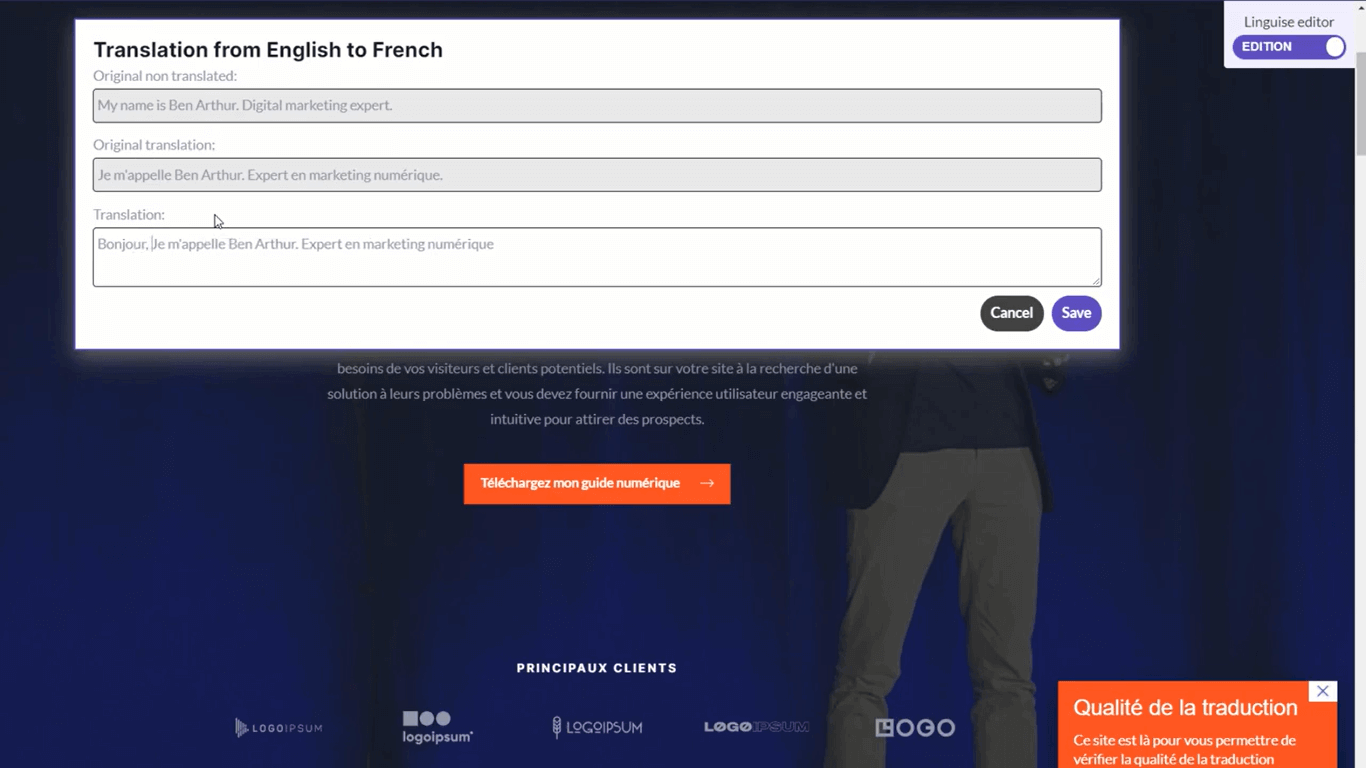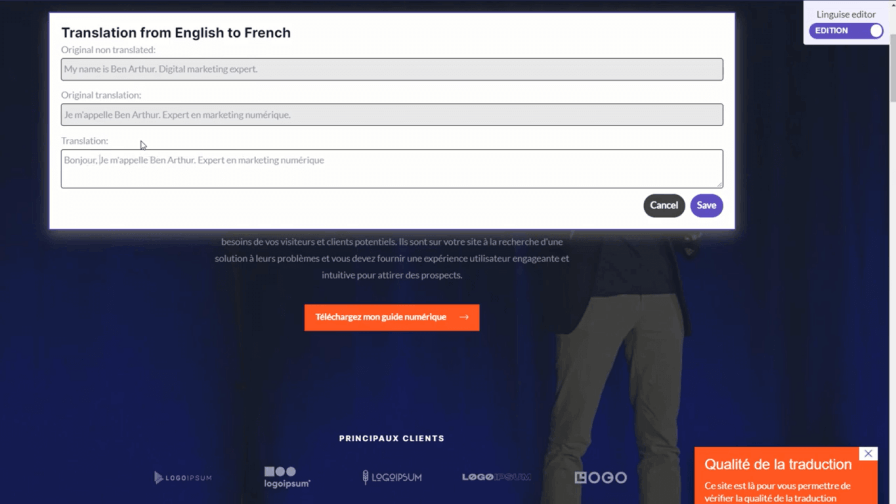 Now, click on the save and you're done editing the translation!
Edit HTML Dynamic Elements
Common translation plugins for WordPress only allow you to translate dynamic texts, such as the checkout process for WooCommerce stores, only from the admin dashboard.
The Live Editor allows you to edit this content from the front end following a procedure similar to the above. You just click on it, make your changes and save.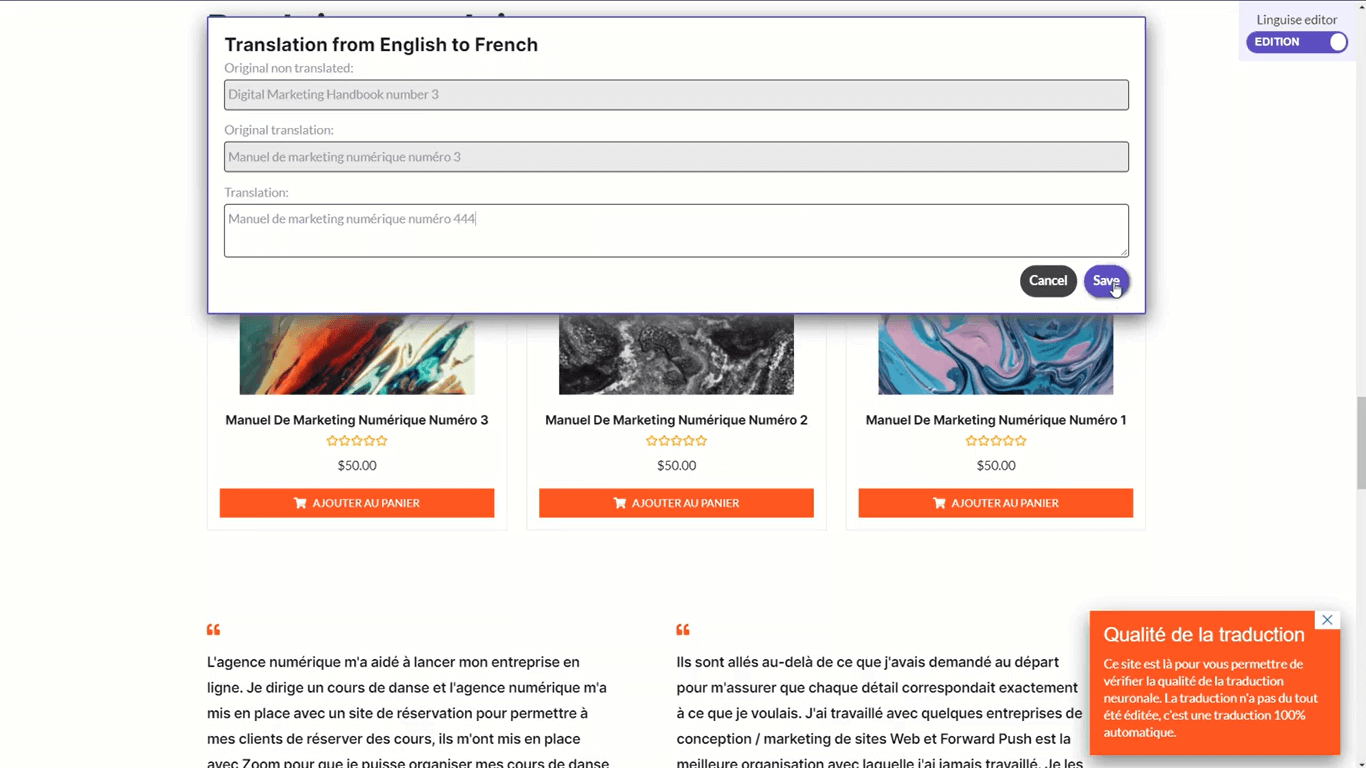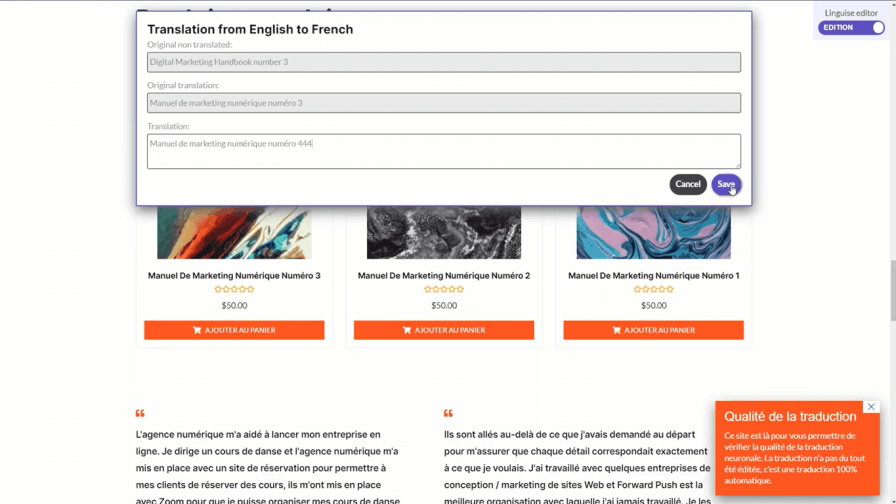 Invite Experts to Edit Translations While Managing their Access
You'll need the help of experts to edit translations for the languages you don't speak. Additionally, experts will localize your content to promote SEO.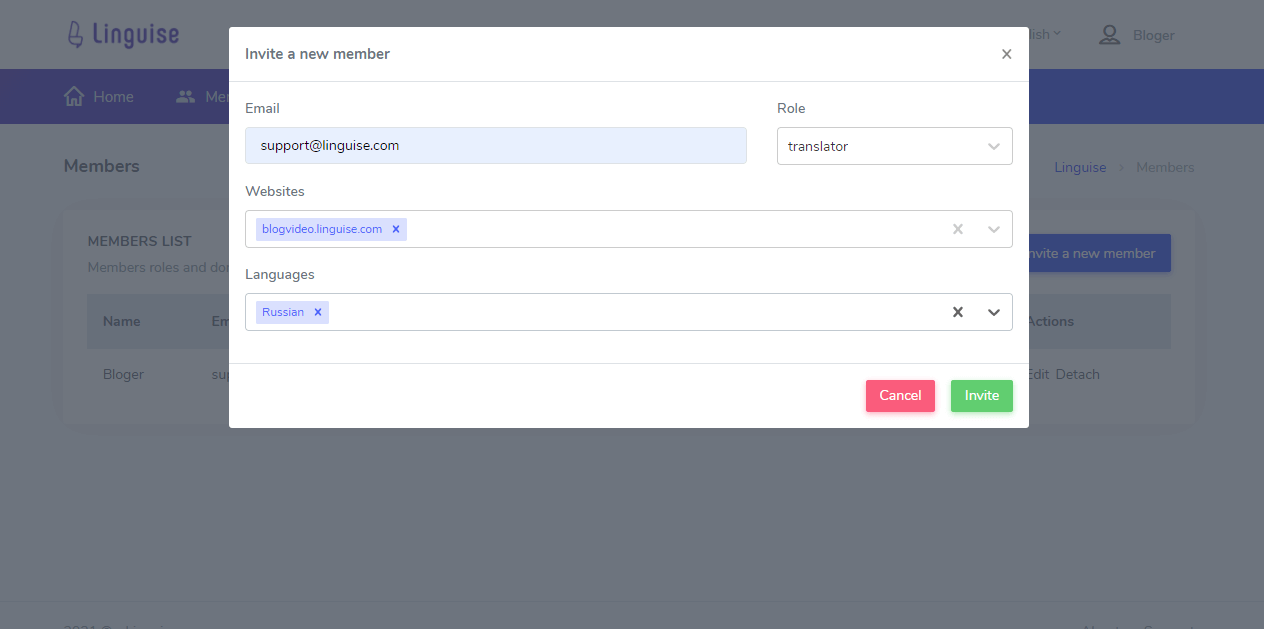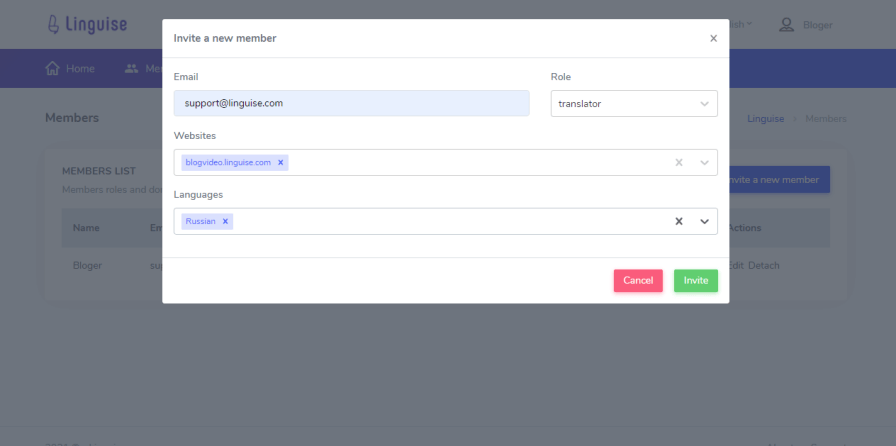 To add a member, you've to go to the "Members" tab and enter the email ID of your team member along with the "Role" you want to assign them. Here you'll get a few options to choose from, and these are;
Admin,
Manager, and
Translator.
Not limited to this, With Linguise, you can also assign them to multiple or a single website along with the language they are experts in.
Similarly, managers have access to all languages and rules, whereas translators only have access to specific languages.
Automating translation and editing has never been simpler. Linguise gives you an opportunity to do this and so much more effortlessly. You will accrue the benefits of SEO without having to contact an expert. Utilize Linguise to ensure you get your return on investment when you take your content international.
Wrapping Up!
So in this guide, we've talked about translating our website with the help of Linguise. It is really helpful in translating your website to a multilingual website while managing all multilingual SEO tags for you.
Not limited to this, Linguise also supports over 80+ languages, so you can use any language you want to configure on your website with ease. This plugin is perfect for anyone who wants to run a multilingual website.
If you've got any questions related to linguise and multilingual websites, feel free to ask in the comment section below.