Are you looking for the semrush free trial for guru and pro plans? If yes, then you're at the right place. We all know, SEMrush is one of the best tools which you could ever get for doing SEO of your website and to skyrocket your website presence in Google and other search engines.
And if you're visiting this page through Google, then I'm damn sure you're aware of the SEMrush and how powerful it is for your website – but if you don't know about the SEMrush then we'll also share how it can be useful for your website too.
So you don't have to spin here and there for the SEMrush trial and for the tutorials, because we're going to share everything in this post today.
So let's get started…
What is SEMrush
Before taking a step further and grab the semrush free trial, it's important to know what is SEMrush and how it can be useful to increase the presence of the website on search engines like Google.
If you're visiting this page by searching on Google, then I'm sure you're well aware of SEMrush and its powerful features – but if you're not well aware of it, then SEMrush is a powerful SEO tool that helps to increase the presence of the website in Google.
No, it will not help you to optimize your website automatically neither it ransom Google to rank your website higher on Google but it helps you by auditing your website, the content, etc on various parameters and shows you the ways to optimize it. Apart from all this, it helps to monitor the backlinks and keywords of the website. It also helps you to write content more effectively by focusing on every single on-page optimizations.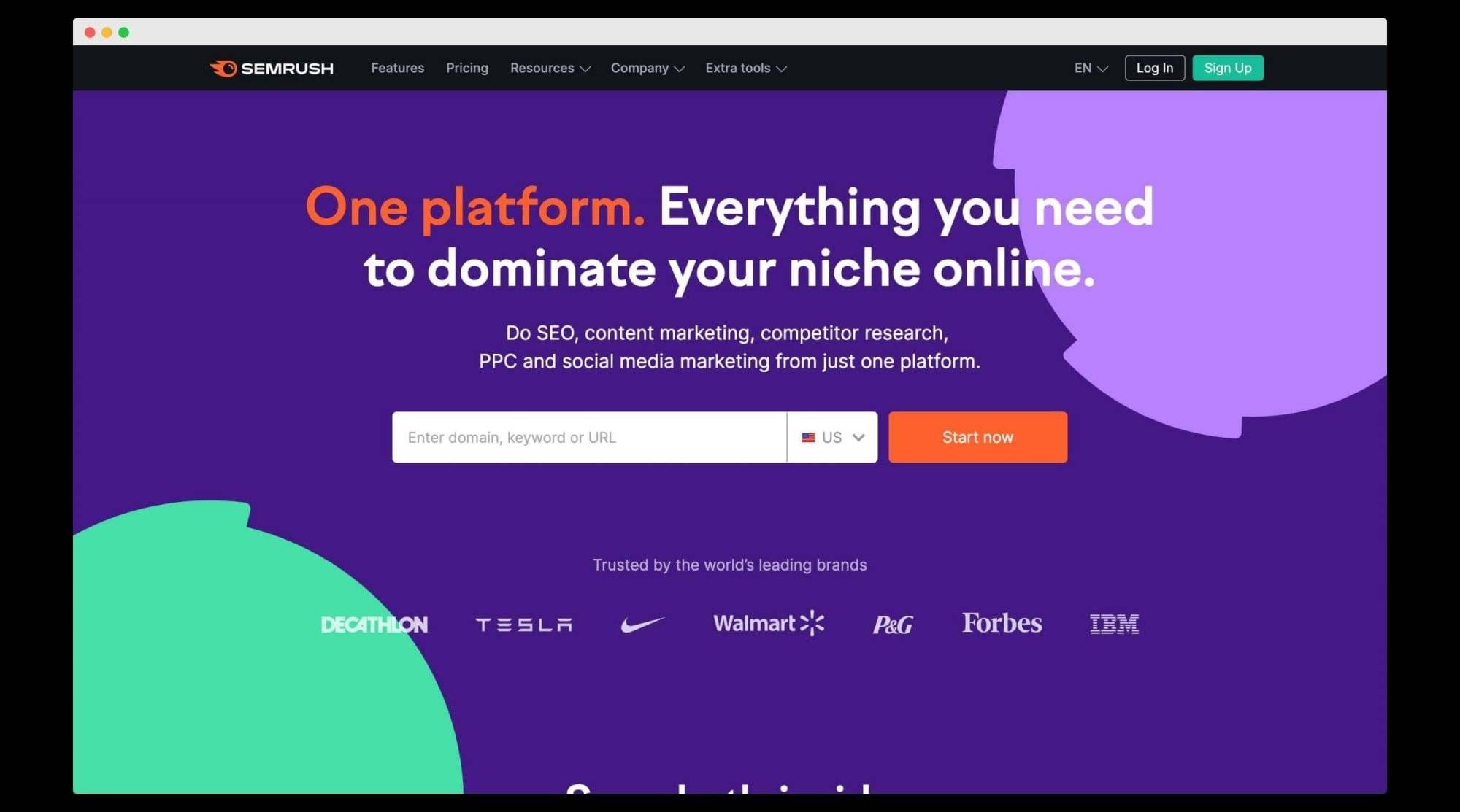 So is this the right SEO tool for you? Do you need this? or is it worth investing our time in this tool? So we've got you covered with all these questions in this guide. And all you need to do is sit tight and read the post till the end of all the answers you need!
Type
SEO Tool
Starting price
Free trial available, then $119.95
Features
1. Website Auditing
2. Keyword Research
3. Link Building & Outreaching
4. Backlink Auditing
5. Technical SEO Analysis
6. Content Analyzer
Competitors
1. Ahrefs
2. Moz
3. Spyfu
But before you deep dive into this post, let me first remind you that SEMrush is one of the most powerful tools which you could ever use and I personally prefer using this tool for my all websites. I especially use this tool for building backlinks and doing keyword research (with its powerful keyword research tool).
Along with it, it has a lot of competitors – but still, SEMrush managed to rank top in the market. You know why? Because it is an unbeatable SEO tool in the market with tons of features. It is not that I just use semrush on my website, but I also use some of its competitors.
But in this guide, let's just focus on SEMrush, and look at all the perks of why I prefer using this tool.
Although SEMrush has a lot more features that I hadn't covered in the above perks, I just shared the features which I personally liked using in this tool.
But if you are still not sure about the decision, we have got another fantastic idea. Just try out the semrush free trial, you don't need to spend a single penny for that, just click on the link above to get access to the free 14-day and 30-days trial.
How to Activate SEMrush Free Trial
Till now we learned about SEMrush and some of its important features, now I'll show you the steps to activate your semrush free trial of the 14-days guru plan.
So first of all you've to click on this link to activate the 14-days semrush guru trial for you. If you're looking for the SEMrush pro trial of 30-days, you can click here on this link. Once you click on this link, it will redirect you to the SEMrush page with a pre-activated discount (as shown in the image below).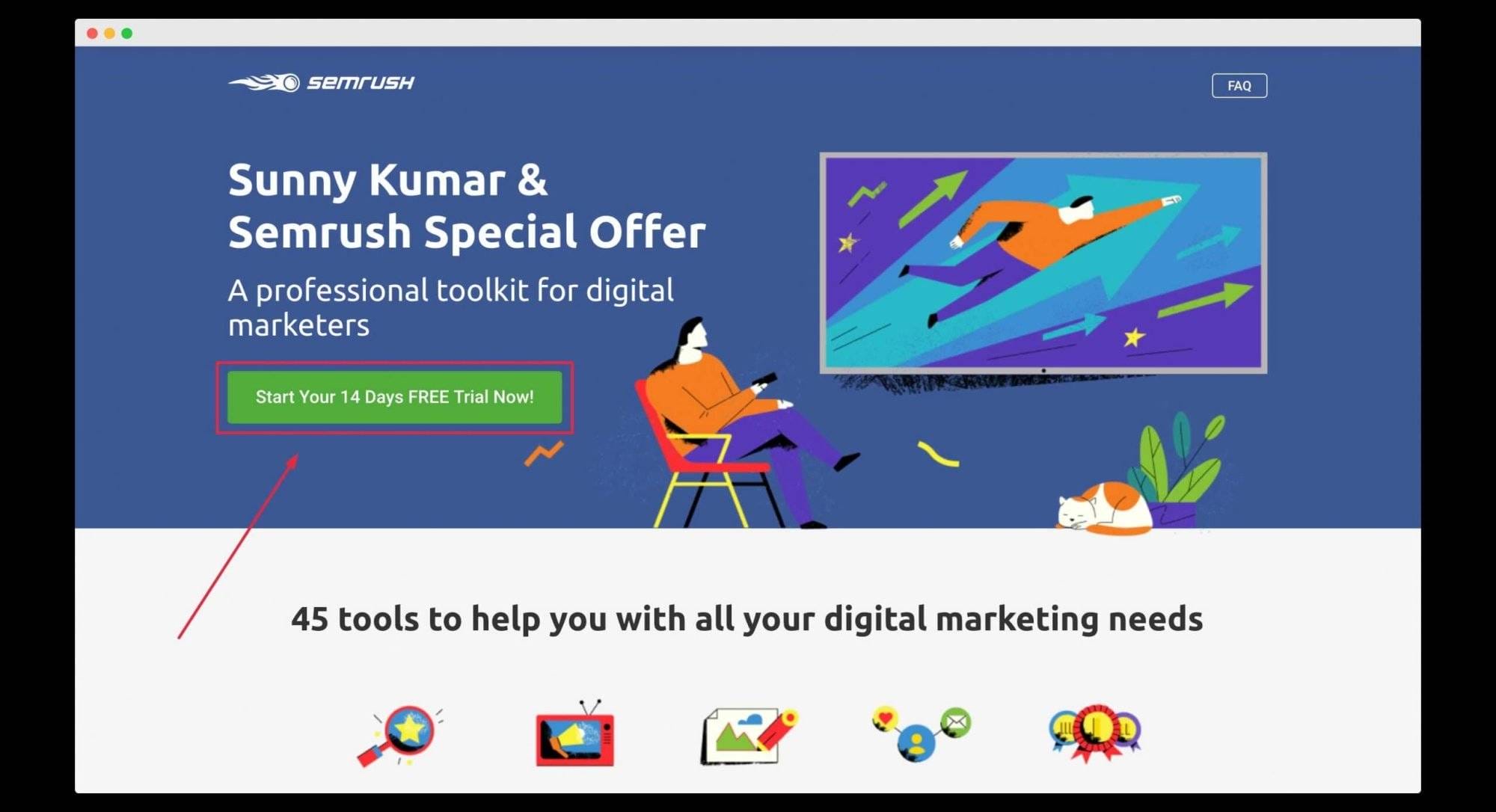 Once you're on the SEMrush page, it will automatically activate the semrush free trial plan for you, now click on the "Start Your 14 Days FREE Trial Now!" button showing in green colored button.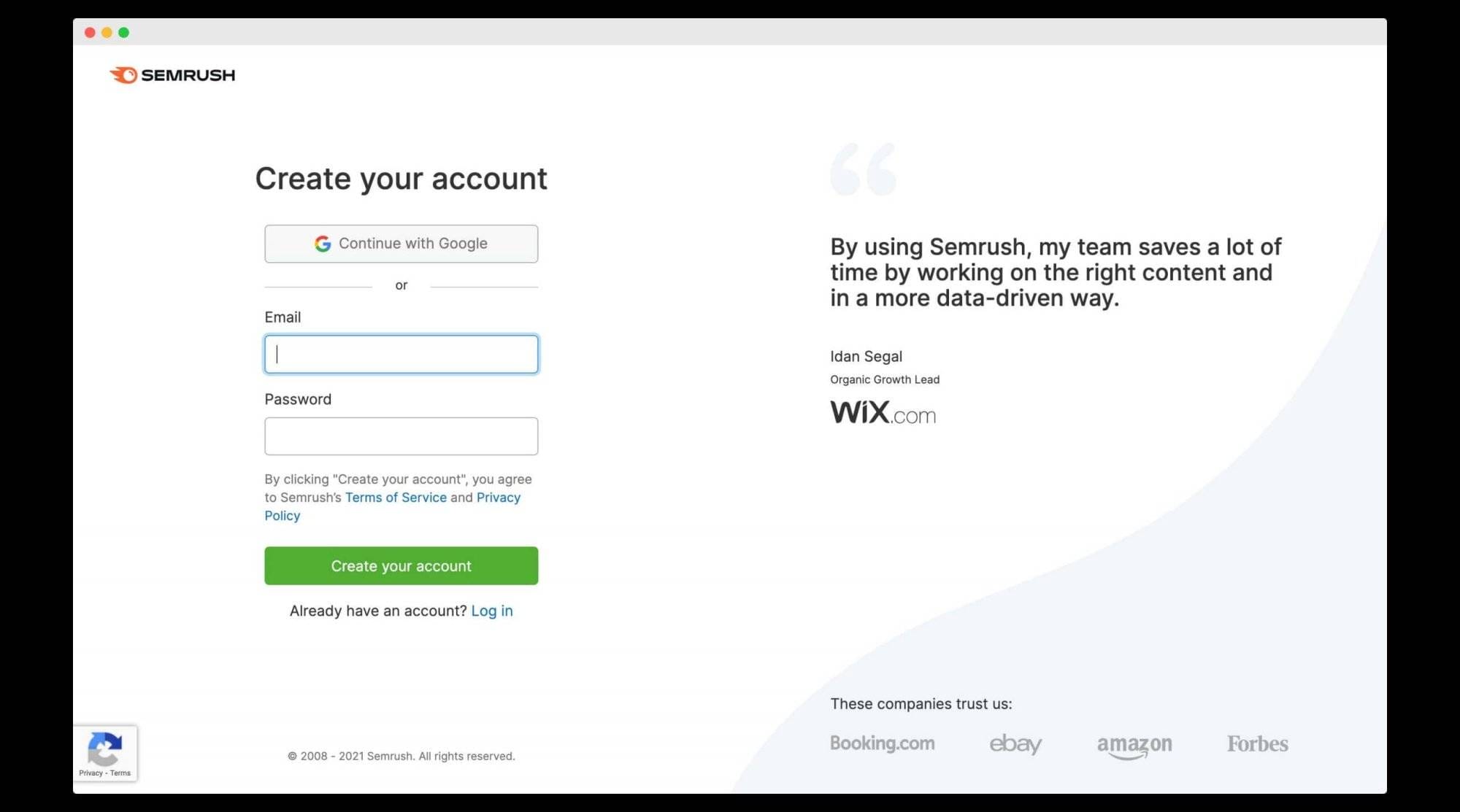 When you click on the green-colored button, it will further send you to the "Account Creation" page. Here you've to enter your email ID and the password you want to set for creating your SEMrush account. If you want, you can also select the "Continue with Google" option to directly use your Gmail account with SEMrush.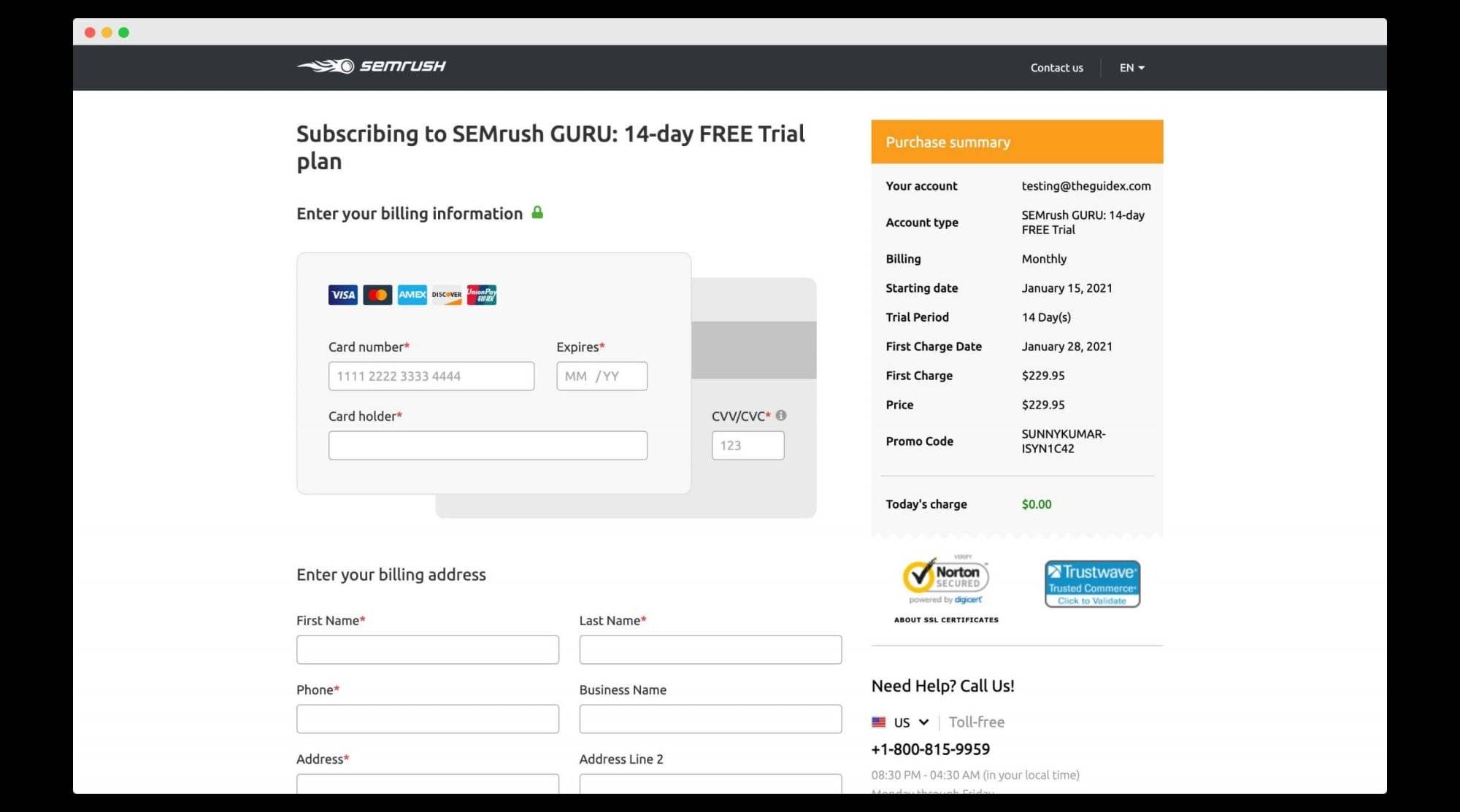 Once you logged in to your account, it will further redirect you to the checkout page where it shows the "14-days FREE trial of SEMrush Guru" plan along with several other details related to the account on the right side.
Now enter your credit card or debit card information and several other details it asks for. Once done, click on the 'Place Order" button showing after the "Billing Address".
It will now verify your card details and then activate the SEMrush free trial for you. Now you can enjoy the free 14-days trial of the Guru plan without charging anything. 🙂
Why Choose SEMrush
Not sure why to choose SEMrush over other tools? Here I'm sharing a few more advantages of using SEMrush that make it easy for you to choose the best SEO tool available in the market.
So if you're not still sure about the features of SEMrush, read this till the end.
1. Keyword Research
So the first and most important feature of using SEMrush is Keyword Research. SEMrush has one of the largest databases of keywords which makes doing keyword research easy and efficient for you.
When tested it with some other SEO tools, I find SEMrush more accurate for doing keyword research. It is because it shows the most accurate volume of the keyword along with other stats like keyword difficulty, CPC, features of keywords, relevant keywords, etc.
2. SEO Writing Assistant
SEO Writing Assistant is another most used and helpful features for bloggers like us. Whenever you write an article for your website on WordPress or on some other WYSIWYG editor, it will show the writing assistant and fix and correct the grammar and pronunciation for you.
This way you can easily fix errors while writing the article and cross-check before publishing it on your website. Fixing things like this is most important, especially when you wanted your website to rank in countries where English is the native language or the most spoken language. You can also use tools like this to check and fix your grammar and pronunciation issues while writing the article.
3. Backlink Building
This is the feature that I love most in SEMrush. I especially choose SEMrush over other tools just because of this reason. You know why? Because SEMrush offers the most powerful backlink building tool in the market – even in their free trial plan. It really helps me to build quality backlinks for my site.
This is the reason my website ranks well on Google and other search engines. I just added my Gmail account in SEMrush and a customized template with a few keywords which is used by SEMrush to find quality and relevant sites for link building. Once it finds the list of sites for link building, you just have to add them to your "prospect" link by checking the quality and after that, It will even share the email with you and also let you send the emails without leaving their dashboard.
So, if you're still not using the SEMrush for your business, then I highly recommend you to grab SEMrush free trial using this link and then start building links for your website.
4. Content Marketing
Your article will be of no use if it doesn't reach the right audience and it won't get enough praise as well. So reaching to the right audience is another most important thing which you've to look at. So here you need SEMrush, It helps you to reach the right audience.
With SEMrush, you can quickly get the ideas for writing fresh and engaging content and along with it, you can easily manage the performance of your article and analyze the presence of your brand at the same time with SEMrush.
5. Keyword Difficulty
As I told you in the first feature that SEMrush has one of the largest and most accurate databases of keywords which are most accurate in terms of volume and difficulty. So, it can be helpful for you while you're writing the article for your website.
Before you write the article, you need to make sure about the topic and keyword which you're going to focus on your article. And for this, you need to check the keyword difficulty of the keywords.
So for this, you've to carefully check the keyword difficulty of the keywords, and choose the right keyword based on the difficulty you find while using this tool.
SEMrush Plans & Pricing
Not sure about the pricing plan of SEMrush? Here we're sharing the detailed pricing and features of every semrush plan you found on their website.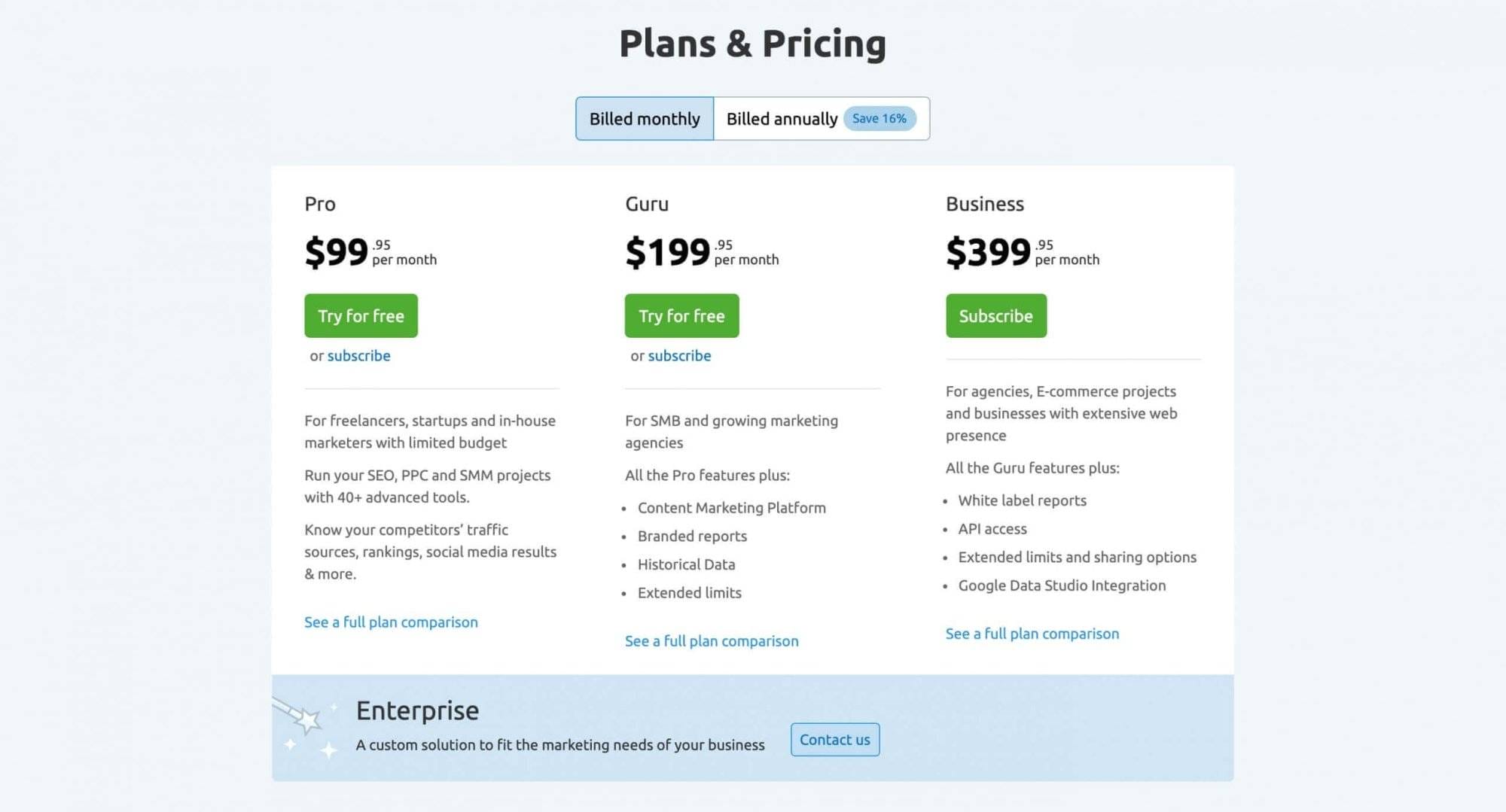 We also share a brief comparison of all the plans for you, so it will make it easier for you to choose the best plan which suits you!
1. SEMrush Pro Plan – Details & Pricing
So the first plan which you find on SEMrush is the Pro plan which is available for $99.95/month. It is one of the most popular plans which is being used by small businesses and peoples who manage fewer sites. This plan is most suitable for freelancers, startups, and people with a limited budget.
With the help of this plan, you can do a lot of things, and still, you don't feel like you're missing something – because this plan fulfills all your needs. If you purchase this plan using our exclusive link, you'll get the first 30 days trial for FREE!
2. SEMrush Guru Plan – Details & Pricing
Guru plan is another most picked plan of SEMrush. This plan is available for $229.95 per month and a lot more cheaper if you grab their annual subscription. This plan is mostly picked by Small Medium Businesses (SMB) or growing agencies.
If you buy it from the link we shared above, then you'll get your hands on a 14-days FREE trial of the SEMrush guru plan. You'll get access to a lot more features as you'll get in the PRO plan.
3. SEMrush Business Plan – Details & Pricing
Last but not the least one is the Business plan, this plan is suitable for people who're into eCommerce, Agencies, and website with a lot more online presence. Along with it, the plan starts from $449.95 a month when you subscribe to their monthly subscription and $374.95 when you subscribe to their annual subscription.
It has all features of the PRO and Guru plan along with some incredible features including Google Data Studio Integration, API Access, White label reports for your business, etc.
A Brief Comparison Of All The Plans
Not sure which SEMrush plan do you need for your business? Well, if you ask me, I'll recommend you to start your journey with the 30-days trial of the SEMrush pro account or the 14-days trial of SEMrush Guru.
Still, if you're not sure about the plan, here I'm sharing a brief comparison of all the semrush plans which makes it easy for you to choose the SEMrush free trial according to your requirements.

SEMrush only offers a free trial of Guru or Pro account, so if you wanted to give try SEMrush, then I highly recommend you choosing from these two plans only – but depends upon your needs, you can also choose the Business plan.
Competitors Of SEMrush
You'll find a lot of competitors that work similar to SEMrush but still, it managed to hold the top rank in the best SEO tools with its advanced features which are offered by none of the other tools.
It is one of the widely trusted tools which you ever find for managing your SEO works – but if you want to try some other tools, then here I've listed some of the most popular tools which work as similar as SEMrush and are another most picked tool in the market.
These are other most picked tools in place of SEMrush, which we have listed here. You'll find several more tools in the market which I hadn't mentioned in this article on Google.
Frequently Asked Questions (FAQ)
Still, got doubts about the SEMrush tool? Here I'm sharing some frequently asked questions which may help you to know more about SEMrush;
When Should I Cancel My SEMrush Subscription?
You can easily cancel the semrush subscription anytime you want – but I recommend you to cancel the active or this free SEMrush subscription one day before it is going to expire.
You can easily do so by visiting their billing page and then click on "Cancel my Subscription", or you can even email them and they'll do it for you!
Can I Claim SEMrush Trial without Credit or Debit Card?
No, to avoid spam and misuses of this goodwill offer, you can't claim the semrush free trial without using your credit card or debit card. You can simply add your card details to activate the trial for free without costing you anything, if you don't like it, you can email them for cancellation of your subscription.
The complete task is free of cost and you can also use all the premium features of SEMrush without costing anything to you while you're on their free trial.
SEMrush Pro, Guru, and Business – Which Plan is Good for Me?
It all depends upon your requirements and the projects you need to add to your semrush account. If you need to add a few projects, then you can continue with the SEMrush guru or the pro plan – but if you're from some agency and wanted to use semrush for business purposes, then the business plan is all you need!
I prefer using the "Pro" plan of the SEMrush because it comes with all the features which are useful for starters or someone who just started their SEO journey and wanted to deep-dive into this SEO powerhouse tool. Another reason for which I prefer this semrush plan is because it also comes with a 30-days trial period, which I think is great for beginners.
How to Get the SEMrush Free Trial?
Getting the SEMrush trial is easy, you just have to click on this link to grab the semrush guru trial (14-days), and on this link to get the semrush pro trial (30-days). It's all depends upon your requirements and the plan you want to continue with.
If you're new to semrush, I recommend you to grab a semrush 30 days trial of the pro plan, or you can continue with the 14-days trial of the guru plan – if you need a few advanced functions or features.
Can I Upgrade/Degrade, or Cancel My Plan Anytime?
Definitely yes, you can cancel the semrush trial before your plan is about to expire and they'll not charge a single penny from you. And if you've purchased the SEMrush subscription, then you've to ask for a refund within 7-days of chargeback – but I don't think you ever need to cancel your subscription to this SEO beast tool.
And when it comes to upgrade and downgrade your subscription, you can contact the SEMrush team anytime for this and they'll do it for you!
What is Better, Monthly, or Annual Plan?
Answering this question can be hard for me – but if you're not aware of the SEMrush and its features, I strongly suggest you to get a semrush trial first and then decide if this tool is worthy for you.
Still, if you still ask me, I definitely recommend you to grab the annual subscription of this tool because, in my scenario, I mostly use this tool for building backlinks to all my websites and also for auditing, and doing keyword research at an extensive level.
Wrapping Up
In this guide of SEMrush free trial, I tried my best to explain everything related to semrush and to provide you with 30-days access to the semrush pro plan and 14-days access to the semrush guru trial.
You can use this semrush free trial link to activate the semrush and start tracking your website and increase the presence on search engines. These trial will help you to start your career in doing advance SEO for free – and once your trial is over, you can either cancel the subscription (if you don't like using SEMrush, which is a rare case) or subscribe to their monthly or annual subscription (which I thought is best for your website).
Once you know how to use SEMrush and proficient with its features, ranking website will get just a piece of cake for you! Now it's just upon you to choose from the 14-days semrush guru trial or the 30-days semrush pro trial (depending upon your needs) to get started.
If you liked this article, don't forget to share it with your friends, followers, and family – because sharing is caring, and if you've got any queries – you can share it with us in the comment section below.