Web hosting is a prominent pillar behind every flawless running website. Although it is a must for all website owners, there are hardly a few who really focus on choosing a reliable hosting partner. Simply going for the cheap pricing shared hosting is one obvious move to find WordPress hosting provider.
But, trust me, there is much more depth to the hosting choice than it seems. This review will make you understand how a premium managed WordPress hosting provider helps a website, that shared hosting or low-cost hosting provider can never offer.
I am writing this Stromonic managed WordPress review after conducting relevant performance tests and experiencing hosting service for a while. Stromonic is an emerging name in the managed WordPress hosting market. Being a niche area in the hosting space, managed WordPress hosting, not a lot of people are aware of the same. Simply put, it is highly suitable for those who are seeking a WordPress platform to host the website but possess limited or no knowledge.
Every website owner who is new to the hosting world should choose this managed WordPress hosting platform. Since the maximum technical load remains on the expert's shoulders. And, that's what companies like Stromonic do with the managed WordPress hosting services. They have done amazing work in regard to bringing performance optimization, additional tools, features, support, and a lot more.
So, without further wait, let's explore how was my experience with Stromonic managed WordPress hosting. Stick to the end of the review to find out the answer to the question – Is Stromonic hosting really worth choosing in 2023?
Stromonic – A Brief Introduction
Simply put, Stromonic is a premium managed WordPress hosting provider to deal with the huge traffic and load.
The company was started in 2017 by Natan Ray, and since then has been gaining a commendable position in the managed WordPress hosting market. All things considered, the company seems to be a new player, but surely worth the consideration.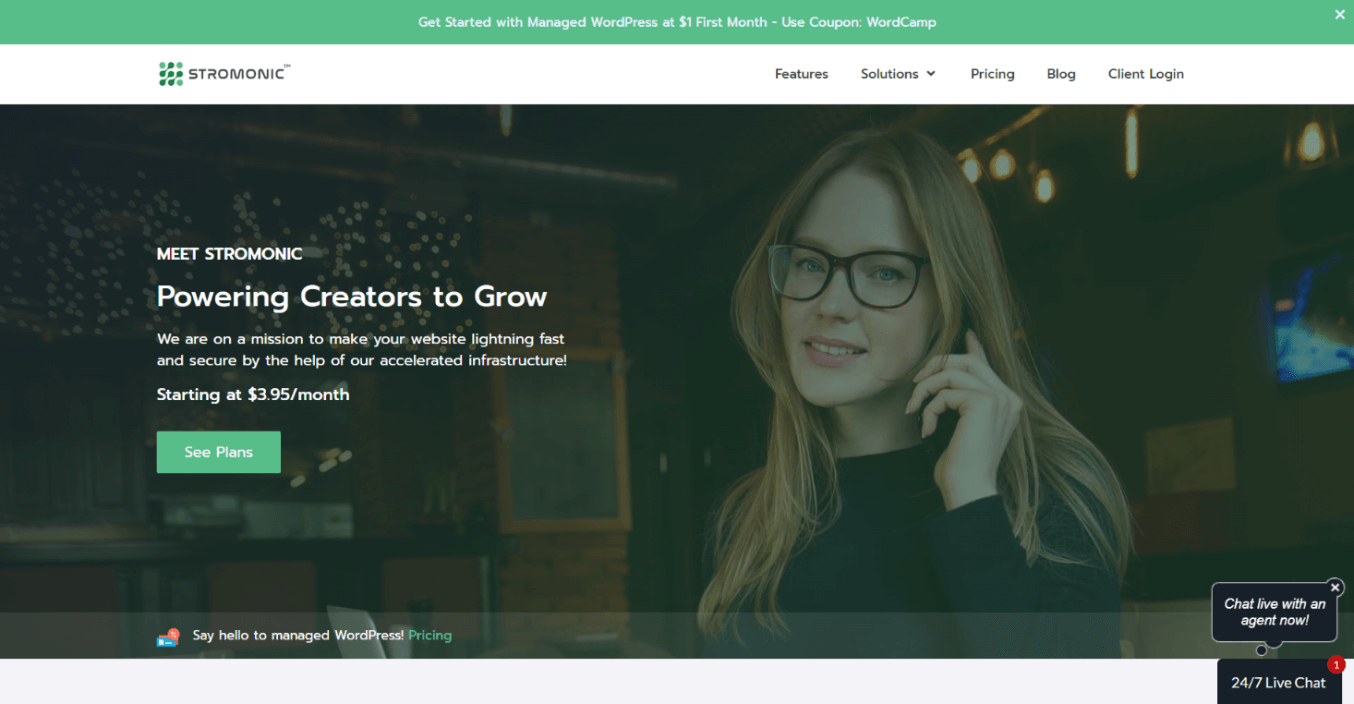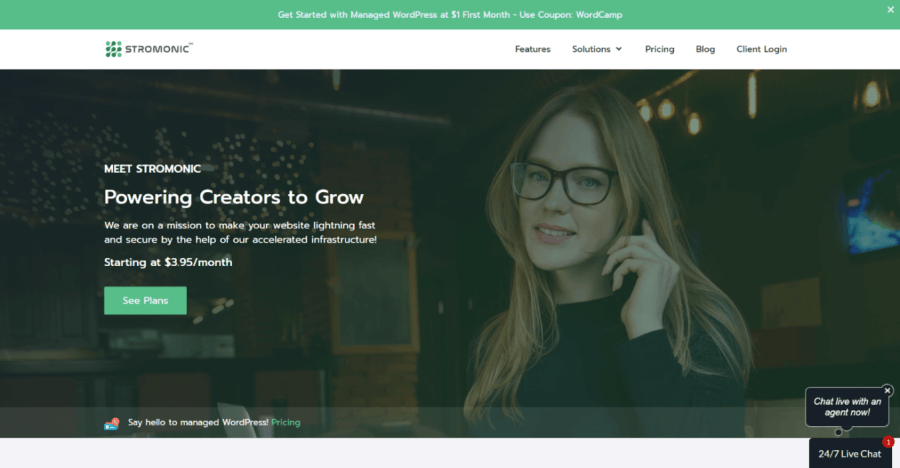 The managed WordPress hosting is value for money and serves customers in the global space. The premium WordPress hosting is popular for the fast website, seamless navigation, and easy workflow. The dashboard makes the setup and management simpler to a huge extent. Its 99.99% uptime, dedicated Stromonic Cloud, and Stromonic CDN, and all such useful features will be covered in this review.
The hosting is suitable for all aspiring businesses that are looking forward to scaling to new heights. The optimized WordPress servers improve the overall user experience and comply with SEO standards too. The company might not be one of the big players in WordPress Space, but Stromonic Cloud is one of the key factors to getting the best performance.
Till here, it might have sounded a bit interesting to you. Now, let's explore if it's really worth managing all such hype.
Stromonic Managed WordPress Hosting Features
There is no doubt about the bad performance of Google Cloud platform hosting. Stromonic has brought its unique Stromonic Cloud to bring extensive performance and benefits. You will find a pretty amazing website performance with your website.
The company has brought an advanced hosting infrastructure with strong servers. With server-level caching, the latest PHP, SSL certification, better uptime, and other features, there won't be any concerns with the managed WordPress hosting.
Stromonic CDN
It is another unique feature of Stromonic-managed WordPress hosting. The website will get the advantage of a powerful CDN (content delivery network) to boost the website response time. The faster website loading and performance is a definitive plus for any business.
Managed WordPress Client Dashboard
Stromonic offers a powerful yet intuitive dashboard that makes the typical task like hosting management hassle-free. Even if you are new to managed WordPress hosting or not aware of the technical complications, there won't be a single issue in getting along with it.
See how cool and clutter-free their hosting dashboard interface looks like –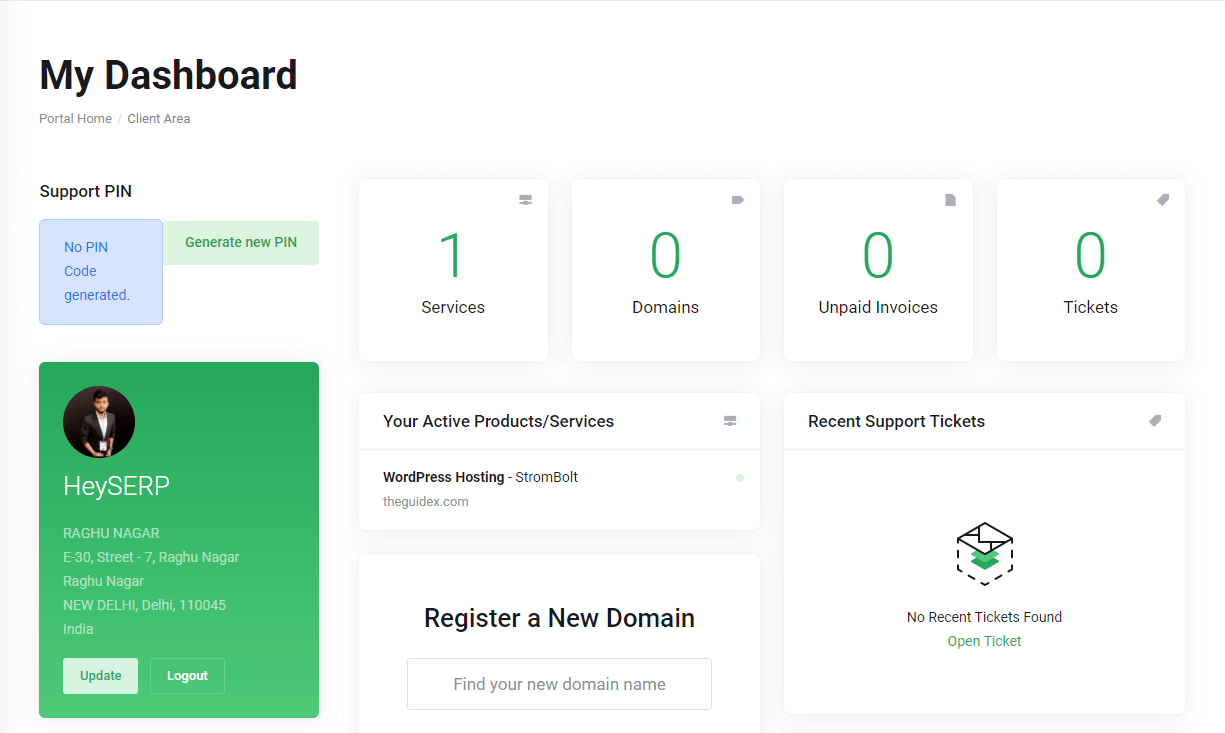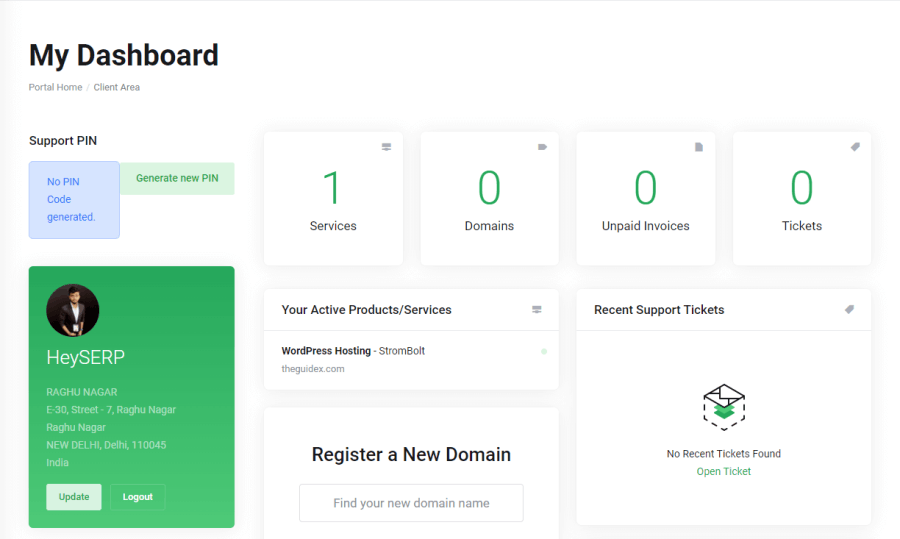 WordPress Manager Dashboard
The same goes with Stromonic managed WordPress hosting cPanel too. It has every bit of simple and intuitive features to ease out the website management. No need to keep struggling with finding the settings, as it has a lot of quick shortcuts as well.
Certain additional functionalities like WordPress update, plugins, traffic/analytics, domain, email creation, etc. are way too simple with Stromonic cPanel.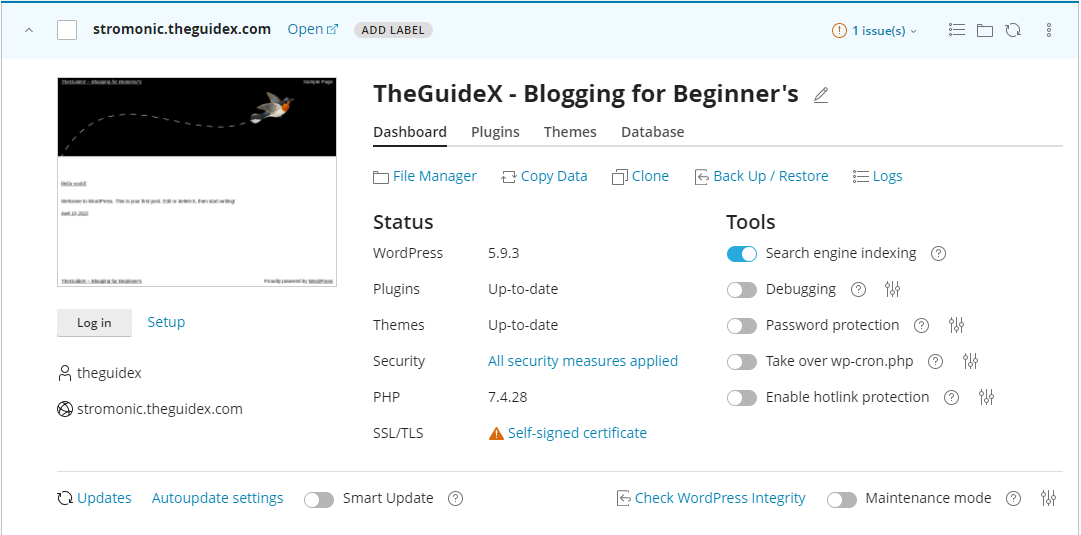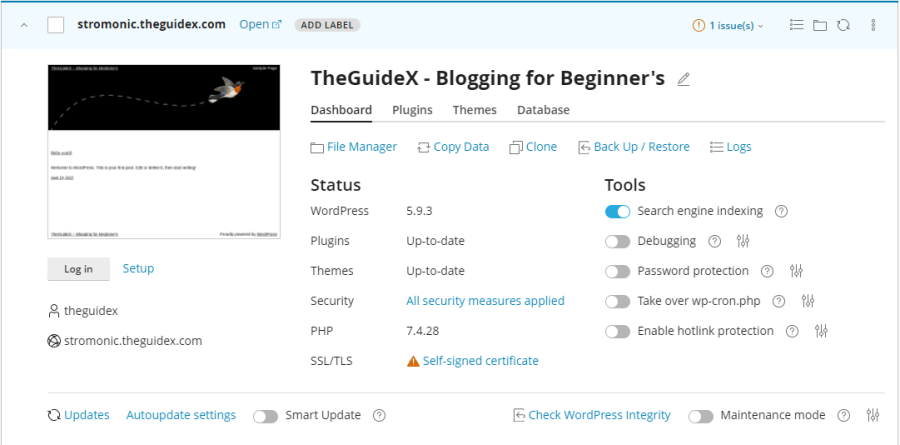 Here's how I found some complex processing getting too handy:
Easy WordPress installation with simple tabs


Email account creation in a single-click


Easy to access settings for hosting management


WordPress Experts Assistance
The Stromonic pricing even justifies the support quality. Unlike other managed WordPress hosting providers bringing an average support quality, Stromonic, on the other hand, outshines in this regard. The client has to never face any type of issue or problem with the hosting.
Their customer feedback(s) are loaded with the positive remark on this concern: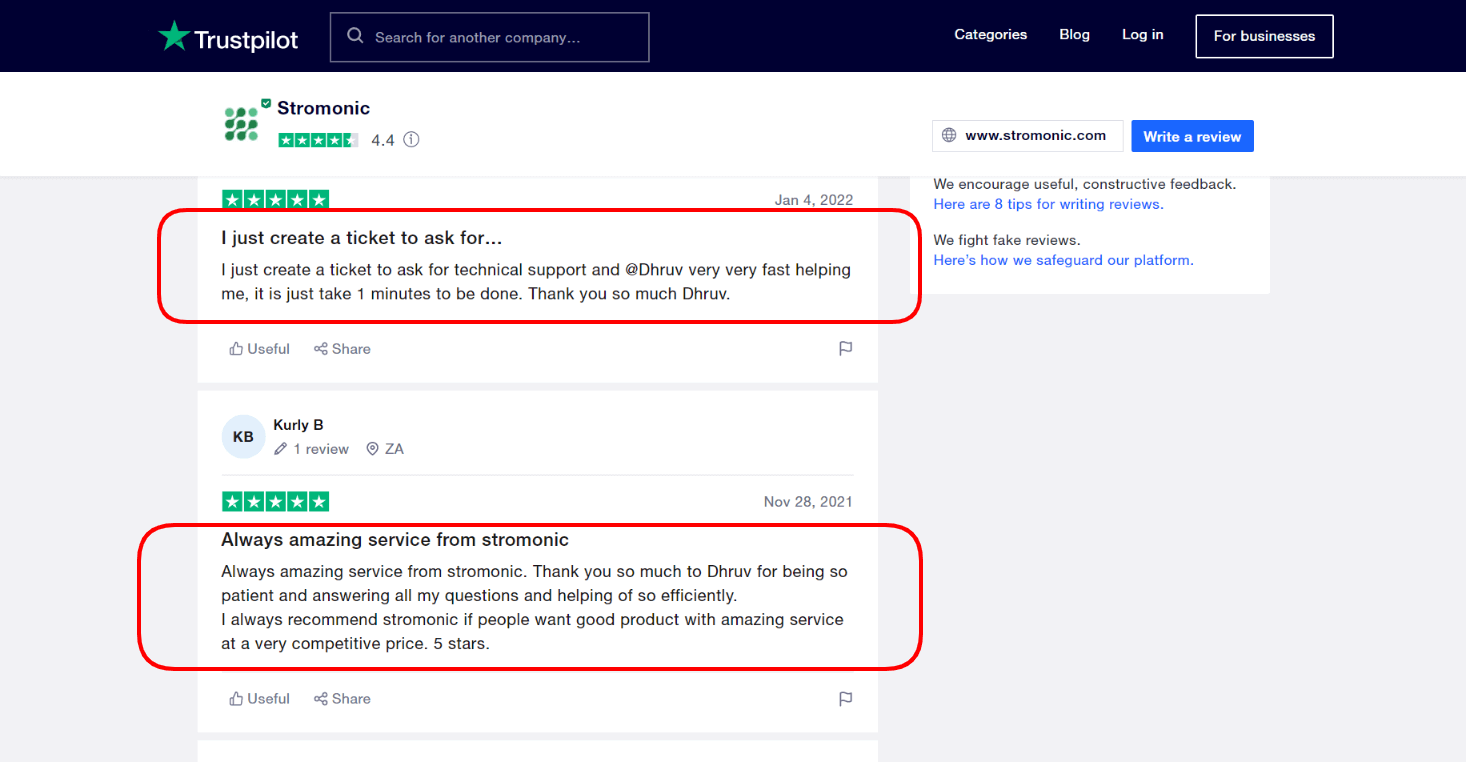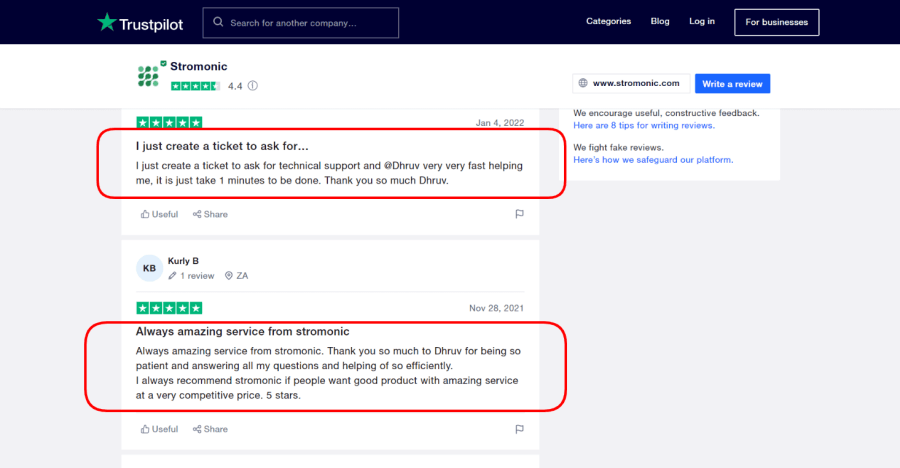 On top of everything, getting assistance from sheer WordPress experts is what makes all the difference. They possess a dedicated team of experts who remain focused on finding a resolution on a priority basis.
I too faced some complications with plugin installation while setting up hosting, and the support team helped me out in a few minutes. That's only possible if the team is well versed with all the functionalities and technicalities of the platform.
Regular Backups
It is another aspect where choosing Stromonic can save you a lot of additional expenses. No need to pay for any third-party backup services, as Stromonic itself takes care of all sorts of security parameters with automated regular backups.
Thus, whenever you end up making a blunder or face a problem with updates, rest assured that you have a previous backup ready to be restored. This won't involve any technical change as all you need to do is to make a click for the previous version restore.
Free SSL Encryption
Stromonic offers free SSL encryption for the online website with easy setup in minutes. The quick SSL option is available on the WordPress dashboard manager.
Free Site Migration
If you're using any hosting for an existing WordPress website other than Stromonic, no need to worry about the migration. They make the migration process a piece of cake from the dashboard. In any case, their support team will be there to help you with the migration.
Other than that, with Stromonic, the migration is secure too. The website will have zero downtime while the process and it will undergo certain tests before making it live. What's better than to find everything working as intended while the website migration is in progress.
Hence, Stromonic helps in saving you a lot of time and mental hassles. Handling migration on your own could be quite a challenge, so it's better to rely on someone more knowledgeable and experienced like the Stromonic team.
Staging Website
With one-click staging option allows you to create a live version copy of the website (as a test environment) and play around with the changes. Hence, Stromonic offers a hassle-free development process with staging changes and approvals.
This feature proves to be quite beneficial for managed WordPress web hosting. The website owner/developer can make the changes in the staging version and make them live to production after approval.
How About Stromonic Pricing?
Getting quality managed WordPress hosting at the best prices is no less than pure luck these days. Stromonic offers the most decent market prices with all features and benefits.
You can check their detailed managed WordPress hosting pricing model from here.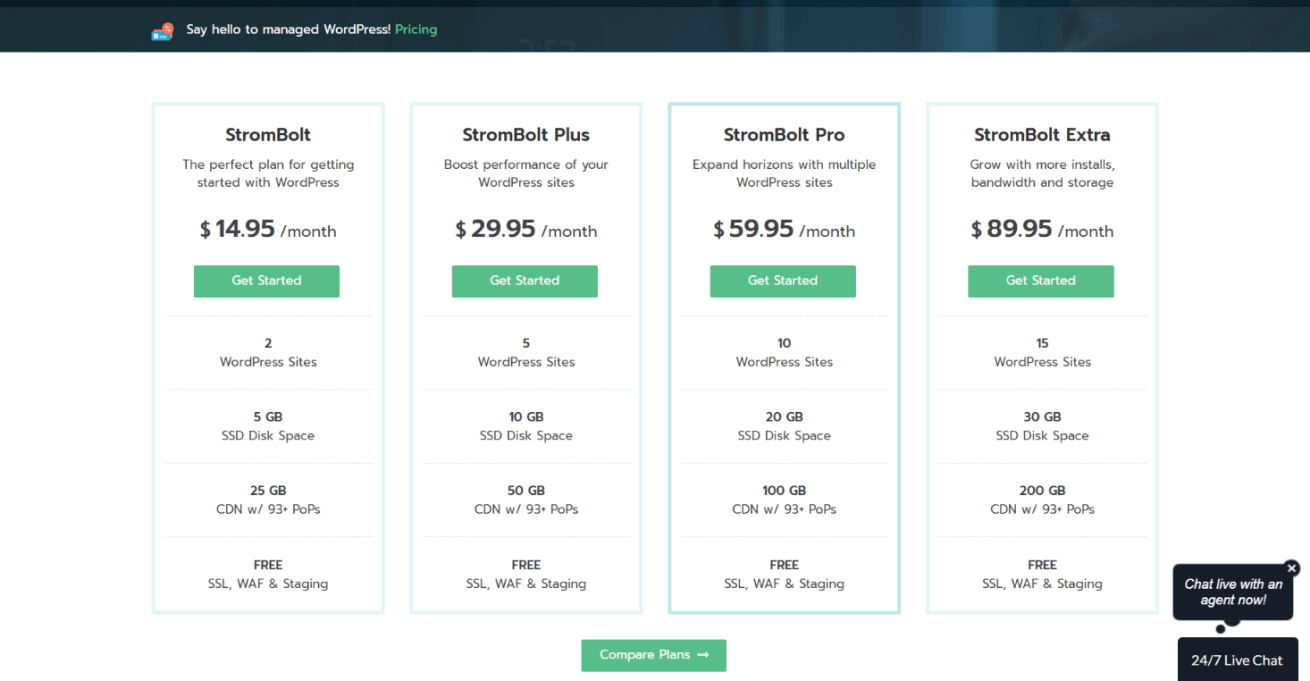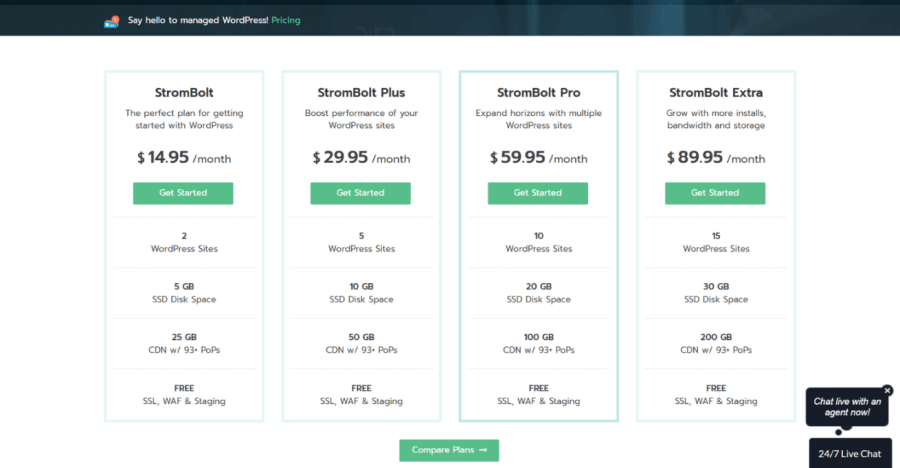 To make it simpler, here is a quick overview of the pricing details:
StromBolt Plan
Starts from $14.95/month
2 WordPress Sites
5 GB fast SSD Space
Suitable for beginners
Free SSL & Stromonic CDN
No monthly visitors limit
StromBolt Plus Plan
Starts from $29.95/month
5 WordPress Sites
10 GB fast SSD storage
Suitable for multiple WordPress websites
Free SSL & Stromonic CDN
No monthly visitors limit
StromBolt Pro Plan
Starts at $59.95/per month
10 WordPress Sites
20 GB fast SSD storage
Higher performance and storage capability
Free SSL & Stromonic CDN
No monthly visitors limit
StromBolt Extra
Starts from $89.95/month
15 WordPress Sites
30 GB fast SSD storage
Ideal for high-end business websites
Free SSL & Stromonic CDN
No monthly visitors limit
So, overall, you need to make the choice as per the storage and website requirements. However, the other key benefits of every pricing plan are somewhat similar.
Stromonic Review: Performance Overview
In this section of Stromonic managed WordPress hosting review, I am going to share the real-time proof(s) of hosting performance. All these tests and analyses are done at my end only and the results are as expected.
Load Time Testing on K6.io
There isn't any delay in website response rate and load times are amazing as per load time testing on the K6.io tool. This is quite rare to find with low-cost hosting providers like HostGator, GoDaddy, Bluehost, etc. It is quite tough to handle such a heavy traffic load and still maintain the performance.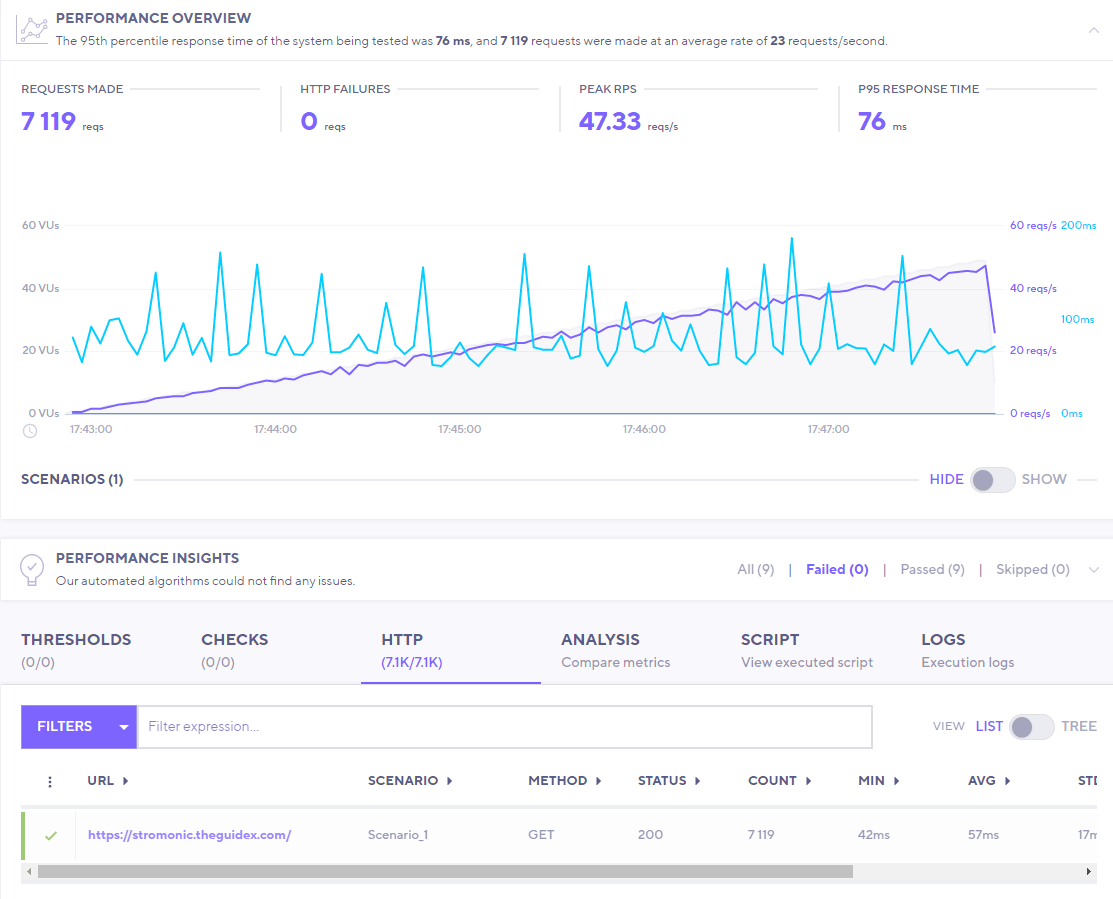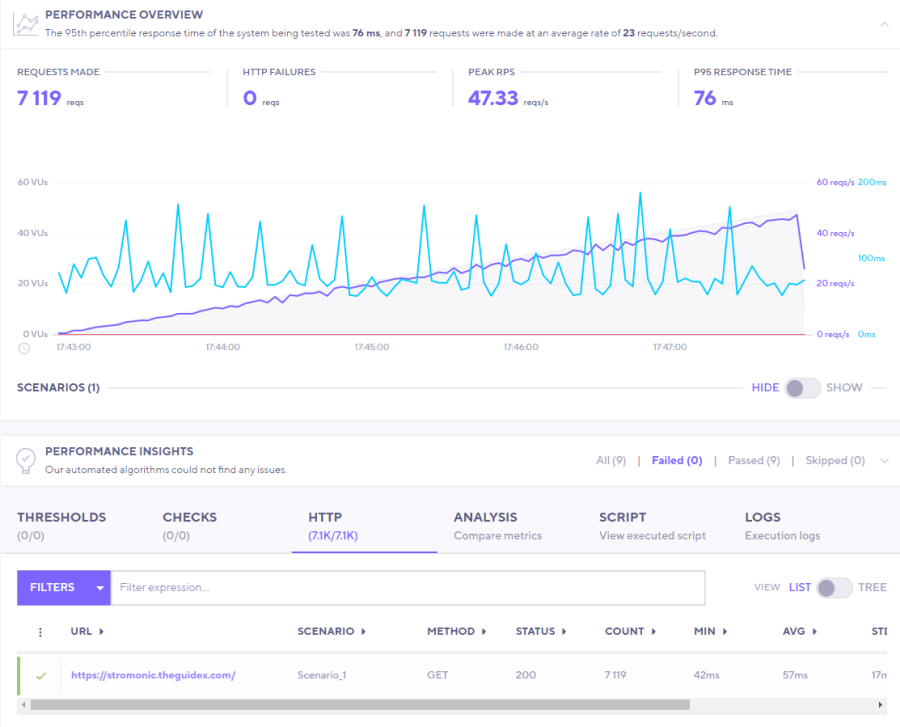 Performance Analysis on GTMetrix
Here's a snapshot of running my Stromonic hosted website on GTMetrix.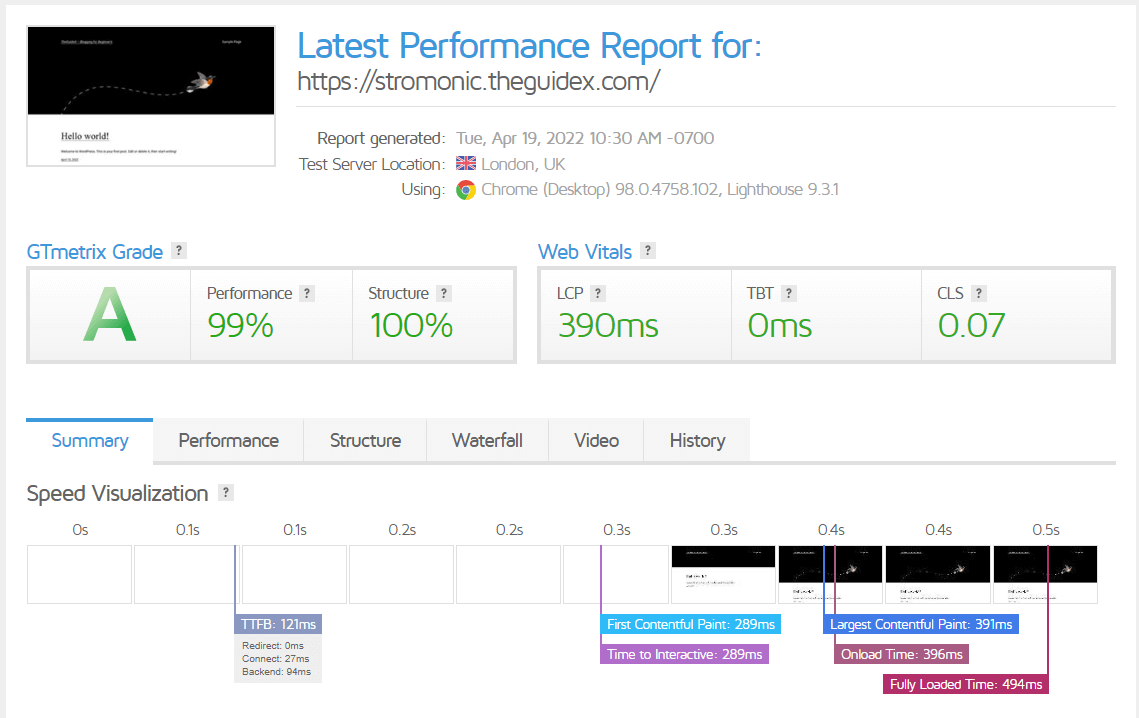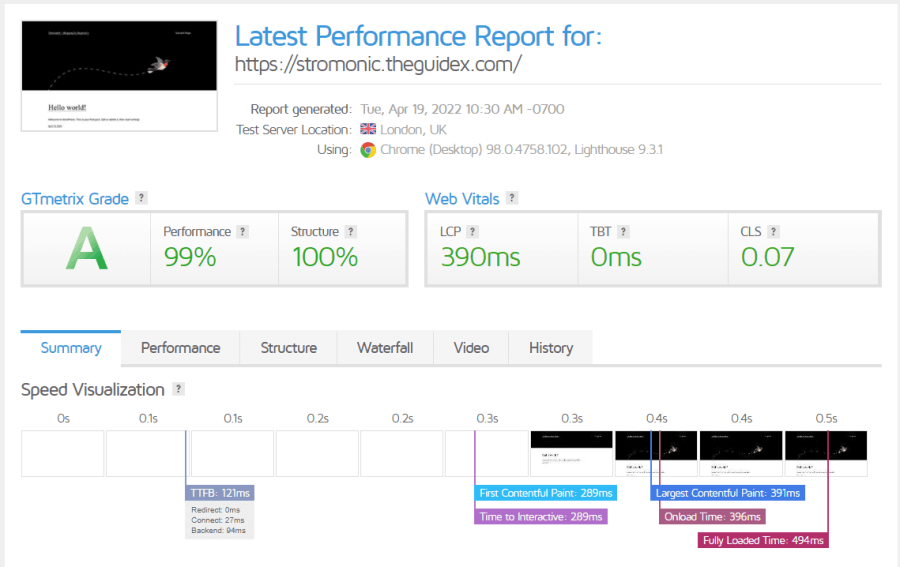 Website Speed Performance By Page Speed Insights
The website even shows no performance or page loading speed issues.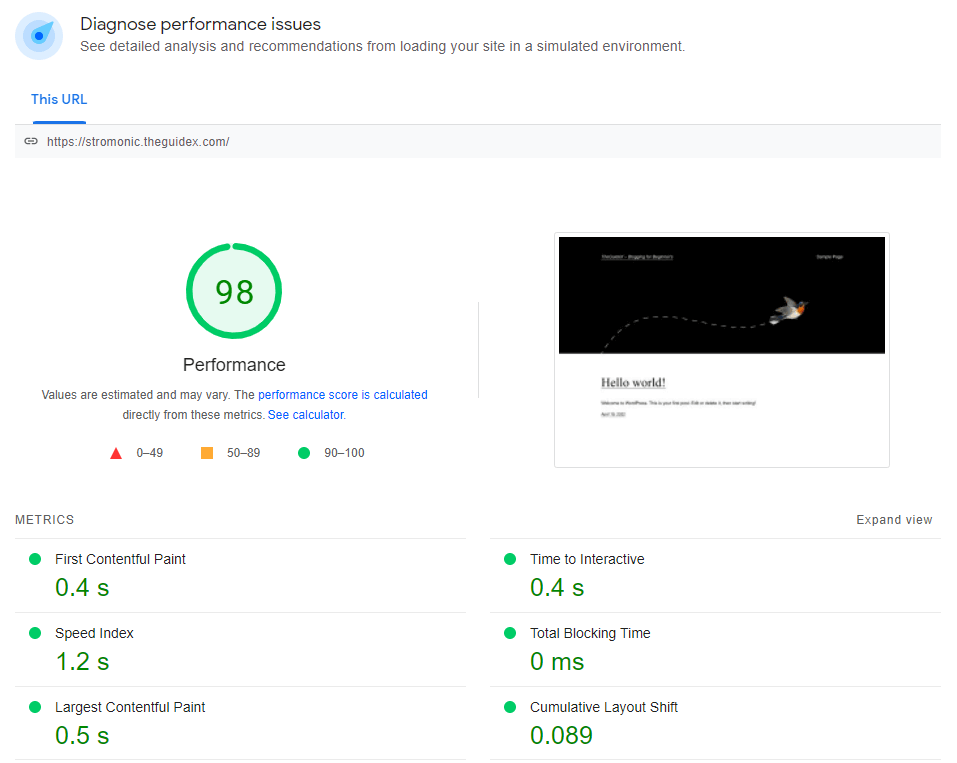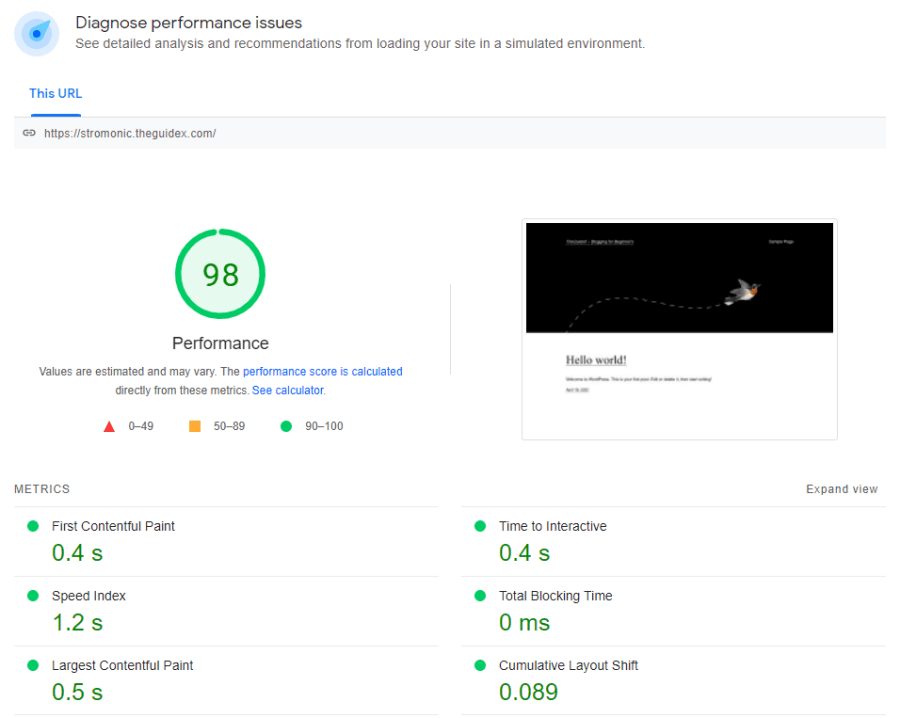 Feedback From Stromonic Users
The company has already served a global scale of hosting users and got positive remarks and recommendations. HostAdvice has rated them a five-star rating in the managed WordPress hosting.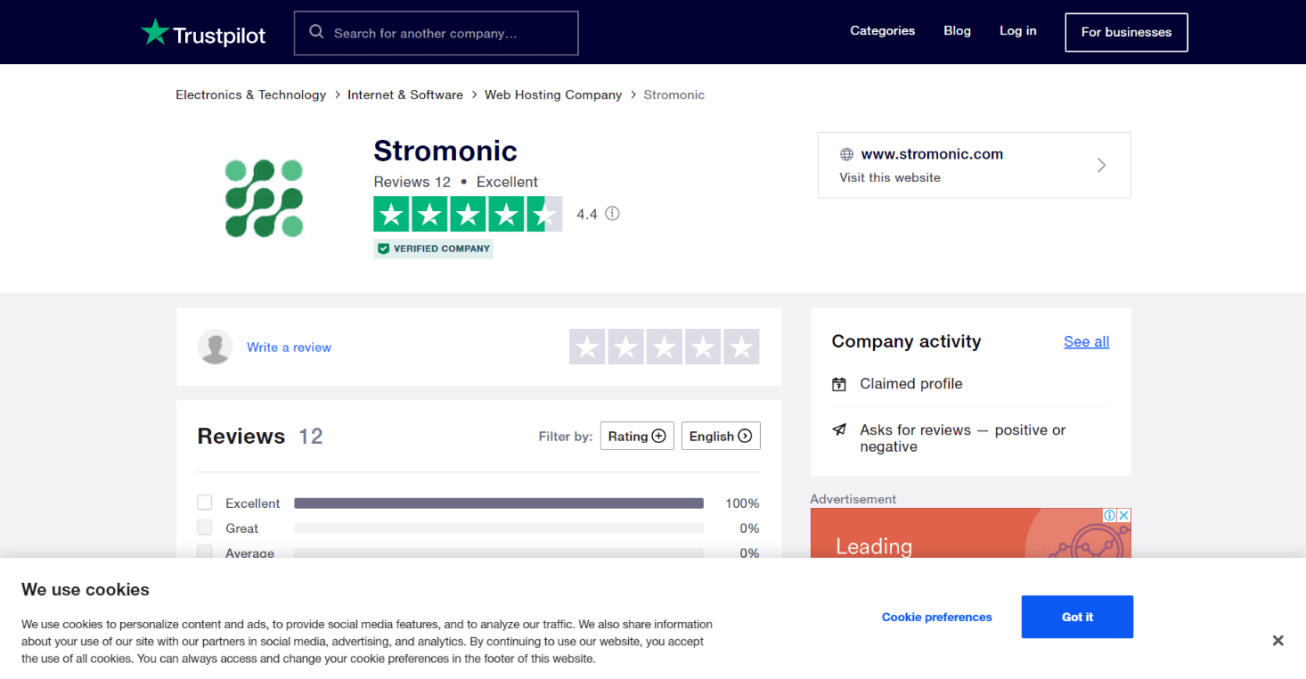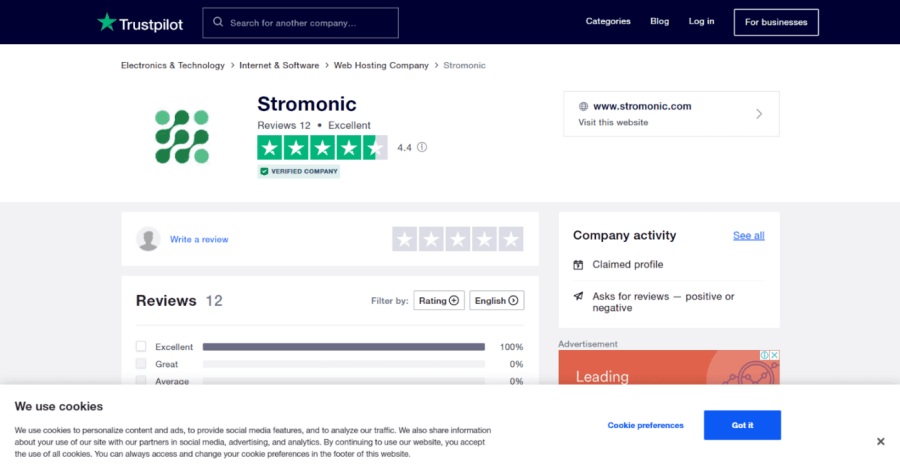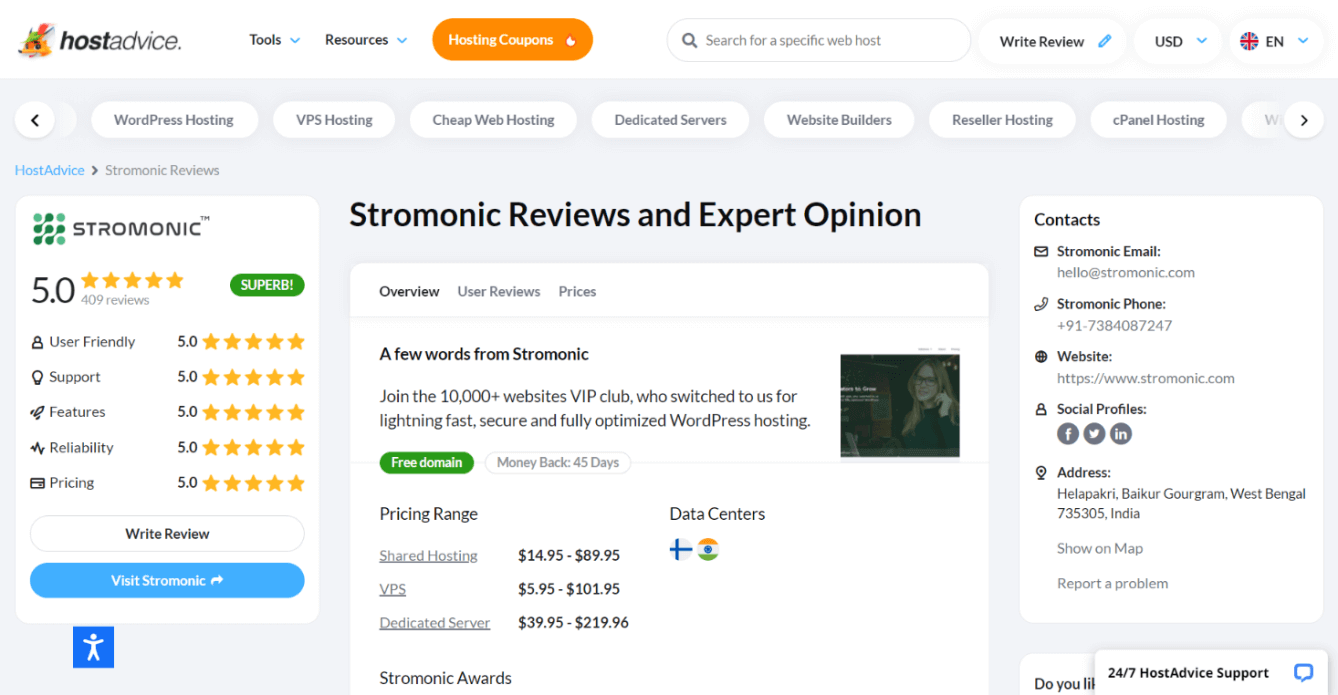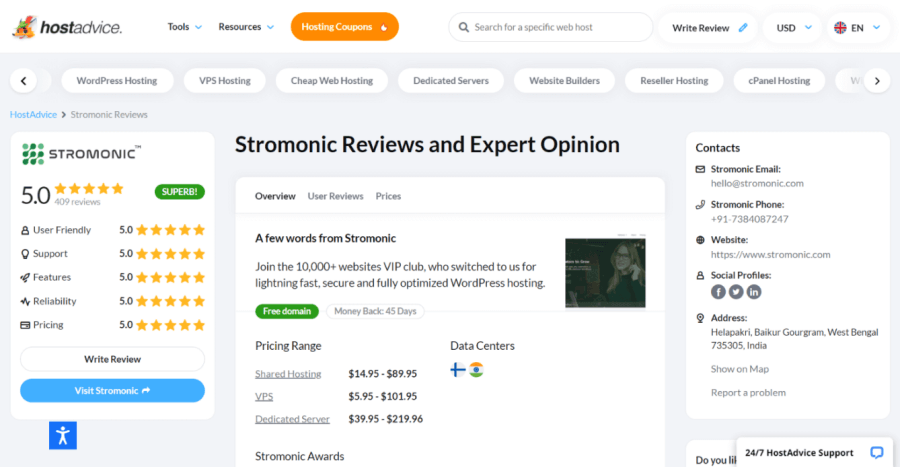 FAQs Related to Stromonic Managed WordPress Hosting
Q. Can we use any cache plugin with Stromonic?
There is no need to opt for the additional caching with Stromonic. You can get the in-house caching with the hosting provider and it even supports all sorts of plugins too.
Q. Can I manage the hosting without technical details?
Yes, even a newbie can get along with the dashboard easily and make the necessary settings. You can access one-tap installs, quick settings access, and a lot more.
Q. How's the Stromonic hosting uptime?
It offers 99.99% uptime and faster loading on the WordPress website.
Conclusion
After testing and experiencing Stromonic-managed WordPress hosting, I must say that it is a value for the investment. What I admire about them are performance standards, customer support, and value-added benefits. During my entire time running a website on Stromonic, there should be no worry about any downtime or technical problems.
Saving time adds value to the business, and Stromonic hosting offers every bit of scalability without handling the website traffic or load. Use any plugins you want, and test out new functionalities while the server is taking care of everything else.
So, that's all about the Stromonic review and experience, it would be more fun to test on their own. If you wish to find a top-notch infrastructure for WordPress hosting and have a decent budget to spend, there is no other reason to look anywhere else.
Go ahead with Stromonic managed WordPress hosting!!
If you've also experienced Stromonic website hosting, feel free to share your review in the comment section below.