Are you looking for the best image CDN provider to take off the stress from your web server and server the images from their closest node server? A best image CDN provider not only serves the images faster but also helps in compressing, resizing, and optimizing your images so that it loads even faster than usual.
Image CDN is really helpful in optimizing the speed of your website by taking images load to their nodes and making sure that your images will load faster on every territory in the world. I'm also using image CDNs on my website to take off all image stress from my server and deliver the images in advanced WebP format.
And after testing and using several image CDNs for years, I'm well aware of their performance and factors. Based on this, I've prepared a list of the best image CDN hosting providers that will help you to boost the loading speed of your website.
So here I'm sharing the list of best image CDN hosting which you can try in 2023.
Best Image CDN Hosting Providers
Looking for the best image CDNs?
After testing several CDNs for months, here we're with the fastest image CDNs for a website. These CDNs provide extraordinary performance and help you in loading your website much faster than usual.
The first one on our list is BunnyCDN. If you're looking for one of the fastest image cdn that doesn't cost you much and provides you with each and every useful feature, then this is the CDN you need for your website.
It is one of the most amazing CDN providers with the option to optimize images and deliver them in WebP format (only if your browser supports it) along with several other image settings. The BunnyCDN is an affordable, reliable, and powerful option for your website.
With over 56 edge locations, BunnyCDN is providing an extraordinary service to skyrocket the speed of your website in every territory. It is one of the fastest CDN and is rated 4.8 on TrustPilot by 13,000+ users.
BunnyCDN is something which I usually recommend to people for optimizing the speed of their website. It comes with an on-the-go image optimization option as well as CSS, JS delivery, and video delivery as well. It stores and serves website data from all of its nodes to make your website blazingly fast in every territory.
They also got a quick and easy dashboard to show you the exact data and analytics about your website. It is not the end. There are many more other features like the let's encrypt SSL connectivity etc.
Pros
Affordable pricing.
Average response time.
Quick to set up.
Cons
Support options are fewer.
Slower sometimes.
After the BunnyCDN, ImageKit is the second most preferred option for optimizing images of the website. It is a CDN that is dedicated to real-time image optimization and transformation. It really helps by reducing the actual size of the photos without actually having any effect on the visible visual quality of the image.
Another most important thing is, that this image CDN stores and delivers CSS, JS, and other files from its CDN nodes which makes everything on your website load incredibly fast in every territory.
Another thing that I liked most about ImageKit is its quick integration with WordPress. You can quickly integrate this CDN with your WordPress website using their plugin or a CDN link through any cache plugin.
The plugin comes with a lifetime free plan with 20-GB of bandwidth for your users and offers reasonable pricing for website owners with heavy traffic. Regularly, the free plan is enough for most of the websites with limited traffic, and it's a far better option to choose this image CDN over the other CDNs listed on this guide.
Pros
User-friendly.
Good support.
No effect on the visible quality of the images.
Cons
Powerful features hence not for the geeky users.
Cloudimage is one of the most transparent and competitive on-the-fly image optimization and cloud image CDN solutions.
Resize, crop, compress, optimize, and add filters and watermarks to your images with a simple change of URL parameters. Plugins are available to create 360° product views, make your images responsive and adopt lazy loading for better performance. With its multi-CDN approach, it delivers pixel-perfect, responsive images all around the world at lightning speeds.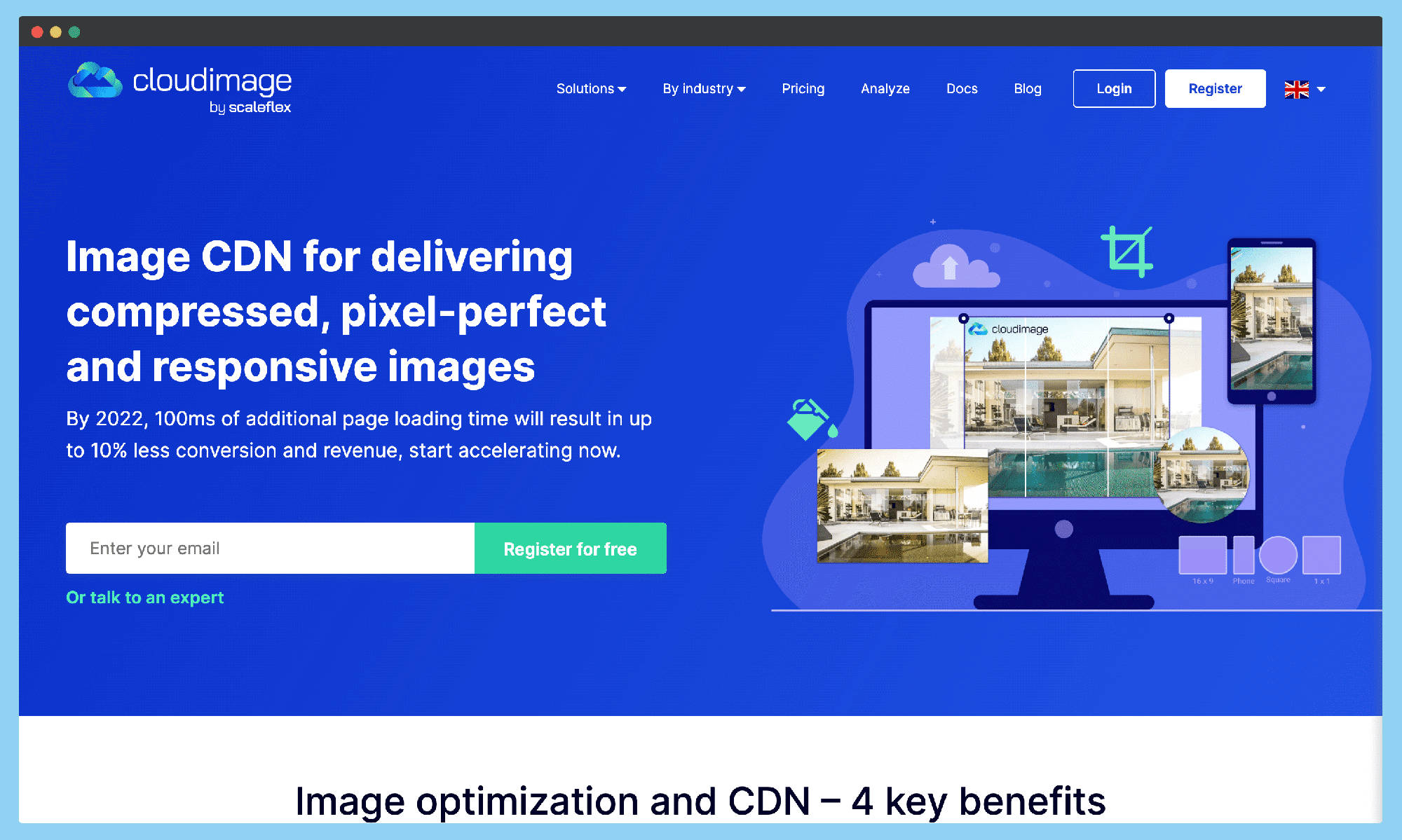 Cloudimage is quick to set up, and its free plan gives you a whopping 25GB of image cache and CDN traffic each month, with unlimited image transformations.
Pros
Free tier with unlimited images and transformations for life
On-the-fly image optimization with no modification of origin images.
Multi-CDN strategy with over 1 000 physical Points-of-Presence (PoPs).
Cons
Custom CNAMEs only available for paid plans
Fastly is another most popular CDN provider with extraordinary services on our list. This image CDN provider is one of the fastest CDN out there with an average response time of 41.36ms around the globe.
Fastly CDN can process the image statically and dynamically. To be an instance, It also applies specific optimizations like resizing, adjusting quality, crop/trim, and changes orientations automatically to the images to help them load best on the desktop and for mobile phones as well.
You'll be surprised to know that Fastly is currently ranked 9th globally. It is more simple to use and specifically designed for small, medium, and large organizations. You can use this cloud CDN on any website whether it is one of your blogs or any eCommerce website.
This CDN is currently managing giant sites like Buzzfeed, Pinterest, etc. as we know that Fastly is a premium content delivery network service. Therefore, It charges a minimum of 50$/month and also 1$ extra for an additional 1GB data transfer and the same amount for one million extra requests.
Pros
The servers are based on 24 TB SSD servers & 4*25 Gigabit Ethernet.
The maximum response time of 41.36 ms.
You'll be getting a $50 signup bonus.
Cons
It is only suitable for those who can afford the minimum of 50$ bill monthly.
The fifth CDN for images in our list is KeyCDN. KeyCDN is another best CDN for quickly integrating and boosting the speed of your website by reducing the image quality and delivering essential files over the nodes of CDN.
It comes with several useful tutorials which help you to optimize the delivery of your images and helps you to speed up your website in every territory of the world.
As you already know, Images take the largest portion of our website when it servers to users and this is the reason our website got slowdown in a few cases. But with KeyCDNs advanced image optimization, your website will load instantly without causing any issue in the visible quality of images.
Cons
The CDN package comes with only a limit of 5 zones. The extra zone above five free limits is 1$/month.
Uploadcare is another well-known image CDN using very powerful image optimization algorithms. Moreover, it's a complete image processing infrastructure providing upload, processing, storage, and adaptive delivery of images and other files over their CDN.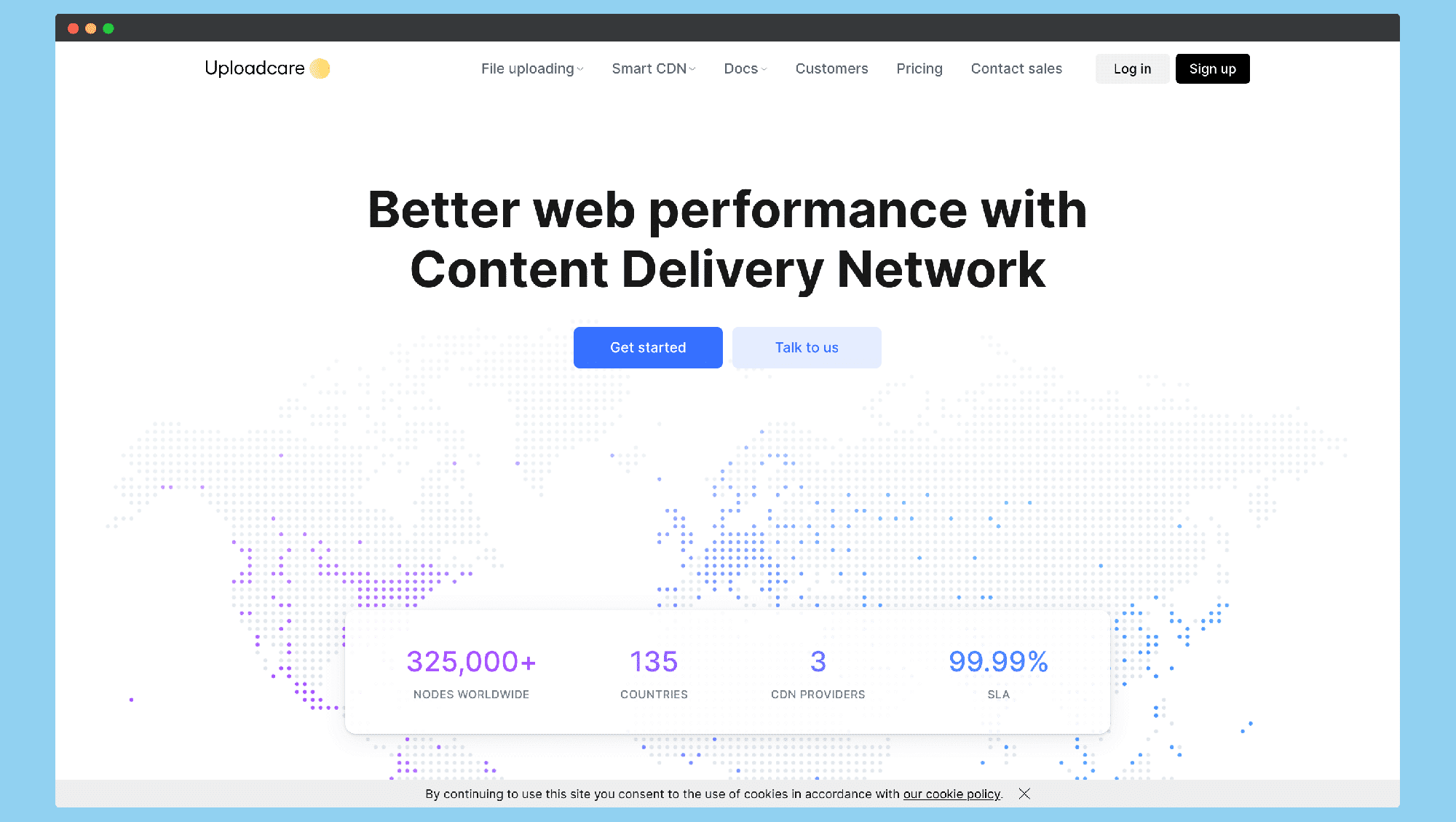 Uploadcare's Smart Content Delivery Network is backed by several CDN vendors at the same time so there's no need to worry about outages or latency spikes. It is claimed to have 99.99% SLA uptime.
With 216 data centers globally, the CDN is accelerating content distribution to any location in the World.
Pros
Easy to integrate
Forever free plan (3 GB traffic)
Pay as you grow pricing model
Cons
The image editor doesn't support text overlays
Their Adaptive Delivery currently requires an src tag modification, which is a very specific scenario (JS is turned off) can resolve in images not loading
I know you're very well aware of the Cloudflare CDN. Cloudflare is one of the most powerful suites for CDN and provides security services for our website. It helps in optimizing the speed of our website along with maintaining the firewalls and even hardening them.
Creating a custom CNAME for loading files over CDN is not possible with Cloudfare as it doesn't offer to create a custom CNAME for managing CDN.
It works solely on the edge cache system. Therefore, It does copy all the files, including CSS, JS from your server and move it to the closest location of your visitor to make it load even faster. This could be done using the free plan of Cloudflare.
However, if you choose the paid plans, then you will be getting the mirage and polish image optimization (Generally, It will reduce the overall image size).
Pros
It does protect your website for any security threats.
Free SSL certificate for your website.
165 Datacenters.
Cons
Some features require a more expensive subscription, and that is the only downside I have found after using this CDN service.
There is no wonder or surprising part that the world's biggest websites rely on Amazon CloudFront CDN service. It is because of 61 servers deployed around the globe which are capable of transmitting and delivering the images of the websites faster in specific locations.
It also works like a cache which does provide lower latency time when any of your visitors visits your blog or website. You can also serve your images using the Amazon free SSL certificate for enhancing web security.
Pros
121 Edge locations.
Easy to sign up and use.
Free service for one year.
Cons
Higher pricing after free service.
Google cloud is currently competing over the other cloud programs. It mainly helps with focusing on what's next for the business. Google Cloud CDN generally helps to maintain the website speed and helps out the page to load faster than the average rate.
It uses the leverages cache edge points with more than 30+ territories to redirect the user to the website from any specific territory. It is generally free for one year, or I can say up to the credits given to the new users. This could be one of the best CDN for small to large enterprise websites.
Pros
Reliable CDN network.
Free Trial available.
Cache Egress: To charge based on the territory.
Cons
Pricings are higher than usual after the free trial. This is the only downside of using Google CDN.
Imgix is one of the real-time image processing cloud CDN services. It does simple work by resizing, cropping, and optimizing the images only by changing a URL and load at a faster rate. More than 70 known companies are using Imgix CDN services such as product hunt, Coursera.
There is also a quick integration panel for more than 13 tools like WordPress, PHP, Java. The developers like to use this CDN because not only it is quick to set up but also does the perfect optimization process by processing images on demand, smart cropping, and the visible quality of the images even after the compression.
In the end, It only makes the website speed faster by 20-30% by reducing the actual size of the images.
Pros
It reduces development costs.
Insanely fast.
Image processing and smart compression system.
Cons
Sometimes, there is a problem during the optimization of the images.
Bonus CDNs
Looking for a few more options to choose from? Here I'm sharing a few more CDNs which you can use for your images to increase their speed and efficiency.
Cloudinary is a content delivery network service that manages to upload all of the images, videos, and other relevant data on the cloud server. Later, the same data will be loaded to the user's perspective faster than the usual rate depends upon their browsing location.
True to its name. The user no longer needs to manage things manually as this CDN will do all the tasks like resizing cropping and optimizing the images without reducing their actual visible quality. It assures the fastest delivery of the content through all the networks.
Generally, the free plan is more than enough to handle a small to medium website bit if your website does carry the heavy load of the users then I prefer to upgrade to the premium plans which are starting from $99/month.
Pros
Cutting Edge Cloud Technology.
Effortless image transformations.
Seamless integration system.
Cons
The support system is sometimes slower.
CDN77 is another best choice with powerful features like HTTP/2 Server Push, Instant SSL, and Brotli compression. The thing which makes this image CDN unique is, that it works on Google's new brotli algorithms to make your websites loads ever more faster than usual.
With CDN77, all of the images will be transmitted through the secure and 33 unique data centers to ensure proper uptime and loading of the pictures.
It also offers reasonable pricing plans to the customers. It means you are not only getting the cheap pricing but also the flexibility to pay as you go or on the monthly bills. The dashboard of this CDN is quite powerful, and you can always analyze the data using the dashboard.
Pros
It could be one of the cheap alternatives to the free image CDN.
It does works with WordPress and WooCommerce.
Free SSL certificate.
Cons
The payment amount or credits is a little bit high for the small plans.
The UI of the admin panel could be better.
Frequently Asked Questions
Still, confused between best image CDN providers? Here I'm sharing a few FAQs which make you sure about the best image CDNs and help in solving all your doubts.
What Problems Does Image CDN Solve?
Mostly we leave websites that load too slowly and it really hurts the SEO of our website. So, if we're using an Image CDN on our website, it takes all the stress of images from our server to its own and helps them to load quicker from their nodes.
Along with loading them from their nodes, they also help in optimizing the images and reducing the size without actually making any changes to your original images by using their real-time compression. Therefore, It is important to optimize the images to faster the loading speed of the website.
Is Image CDN Best for Mobile Users?
Yes, image CDN is one of the most important things for mobile users. It is because websites take a little more time to load images on mobile devices and this is why it helps to reduce the timing and makes it load faster on mobile devices.
Based on mobile type and networks, a few image CDNs even provide an option to set a different image compression and real-time optimizations for mobile devices as well.
Which One is the Best Image CDN for Me?
I recommend you try BunnyCDN and ImageKit on your website. These two CDNs come with a lot of options which makes your website load incredibly fast and even on a mobile device and are reliable to use.
Along with it, both of these image CDNs come at a reliable price that doesn't hurt your pocket and website. I'm also using BunnyCDN and ImageKit on my websites.
Wrapping Up
Nobody wants to visit a website that will load slow. Therefore, It is essential to speed up your website for gaining specific and interested users. To be an instance, one of the best practices to speed up your website is to optimize the database images as we know images took the most significant portion in the server.
In this article, I not only have researched but also have added the best image CDNs. The CDN (Content delivery network) helps with the optimization of the images by resizing, cropping, and optimizing perfectly without reducing their visible quality.
Top 10 Best Image CDN Providers to Speed Up Your Website
Fastly

KeyCDN

ImageKit

CDN77

BunnyCDN

Cloudflare CDN

CloudFront CDN

Google CDN

Imgix

Cloudinary
Summary
If you have come across this article, then you must be looking for the best image CDNs (Content delivery networks). The best image CDN service will not only help you to speed up your website but also, it will optimize the images (compress & resize) and make it load even faster.
Considering all these factors and some other factors, I've prepared a list of top 10 best image CDN hosting providers that will help your website to serve the scaled image faster.
Comments Rating
( reviews)