Anyone can create a fully functioning website nowadays, even if you don't know how to code. You just need to use a page builder, and Spectra is the best one out there.
Using Spectra, website creation is easier and faster than you might think.
In this Spectra review, we'll introduce you to this new website builder. We'll cover everything you need to know about how to use this powerful tool to create stunning websites. By the end, you will understand why the Spectra WordPress Page Builder might be the perfect solution for your web design needs!
What is Spectra?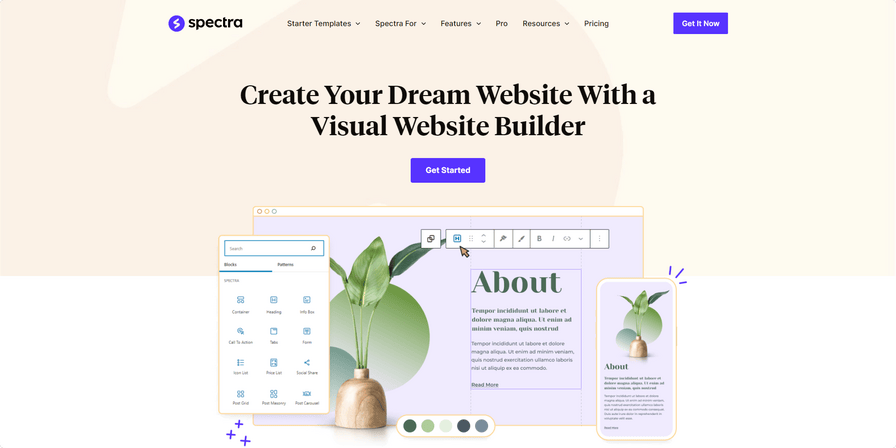 Spectra is developed by Brainstorm Force, the same team behind popular products like Astra, Schema Pro, and Ultimate Addons for Elementor.
It's a powerful visual website builder for WordPress, formerly known as Ultimate Addons for Gutenberg. It's designed to make building a website easy using blocks. Like a Lego structure, you can place blocks wherever you like, to build whatever you like.
Spectra also offers pre-built websites, page templates, block presets, and other building tools. 
Spectra works within the WordPress block editor, offering a convenient and user-friendly experience while it adds new options and features.
Who Can Use Spectra?
Spectra is perfect for anyone who wants to build websites with ease. It has various Gutenberg blocks, hundreds of pre-made website templates, and an expansive toolkit for easy WordPress building.
Are you a blogger with little or no coding experience? The blocks and templates in Spectra's collection are perfect for you.
Are you a web designer seeking a tool to streamline your workflow? Spectra's got your back with the power to speed up project delivery without compromising quality.
Are you a small business owner who wants to sell digital products but doesn't have the budget for a professional web developer? Spectra is a drag-and-drop website builder that was designed specifically for this purpose.
Are you a professional web developer needing a faster website creation process? Spectra offers in-depth features that cater to experienced users like you.No matter if you're creating a simple photography website, an affiliate marketing site selling digital products, or a complex e-commerce store, Spectra is built for a diverse range of needs.
Why is Spectra the Best Page Builder?
Spectra is more than just a regular page builder; it's a complete web design toolkit with powerful components to help you craft a fully functional website.
Let's look at key features of Spectra that make the website-building process easier:
Blocks: Spectra comes with a diverse collection of 28+ blocks, and each block serves a unique purpose. From post grids and sliders to contact forms and image galleries, each block helps you simplify the complex design process.
Block patterns and wireframes: Building pages from scratch can be time-consuming. Spectra's block patterns and wireframes provide readymade templates that help create professional layouts quickly.
Templates: With over 100 professionally designed website templates, Spectra makes it easy to start your web project with a solid foundation. These templates cover everything, whether you're building a blog or an ecommerce site.
Popup builders: Engage your audience with well-designed pop-ups. Spectra Pro provides a robust popup builder, enabling you to create visually appealing popups to show offers and discounts or simplify email leads collection. 
Modal and slider builders: Spectra also allows you to enhance the user experience of your site with modal popups and sliders. You can design and customize them to your liking.
VIP support: Spectra doesn't leave you on your own. Their VIP support ensures that you have a helping hand whenever you need assistance.
Benefits of Using Spectra
You can expect various benefits by using Spectra
Efficiency and speed: Spectra's intuitive interface, ready-made templates, and extensive block library reduce the time it takes to design a website. This means you can create websites faster and deliver your projects earlier.
User-friendly experience: You don't need to be a web developer to use Spectra. It's built with keeping users in mind and its user-friendly interface welcomes beginners and experts alike.
Customization power: Spectra is flexible and allows a high level of customization. You can tweak every aspect of your design, from colors and fonts to spacing and layouts to bring your next web design idea into a pixel-perfect reality.
Responsiveness: Over 60% of internet users surf on their phone. Spectra ensures your website looks and functions well on all devices.
SEO-friendly: All Spectra blocks, including How-to, FAQ, and review, automatically implement schema markup. This saves you time while improving your search engine rankings.
Using Spectra
Getting started with Spectra is super easy; here are some quick steps:
Installation
Download the Spectra plugin.
In your WordPress dashboard, go to Plugins > Add New.
Upload and activate the Spectra plugin.
You're ready to start building with Spectra!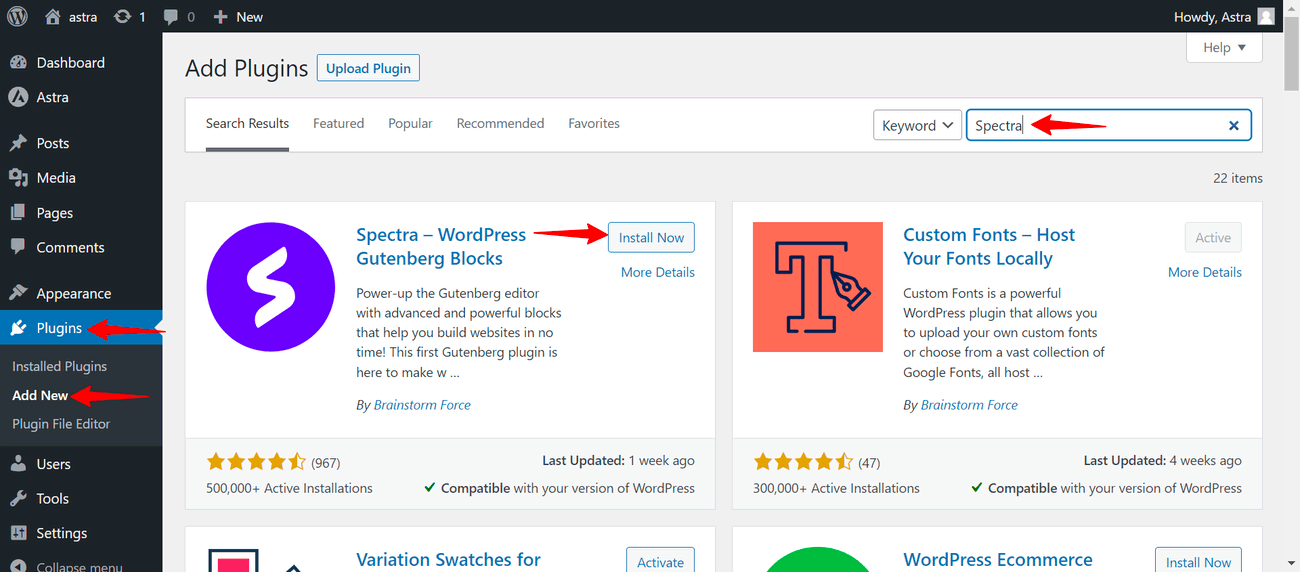 User Interface
Spectra's user interface is designed to keep all types of users in mind. Due to its seamless integration with the WordPress block editor, it provides you with a user-friendly experience.
The drag-and-drop functionality simplifies the placement of blocks, patterns, and wireframes. Whether you're a beginner or an expert, you'll be amazed at what you can create.
Premade Designs and Template Library
Spectra provides over 100+ pre-designed templates where you can select suitable templates for your next web design project. These templates include all types of niches to allow you to assist in finding the perfect starting point for your website.
Responsive Design
With Spectra, you can be sure your website will look great on all devices. Each block, pattern, and wireframe is optimized for responsive design, giving you the peace of mind that your site will function flawlessly, whether accessed on a desktop, tablet, or mobile device.
Benefits of Spectra's Huge Block Library
Spectra's true power lies in its extensive block library. With over 28 blocks, your web design possibilities are limitless, and you can create anything you imagine. 
Here's a glimpse of the critical blocks:
With these blocks and many more, you can create enticing web pages without breaking a sweat.
Extra Blocks in Spectra Pro
Spectra Pro offers additional blocks and features for those who want to take their web design to the next level. The free version of Spectra is already robust, but Spectra Pro adds even more power to your web design toolkit.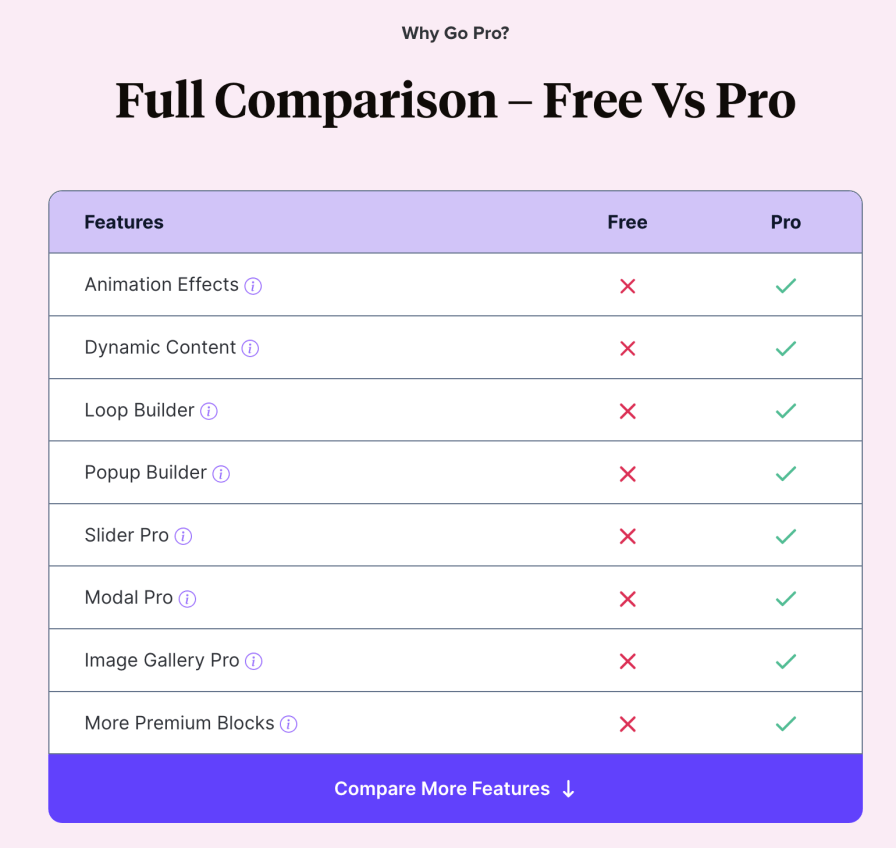 Visual Website Builder
Creating a basic page with Spectra is a straightforward process:
Start by creating a new page.
Click anywhere on the page to add a block and select one from the menu on the left.
Customize each element according to your preferences using individual block settings.
Enjoy a real-time preview of your page and make instant adjustments.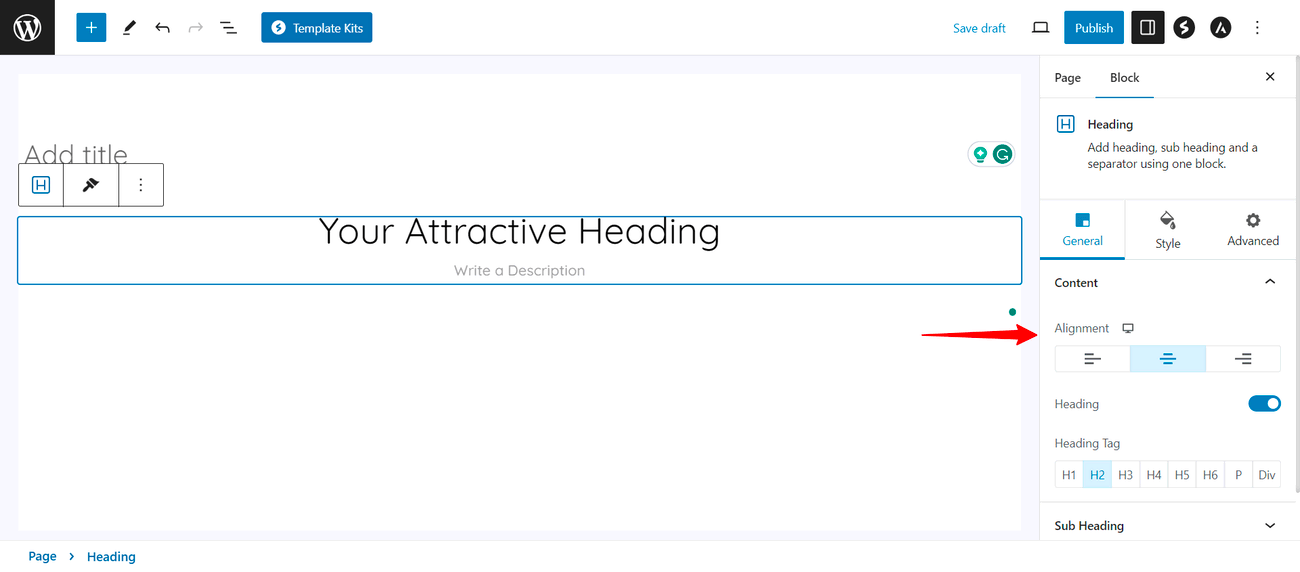 Popup Builder
Spectra Pro also provides a popup builder where you can customize the pop-ups how you want to design stunning popups. You need to set the triggers to engage with your audience effectively. 
Whether you're looking to showcase special offers on sales, collect newsletter sign-ups from blog posts, or guide users to landing pages, the popup builder in Spectra Pro has you covered.
How Does Spectra Perform?
Spectra's performance is nothing short of remarkable. Powered by the ReactJS framework, it creates lightning-fast and secure websites.
Unlike some other page builders that slow down your site with unnecessary scripts, Spectra loads only the assets required for the blocks you use on each page.
This means visitors won't face the frustration of slow-loading pages, and your Google Page Speed score will thank you for it!
Differences Between Spectra and Spectra Pro
While Spectra is a robust page builder that's available for free, Spectra Pro takes web design to the next level. Here's a quick comparison:
Spectra (Free Version):
28+ blocks.
100+ pre-designed templates.
Flexbox containers.
Free templates.
Spectra Pro (Premium Version):
Additional premium features include animation effects, dynamic content, loop builder, and more.
Ideal for advanced web developers and larger projects.
Cost-saving with access to complete product suites such as Astra Theme Pro, ProjectHuddle, SureWriter, and more.  
The three pricing plans you can choose are designed to meet your specific needs.
Whether you prefer the convenience of an annual subscription or the long-term benefits of lifetime access, make sure you choose the plan that fits your website design goals.
Spectra vs. Other WordPress Page Builders
In comparison with other popular alternatives, Spectra stands out for its performance features and a rich library of customizable blocks.

Spectra Pros & Cons
Spectra is a tool, so it has its pros and cons. Here's what to expect:
Pros
Beginner friendly.
Extensive block library.
Responsive design.
SEO-friendly.
Spectra Pro version for advanced users.
Cons
More blocks would always be welcome
No AI creator options (yet)
Final Thoughts
In conclusion, Spectra is an excellent tool for anyone who'd like to create a WordPress website within the comfort of the default WordPress block editor. It allows you to build a fully functional website without any coding knowledge.
It's highly responsive, has various unique blocks, and is easy to use.
Whether you're creating a simple landing page for your webinar or launching a fully functional online store, Spectra simplifies the entire process.
If you'd like to add advanced functionalities like a popup builder, loop builder, and dynamic content, then Spectra Pro is the best choice to take your website design skills to the next level.
Give Spectra a try and create a stunning website for your next project!