Are you looking for the best Google Adsense plugin for your WordPress website? And don't know which Adsense ads plugin you should have to use? There are various ad plugins available in the market that claims to be the best ad plugin for Adsense.
WordPress has a massive number of plugins to increase the functionality of your website, and if you search for the "Adsense Plugin," it will show tons of plugins. But you don't know which plugin is best suited to handle the specific needs of your website.
Here In this guide, we have listed the top WordPress plugins, which you can consider to add the AdSense ads on your website. You can also use these plugins to show ads of other advertising networks like media.net, Infolinks, etc.
Best Google Adsense Plugins for WordPress


If you are looking for a simplistic approach to ads management that is also 100% free, Quick Adsense is the way to go. This plug-in tool is built for use mainly with blog content.
The simple configuration interface is so basic, you don't need much in the way of HTML knowledge, just copy and paste your AdSense codes, and this plugin does the rest for you.
The simple easy-to-use tags that are provided can be inserted into your blog posts on the fly or even used to disable them. One limiting factor is that this tool can only support up to 10 Ads and it is very little in terms of customization or ad placements.
Pros and Cons
Pros
No author revenue reward or revenue sharing from your Adsense.

Supports all ad codes, not limited to Adsense.
Cons
You are limited to 10 ads


Like Quick Adsense, Ad Inserter is a quick, free, and simple to use plug-in for ad management. This plug-in gives you the flexibility to support ads from several platforms: Google AdSense, Google Ad Manager, Amazon Native Shopping Ads, Media.net, and Rotating Banners.
While the free version is simple to use out of the box, it doesn't come with many advanced features for customization, and a lot of the additional perks that are marketed, are only available by upgrading to a paid version.
Pros and Cons
Pros
Supports ads from multiple platforms.

Easy to use.
Cons
You need to pay to use more advanced features.


This WordPress-specific plugin is essentially a great ads plugin if you're looking to not only manage your ads but also embed codes into the header or footer of your web page, insert google analytics codes, custom CSS, and more without actually having to edit your theme files.
It's also 100% backed by WordPress specialist team SmartLogix. This plugin is very fine-tuned to stylize the ads you want and how they should show up on multiple interfaces such as phones and tablets.
Another bonus is that it is completely Adsense optimized and has built-in support for Google Adsense Auto Ads.
Pros and Cons
Pros
Quick editing of theme files

Complete ad stylizations

Adsense optimized
Cons
Some exception features for displaying ads have been reported to have bugs.

OIO Publisher is a great tool for ad management if you are interested in controlling ad zones, ad prices, targeting, and more. This plug-in gives you control over your advertising that a lot of other tools just can not match. You also get to keep all of your revenue from your ads without paying a third-party commission.
Some other great benefits include being able to run 3rd party ad networks alongside your own ads, and if you have multiple websites, you only need to purchase one license. It will support as many domains as you designate.
Pros and Cons
Pros
Keep all of your ad revenue

Run 3rd party ad networks alongside your own

One license manages multiple domains
Cons
It takes a lot of time to research and set up ads on this plug-in

Difficult for those who are beginners with WordPress or Ad Management

Here we have of the most popular ads managers on the WordPress market and a direct Google AdSense partner. While there are premium add-ons you can buy out of the box, this free plug-in serves a multitude of functions without having to pull out your wallet.
Advanced Ads offers straightforward testing and optimization that many plug-ins just don't provide. You can easily download this plugin from WordPress and use it to serve ads on your website.
Pros and Cons
Pros
Direct Google AdSense partner

Provides a lot of functions while remaining free

Plenty of support
Cons
Another five-star plugin that proves con free!
6. Aparg SmartAd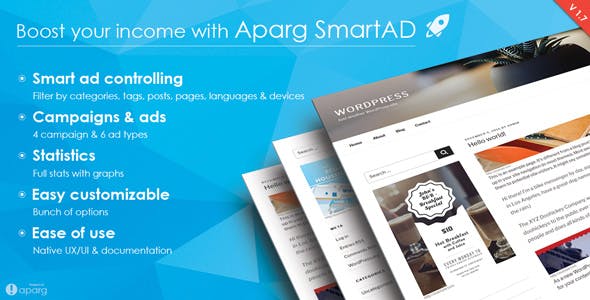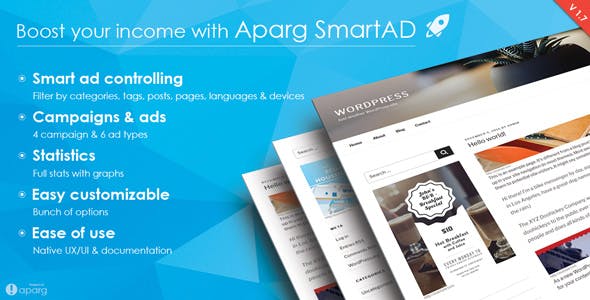 Are you searching for all the bells and whistles in one plug-in? Check out Aparg SmartAd. This plugin comes with a customized ad builder, smart ads controlled by the device, AdBlock detection, anti-cache, statistics, campaigns, 43 popup animations, 34 embedded animations, and 25 popup and background animations.
This tool really features a lot of bang for your buck! Considering all of the available features this plugin has, it is actually really easy to use and implement on your WordPress website.
Pros and Cons
Pros
Customized ad builder

Multitude animations and templates
Cons
We actually could not find any for this five-star rated plugin!
7. Adverts Detector Ultimate Premium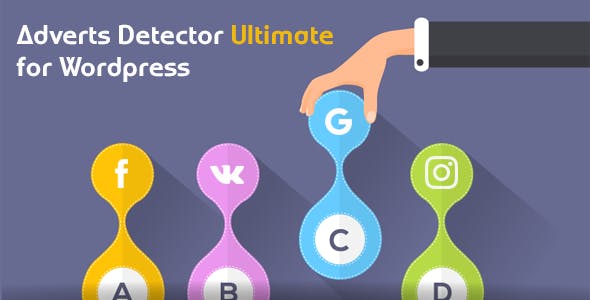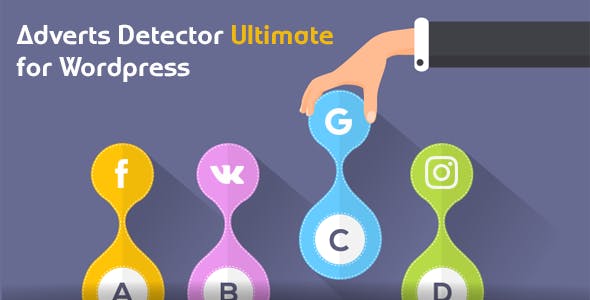 This plug-in is more than just ad management. Not only can you target specific ads to specific users, but you can use it to hide or show ANY content on your web page to users of your choice.
This tool takes into consideration the search engines or social networks your users came from and only shows them what you tell it to.
If you're wanting to take a completely analytical approach to your website and study what users from specific platforms are doing and seeing on your web page, this plug-in can help you tremendously.
Pros and Cons
Pros
Tremendous dynamic abilities

Perfect for analytical research
Cons
This plugin is focused a lot on its dynamic functions of hiding or showing website content.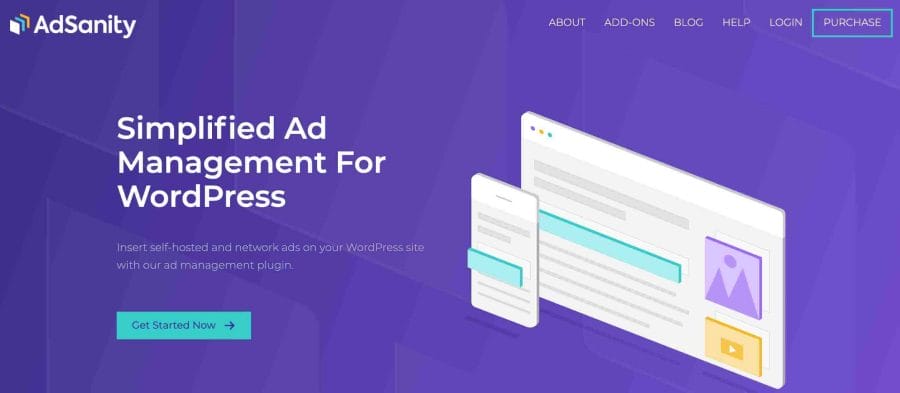 This ad plugin has a name that speaks for itself. Marketed to WordPress newcomers who are still learning how their WordPress website functions and how it is edited.
This plug-in taps into that market successfully with its live visual editor, allowing you to insert ads anywhere easily, and optimize their performance without tapping into those pesky theme files.
If you're willing to shell out more money for your ad management, they offer several advanced add-ons that prove to be a great bonus, like User Role Ad Visibility which lets you decide which visitors see ads and which ones don't.
Pros and Cons
Pros
Extremely easy for WordPress beginners.

No editing theme files

Useful add-ons are offered but not necessary for ad management
Cons
If you're looking for more advanced features, this plug-in is a bit basic in what it can offer.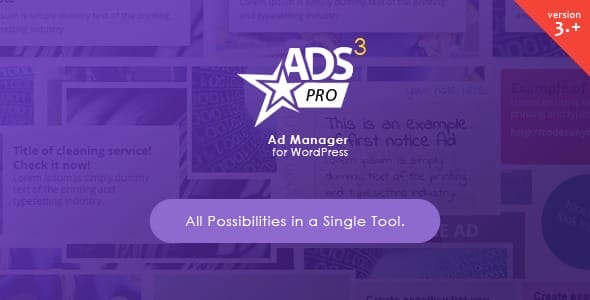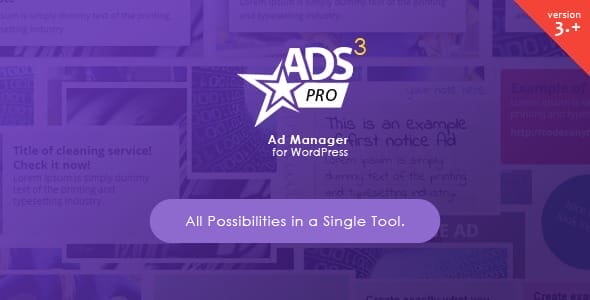 Ads Pro Plugin gives you the flexibility of managing, selling, and displaying your advertising space. If you are searching for a management tool that includes geographical targeting, controlling ad delay, capping limits, and user-friendly ad templates, this plugin might be the best choice for you.
Their templates are also 100% responsive, meaning no matter what device your visitor is using they aren't going to be plagued with giant and offensive ads.
Pros and Cons
Pros
Geographical targeting

Responsive templates
Cons
This plugin has been reported by many users as not very intuitive.


With a whopping 55 different ad formats, this management tool gives you the ability to advertise in numerous ways. It's also a great option if you need something completely intuitive, with a drag and drop widget style.
But with using the WordPress Ad Widget free plugin, you wouldn't get many advanced features that other free plugins may offer you. This is a simple plugin which can be used to add google adsense code in your wordpress website.
Pros and Cons
Pros 
A large array of ad formats

Extremely intuitive
Cons
Doesn't provide very many advanced features that other free plugins offer.


User experience is a big deal these days when it comes to building a great website. Your user is also not the only one paying attention. Search engine giants are beginning to prove their ability to track user experience by means of complex algorithms.
Even so, if you want to have the ability to place ads on your WordPress site while remaining as user-friendly and as minimally invasive as possible, this plug-in is a superb choice.
The plugin name describes itself; the tool displays a corner ad that is actually partially covered until the user hovers over it. It also doesn't have to be used for just ads, consider: announcements, newsflashes and sales as other cool ways to utilize this tool.
Pros and Cons
Pros
SEO and user friendly

Can serve multiple purposes
Cons
No customization, what you see is what you get, a "corner ad."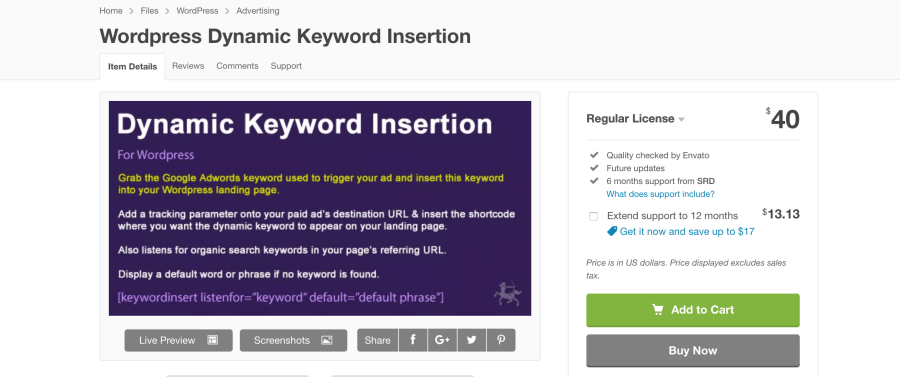 The WordPress Dynamic Keyword Insertion Plugin is not truly an ads plugin, with using this plugin you can easily insert the dynamic keyword in your post.
Let's say you're selling CPA-based ads, and you want to increase your conversion rates considerably? You can do this by getting hyper-target clicks from Google Adwords using this plug-in.
This plugin has the ability to dynamically insert the keyword that your customer used via search, into YOUR ad.
Pros and Cons
Pros
Can serve multiple dynamic purposes for adword targeting

Helps hyper-target clicks
Cons
It's not exactly built for ad management and implementation but can serve as useful if you know what you are doing.
Conclusion
In this guide, we had shared some of the best and most used AdSense ads plugins for wordpress. You can try them on your website to implement google ads to your website.
If you found these plugins useful, do share your review and experience of using them in the comment section below, or if you're using some other plugin to implement ads on your website, please let us know in the comment section below.
Additionally, if you are a beginner, you should probably consult with an expert web designer who is familiar with business SEO and search engine marketing on the implementation of ads on your website or blog.
And don't forget to share this article with your blogging friends and let them learn it too. "A Friend In Need, Is A Friend Indeed"