Do you know platforms play a significant role in making it easy for its users to sell digital products? If you plan to open an online store to sell something, be it books, subscriptions, or online courses, the choice of an eCommerce platform will make a difference. Today, we have overwhelming options for choosing the best platform to sell online, so wading through the options is difficult.
If you are determined to sell digital products only, you should know that some platforms are designed only for digital products. Today, I am comparing some of the best available platforms for selling free and paid digital products for my readers.
I have tried and tested the products before penning the options down so that you find authentic information to decide better. Several platforms offer free trials for their users to test out the features it offer and also check their usability. You should take full advantage of such situations and then make a definite choice.
Without further ado, let us first dive into the best digital product-selling platforms.
The Best eCommerce Platforms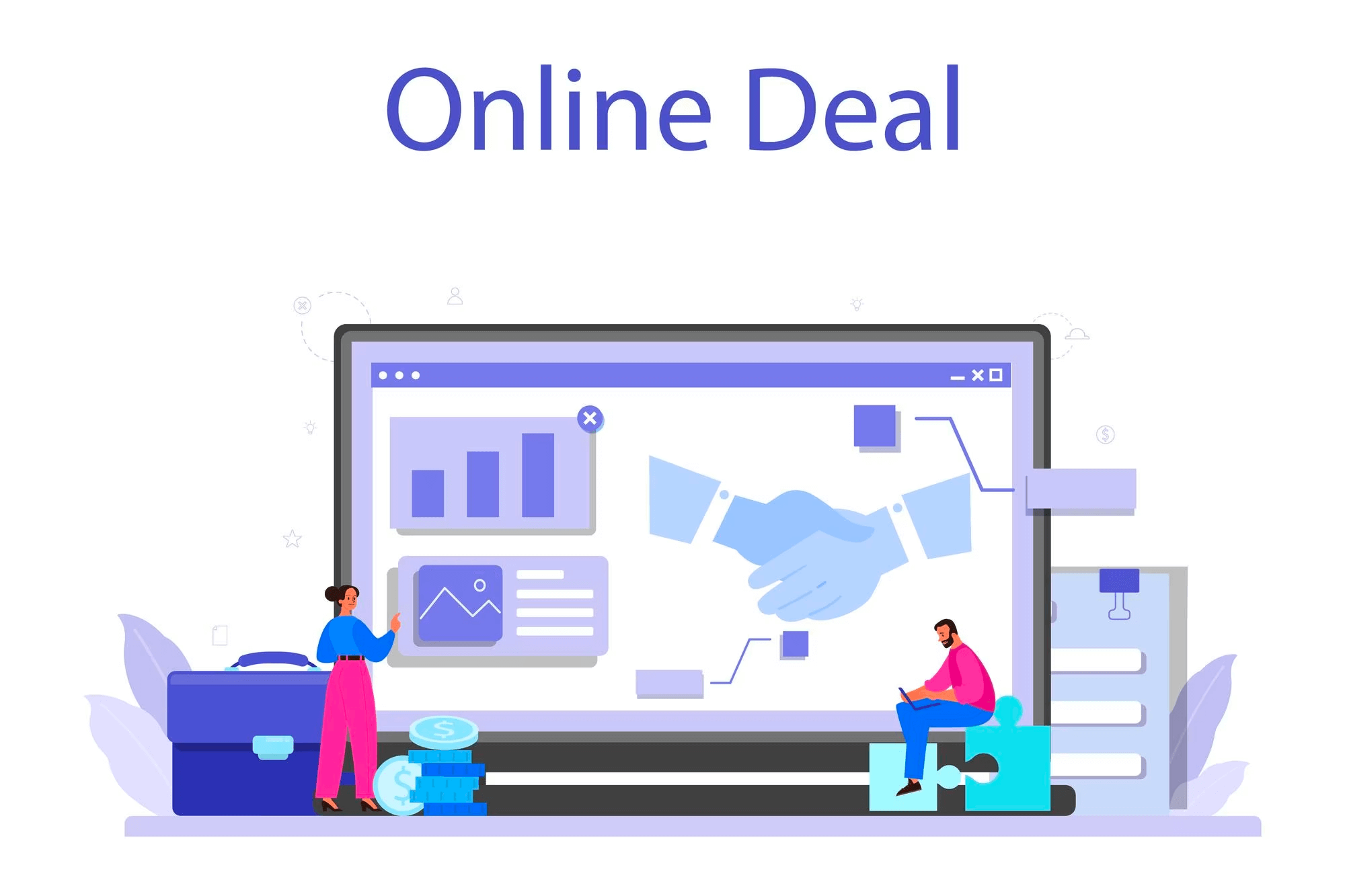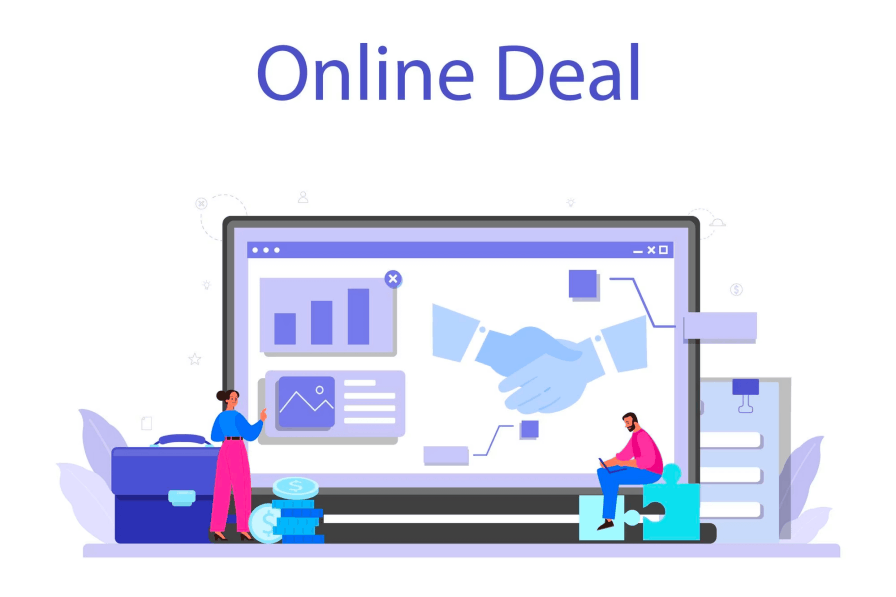 Below mentioned are some of the best eCommerce platforms available:
1. Teachable – Best For Online Courses

As the name suggests, Teachable is the best platform that enables the selling of online courses. Though the platform is expected to sell online courses, you can also use it to sell other digital products like memberships. The bonus of using this platform is that it is also beginner-friendly, and creating a course is very easy with its comprehensive tool.
It has a simple drag-and-drop builder that can be used to edit or customize courses as per choice. You also get several templates that can be used and personalized as per preferences. If you do not find a feature you want to implement in your course, you can integrate as many external services as you want. If you want to learn how to sell short stories on Amazon, check this out.
Best For:
The platform best suits all creators looking for a simple, effective tool to create online courses and sell them to earn money.
Pricing:
Teachable offers a limited free plan for the users, but for every transaction made with the free plan, the platform will charge $1 plus 10% of the transaction amount. Besides the free plan, it offers two paid plans. The basic plan will cost $39 monthly plus 5% of every transaction. The pro plan, on the other hand, costs $119/month.
2. Shopify – The Most Common eCommerce Platform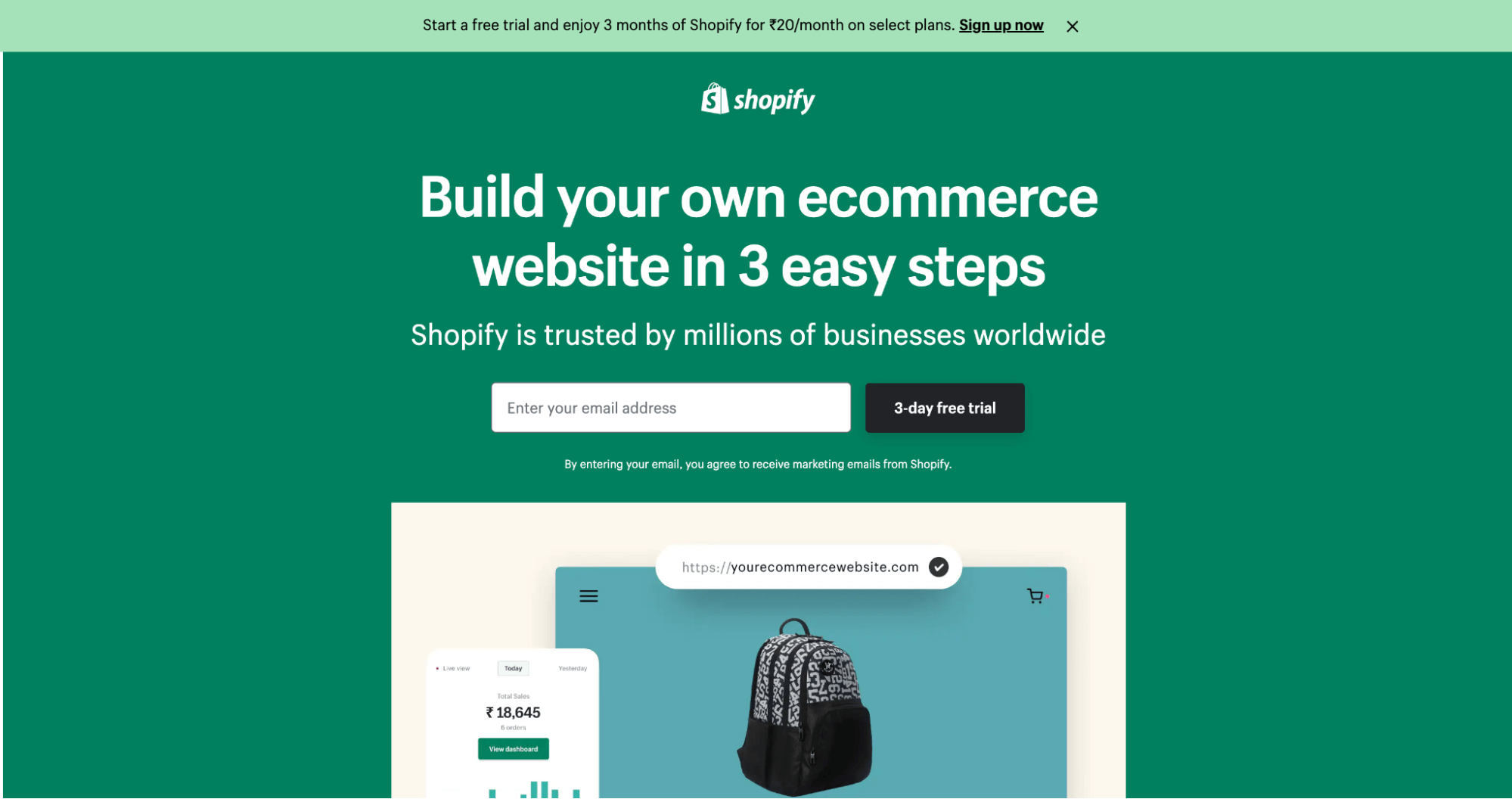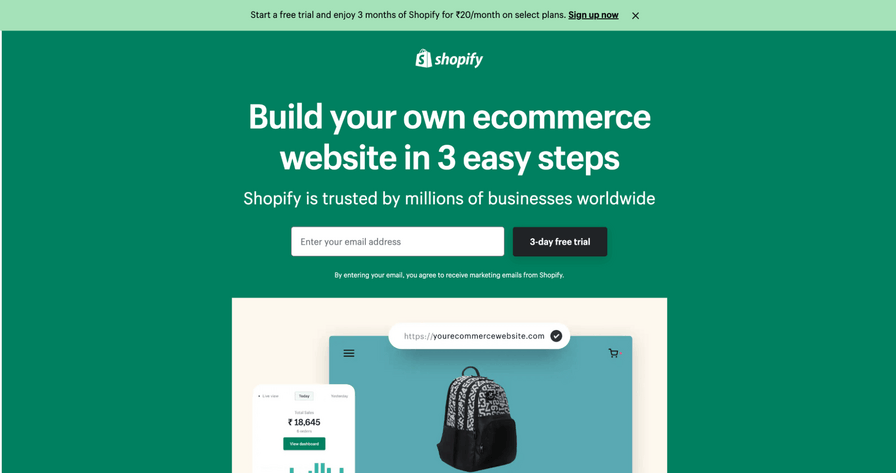 Shopify is one of the most common platforms in eCommerce, so it deserves a spot on my list. The platform is a one-stop shop for eCommerce businesses, and it offers everything that you would need to create an online store and then sell any product of your choice. With the integration of the right apps, you can leverage the platform to your advantage and customize it to the extent possible.
The platform offers over 3000 apps; with them, you can transform your store into anything. It is easy to use and beginner-friendly for anyone to get their hands on easily. Though web development skills are not mandatory to operate the platform, it still has a learning curve. Also, several "how-to" guides help users navigate the platform easily.
Best For:
Because of its high flexibility, Shopify is the best solution for anyone looking for a complete solution to set up their online store. You need to invest time and money, and then Shopify will help you build a great online store.
Pricing:
The prices of the plans of Shopify listed below are all based on when billed annually.
Basic Plan – $29/month plus 2.9%+30¢ of transaction fee.
Shopify Plan – $79/month plus 2.6%+30¢ transaction fee.
Advanced Plan – $299/month plus 2.4%+30¢ transaction fee.
In addition to it, Shopify also charges for third-party integrations.
3. Sellfy – A Great Platform To Sell Digital Products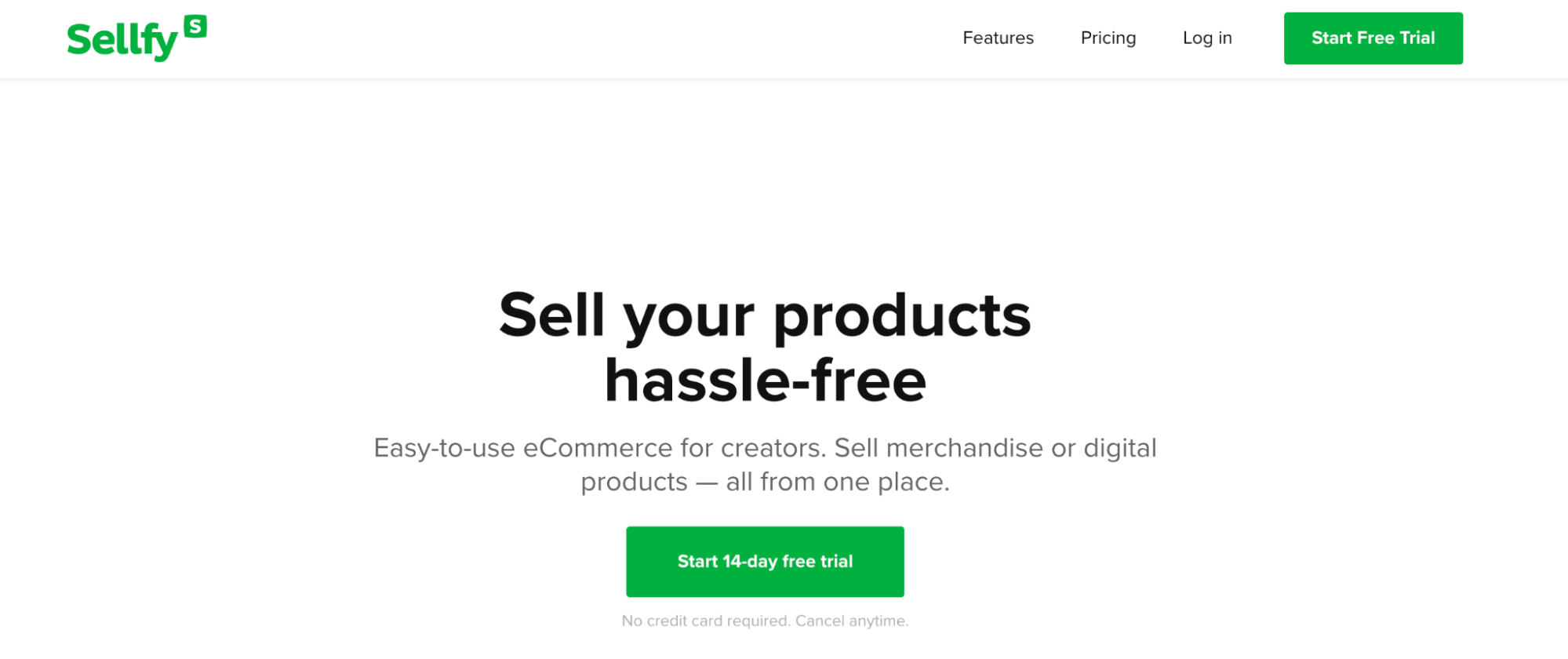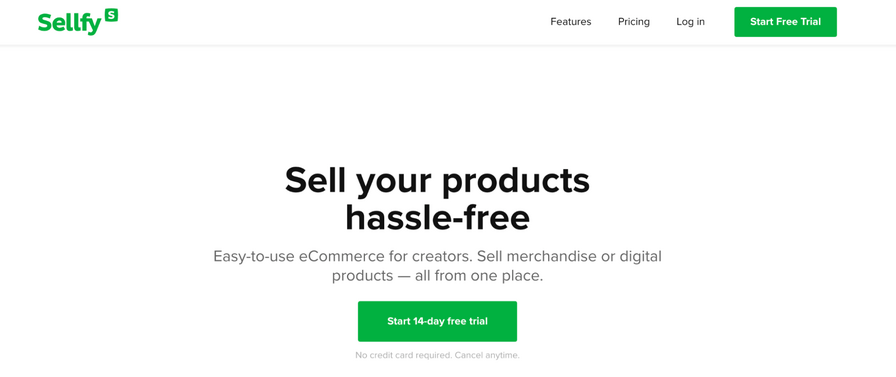 Sellfy is another popular name in the industry for selling digital products. The platform was initially developed to see digital products only; later, it became one of the leaders in the industry. It was also transformed into a hosted eCommerce solution for artists and creators.
The stores developed on this platform can be used to sell about anything that you want. It allows embedding a checkout page and also a 'Buy Now' button into your online store. It also allows sharing product links on social media platforms for added promotion. The setup of this platform is very easy, and it will only take 10 minutes to start selling.
Best For:
The platform Sellfy is the perfect solution for all digital entrepreneurs and creators. If you are looking for an affordable platform to start your online store with a complete set of features, Sellfy is the best option.
Pricing:
The pricing plans of Sellfy are all reasonably priced and super affordable. Find them below:
Starter Plan – $19/month.
Business Plan – $39/month.
Premium Plan – $89/month.
4. Podia – eCommerce Platform With Built-in Course Builder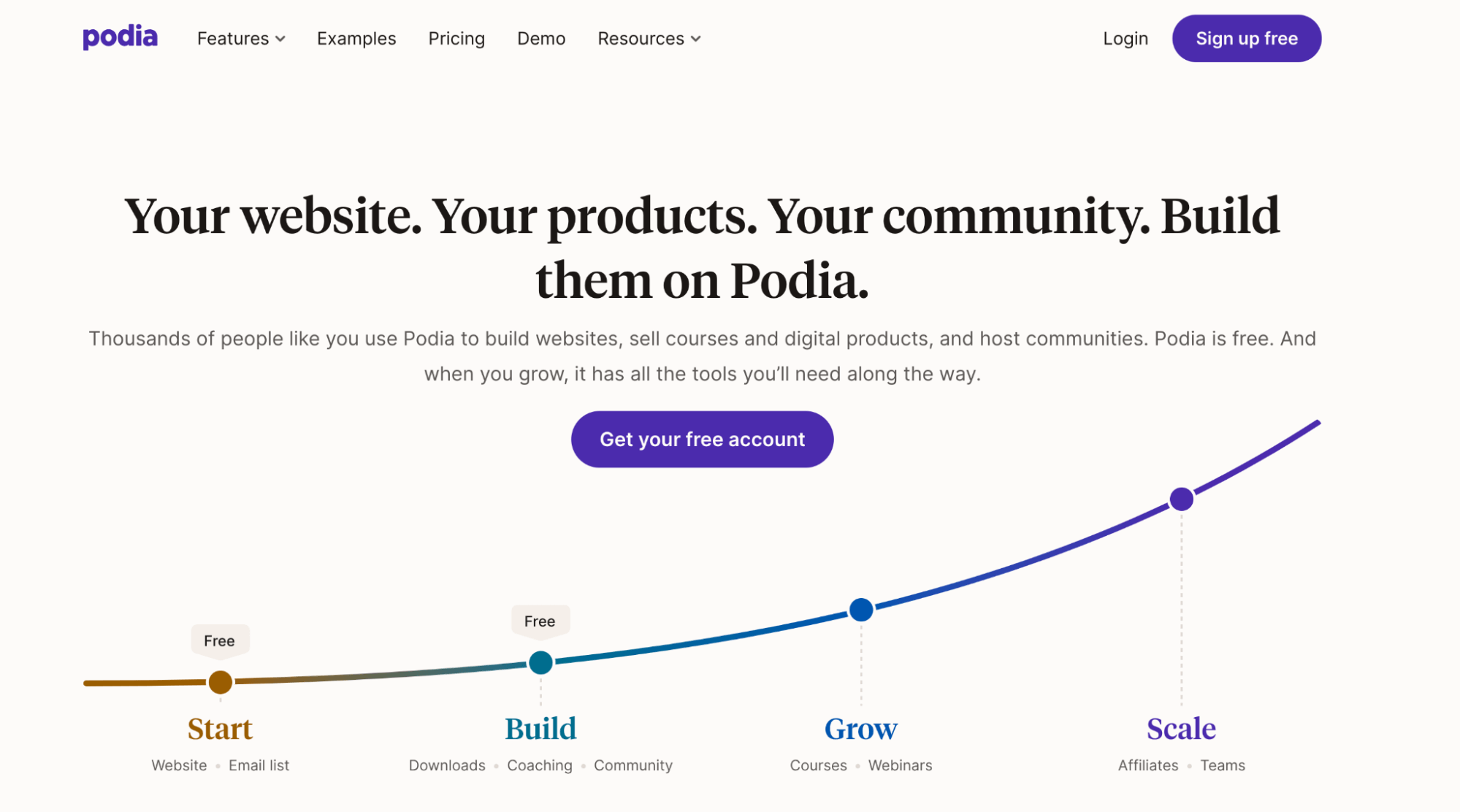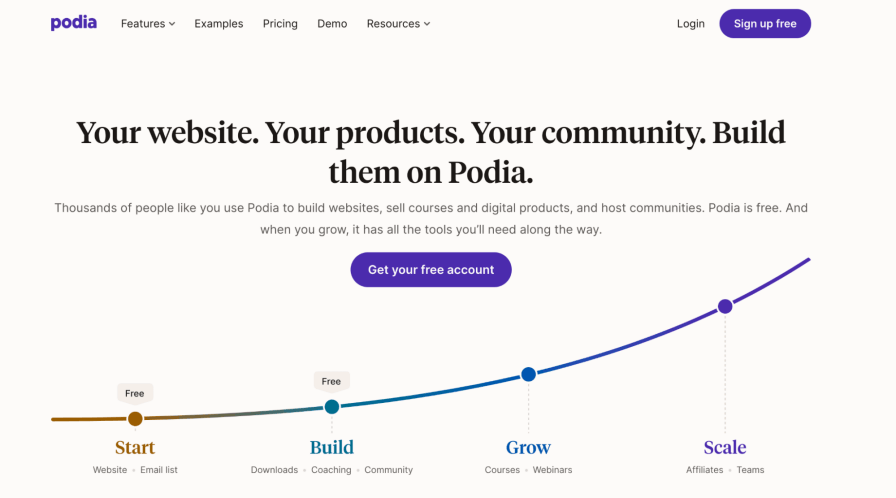 Podia is another great eCommerce platform that enables the easy creation of an online store, and you can sell other things like memberships, digital downloads, etc. It has a simple interface that makes the setup effortless. Even though the platform was not initially built to sell online courses, it boasts an online course builder.
The tool's drag-and-drop builder makes it easy for users to create an online course. You can also add multimedia content to the course like PDFs, videos, audio files, etc. The platform is built keeping beginners in mind; therefore, you can easily create an online course without any hassle.
Best For:
The easy-to-use interface of Podia enables beginners to conveniently create an online store and list a couple of products they want to sell. However, its course-building functionality could be more advanced compared to the other options.
Pricing:
The prices mentioned are all based on when billed annually. It has different plans with different features.
The free plan is available at an 8% transaction fee.
The mover plan will cost you $33; you can sell unlimited products with it.
The Shaker plan is available at $75 and offers similar features as other plans. In addition, it offers unlimited affiliate programs and webinars.
5. SendOwl – Affordable And Robust Shopping Cart Solution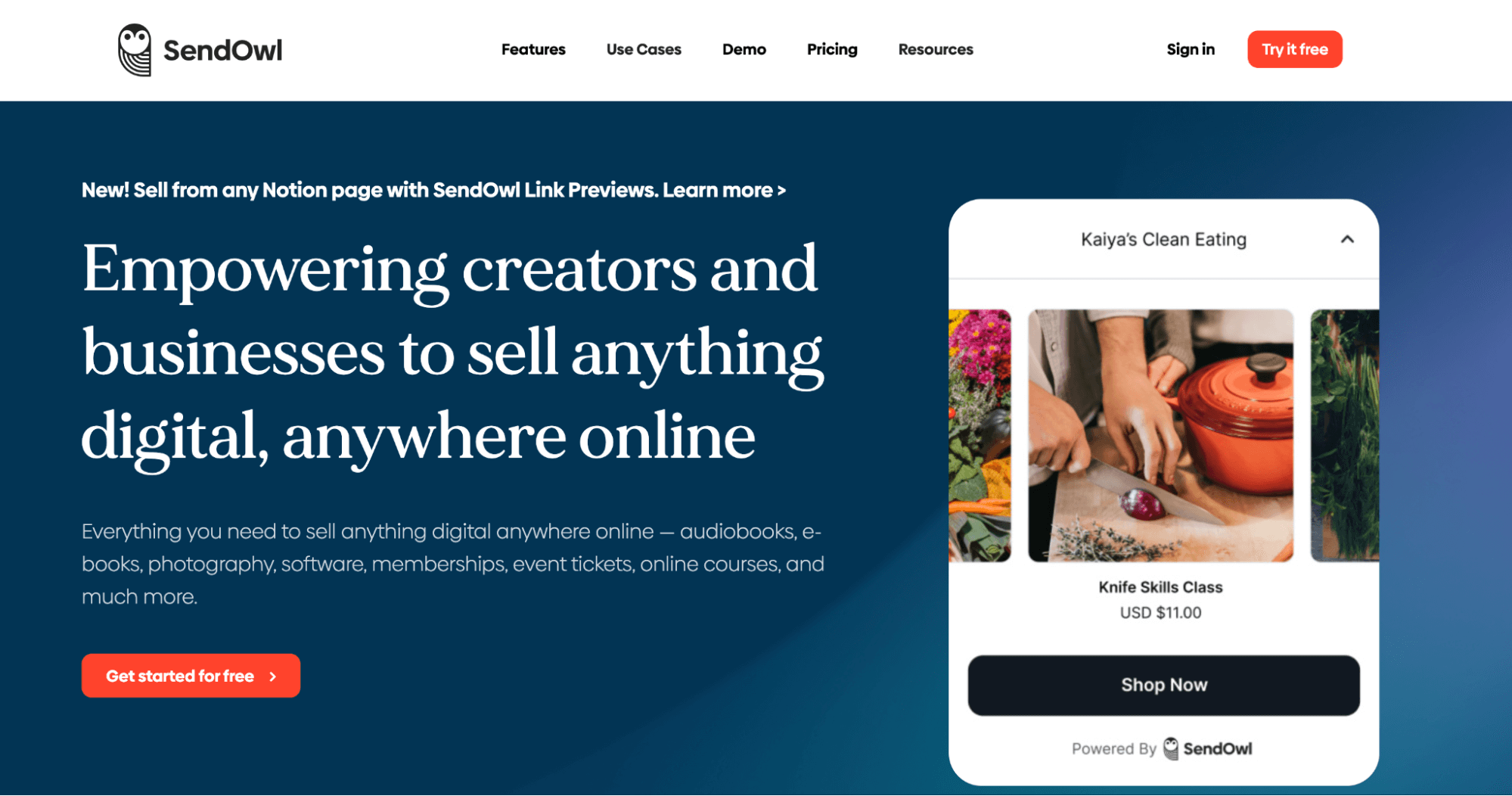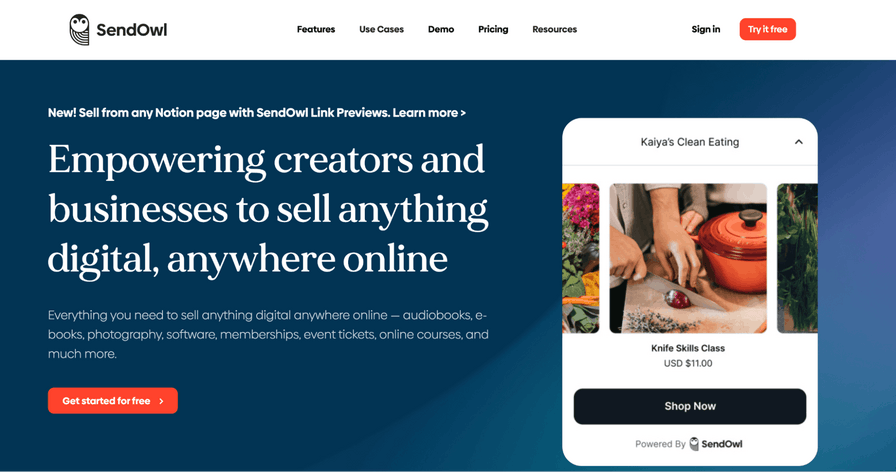 Another great option that enables selling digital products from your website. It is an affordable version of SamCart and is also less advanced. Like SamCart, SendOwl is a checkout solution that allows its users to sell digital products. With it, you can integrate a shopping cart into your existing website or share product links.
Its platform is easy to use and boasts a simple interface. Also, you will find simple functionality that makes it easy for users to manage their stores. Uploading your products and configuring a customized checkout will take only a few minutes. It also offers a set of different tools to optimize the conversion.
Best For:
Established online creators will find this tool best suited to their needs. People with a large social media following or running a successful blog can easily sell digital products.
Pricing:
Earlier SendOwl used to have a free plan, but it doesn't have one now. It offers three different plans with more or less the same set of features.
The starter pack offers a trial of three months, and after the trial period, you will have to pay $9, along with a transaction fee of 5% per transaction.
The growth plan costs $15/month plus 0.33 cents per order management fee.
The pro plan is $39 per month plus 0.17 cents per order management fee.
6. MemberPress – A WordPress Plugin To Monetize Digital Content


MemberPress is a WordPress plugin that enables users to sell digital products that range from subscriptions to online courses. One of the greatest features of this plugin is that it enables a user to control access to some specific products with VIP accounts or subscriptions.
It offers a wide variety of powerful features like in-depth integration, access to payment methods like PayPal, tracking of membership subscriptions, and so much more. Furthermore, it offers plenty of customization options to make the website your choice. The process of creating a professional-looking website will require an expert user to handle a WordPress website.
Best For:
The plugin is best suited for all WordPress website owners looking to monetize their content or sell digital products. It is also a great choice for people to want to offer some exclusive rewards or features to their members.
Pricing:
It doesn't offer a free plan but rather has three paid plans to suit different needs.
The basic plan costs $179 per year.
The Plus plan is available at $299 per year.
The pro plan is $399 per year.
7. Gumroad – A Simple eCommerce Platform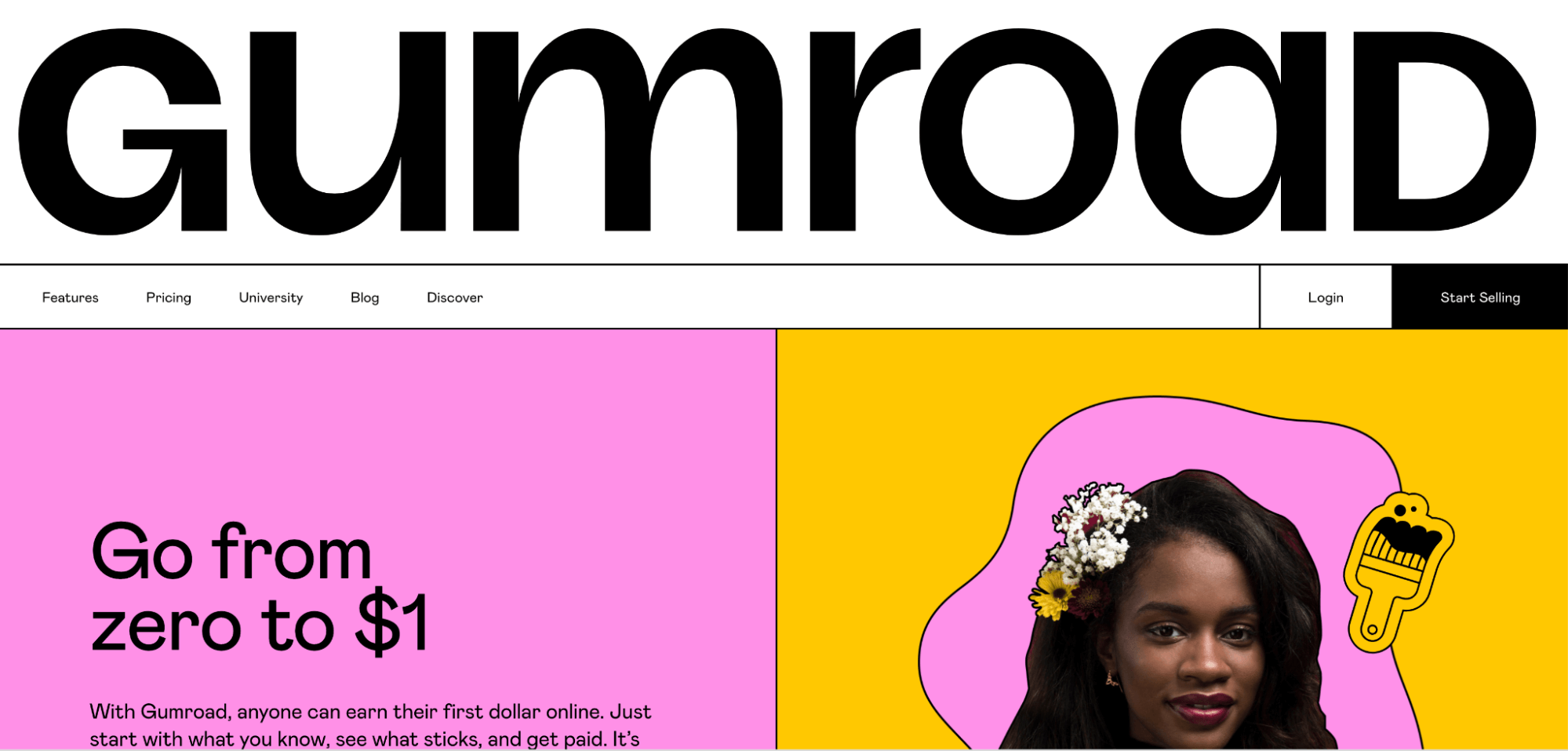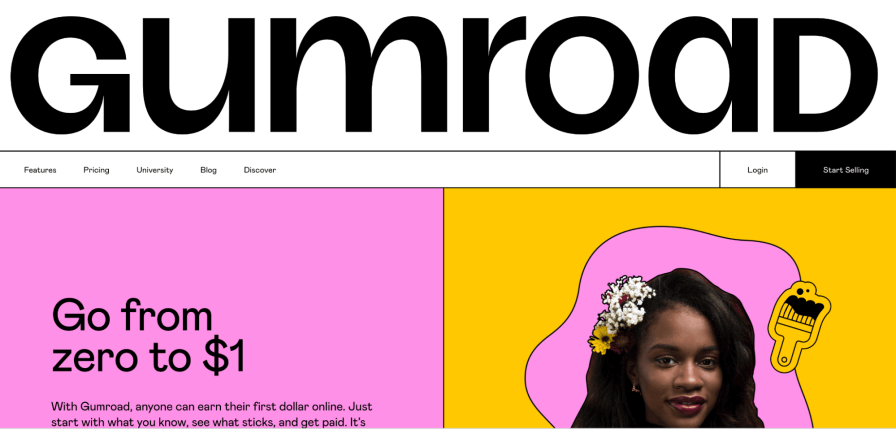 Gumroad is a simple eCommerce platform that helps creators and artists sell digital downloads and similar products through a simple landing page. Similar to Sellfy, Gumroad is a platform that offers all-in-one eCommerce solutions. That said, you are not required to have an existing website; you can start selling your products by listing them on a landing page.
The exciting thing about this platform is that it doesn't charge a subscription fee; besides that, there is nothing unique about it. Though, the platform will charge 10% of the sales amount you make on the platform. Hence, the choice is all yours if you want to pay a monthly fee or are willing to pay 10% of every transaction.
The platform boasts a major advantage over other platforms: it offers a built-in marketing tool named Workflows. Another perk of using this tool is that it offers a very easy-to-use interface, allowing you to start selling in minutes.
Best For:
A straightforward tool best suited for beginners to allow them to sell digital downloads or products. You can sell through the platform in exchange for a chunk of income.
Pricing:
The platform lays down no such pricing plans, but generally, it charges 10% transaction fees in addition to the processing fees.
8. SamCart – A Shopping Cart Solution Full Of Features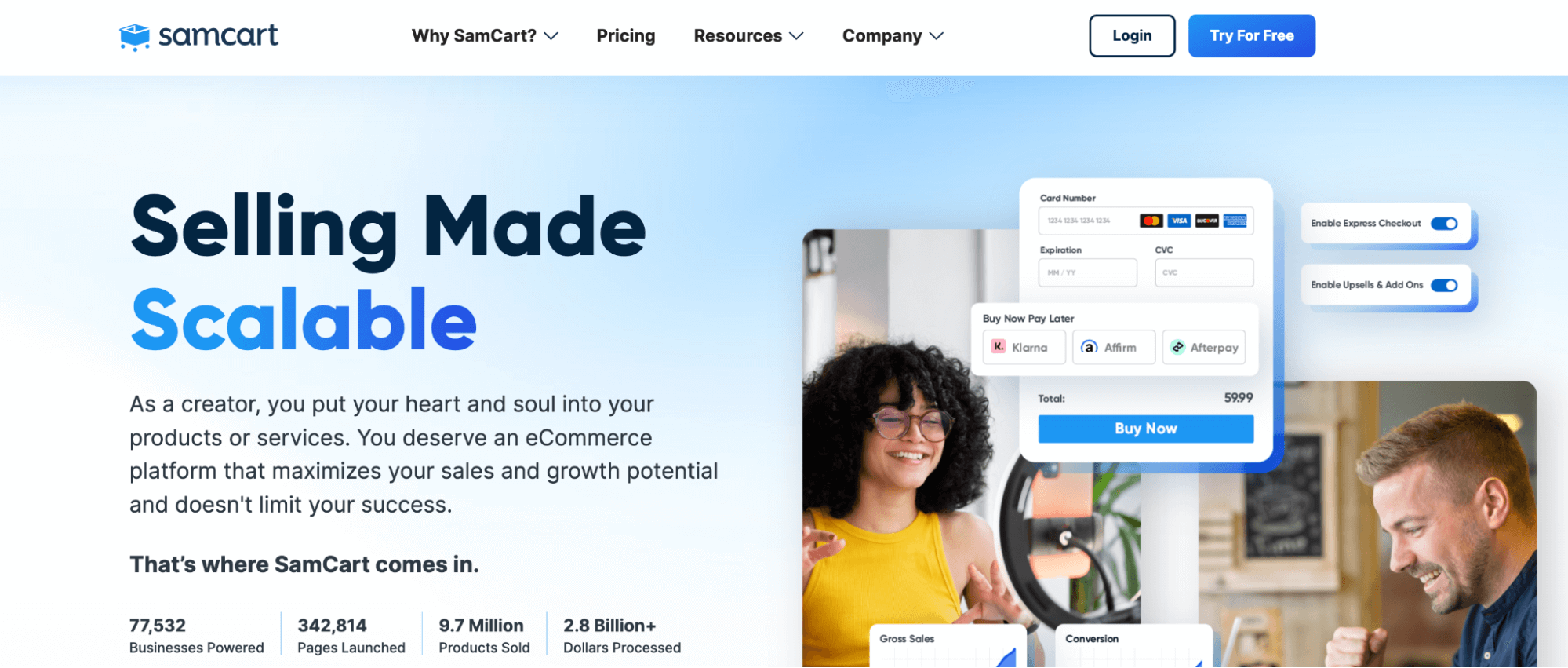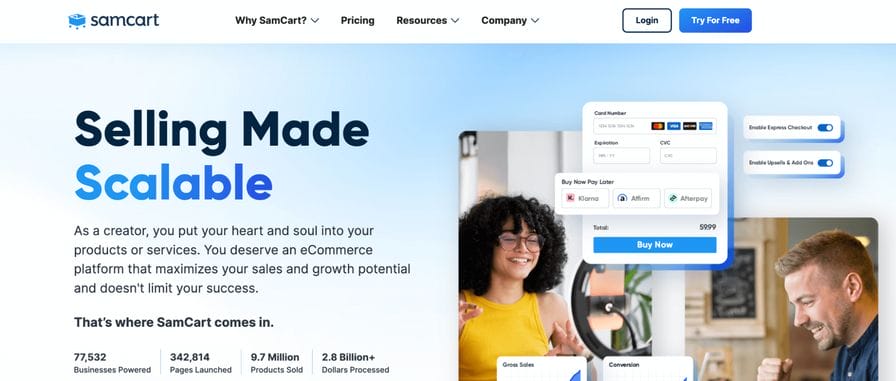 SamCart is usually a checkout solution based on the web. That said, it is an online tool for selling digital products and online courses by helping integrate a shopping cart on your website. Alternatively, you can develop a dedicated product page on your website for added benefits. As a checkout solution, the platform offers numerous tools to succeed in the eCommerce industry.
Some features include checkout optimization through A/B testing and other features like pre-purchase order bumps, one-click upsell, sales analytics, and much more. Some additional features are also offered, like subscription saver, cart abandonment, affiliate program, etc.
To customize the checkout experience of your eCommerce store, you get 18 templates on the platform that can be personalized to suit your preferences. With its drag-and-drop editor, you can easily edit the layout to your liking.
Best For:
Due to the expensive plans and the advanced eCommerce toolkit boasted by the platform, it is not suitable for beginners. However, existing businesses can leverage the platform's features to fight cart abandonment and their growing sales.
Pricing:
Currently, the platform offers three different subscription plans for the different needs of consumers.
The launch plan is priced at $39/month.
The grow plan costs $79/month.
The scale plan has bountiful features, including A/B testing and cart abandonment, and is priced at $119/month.
The Checklist to Choose the Best Platform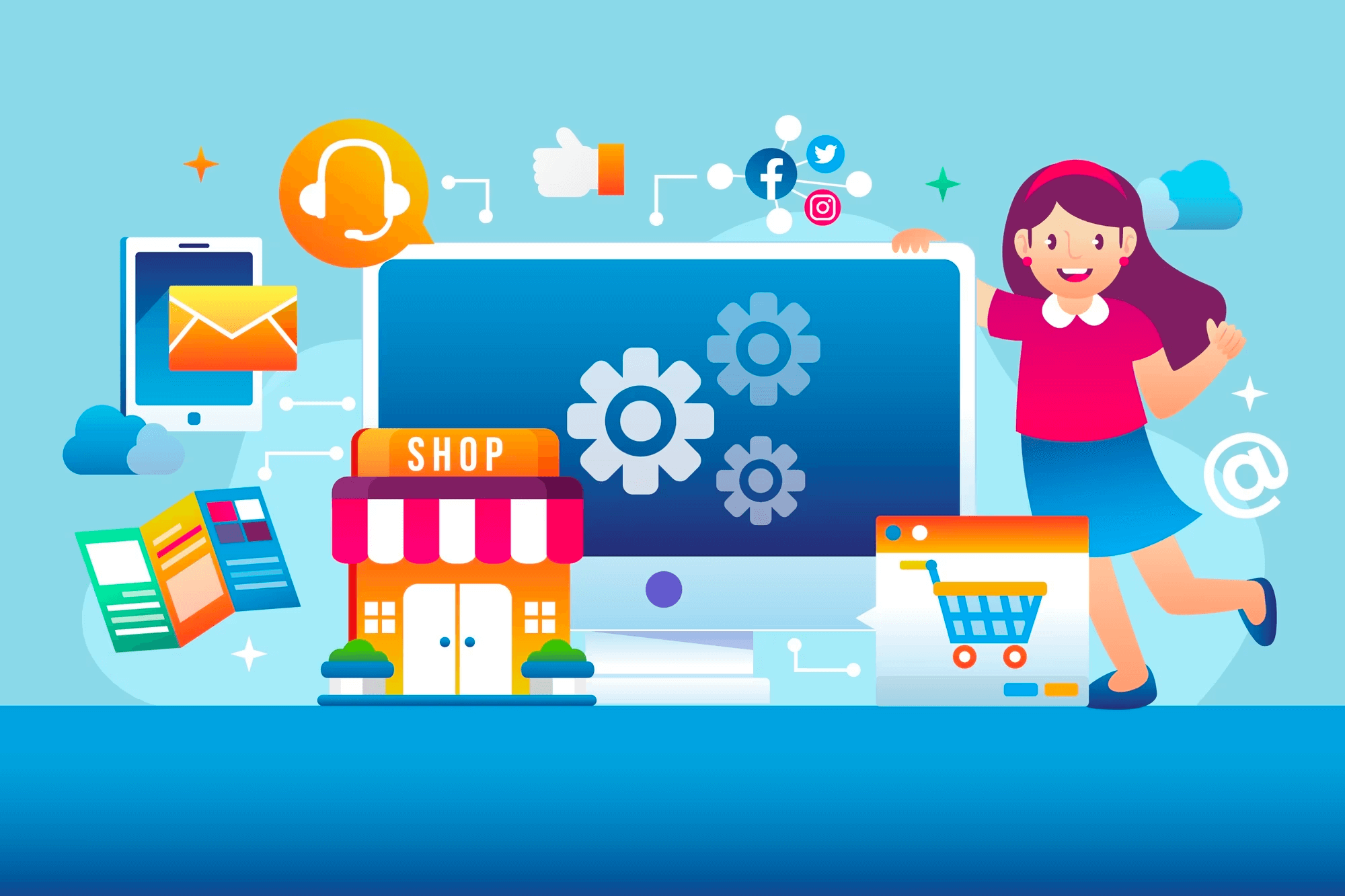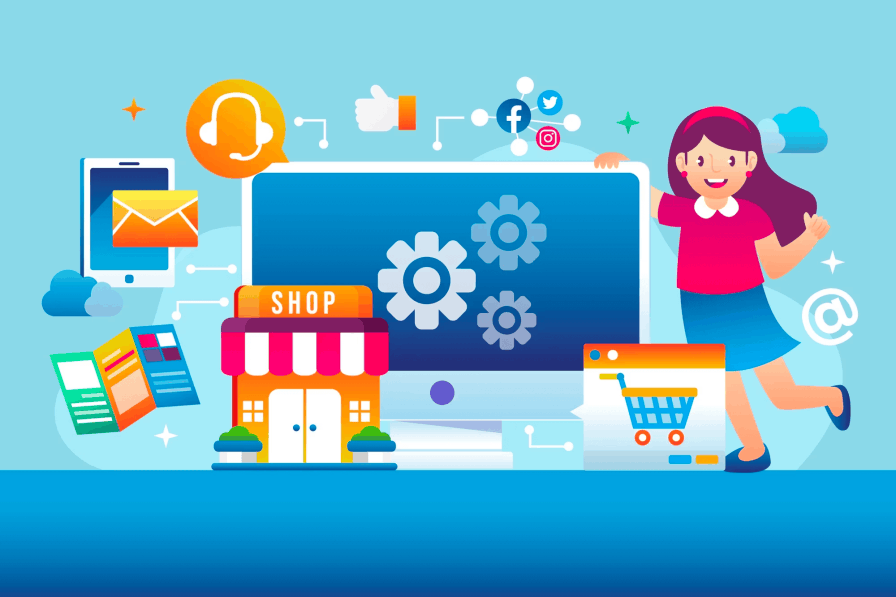 The online platform to sell digital products is available in various shapes and sizes. You need to pick the best-suited ones to your needs, i.e., the ones stocked with the features required to set up a functional store.
Let us go through a few points you should remember to pick the best platform.
1. P
ricing and Extra Expenses
Price is the major factor that comes into the picture when you want to pick the best platform to sell digital products. You can minimize the cost by choosing a platform with several built-in features so that you don't have to pay for themes, extra services, app integrations, etc. It would be best if you also stayed away from platforms that charge money for everything.
2.
User Interface
Even if you have experience handling websites or other eCommerce stores, pick a platform with which you don't need to spend time figuring out its functionality. Go for an all-in-one solution that enables you to create an online storefront easily and also allows you to sell digital products.
3.
Customization
You will need a platform that enables developing a professional-looking website. Users will have different preferences to make it visually appealing, so the platform should allow edits and modifications. Go for an option that offers a customization tool and some pre-made templates for maximum ease.
4.
In-Built Marketing Tool/Feature
A marketing strategy for your online store is critical to ensure you easily promote your products. Marketing features will help grow your business incredibly and simplify the selling process. Hence, you should pick a platform that offers in-built marketing tools so you don't have to go for third-party integrations.
Marketers often fail to manage time and end up wasting time that could have been invested in doing something more productive. If you are also struggling to manage your time, check out the best Google Apps to boost your productivity.
Frequently Asked Questions
Below mentioned are some commonly asked questions
Q. What Digital Products are Currently in High Demand?
If you plan to sell digital products, we suggest you go for the ones with increased demand. Some of the most demanded products include;
Educational stuff like online courses.
Licensed apps and software to suit different business needs.
Audio and video files.
Stock images.
Membership communities.
Q. Is Selling Digital Products a Difficult Task?
Selling digital products is a simple task today, and with the best platforms, you can easily get started. The best platforms are all-in-one solutions offering plenty of features and an easy-to-use interface to create a landing page or website and start selling easily.
Q. Where can I Sell my Digital Products?
The best place to sell digital products will be your website. With your website, you will enjoy maximum flexibility, along with the payment platform you want to use to process payments. Furthermore, you can control other critical aspects of your website like PPC, SEO, and similar marketing efforts.
The Bottom Line
The eCommerce industry is growing exponentially, and there can be no better time than this to start selling online. Plenty of options are available when choosing the best tools to develop an online store for digital products. The key to making a definite choice is to know what you want from it.
Some tools offer a free plan to get started, and then you can scale up as per needs. Also, some tools are available for a monthly subscription, and you can pick the plan of your choice.
You will also find some options that operate by taking a cut from the transaction fee you make on the platform. Ultimately, you need to decide the best option for you, and then you can pick your choice of platform.