Choosing the best WordPress host is one of the most head-scratching and complex tasks. It becomes more difficult when you are stepping into the hosting world for the very first time. You will probably agree that you have been on the hunt for the right solution ever since you gave birth to your idea.
But, with so many hosting services around, it's easy and natural to fall into the dilemma of putting your hands on the right one. However, this is common, and we appreciate the fact that you've chosen this piece of guidelines in which we'll try to pull you out from ring-shaped stairs.
Bluehost and Squarespace have been sharing a part in the market for those old days. Both platforms will provide you with an unforgettable hosting experience and tons of exclusive features simultaneously. Of course, putting your domain onto one of these hosting services would be a blessing itself for you.
However, to categorize and make it simple for you, Squarespace offers its services, for example, keeping in mind a general audience. This means they have only shared hosting, but you can also design your website through their gorgeous website builder. On the flip of the coin, Bluehost servers tech-based hosting services such as WordPress hosting shared hosting, cloud hosting, and dedicated hosting services.
Let's jump straight into the point and figure out what to choose and where to go!
Bluehost vs Squarespace Comparison
Before continuing further in this guide and share the comparison between Bluehost and Squarespace, first, we know the services they provide and a few major differences. So here a small difference between Bluehost and Squarespace;
Bluehost is a hosting provider that only hosts your website that is built on a third-party platform like WordPress, Joomla, etc.
Squarespace is a host plus website builder providing a complete package to bring your website to life. It offers everything you need within the platform itself doing away with the need to use any third-party platform.
Now we know what they're and what type of services they do offer to their users. Now, let's continue with this guide and compare the difference between these two players in the market.
Here, we will compare Bluehost vs Squarespace on different factors listed below;
Easy to Use

Pricing,

Control Panel,

Features & One-Click Installation,

Security and Free SSL,

Customer Support,

Value for Money, and

Performance, CDN & Speed.
Quick Summary: Bluehost is a winner here. So, if you're looking for the best hosting with the fastest speed, security, optimized for WordPress, then you can go with it and you'll never regret it (Get 60% OFF on Bluehost).
But if you're looking for a website builder cum web hosting provider that is much easier to use and provide the capability to build your website using drag-and-drop option, then Squarespace is what you need.
Easy to Use
When you are new to the world of the internet and website launching, an easy-to-use platform is your best bet. Dealing with complicated stuff at the beginning itself will discourage you from taking things forward.


It is, therefore, essential to compare the user-friendliness of these platforms before moving further.
1. Bluehost
Bluehost is one of the easiest hosting platforms for a beginner, with its dashboard being well-built and easy to navigate and it is really easy to install WordPress. That's why Bluehost made it just a single click from the dashboard (or two clicks if you already have a domain name with us).
Bluehost makes the website building process simple in such a manner that even a beginner can build a website in 20-30 minutes. And if you use our already-created designs, you can be up and running in less than 2-3 minutes.
2. Squarespace
Squarespace provides you with a complete solution that takes away all your worries. Though it will take a bit of your time initially to get hold of it but will make the website building process much simple and straightforward.
You just need to move the elements of your desired template to give a customized look to your website. As a beginner, you can build a website with Squarespace in a matter of minutes.
Verdict: Squarespace is undoubtedly the winner since it makes the whole process simpler than Bluehost.
Pricing
Pricing is a major factor for any WordPress hosting provider, especially when there is so much competition in the hosting business. Selecting the right and value for money hosting server might be beneficial for any business because going for the cheapest one comes with certain limitations.
Here is a pricing analysis of these biggest hosting providers…
1. Bluehost
Bluehost is the most cost-effective way to get a website live with full functionalities. It has compelling website builder features at very affordable prices.
You can start building & hosting your website from the starting price of just $12 per month in addition to a free domain for a year. And for reassurance, you get a refund within 30 days which is their new substitute for a trial offer.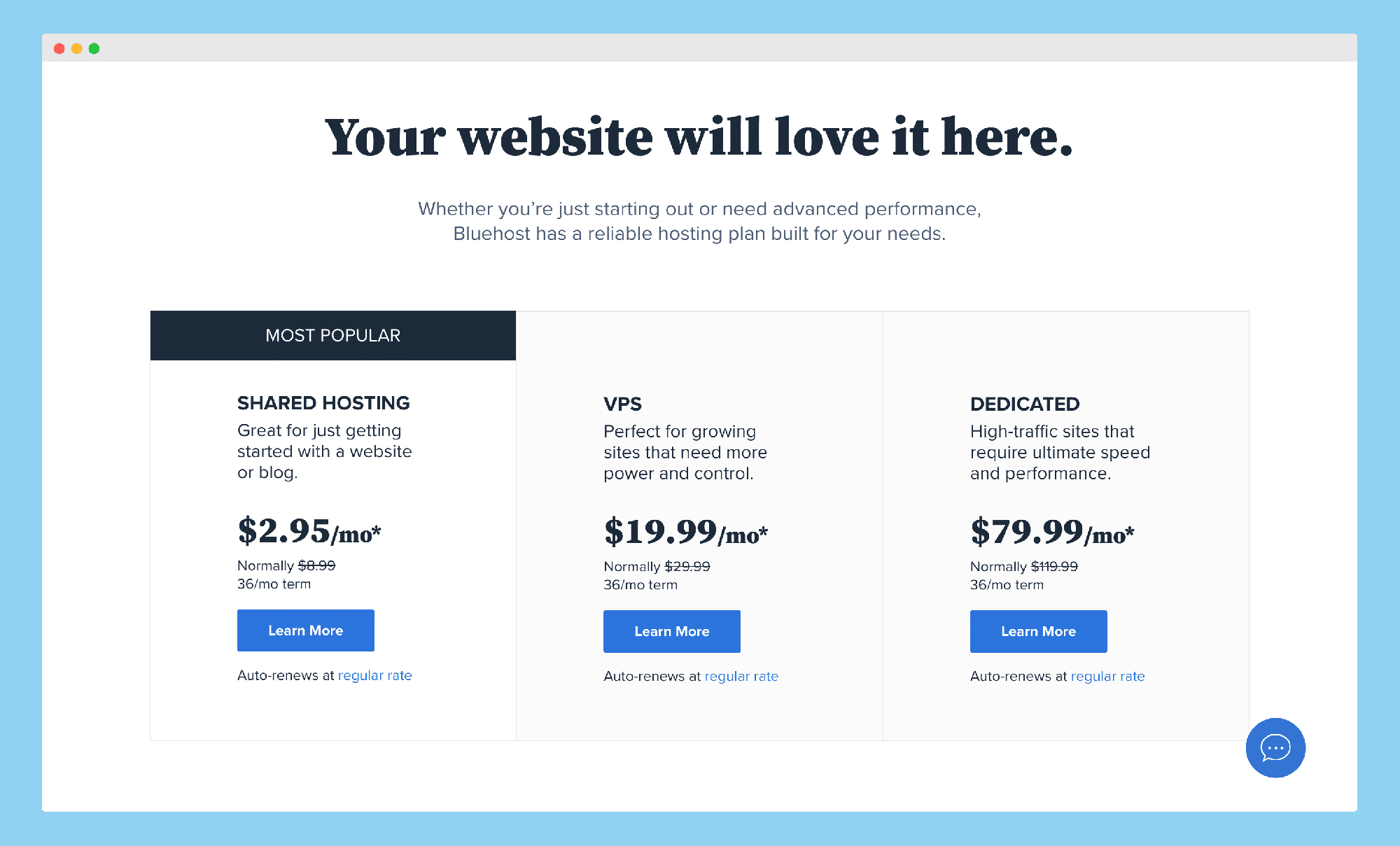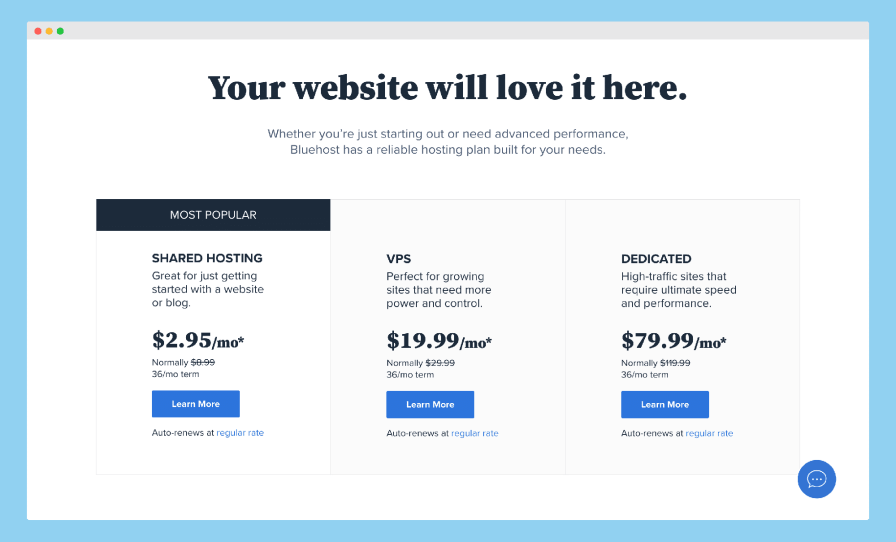 Bluehost offers 50 GB storage with a basic website builder, which is a good enough deal for anyone who is looking for legitimate & affordable web solutions. You can select WordPress for building the website, but you may have to pay a little extra price; that's where Bluehost becomes the first preference to build & host a website.
2. Squarespace
On the other hand, Squarespace provides all in one website builder & publishing services within the platform. It is relatively faster & convenient for beginners. Anyone can use Squarespace to create a beautiful website in just a few steps. According to server space, the pricing range of Squarespace is from $12 to $40 per month.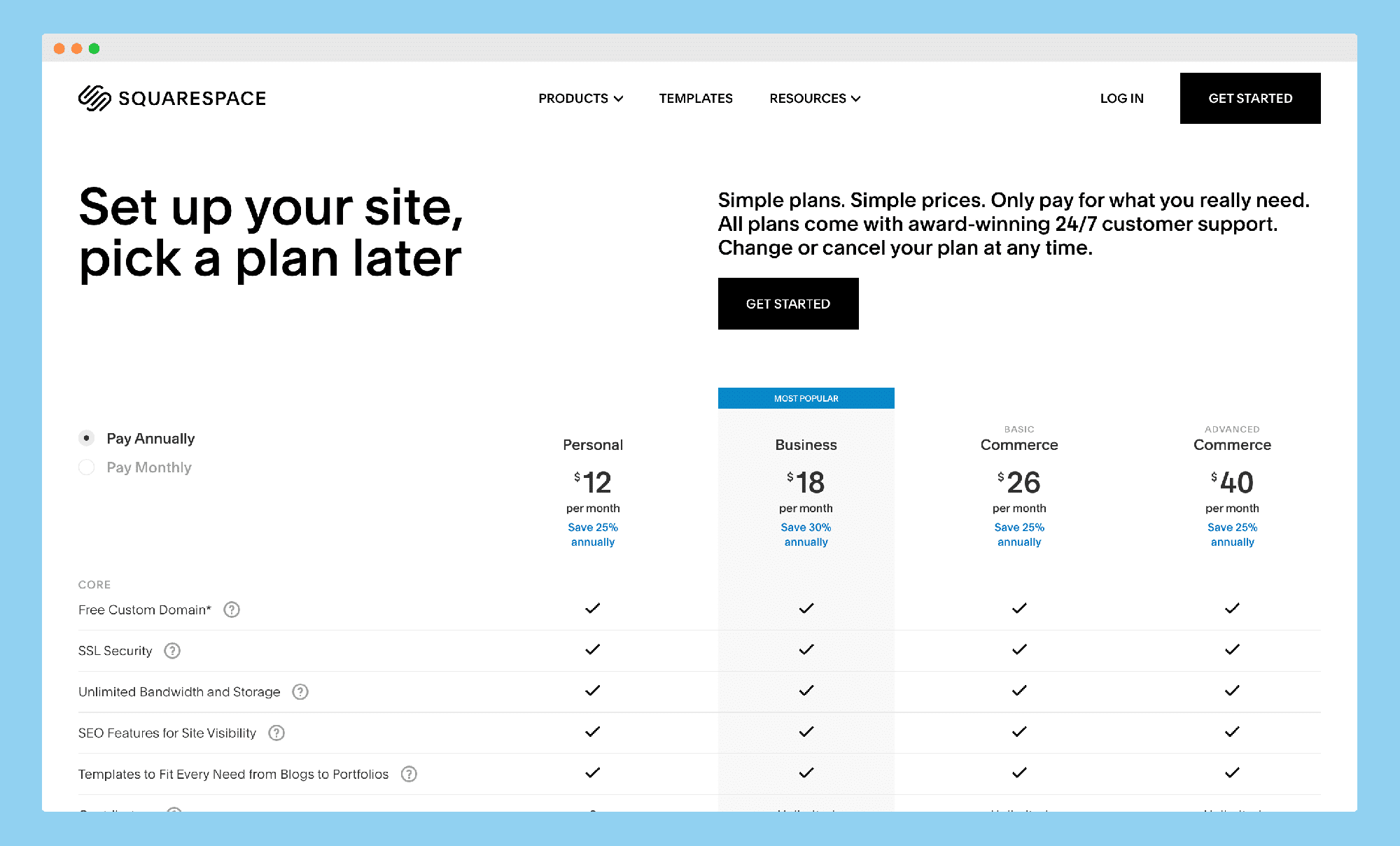 It presents beautiful website templates which can be set up in a few hours. The basic plan comes with a free domain for one year and unlimited storage and bandwidth.
Verdict: So, if you are looking for a cheap and cheerful way to bring your website to the real world, Bluehost is a preferable choice; however, it comes with a primary website builder.
Control Panel
The next significant factor which matters in any website hosting is the control panel they offer. Some popular hosting giants in the market use cPanel/WHM on the server.
Still, when we talk about managing a WordPress website, some hosting providers Offer their own fully furnished and custom-built panels.
1. Bluehost
The Bluehost control panel offers users to build and maintain multiple accounts accessibility through a single sign-in. Just log in to the Bluehost control panel and manage everything in a single place. Everything is integrated into the control panel for easy access, where you can buy, manage, and enable everything required for your website. Just navigate to home and tap on the host in the control panel.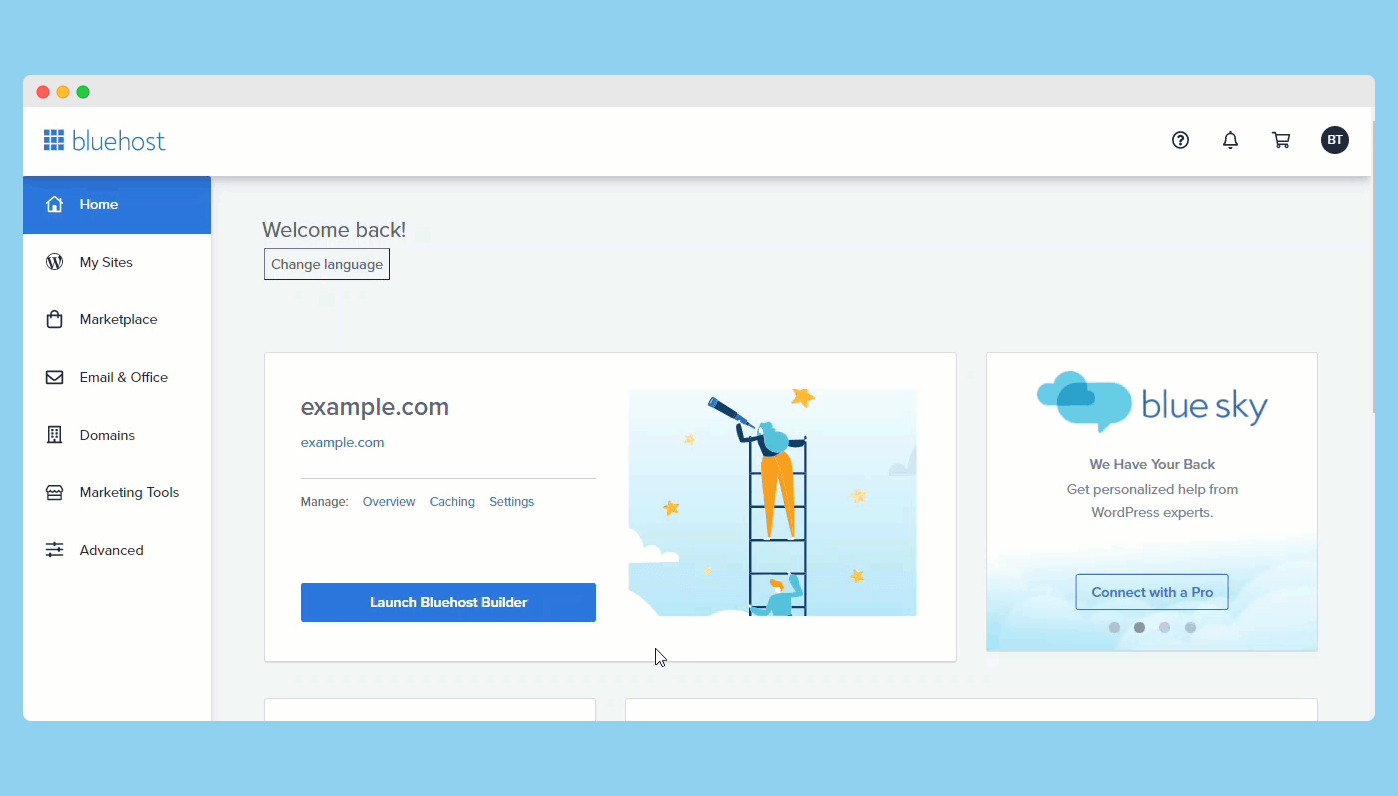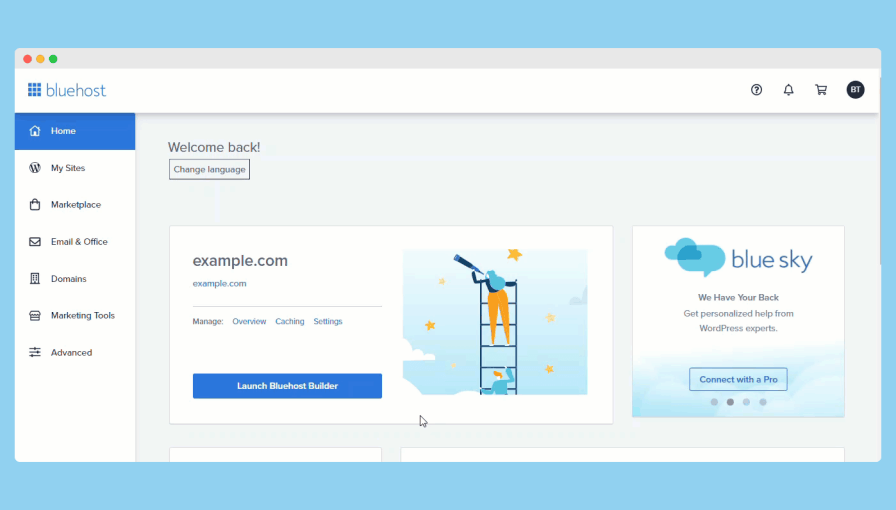 A seamless server upgrade is becoming painful with growth. Bluehost offers a faster upgrade to more powerful servers as you grow. Manage all your email & hosting accounts with a single login on the Bluehost control panel. Clarify your hosting experience by managing your websites, domains, emails, etc., all from one central place.
2. Squarespace
Squarespace dashboard enables users to review and manage sites, domains, and other subscriptions in one place. In the domain setting tab, users will manage, transfer, and organize their owned products. Squarespace caters to a google workspace panel to create custom email IDs that match a domain name that establishes strong brand value for your website.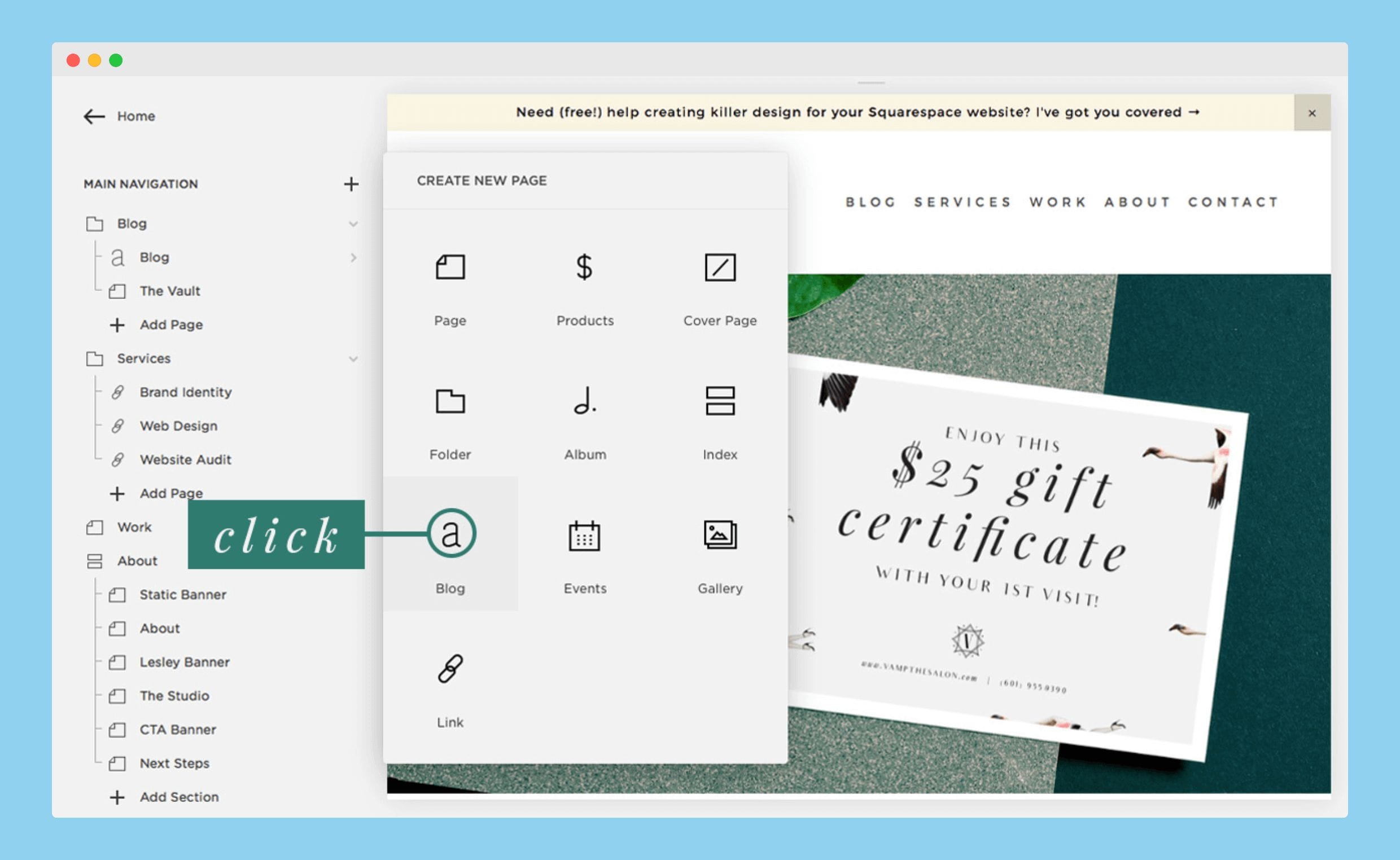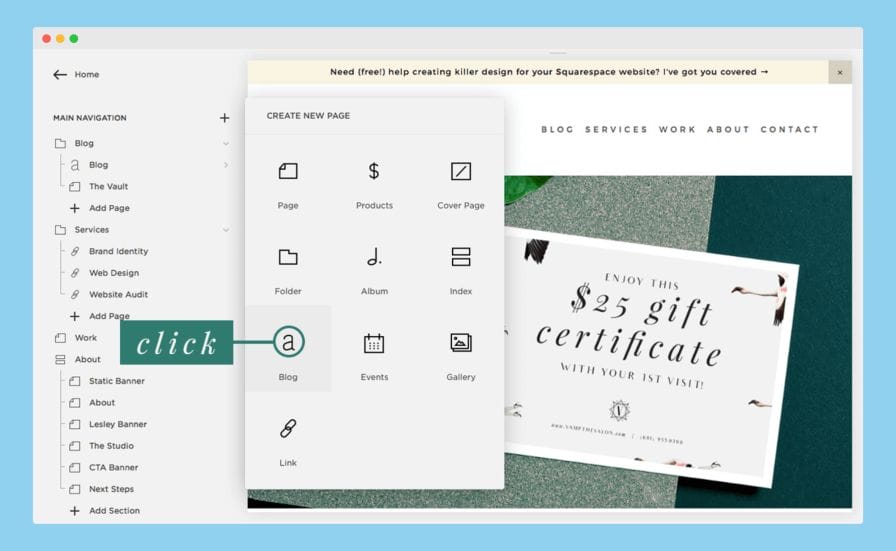 It offers more advanced control panel features for a seamless experience. Users can create and promote their brands through a marketing tab that offers social media integration and SEO services.
Verdict: Both hosting service providers are equally good and convenient for beginners. If you have experience looking for a more advanced control panel, Squarespace is the best option for you. It has gentle, customized features and functionalities.
Features & One-Click Installation
Features and one-click installation are other important aspects of any hosting provider. For an ideal web hosting, features must support and enhance the ease of use.


Website installation must be done in minimum steps because users are not willing to be stuck with complex installation and user guide manuals are too long to read.
1. Bluehost
There are no other hosting providers better than Bluehost in terms of ease of control. Its dashboard is straightforward to navigate domains, email, and website builder. You can manage multiple emails and domain accounts with a single login. Any user can install WordPress from the Bluehost dashboard with just one click.
The help and support section makes it a more convenient and reliable hosting provider. In addition, you can create custom email accounts and manage them from a single screen. Bluehost is one of the best hosting providers if you ignore its basic website builder with limited features only.
2. Squarespace
Squarespace is a web hosting giant equipped with Google workspace integration to create and manage custom email IDs. However, it is not the easiest website builder due to complicated installation but offers more designing tools and award-winning website templates for various industries.
To make specific changes in design and fonts, you must have coding knowledge to entertain website builders. Squarespace dashboard offers many marketing tools and social media integration which are highly demanded nowadays.
Verdict: Bluehost is the better option for one-click installation, but if you want to experience more advanced tools and controls, the Squarespace dashboard is much more potent than any web hosting provider.
Security and Free SSL
Security is another main concern while selecting the right web hosting for your brand-new website. You must take a moment to review security and additional SSL certificates for your website.


Many popular web hosting providers offer advanced security to strengthen your website defence with various security updates.
1. Bluehost
Bluehost offers basic but essential security features which are good enough to protect your websites against unwanted virus attacks and hacking. It allows users to enable two-step verification on your Bluehost account. This feature implements intensive security, and you will get a notification and login OTP every time you log in.
This practice protects unwanted account login, and you can track login devices previously. On top of this, the user will get a free SSL certificate which ensures your website is secure when they sign up for an annual plan. Bluehost always works hard towards building a safe web hosting environment for its users.
2. Squarespace
Squarespace maintains technical and organizational security measures to protect the company and consumer assets and data. It has a security team that is responsible for developing and maintaining secure and confidential web hosting features. Squarespace only supports the secure platform and feature development to enhance operational security.
They actively monitor the hosting environment and work to improve security programs. Like Bluehost, it also offers a free SSL industry-standard certificate with a monthly or annual hosting subscription. It can be considered one of the key web hosting providers in aspects of security and SSL certificate.
Verdict: Both hosting services offer free SSL certificates with a monthly and annual subscription, but Bluehost contributes better security and performance.
However, Squarespace has its advantages. This has to be mentioned that Bluehost is created to withstand intense pressure. You can expect better execution on heavy web traffic on websites.
Customer Support
It doesn't matter which web hosting provider you are using, and active Customer support is always helpful to engage with clients. The reason behind GoDaddy's success is vibrant & responsive customer service. Customer support must be attached to the control panel, along with call and chat features.


A legitimate and trusted web hosting offers exclusive and confidential customer care services to website owners. So it's better to know about customer support and help centre before selecting a web hosting for your upcoming WordPress website development.
1. Bluehost
Bluehost provides a control panel filled with various hosting features. It offers 24/7 customer service in the control panel, along with chat and call options. Bluehost improves your hosting experience with their in-house professional experts who are available 24×7 for your assistance.
Its advanced help center has personalised frequently asked questions, video tutorials, guide manuals, and many call & chat support. Their help support may guide and deliver an impeccable service experience. This could be the best level of customer support with real-time interaction with clients and providing solutions.
2. Squarespace
Squarespace is known for its best customer support on email, which is fast and convenient. However, they are still struggling with the call and chat option, which are not good experiences. But it's good enough to know that a support person is looking forward to helping you with email.
Squarespace customers still prefer to use live chat over-call because there is more waiting time on call, and they may not be able to talk on call properly. If you are using Squarespace and facing issues to connect with customer support, try to write an email about your issue; it is more convenient and active.
Verdict: Undoubtedly, Bluehost offers better customer support services compared to Squarespace. Bluehost offers fast, reliable and exclusive customer service in all possible ways, including chat, call, and email.
However, Squarespace is more focused on helping clients by email, which is not a problem. Hoping Squarespace will improve their support via chat and call by reducing waiting time.
Value for Money
Value for money web hosting provider means getting the maximum number of features & benefits minimum cost. Many hosting giants offer a free domain, website builder, server space, and SSL certificate in a single subscription.


Hosting providers try to provide exclusive features in any monthly package, which is beneficial in the long term while hosting a WordPress website.
1. Bluehost
Bluehost offers the very cheapest way to get your WordPress Website live, and its control panel has strong features at very affordable prices. It offers a free domain for a year, along with a primary website builder. Bluehost website builder included many basic website templates, which make the setup process easy and faster.
The basic plan involves all mentioned benefits and 50 GB storage hosting the website and managing emails. The ease of use, great active customer support, and responsive control panel all cost just $12 per month, which is a great deal.
2. Squarespace
Squarespace offers a different kind of value. It is equipped with bandwidth, unlimited storage, and quick installation. These benefits come along with a free domain for a year and a free SSL certificate. It also offers a much faster and easier way to set up a site using one of Squarespace's templates. They have award-winning website templates, which are available free with a monthly package.
It is also a cost-effective hosting solution to bring your dream website into your lives. Squarespace dashboard has Google workspace integration to manage domains and custom email IDs.
Verdict: Let's call it a tie! Because both have value for money hosting services with a free domain and free SSL certificate. However, if you are a beginner, Bluehost is the best option for hosting your single website. On the other side, if you are veterans & manage multiple websites and domains, then Squarespace is preferable.
It has ease of access and features that support advanced website builders. So, before selecting, know your requirements and then choose the right web hosting provider.
Performance, CDN & Speed
As a website owner, you are always curious about website loading and performance, which plays a vital role because no one wants to wait for a site load.


To keep this in mind, various hosting providers are offering faster services to enhance hosting web speed; before judging performance and speed, it is better to know that hosting performance can also be affected by other aspects.
1. Bluehost
Bluehost provides powerful hosting when it comes to hosting websites through Bluehost. You may experience one of the most excellent hosting features along with performance-optimised web traffic. You are looking forward to finding the best performance on the WordPress website; consider hosting it on Bluehost and exploring many great websites and control panel features.
You can manage all your domain and email IDs from a single sign-on. To ensure the speed of your website, Bluehost offers premium Cloudflare CDN ( service for free along with a basic plan. It automatically optimises website images and content according to server performance, enticing visitors and making the website more engaging. If you are looking for a speedy website, Bluehost can be a perfect fit for you, especially as a beginner.
2. Squarespace
Squarespace offers hosting services for WordPress websites with a marvellous website builder and award-winning WP website templates. Squarespace is the best option for hosting blogging and portfolio sites, which work perfectly on it. However, when it comes to a heavy e-commerce website with an extensive database, it struggles slightly in terms of performance and speed.
The website loading time increases with traffic load. If you want to perform better on Squarespace hosting, go through the higher plans that optimise traffic loading. However, their support team is working towards improving loading time and resolving usability issues.
Verdict: it's clear that Bluehost is a key hosting Player here. It's fast, reliable and offers better prices on the website. However, if you are bloggers and portfolio site owners, Squarespace is a much better option. Squarespace has a great selection of website templates and unlimited server storage with a basic hosting plan.
Every hosting provider has its perks and benefits. It's better to know what is best and right for their WordPress website and look at customer support and plans.
Conclusion
Bluehost is the right and perfect choice for any beginner looking for reliable and one-click installation and the best customer support & hosting. On the other hand, Squarespace is matched perfectly for professional bloggers, e-commerce, and portfolio site owners who want to experience a high quality of hosting management along with marketing tools. So, it's better to know your objectives and choose the right hosting provider fulfilling your requirements.
Who can choose Squarespace over Bluehost?
You can choose Squarespace over Bluehost when:
You don't need much customization.

You want to build a simple and beautiful website.

You are short on time.

You don't want to deal with multiple platforms for managing your website.
We hope this article about Bluehost Vs. Squarespace is helpful to you. Do share this article on social media if you found it useful for you in any manner. Please stay connected with us for future updates.