Email is one of the most used channels to interact with business partners. You can also use it to make an impression on potential employers or clients. Therefore, it's essential to make your email address as professional as possible, so your name and brand will stand out.
But, how to create a professional email address? To answer that question, let's start by exploring the basics of business email.
Fundamentals of Professional Email Address
An email address consists of two parts: the username and the domain name. Hence, the format is [email protected].
To create a professional-looking address, you have to set your real name as the username and your brand as the domain name.
The recipients wouldn't take the mail seriously if the sender has a random username like soccerfans92. Also, using a free email account with a generic domain name like gmail.com or yahoo.com isn't professional.
Let's take an example. If you want to send promotional emails to your customers, an email address like [email protected] would be more credible than [email protected].
Aside from giving a great impression, what are the other benefits of having a professional email address?
Let's uncover them!
Benefits of Professional Email Address
Having a professional email address will affect your clients' or customers' perception of your business. Moreover, it also provides these benefits:
Increase brand credibility – a professional email address looks more trustworthy as it shows that you are serious about your business. Using a free email account will not be seen as official.

Avoid spam filters – when you regularly send emails with a free email account, the recipients might consider them as spam.

Promote your brand – every time you send an email, the recipients will see your brand's name on the email address. Thus, it'll help improve your brand awareness.

Data security – free email accounts are prone to hacking and malware attacks. Creating a professional email ensures security and that you have full control over your emails.
In the next section, we will show you a step-by-step guide to create a professional email address!
How to Create a Professional Email Address?
The following steps will guide you through creating a professional email address in Hostinger's cPanel. But you can apply the process in other providers too, such as Hostgator or GoDaddy:
1. Get a Domain Name
First, you have to register a domain name. It should be relevant to your business and easy to remember. If you need some ideas, you can check out blog name generators. It will show you the list of available domain names for your business.
Once you've found a perfect domain name for your business, you will need to purchase and register it. Some domain name generators provide registrar services, while others will redirect you to hosting providers.
2. Choose a Hosting Plan
Now, you can choose whether to get an email hosting or a web hosting plan.
You might want to pick an email hosting plan if you only need an email hosting service and already have a website or not planning to create a new one. The plan might offer features like unlimited email filtering or antivirus checking.
Your email data will be stored in a dedicated space on an email server. Hence, you can send and receive emails in a higher volume.
A web hosting plan provides a complete package in a single purchase – from space and resources to build a website, a free domain name with a business email account. All of your data will be stored in a server that is shared, or in virtual private and dedicated servers.
That said, choose the one that suits your needs. Read on to see an example of how you can set up a professional email through Hostinger's cPanel.
3. Create an Email Account
Login to your cPanel dashboard (or your hosting provider's control panel), then scroll down to the "Emails" section and select "Email Accounts."
Now, type in the username (preferably your full name) and password. Click Create to finish the process.


In the Manage Email Accounts section, you can open the inbox by clicking Email or delete the account by selecting Remove.
Furthermore, you can tap on Settings to manage configurations like activating spam filters and antivirus or change your password.
That's it! You can start sending and receiving emails with the new address.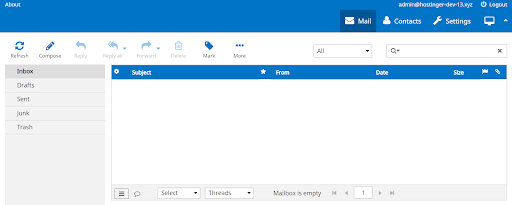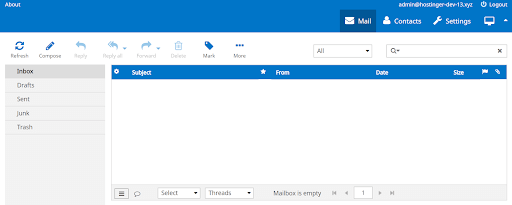 4. Connect to Gmail
Instead of using the hosting provider's default email service, you might want to use Gmail to send and receive emails. It's much more convenient as you don't have to log in to your hosting panel each time to check your emails.
The good news is, you can connect any email service account to Gmail through a process called Gmailify.
To do that, go to an existing Gmail account. Then, navigate to Settings -> Settings and click the Accounts and Import tab.


Next, click the Add a Mail Account link, which will trigger a pop-up window where you can type your new email address. However, if your email service isn't available in Gmailify, you can proceed by choosing Import emails from my other account (POP3), and click Next.
Afterwards, fill in the required information: the username – your full email address, password, and your email service's POP server. Then, put the port to 995, and don't forget to select a secure connection (SSL). When you're done, press the "Add Account" button.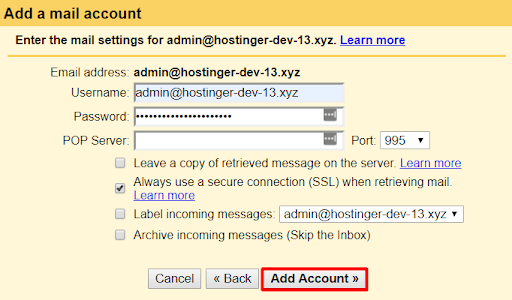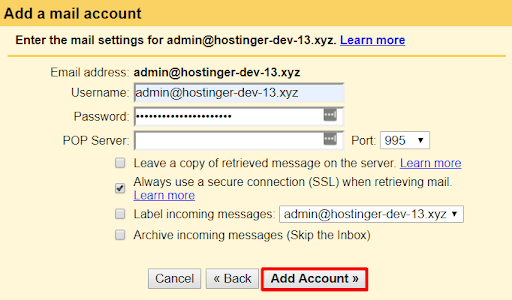 Now, you can configure the settings to allow sending mails from the new address. First, type in the display name, then check the Treat as an alias checkbox if you want to receive emails in the same inbox.
In the next step, you have to fill in your email service's SMTP server and port – which you can find in your hosting control panel's email settings. Then, type in the username with your full email address and password.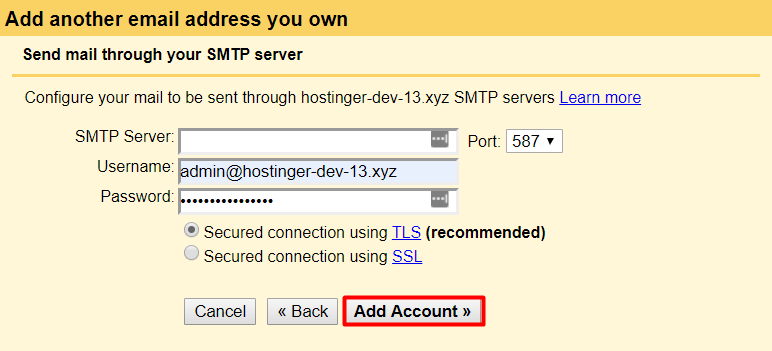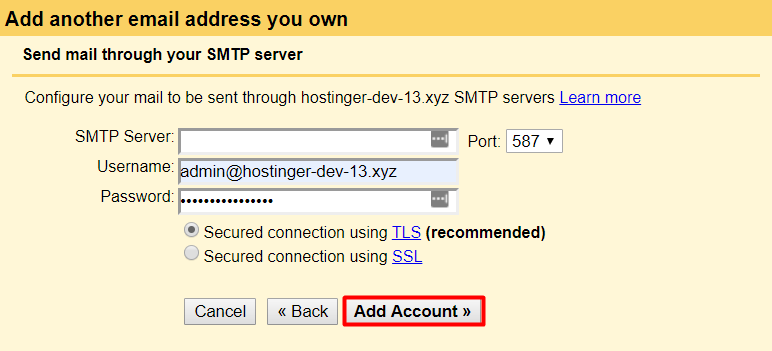 Afterward, Gmail will send an email to your new address for verification. Open it, click the confirmation link, and you're ready to go!
5. Personalize Your Account
You can now add a professional touch to your email account. As a starter, we set the profile picture and signature.
Navigate to "Settings -> Settings", then go to the "General" tab. Scroll on, and you will find the "My Picture" section where you can change the display picture.
If it's a personal email address, upload your photo – make sure it looks professional. But if the address represents a company (not a person), you may change it to the company's logo.
Next, let's create a signature. It's important as it will show your brand's character and provide contact information to the recipients.
To set up a signature, stay on the General tab and scroll on to the Signature section. Choose your new email address and fill in the signature box. Once done, don't forget to click Save Changes.


If you need ideas on creating a great signature, you can check out tools like Mail-Signatures or Hubspot's Mail Signature Generator.
Extra Tips for Using Email Professionally
Congratulations! Your email address has got that professional vibe.
However, it's not enough if you can't write emails professionally. So, in the following list, let's look at some tips and good practices that will help you write better emails.
Use an Engaging Subject Line
To higher your emails' open rate, try to create an engaging subject line by considering the recipient's perspective.
First, you have to know what you're trying to achieve by sending those emails. Do you want to sell products? Or do you want to send an educational mail? By having a different purpose, you have to give a distinct impression.
However, you can't be entirely sure without experimenting. So, you might want to try A/B Testing – through tools like Google Analytics or Optimizely. It's a method to compare results from two different subject lines with the same purpose at the same time.
That said, no matter how good your subject line is, try not to promise something that you can't deliver. It's essential to engage your potential customers, but it's even more critical to maintain their trust.
Also, It's essential to make your email stand out in the recipient's inbox. But, never use all caps and exclamation points. It'll seem too aggressive, and the recipient might consider it as spam.
So, how to make your mail stand out? Check out these methods:
Make it personal – use the recipient's name in the subject line. Make it seems like you're communicating with them directly.

Use limitation – a deadline could create a sense of urgency, such as "Only two days left until (an event) registration closed."

Offer a reward – if you're offering something, such as a discount or a bonus, make it clear in the subject line.
At last, pay attention to the length. The ideal length would be 41 characters, as for mobile device users, try not to exceed 40 characters – otherwise, the rest of the subject line will be trimmed.
Create Better Greeting
You might wonder, why is it essential to begin your email the right way? Because it could affect how professional it looks.
Now, it's better to know who will receive your mail. So, try to include their name in the greeting, but don't misspell it. For example, you can use "Hi Mr. (Last Name)," or "Hello Ms. (Last Name)."
Avoid greetings like "To whom it may concern," or "Hello sir or madam." It shows that you don't have any idea on who will receive the mail.
Similar to the subject line, avoid using exclamation points – especially if you're writing a business mail. It would be considered as informal and aggressive.
Write a Clear and Concise Body
The body bears the main message. It should be in line with what you said in the subject line. Be clear in what you're trying to convey.
However, it doesn't mean that you have to explain everything in detail. Only focus on the key points, so the readers don't have to skim it to understand it.
Pay attention to each paragraph's length. Cut them into more concise sentences, if possible.
Avoid filler words like "I think" or "Basically." Those sentences will make your statement seems not confident. State the idea right away and make it straightforward.
Above all, it's better to put yourself into the readers' perspective. Ask yourself whether the body is easy to comprehend. Also, make sure that the main message isn't buried inside filler sentences.
Once done, re-read every paragraph to identify mistakes like typos, grammatical errors, or long-winded explanations.
Close the Mail Properly
The closing would be a simple phrase or words followed by the signature. It's essential to pay attention to the phrase – depending on which type of mail you send.
If you're sending a business mail, try to make it formal. Closing like "Regards," or "Sincerely," would be preferable. It might look too simple, but it's essential to keep everything in a professional manner.
Next, in the context of your mail is to congratulate someone, use "Best wishes." You can also use "Cheers," if you're sending a casual mail to your friends or relatives since the phrase is less formal and sounds friendlier.
Don't use abbreviated words like "Thx," since it would look unprofessional. Also, don't let your email ends without a closing phrase and signature, and always use the best email marketing software.
Conclusion
In this article, you've learned how to create a professional email address. Be sure to use your real name as the username and your brand as the domain name.
You can use the hosting provider's default email service, but you can also connect your email account to Gmail for better usability and mail management.
Aside from making the address look professional, you have to write emails professionally by paying attention to the email's subject line, greeting, body, and closing. Don't forget to proofread each section once you're done writing it.
Do you have any questions regarding the topic? Share your thoughts in the comment section below!