Let's say you want WordPress to go globally fast. And be enterprise secure. And have managed services such as backups, never-expiring SSL all wrapped into an all-in-one platform. How would we do that?
We'd call (or live chat) with Rocket.net and here is why…..
Rocket.net is a managed WordPress hosting provider that provides everything you need to go fast & stay secure. With their simplistic philosophy of Always On By Default, they bundle Cloudflare Enterprise with every WordPress site, fully optimized & secured.
With that in mind let's look at everything you need to know about Rocket.net and why this managed WordPress hosting provider is one of the best to consider for your WordPress site. We'll review Rocket.net according to several factors.
Rocket.net's Most Important Features
Here are some of the most most important features of Rocket.net. You can go through it and check if it's best for you!
Instant Speed
Rocket.net gives you instant speed without plugins or advanced WordPress configurations. By utilizing full page caching with specially configured origin servers and serving it through CloudFlare's premium network, your WordPress will instantly go faster.

And not just WordPress, Rocket.net is designed for the most dynamic sites using WooCommerce, WordPress MU & more.
The Edge
Rocket.net's origin servers are housed at The Edge. The Edge Data Centers are located inside 20 geographically diverse internet exchanges & just a couple of hundred feet from Cloudflare.
This is important because it means that instead of hosting websites via data centers located in Iowa or Utah, Rocket.net brings your content closer to users for rapid global distribution.
That sounds great, but what does it really mean for you?
Using Rocket.net empowers you to have the fastest speed, scalability, and reliability for your WordPress & it's all instantly available and on by default.
Effortless Setup
Rocket.net has streamlined the process of launching, managing, and migrating WordPress through their control panel called Mission Control.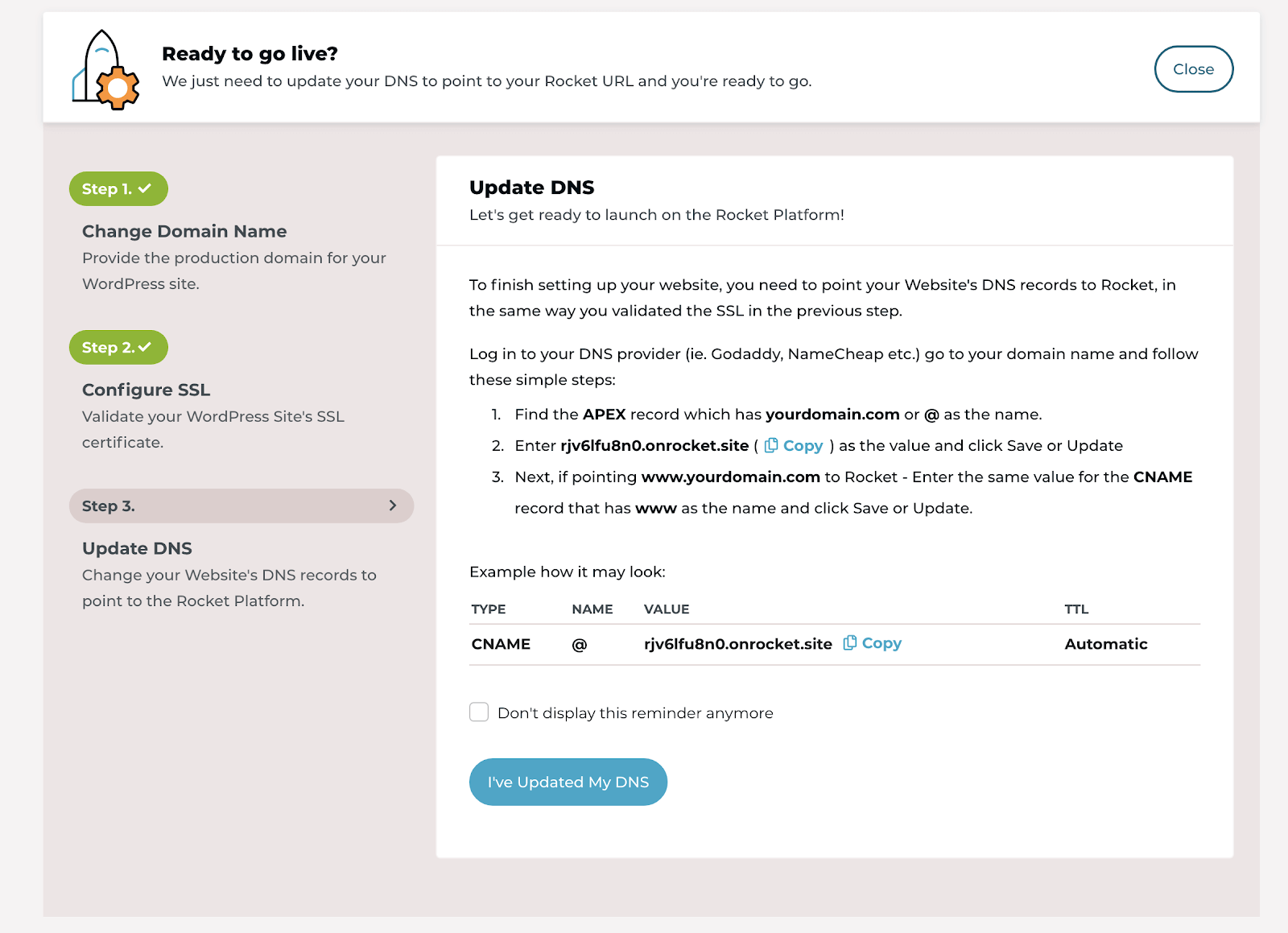 Mission Control allows you to quickly deploy a new WordPress website with all the Rocket.net advanced features automatically enabled. In just under 3 minutes, you can launch a WordPress site in 1 of 20 locations with a fully configured & scalable site.
Range of Backups
Rocket.net offers two types of backups to benefit its users. These are:
Daily backups that are completely automatic with self-service restore functionality.
On-Demand backups, of which you can generate a full WordPress backup manually.
Customer Service
If you're going to make use of a WordPress hosting site, you want to be able to reach out to expert staff when you have queries or problems. Rocket.net provides its users with round-the-clock customer service.
And if you are an Agency, Rocket.net offers VIP #Slack support. This is great for teams, mass migrations, and ongoing expert support from the Rocket.net team.
Security
Security is an important feature that you need to consider when making use of a website host. Rocket.net offers many features that will boost the security of your site, including an always-on website firewall called a WAF (website application firewall)
What is a WAF?
WAF stands for Website Application Firewall and is a shield for your WordPress site in that it can filter out and block unwanted traffic to your WordPress website.
To protect your WordPress site, Rocket.net has some important measures in place.
These include:
Instantly on WAF. Configured during deployment, each WordPress site is protected by Cloudflare Enterprise with
Rocket.net's WordPress ruleset. This means from the millisecond you go live, your Rocket.net force field will be on.
DDoS Protection. A DDoS or Distributed Denial Of Service attack is where criminal attempts to take a website offline by overwhelming the server with junk traffic. Rocket.net and Cloudflare protect your WordPress from DDoS and can handle the world's largest attacks.
Malware Protection. Rocket.net provides full malware protection on two levels. The Cloudflare WAF provides full-time protection while the origin servers are protected by Imunify Security.
Fast Page Speed
The killer feature of Rocket.net is the ability to provide instant "A's" and fast loading page speed from around the world. With its Edge data centers serving your content to the premium Cloudflare network, WordPress can go really fast, right out of the box.
How quickly will Rocket.net load WordPress?

We wondered the same, so we deployed a default WordPress website with Rocket.net and ran it through GT Metrix for an instant "A" score and a 473ms fully loaded time.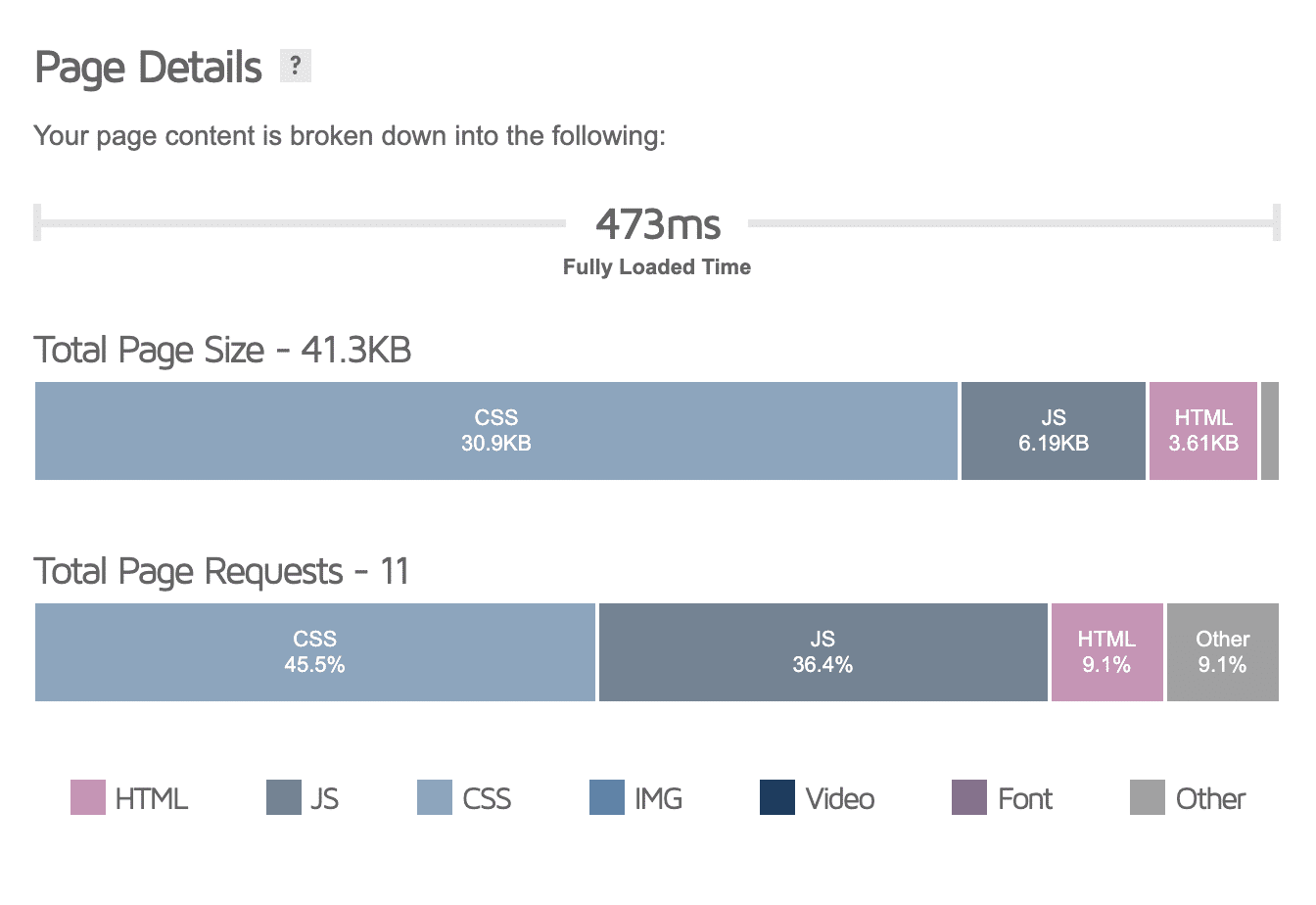 But how does it perform worldwide?
We also wanted to know what the performance looked like globally and utilized https://www.fastorslow.com/ to have a second set of testing data to work with.

One of the impressive facts we learned about Rocket.net and Cloudflare Enterprise is that Rocket.net's partnership provide full access to not only all of CloudFlare features, but also their premium network, which is not available in lower-tiered plans, but helps with global performance metrics provided by FastOrSlow.com
| | | |
| --- | --- | --- |
| | First Meaningful Paint | First Byte |
| South Africa | 267.80ms | 42.07ms |
| Sweden | 333.32ms | 62.66ms |
| India | 311.13ms | 45.23ms |
| France | 285.77ms | 49.61ms |
| United Kingdom | 334.02ms | 70.27ms |
| Ireland | 400.64ms | 45.51ms |
| South Korea | 408.23ms | 167.59ms |
| Japan | 422.22ms | 177.28ms |
| Brazil | 308.13ms | 53.05ms |
| Quebec | 310.14ms | 41.99ms |
| Hong Kong | 307.77ms | 73.85ms |
| Singapore | 356.02ms | 59.77ms |
| Australia | 303.56ms | 44.47ms |
| Virginia | 289.69ms | 49.38ms |
| Ohio | 309.64ms | 87.36ms |
| Oregon | 281.37ms | 59.39ms |
As we can see global performance with Rocket.net ranges from is far below the recommended 1 second for First Meaningful Paint and less than 100ms on the first byte, providing out of the box performance.
Dashboard
The dashboard that your web host uses should be easy to use and give you quick access to a range of features. Rocket.net makes use of a custom dashboard that's user-friendly because you can quickly gain access to various features, such as launching, staging, and configuring your WordPress sites.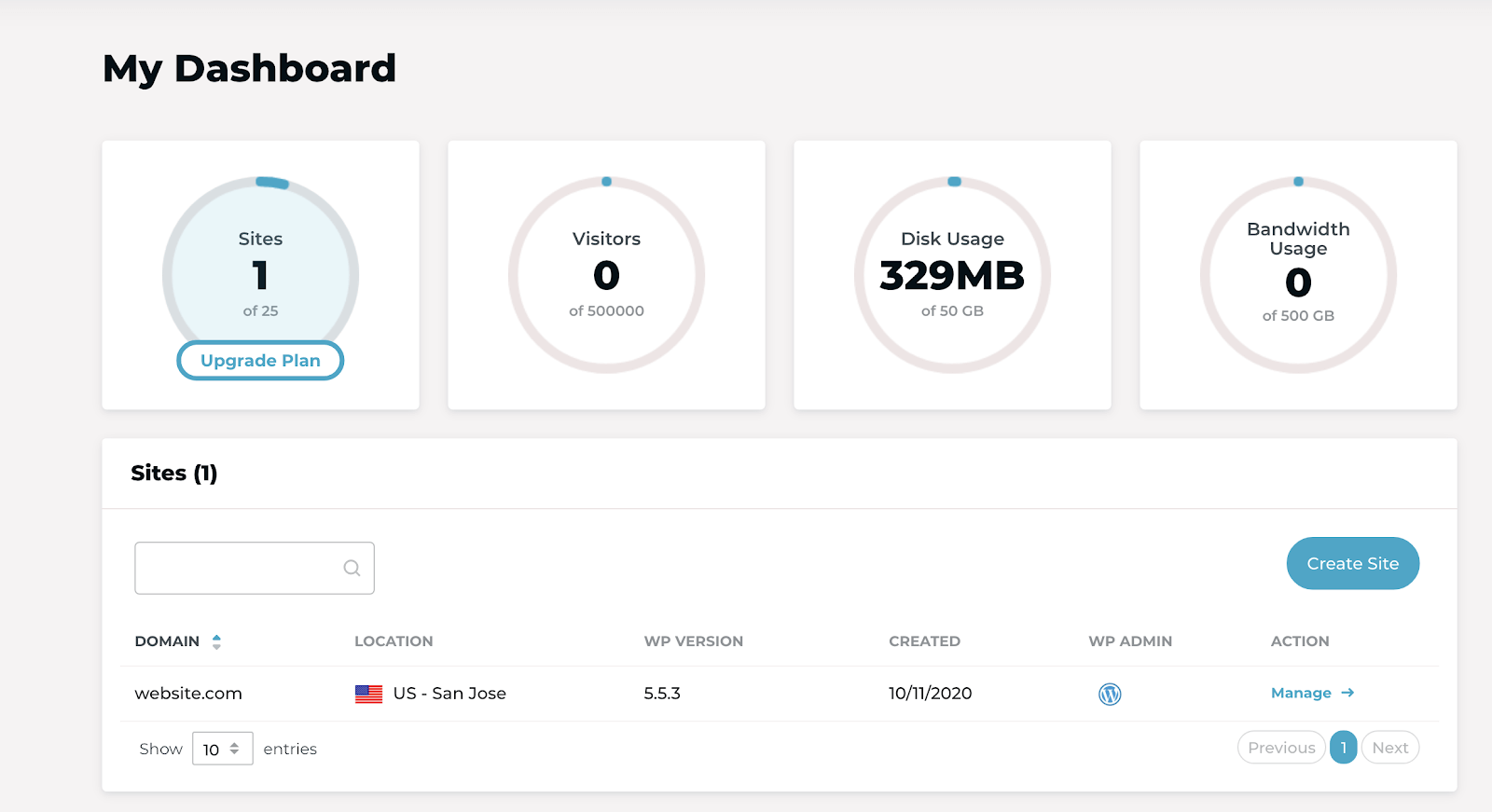 The dashboard pays attention to your regular or daily tasks as they relate to the hosting platform. The dashboard also has a simple and appealing layout that doesn't feel overwhelming to navigate, which makes it great for beginners.
As a nice bonus, you can also see some more granular reports related to security & CDN utilization or even restore a backup.
Free Services
While Rocket.net offers websites of all sizes good amounts of hosting space, there are other free services that make it stand out in the crowd. The best free services include the following:
Free backups. You get daily backups for free and these backups have two weeks of backup retention.
Free migrations for all WordPress sites, including recommendations for plugins you'll no longer need.
Free DigiCert DV SSL. Automatically renewing SSL that is pre-installed, auto-renews, and never expires.
Free CDN & WAF. Powered by Cloudflare Enterprise and the same features would cost more than $200/month per site (CloudFlare Pro Plan).
Staging Sites
This is another fantastic feature that's available to every plan. Rocket.net offers you access to a staging site. This gives you the chance to test a variety of things, such as code edits, customizations, and plugins, on your website before they go live.
What About the Cons?
No web host is perfect, and although Rocket.net does come pretty close to giving its users a flawless experience, it does have a few drawbacks. These include the following:
Its price seems high (at first). Cheaper hosting is certainly an option, but the upsells, renewals, and other plugins you might need to start to get expensive and increase bloat. While Rocket.net is $30/month, the bundled CDN, WAF, Malware Protection, SSL, and always on a feature still makes it a huge value for a single monthly price.
No free trials. You can't make use of a free trial with Rocket, although they do offer a 30-day money-back guarantee if you're not satisfied.
No E-mail. Rocket.net doesn't offer its users an email service, which is now commonplace among managed WordPress providers, as supporting e-mail is both tedious and expensive.
It's not for control freaks. If you're the type that wants the ability to tweak 500+ settings for a properly configured CDN & WAF, Rocket.net is not for you. With its always-on and constantly evolving rule set and WordPress specific configuration, it's a managed solution.
Is Rocket.net Right for You?
If such things as higher SEO rankings, an elevated customer website experience, and security you don't have to worry about top your list of important features, Rocket.net is right for you.
If you are just comparing the amount of disk space or standard hosting feature you're probably missing out on the always-on features that cost extra or require costly commercial plugins to manage.
You want a website that can go viral. If you're experiencing or planning growth for your site, you'll benefit from making use of Rocket.net features, such as their global Cloudflare CDN. There's no doubt about how faster WordPress can help your website grow. It can make your potential customers see you as more reliable and professional, therefore increasing your profits, so you want to be sure that your website is backed by a professional.
Security is key. An example of this is an e-commerce store. If you sell things on the internet, such things as PCI Compliance, SSL, and Website Application Firewalls are all required for safety and compliance.
You are an Agency. And need these features for all of your clients. As you scale with Rocket.net the price per site can lower to less than $10/m per site with bundled Cloudflare Enterprise, managed support, and VIP #Slack Access.
Conclusion
Rocket.net is one of the best-managed WordPress providers. With Always-On features such as CDN, WAF, SSL, Malware Protection, and Full-Page Caching, each WordPress site launched is instantly fast and protected.
Rocket.net also saves you money, just like they did House of Ideas by helping them migrate over 40+ sites and dramatically reduced his annual hosting, plugin, and CDN costs.