Are you looking for the best Notion project management templates to streamline your workflow? Look no further. The versatility of Notion makes it an excellent tool for project management, but with so many templates available, it can be tough to find the ones that best fit your needs.
Notion's robust features allow you to tailor your workspace to your specific needs, offering a wide array of possibilities from task tracking, project planning, to collaborative workspaces, and many more. The selection of the right template can seamlessly integrate these features into your everyday workflow, making your projects more efficient and more manageable.
Choosing the right template can transform your project management process, allowing for better organization, communication, and productivity. The following list of templates has been carefully curated to help you make the most of Notion's project management capabilities.
Whether you're a seasoned professional or a novice just starting out, these templates offer a wide range of solutions. Let's dive in and explore these 8 notion project management templates that can help streamline your workflow.
Why Notion is a Game-changer for Project Management
Notion is a revolution in the world of project management. It's not just a tool, but a whole workspace that you can mold according to your needs. It unifies all your work in one place, making it easier to track and manage.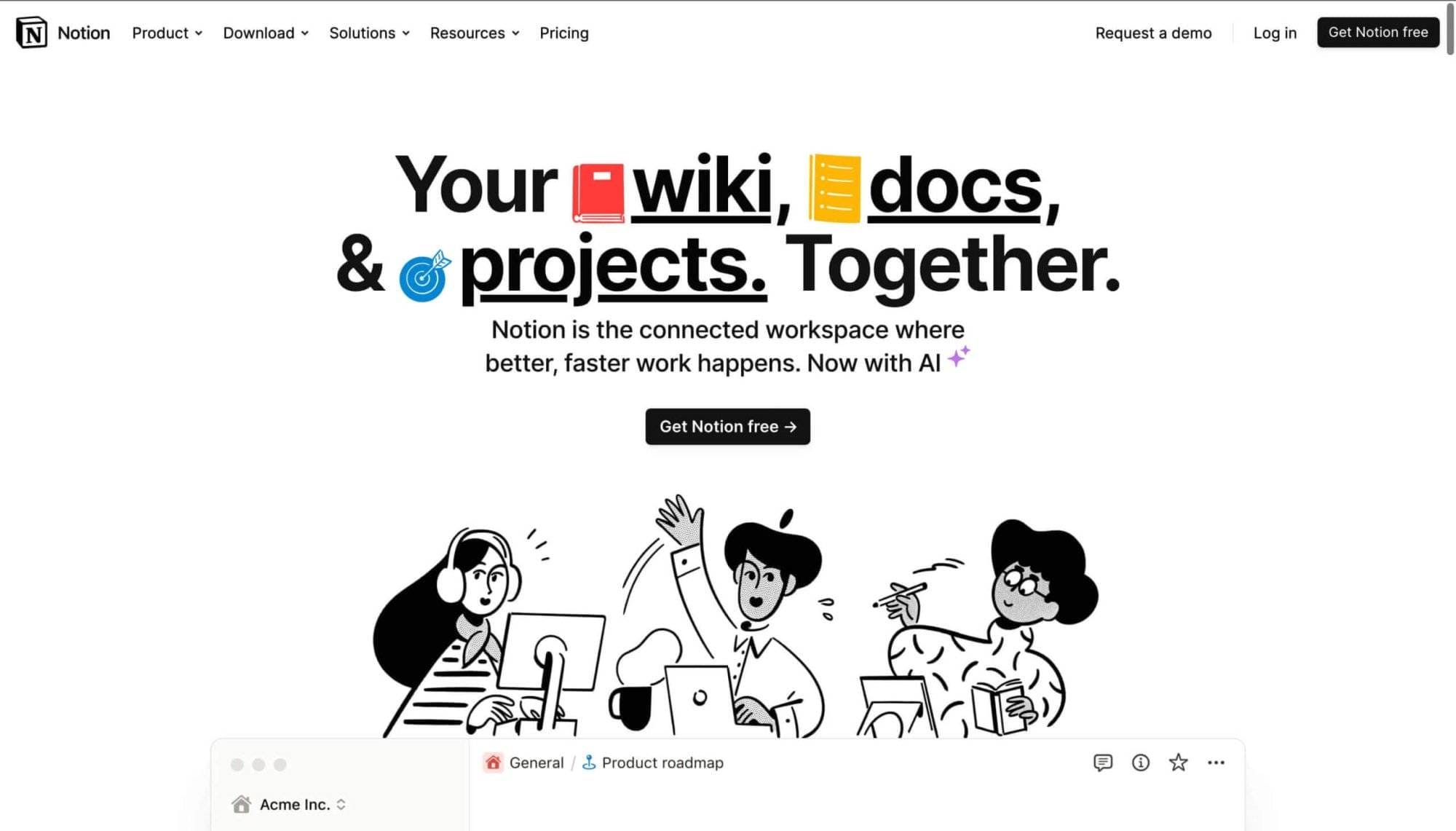 The beauty of Notion lies in its flexibility. It's not rigid like other project management tools. You can create your own templates, set up your own databases, and tailor your workspace exactly how you want it. Notion is also a boon for team collaboration. It makes it easy for teams to work together, whether they're in the same office or scattered around the globe. You can share pages, assign tasks, and even comment on each other's work. Here are a few reasons why Notion is a game-changer for project management:
A single tool for all your needs: Notion combines notes, tasks, wikis, and databases all in one place.
Customizable workspace: You can create your own templates and databases, and organize your workspace in the way that suits you best.
Enhanced team collaboration: Sharing pages, assigning tasks, and commenting on work becomes easy with Notion.
Easy to use: Notion's intuitive design makes it easy to use, even for beginners.
Exploring the Top Notion Project Templates
Your search ends here.
After reviewing more than fifty project management templates for freelancers and businesses, here we're with some of the templates I've liked so far.
As a user of the Side Project OS / Notion Template, I have found it incredibly helpful in managing and organizing my side projects. The template provides 30 unique modules that cover all aspects of project ideation, planning, management, and tracking. It has been a game-changer for me to finally act on the ideas that have been filling my notebooks.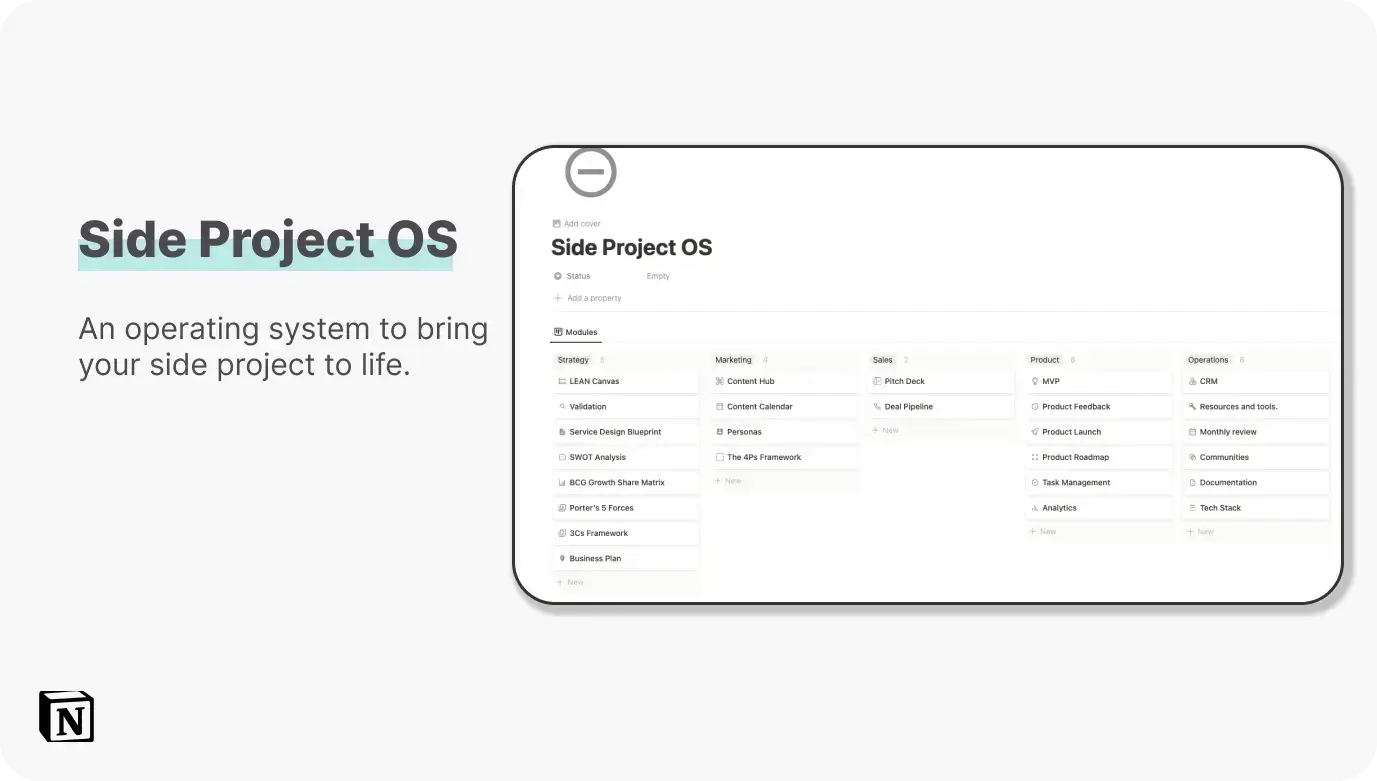 The template includes 8 strategy modules that help me frame my problem, market, solution, and strategy. This has been invaluable in guiding my decision-making process. Additionally, the task management module allows me to define tasks and organize them into sprints, helping me effectively manage my time.
One of the standout features of this template is the ability to track user feedback and feature requests. This has allowed me to prioritize and implement changes based on the needs and desires of my users. The content hub and social media templates have also been incredibly useful in planning and managing my content across various platforms.
Another feature that I appreciate is the dedicated module for storing resources and documentation. It keeps everything organized and easily accessible, saving me time and effort. Here I'm sharing some of the key features of using "Side Project OS" as your project management template;
30+ Unique Modules: The template provides a wide range of 30 unique modules that cover all aspects of side project management, including ideation, planning, tracking, and more.
User Feedback Tracking: The ability to track user feedback and feature requests is a standout feature. This allows you to prioritize and implement changes based on user needs, enhancing the overall user experience.
Task Management: The template includes a task management module that helps you define tasks and organize them into sprints. This feature enables effective time management and progress tracking.
Resource and Documentation Storage: The dedicated module for storing resources and documentation ensures everything is organized and easily accessible. It saves you time and effort when referring back to essential information.
Strategy Modules: With 8 strategy modules, the template helps you frame your problems, markets, solutions, and strategies. These modules provide a solid foundation for decision-making and guide you in developing a clear and effective project strategy.
After using this notion project management template, I can confidently say that it has greatly improved my workflow and organization. The template's straightforward layout and user-friendly design make it easy to navigate and access all the necessary project information. Whether you're a beginner or an experienced project manager, this template is sure to enhance your productivity.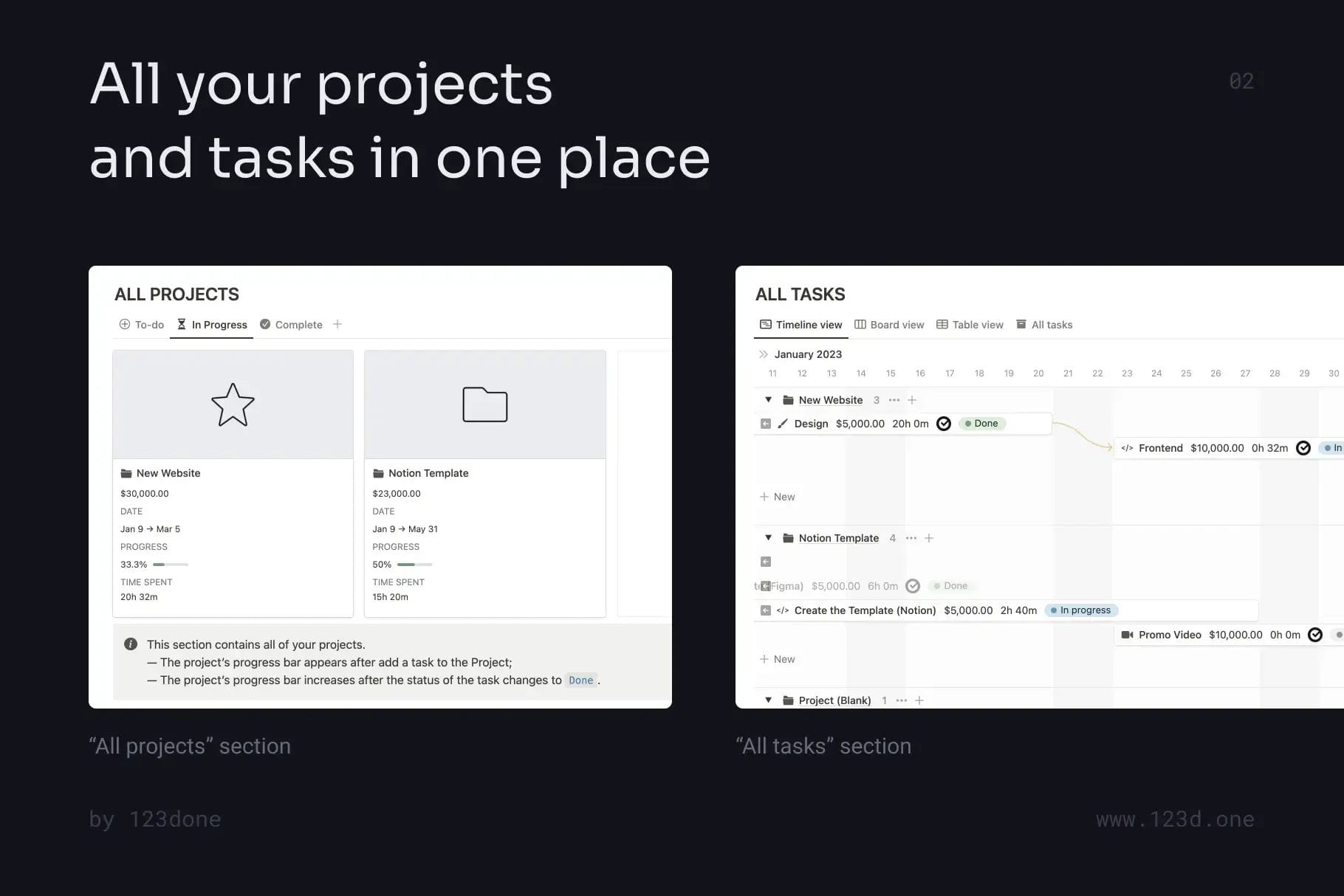 One of the key features that impressed me is their versatility. It offers a wide range of customizable options, allowing you to tailor it to your specific project requirements. From creating task lists and setting deadlines to assigning team members and tracking progress, this template covers all aspects of project management in a seamless and efficient manner.
Another standout feature of the Notion project management template is its collaboration capabilities. It enables real-time collaboration and communication among team members, making it easy to share updates, discuss ideas, and provide feedback. The ability to centralize all project-related information in one place enhances teamwork and ensures everyone is on the same page. Here are some important features of this template;
Intuitive and user-friendly interface for effortless navigation.
Customizable options to adapt the template to your project needs.
Real-time collaboration for efficient teamwork.
Task tracking and deadline management.
Integration with other tools for enhanced productivity.
Investing in this Notion project management template is a wise decision for individuals and teams who want to streamline their project management processes. Its user-friendly interface, customizable features, and collaboration capabilities make it a valuable tool for improving efficiency and achieving project goals.
The "Task & Project Manager" Notion template is a helpful tool that helps people manage their tasks and projects effectively. It comes in three different packages with various features and prices.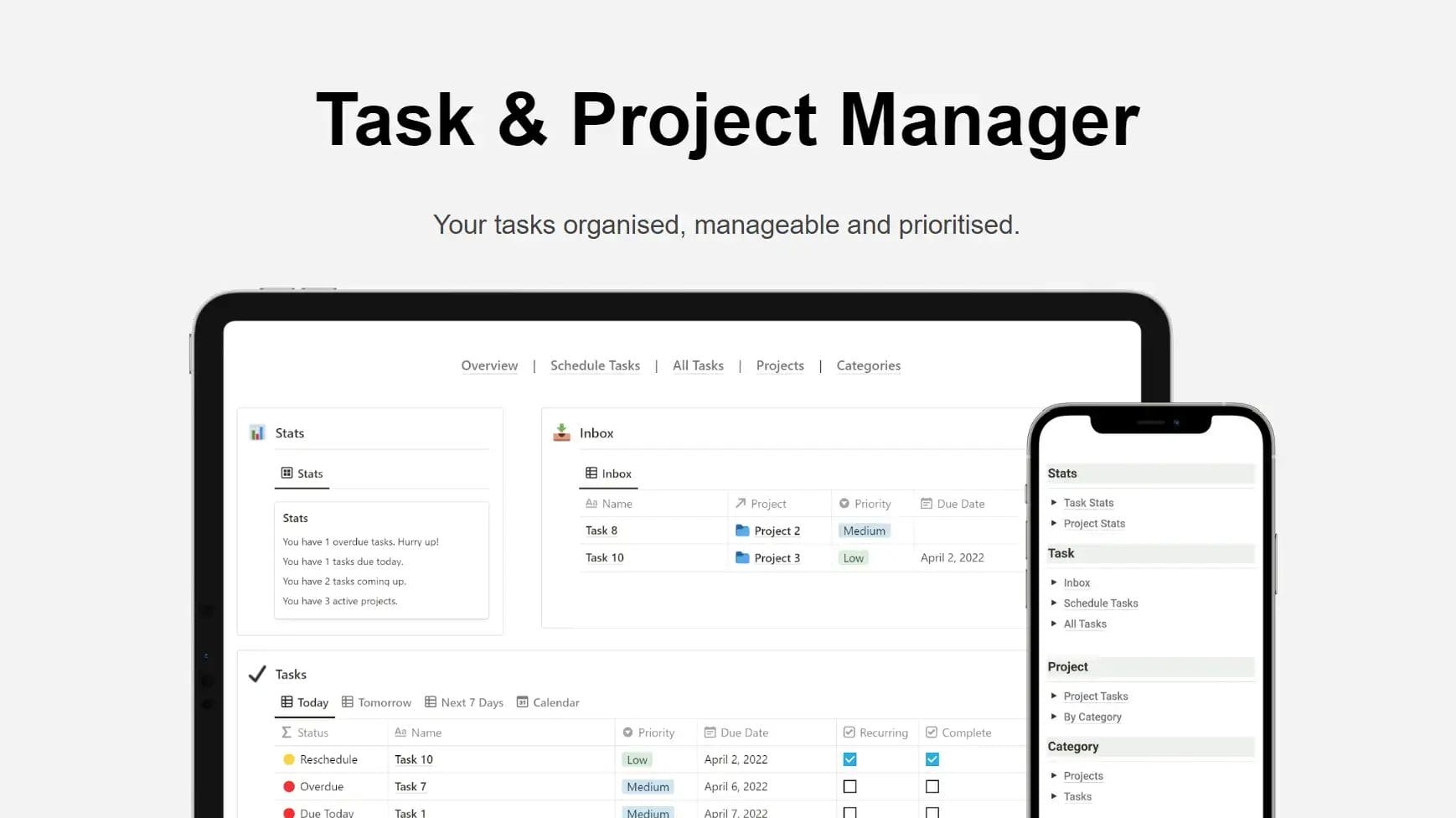 Fundamental Package (Free):

Smart status
Task stats
Project stats
Project manager
Ability to manage tasks by projects, priority, and due date.

Complete Package ($9 or more):

All features in the Fundamental Package
Three customizable dashboards
Mobile-friendly version
Support for recurring tasks
Dedicated schedule tasks section for easy due date management.

Complete Package Plus ($19 or more):

All features in the Complete Package
More detailed task stats
Nine productivity planners.
The Task & Project Manager template is designed to help users stay organized, track progress, and prioritize tasks effectively. Whether you choose the free Fundamental Package or upgrade to the advanced features in the Complete Package or Complete Package Plus, this template offers a flexible and customizable solution to meet your individual needs.
This notion freelancer pack is a comprehensive package designed especially for freelancers and businesses. With a rating of 4.9 stars from 37 reviews, this template is perfect and highly recommended by users.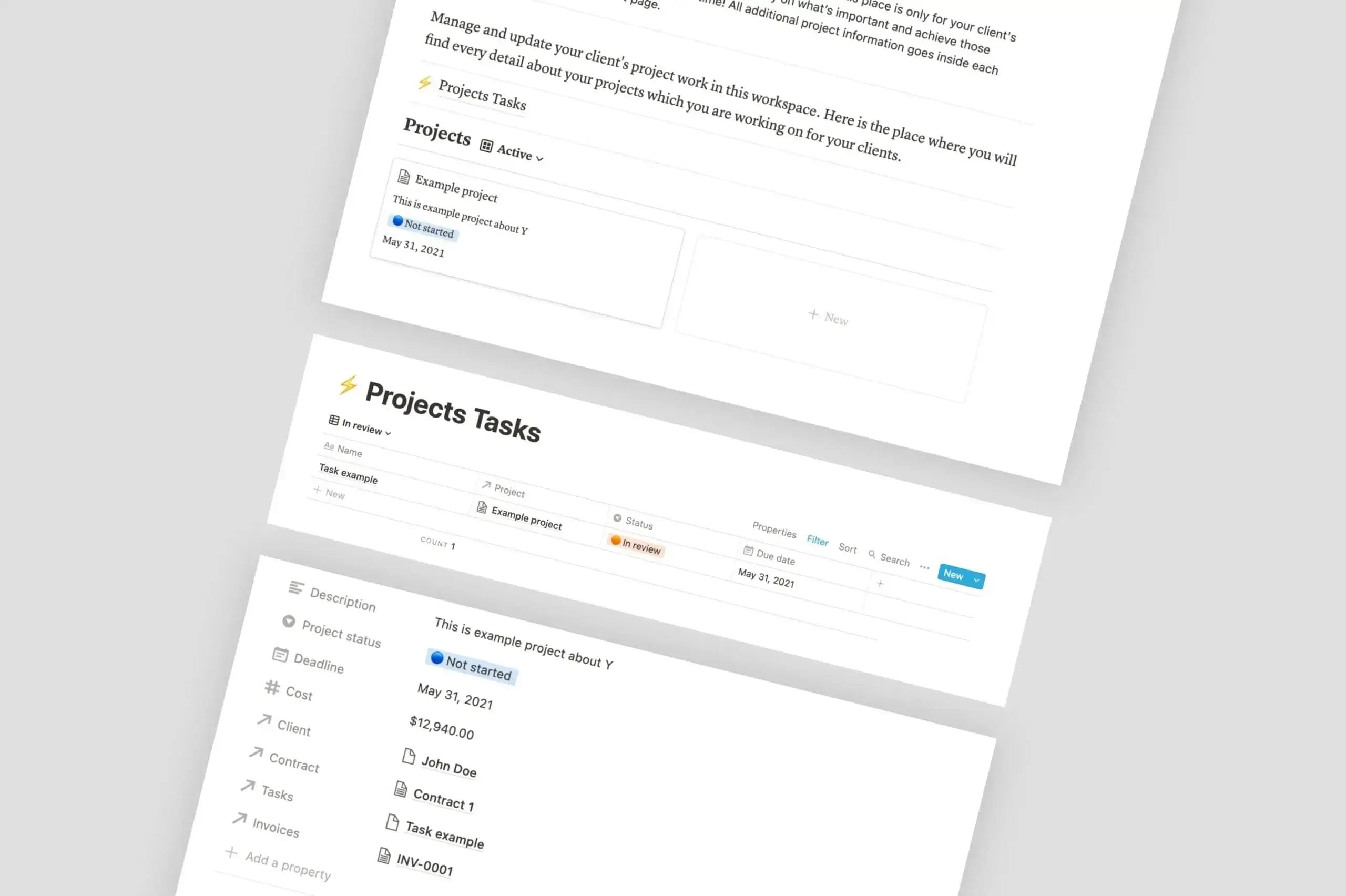 Inside this notion template, you'll also find various useful components to streamline your freelance projects and tasks. It also includes features such as project tasks, project management and sorting, project documentation, project assets example, project meeting notes, project scope of work examples, and project hand-off examples. Further, this free template is customizable and cater to the needs of different type of freelancers.
And as you know, Notion is an all-in-one workspace that offers a versatile design for taking notes, adding tasks, managing projects, and staying organized. It also allows you to use these project management templates inside your workspace for free, giving you a head start in optimizing your workflow.
To access this Notion Freelancer Pack, simply make a fair price offer and click "I want this!" The pack is available for free on GumRoad, and you'll receive a link to duplicate the Notion template to your workspace after purchase.
Key features of the Notion Freelancer Pack;
Versatile Design: Notion's flexible interface adapts to your unique workflow needs.
Project Management: Efficiently organize and track your freelance projects and tasks.
Customizable Templates: Pre-built components that can be tailored to your preferences.
Collaboration Tools: Collaborate with clients and team members in real time.
Extensive Documentation: Easily create and access project documentation and assets.
I recently tried Lean Startup OS, and I must say it has been a game-changer template for entrepreneurs. This template is created for Notion users and is available on GumRoad. It offers a comprehensive project management solution that has greatly helped me plan and organize my tasks efficiently and on time.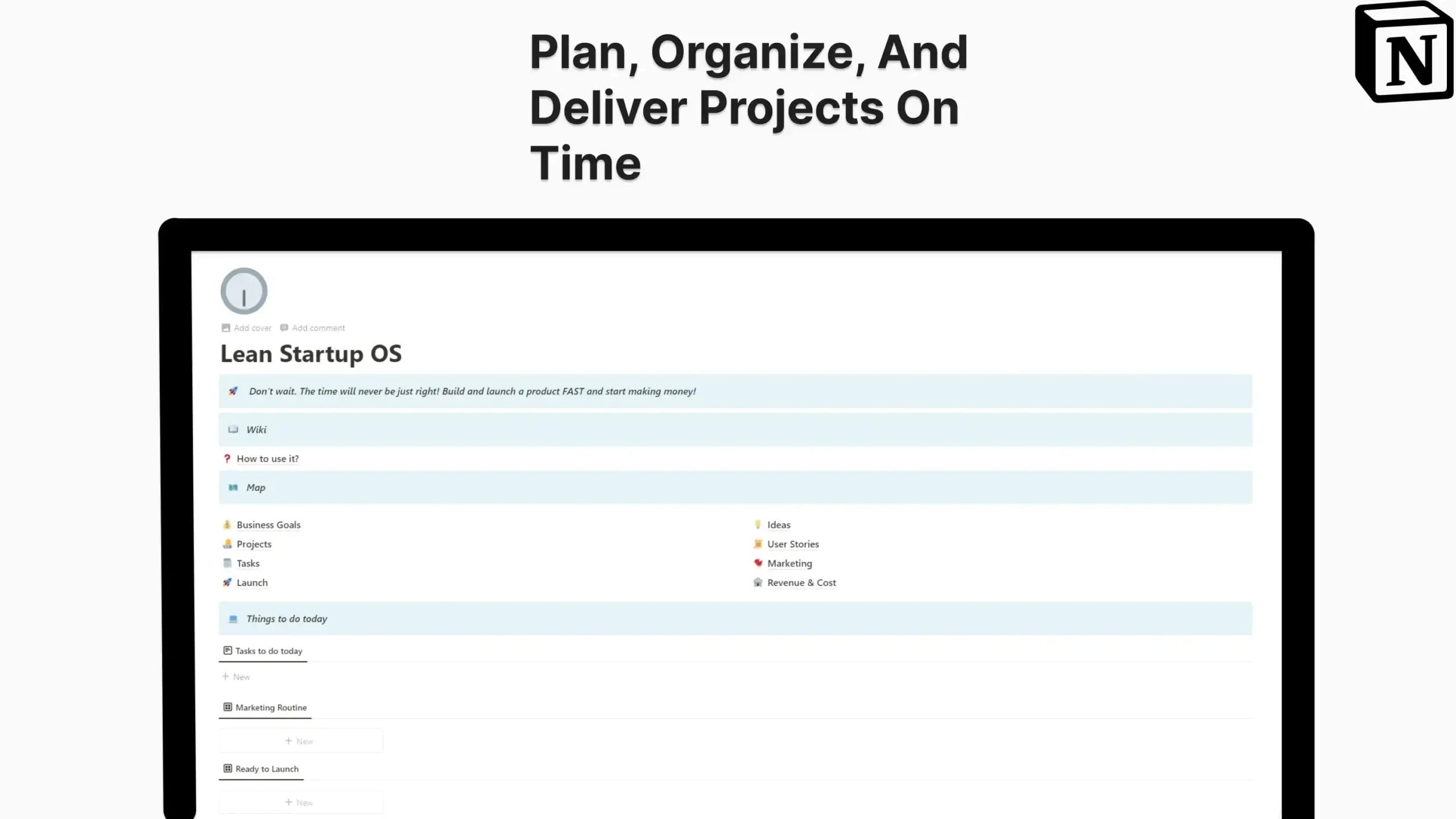 One of the standout features of Lean Startup OS is its user-centric approach. It enables me to validate my ideas, plan my marketing strategies, and track revenue and costs effectively. The template also offers smart timeboxing, which is particularly crucial for startup ventures where time management is essential. By allocating specific time periods to tasks, I can stay focused and ensure that I am making progress toward my goals.
While the price of $50 may seem a little steep, considering all the features it offers, I believe it is definitely worth the investment. Moreover, the template is highly customizable, allowing me to tailor it to my specific needs. The user-friendly design makes navigation and utilization a breeze.
Lean Startup OS offers the following key features:
Task Planning and Organization: Efficiently plan and organize your tasks for better project management.
User-Centric Approach: Validate ideas and stay connected with your target audience for informed decision-making.
Compatible Pricing: Affordable pricing structure suitable for entrepreneurs, without compromising on functionality.
Customizable Design: Tailor the template to your specific needs and preferences.
Smart Timeboxing: Allocate specific time periods to tasks for improved focus and productivity.
These features make Lean Startup OS a valuable tool for entrepreneurs seeking efficient project management and validation of ideas.
If you're a freelance business looking for a template to streamline your team's work, Notion offers a great option. It comes with various useful features and databases, such as the master's ticket database, which your team will surely appreciate.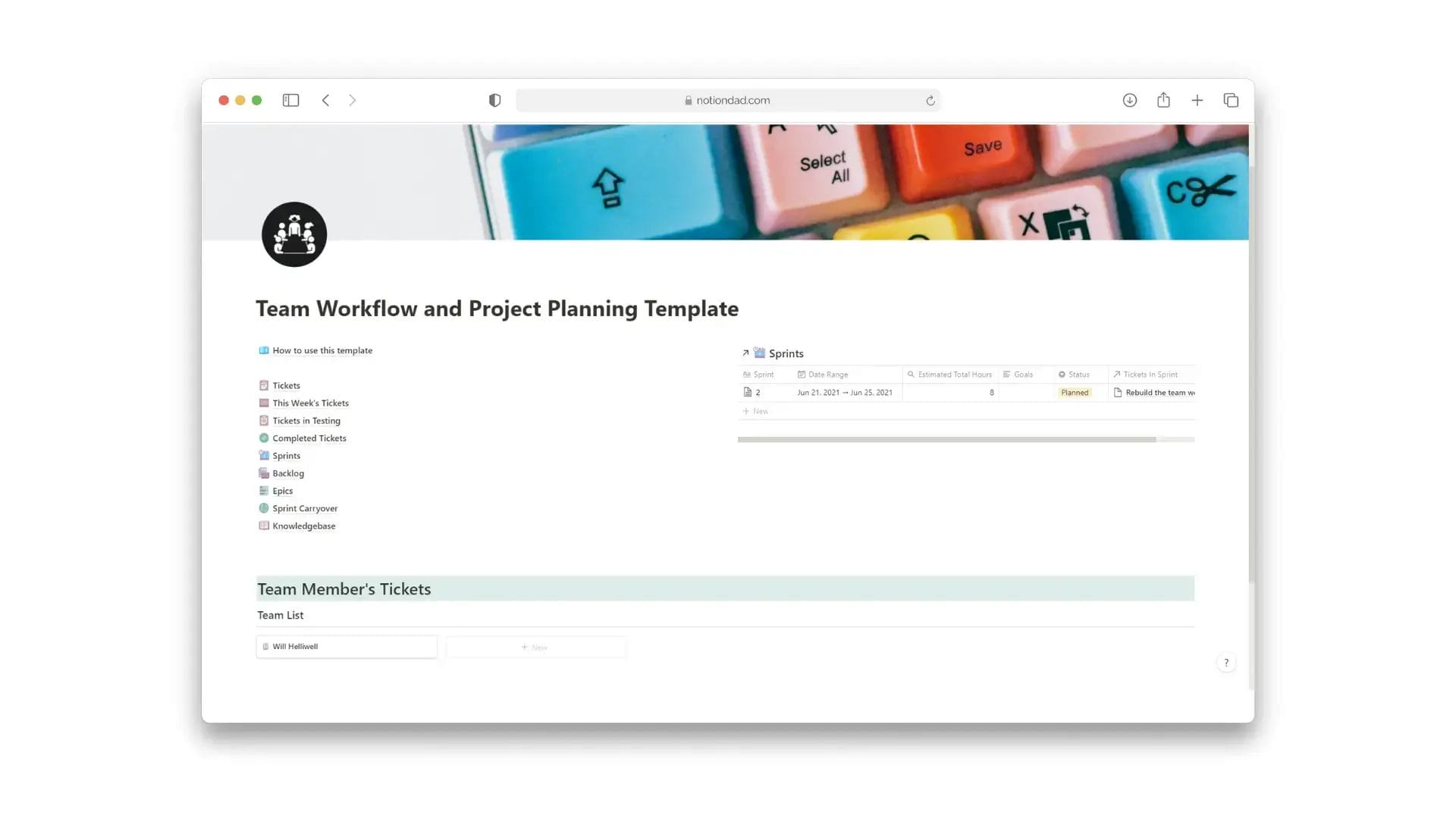 The template includes different pages to organize your tickets based on their completion status or the current week's agenda. You can also track your progress using tickets and plan your work hours for a healthy work-life balance through the sprints page. I really like how the backlog page and the epics page help manage tasks and projects effectively. Moreover, there's a knowledge base available to assist you every step of the way. Features of Notion Project Management Template for Teams:
Designed for teams to collaborate and manage projects effectively.
Affordable pricing makes it accessible for businesses of all sizes.
Highly efficient features and tools to streamline project management processes.
User-friendly interface for easy navigation and seamless workflow.
Multiple pages and databases are available to organize tasks, track progress, and maintain a knowledge base.
This is a free Notion project management template that offers a unique and visually appealing interface. The B&W (Black & White) dashboard incorporates a comprehensive project management system, allowing you to organize your projects and work with precision and style effortlessly.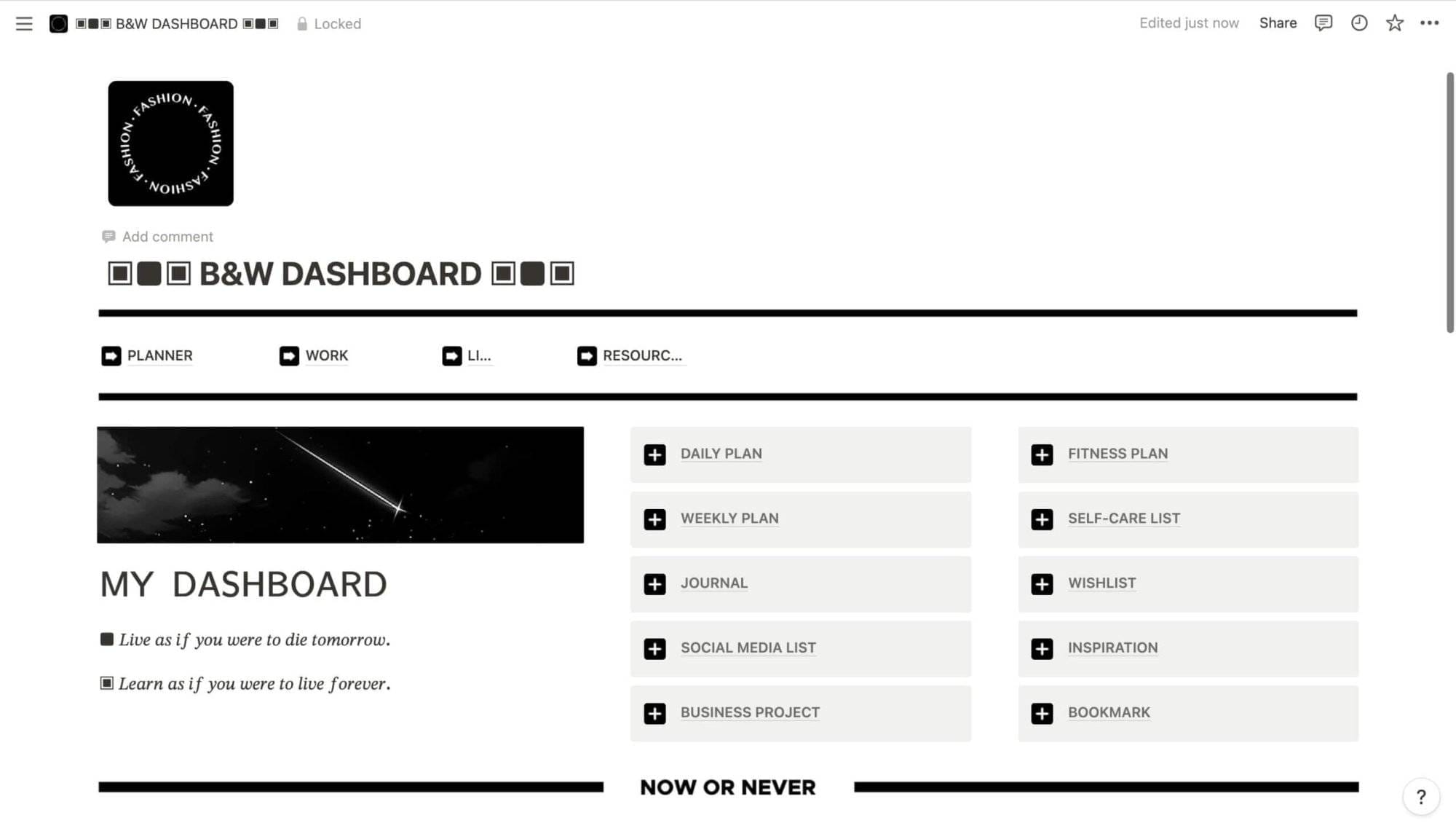 Beyond project management, this template presents a plethora of distinctive features that aim to enhance your daily life. As a dedicated reader, I understand the challenges of finding time for books. However, with this dashboard, not only will your projects be flawlessly organized, but it will also revolutionize the way you manage and optimize your entire life.
The mini dashboards embedded within each project are a treasure trove of innovative tools and utilities. From a carefully curated library to track your reading progress, to smart task prioritization and seamless collaboration, this template caters to your unique needs and acts as your personal companion, ensuring that you stay focused, productive, and inspired. Key Features of the B&W Dashboard:
A visually captivating design that sets it apart.
Intuitive and user-friendly interface for a seamless experience.
Streamlined organization of day-to-day tasks to boost your productivity.
Mini dashboards customized for each project, equipped with a curated library, advanced task management features, and collaborative tools.
friend of mine uses the Simple Project Manager template for Notion, and I asked him to share his thoughts on it. According to him, this template is a game-changer when it comes to project management. Its minimalistic and organized design provides a clutter-free dashboard that allows you to organize your projects and tasks effortlessly.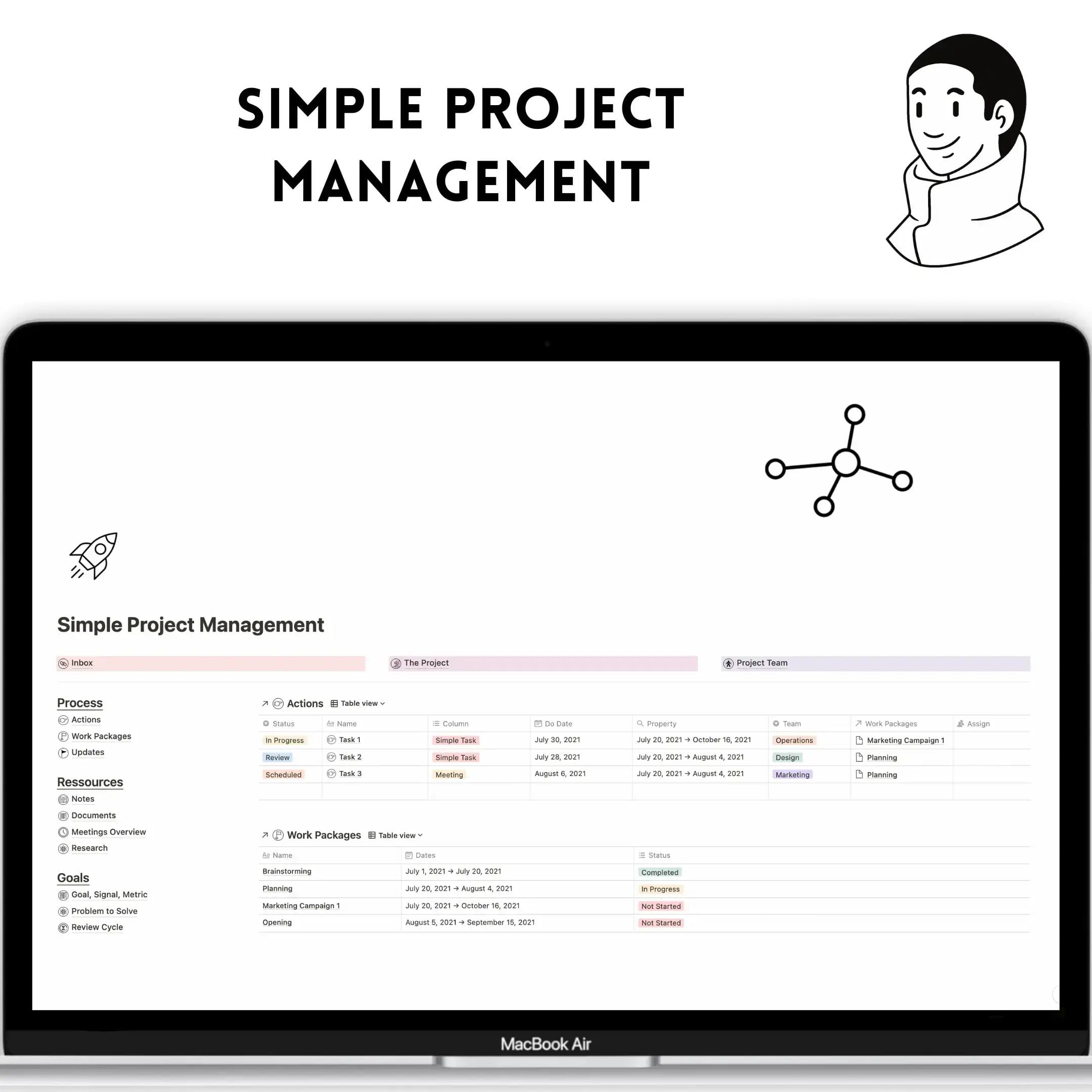 One of the standout features of the Simple Project Manager is its ability to prioritize tasks and share them with your teammates. This promotes effective collaboration and ensures that everyone is on the same page. The template also includes sections dedicated to processes, resources, and goals, which allow you to keep track of all the important information you need for your work.
Having everything in one place is incredibly convenient. The user-friendly interface of the Simple Project Manager is another aspect that my friend found to be impressive. Navigating through the menu bar is seamless, and everything is intuitively organized. The synced meetings dashboard is particularly useful for staying on top of appointments and deadlines. It's a simple yet efficient feature that significantly boosts productivity.
Here are some interesting features of this template;
Minimalistic and organized design for a clutter-free experience.
Sections for process, resources, and goals for efficient organization.
Prioritize tasks and share them with teammates for collaboration.
User-friendly interface with intuitive navigation for easy project management.
Reasonable price for a valuable and effective project management solution.
In terms of value, the Simple Project Manager offers all these incredible features at a reasonable price. Whether you're a freelancer, a small business owner, or part of a larger team, this template is adaptable to your needs and will undoubtedly streamline your project management process.
Conclusion: Choosing the Best Template for Your Needs
In conclusion, Notion offers a wide range of project management templates that can help streamline your workflow and improve efficiency. Whether you're a freelancer, small business owner, or part of a larger team, there are templates available to meet your specific needs.
And by choosing the best template for your needs, you can enhance productivity, stay organized, and achieve your project goals more effectively.
Good luck, and stay productive!
Also See: Best Notion Travel Templates to Simplify Trip Planning