Are you thinking of deleting your blog hosted on Blogger but don't know how to do it? Don't worry; here in this article, we will explain the complete process to delete a Blogger blog with step-by-step instructions.
Blogger is one of the best free-to-use blogging platforms managed by Google. They allow you to create different types of blogs and provide you with a free sub-domain. You can connect your custom domain name with a Blogger also.
With Blogger, there is no limitation. You can create unlimited numbers of blogs for free. Even you don't need to worry about the resources and all, no limit on any resources or bandwidth.
Benefits of Blogging on Blogger
Blogger has been in the market for the last 15 years. Many leading national and international bloggers started their online journey with Blogger, which has unique features, making it one of the best blogging platforms globally.
Even in today's world, where everyone suggests using WordPress rather than Blogger, Blogger is the best way to start the blogging journey. You can create your blog for free, publish unique content and make some money easily so that you can later invest in Domain and Hosting.
By deleting the blog on Blogger, if you are thinking of starting a new blog with any other platform, we suggest you continue using Blogger. Here is why Blogger is best than any other blogging platform,
1. User Friendly:
Blogger is a very user-friendly platform which makes it the perfect choice for newbie bloggers. You can create and design your blog in just a few clicks, even if you are entirely new in the online field. Everything can be visually edited, there is no need for coding knowledge.
2. Truly Free:
It is an entirely free-to-use platform. No matter how many blog posts you publish, how many images you upload, and how many people visit your blog, you will not need to pay a single penny.
3. Unrestricted HTML and CSS Experimentation:
Blogger provides you with complete freedom when it comes to designing your blog. If you are comfortable, you can edit the HTML and CSS of your websites.
4. Unlimited Bandwidth:
For those who don't know, bandwidth is the data transferred between user and server. In simple words, it defines how many visitors can visit your blog in a period. As we have already told you, you will get unlimited bandwidth with Blogger.
5. No Downtime:
Blogger is managed and owned by Google; that's why the service is very reliable. You will not face downtime, Blogger promises 100% uptime for your blog.
Those are the few benefits of using Blogger rather than any other content management system.
We don't know why you are deleting a blog, but we highly recommend you to backup all your data so that if your mind changes in the future, you can quickly restore it and start working on your blog again. Here is how you can backup your blog hosted on Blogger.
How to Back Up Your Blog Hosted on Blogger?
The Blogger doesn't provide you with a one-click option like WordPress to back up your blog. You need to separately back up your blog content in a .xml file and save the copy of your blog theme. Follow the below instructions carefully to be done with it.
1. Back-Up your Blog Content
To back up all the blog posts, pages, and comments, sign in to Blogger, and then from the top of the left side, click on the blog you want to backup.
Now go to the Settings from the menu located on the left side of the screen. Here you will get the option as Back up content Download under the Manage blog. Click on it, and then back up will start downloading.
Done, you have successfully backed up all your content, but you also need to save a copy of your blog's theme.
2. Save a Copy of your Blog's Theme
First of all, you need to sign in to Blogger and click on the blog of which theme you want to save. Then click on the Theme option on the left side, click on the Backup Download option, and you are done.
This is how you can take the backup of your entire blog. It can be quickly restored if needed. Now let's understand how you can delete the Blogger blog.
How to Delete a Blog on Blogger?
Deleting a blog on Blogger is not a difficult task. Below we have shared the step-by-step instructions, what you have to do is follow the below instructions carefully to be done with it.
First of all, log in to Blogger with the help of the correct login ID and password. Click here to go to the login page.


You need to select the blog you want to delete once you logged into your account. Select the blog, and you will be redirected to the particular blog's control panel.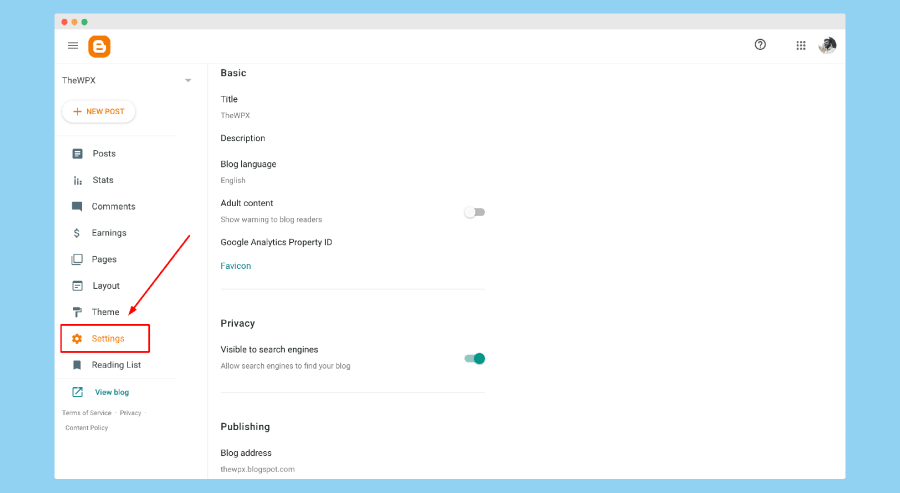 On the left-hand side, you will get the option "Settings," click on that as shown in the image below. Inside the Settings, scroll down, and you will get the option Remove your blog under the Manage Blog section.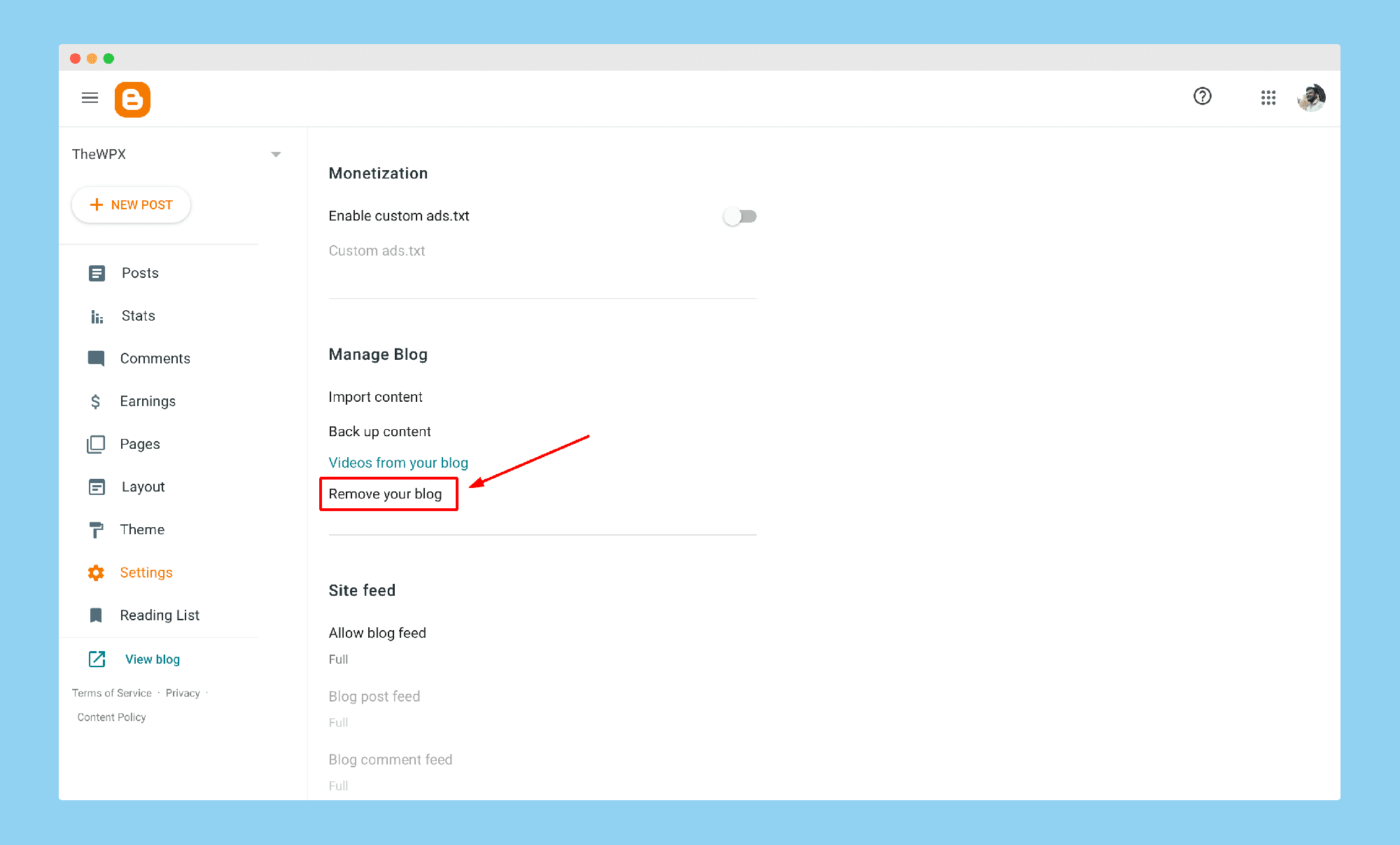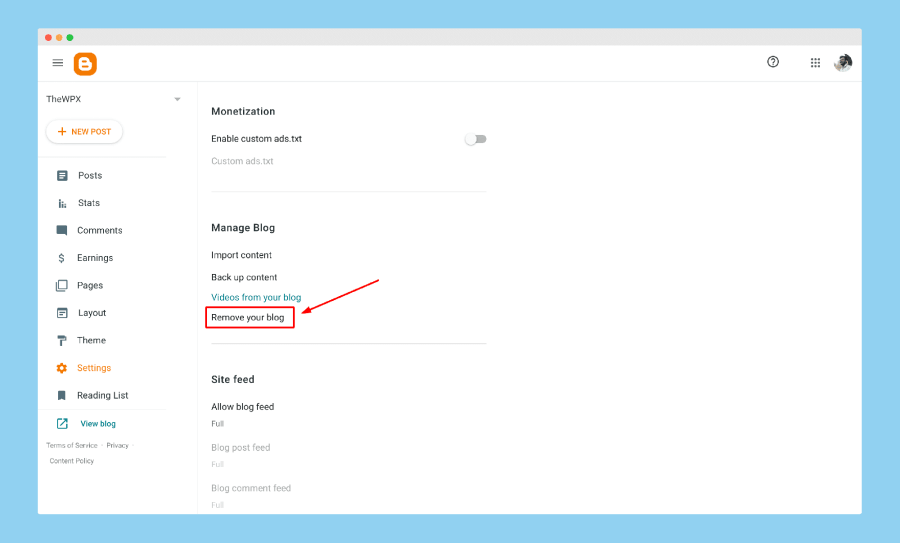 To delete the blog, click on the Remove your blog option, and then the Blogger will show you the final disclaimer inside a pop-up. On this pop-up window, the Blogger also provides you with the option to backup your blog.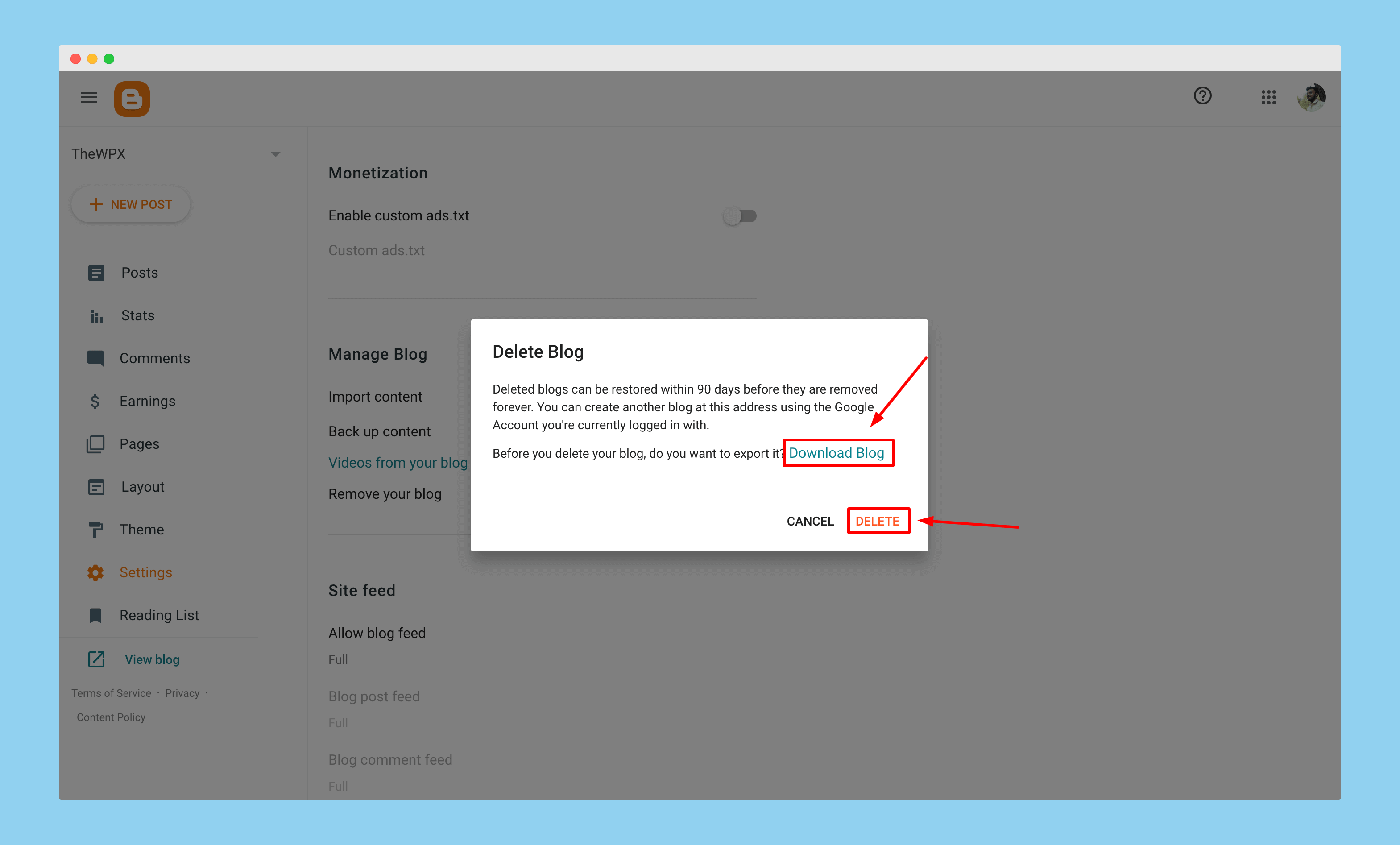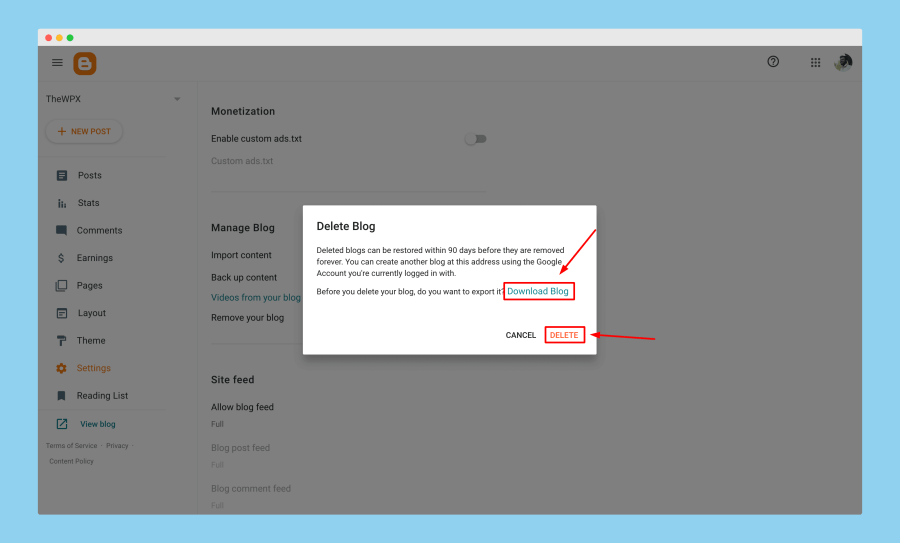 Even after deleting the blog, you can still restore it within 90 days. After 90 days, all your files will be permanently deleted.  Done, that's how you can delete your Blogger blog.
Which Blogging Platform Should I Choose Instead of Blogger?
If you are not satisfied with the Blogger and think of moving your blog to another blogging platform, then below, we have shared the 3 best alternatives to Blogger, which come with additional customization options and more flexibility.
1. WordPress
If you are not satisfied with the Blogger, we highly recommend you to move to WordPress. WordPress is one of the most preferred and widely used content management systems, providing you with the ability to design your blog as you want.
WordPress powers more than 39.5% of all websites and has a market share of 64.1%. It is a perfect platform for blogging when it comes to performance, speed, security, and flexibility. That's why almost all professional bloggers prefer to use WordPress than any other content management system.
Creating a blog on WordPress is not a challenging task, but now the question arises how can you do it?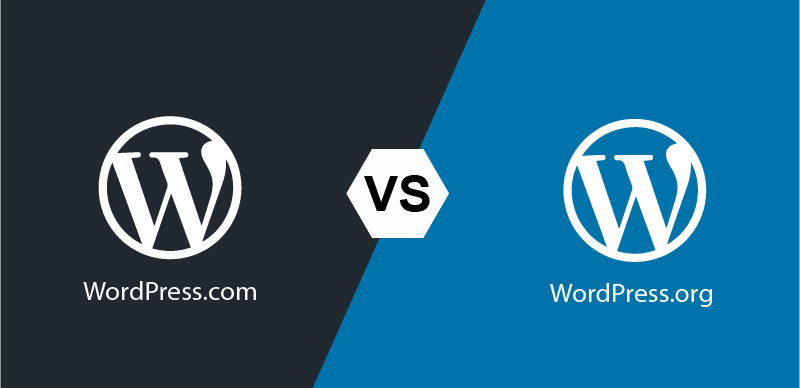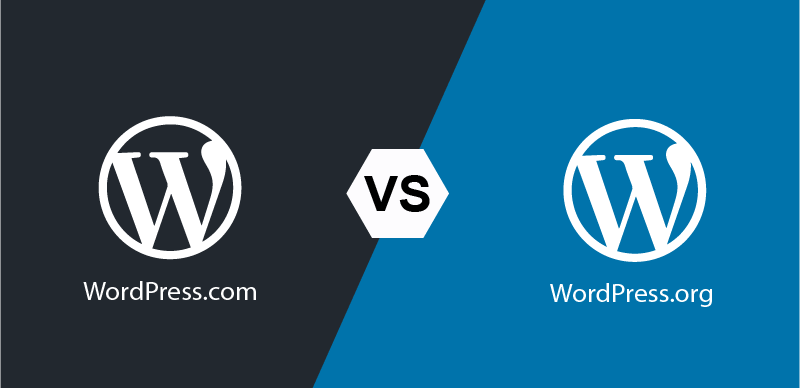 WordPress allows you to create a blog in two different ways. The first one is the blog hosted on wordpress.com for free, and it is more like a Blogger. Another way is the self-hosted blog, for which you need to purchase the domain and host separately, https://theguidex.com/ is the self-hosted type of blog.
To create your self-hosted blog, you first need to purchase the domain name. We recommend you the domain registers like godaddy.com and namecheap.com to buy the domain name.
Talking about hosting, we recommend you choose to host from SiteGround, GreenGeeks, or Flywheel. Those are the best and leading hosting providers across the globe, and come with tons of amazing features like free CDN, free SSL, and free website migration.
After purchasing the domain name and hosting, you need to connect your domain name to hosting by changing the nameserver. Then install the WordPress on your domain name, and you are done.
2. Ghost
Ghost is another best alternative for bloggers. As with Blogger, Ghost provides you with free hosting, you need to purchase your domain, and you can connect the custom domain with your Ghost website.
Another good thing about Ghost is that it comes with pre-build features. There is no need to install any additional plugins. The post editor of the Ghost is pretty much like Medium.


Ghost offers you 14 days of free trial and 4 different plans to choose from. You can choose any plan according to your website's visitors. You will get SSL and CDN for free with all their plans.
When you create a website with Ghost, you need to choose from a wide range of themes. They have a vast collection of fantastic themes. What you have to do is choose the theme and install it.
3. Third-Party CMS
If you don't want to go with WordPress and Ghost both, then the third option is to develop your own blogging CMS or purchase the custom build CMS from the websites like CodeCanyon.
Few bloggers develop their own CMS for additional features. Developing your own CMS will cost you way more, and it also doesn't make any to it when WordPress is available for free.
Talking about our recommendation, we suggest you go with WordPress because it's an accessible, reliable, and secure platform for blogs and websites.
Frequently Asked Questions (FAQs)
1. Does Blogger delete inactive blogs?
No, Blogger does not delete your blog without any reason, no matter how much time you have not updated it. Bloggers only take action against the blog where the malicious content is published. If you are posting spammy content, then Blogger will delete your blog without any notice.
2. Does a Blogger need hosting?
No, Blogger will provide you with free and truly unlimited hosting. They offer you unlimited bandwidth, unlimited deskspace, and fantastic speed. There is no need to purchase the hosting.
3. Can I delete my blog without account access?
No, you need to have account access to delete the blog. If you have lost your account password, you can quickly recover it with the help of Forgot Password option.
4. How can I recover my permanently deleted blog?
There are 2 ways to recover your permanently deleted blog. Blogger provides you with the option to recover the deleted blog within 90 days, or you can restore the backup.
5. Is Blogger safe to use?
Yes, Blogger is an entirely safe, authentic, and free-to-use platform. It is managed and owned by Google itself.
6. Is WordPress better than Blogger?
Yes, WordPress is better than Blogger. WordPress provides you unlimited customization options and more flexibility.
Final Words
We hope after reading this article, you are able to delete your Bloggers blog. The process of deleting the blog is not so hard. Make sure you have successfully taken the backup of your blog before deleting it.
Few people delete their blog to start a new one using WordPress, if you are one of them, there is no need to delete the blog. You can easily migrate from Blogger to WordPress without losing any data. WordPress provides you with much more functionality than Blogger.
It is effortless to create a blog or website with WordPress. Please check out our articles about starting a blog, domain name registrars, and the best cheap web hosting providers for more information.
We hope this article about deleting a blog on Blogger is helpful to you. If you found this article helpful for you in any manner, do share it on social media. Please stay connected with us for future updates.