If you are active in the digital market then you already know the importance of understanding and keeping track of your prospects' actions on your website. It holds immense power as it grants you valuable insights into the effectiveness of your marketing attempts to know what exactly works for you. However, digging deeper into these insights can become a challenging task. That's why we have tools like Google Analytics.
Undoubtedly Google Analytics is the dominant player in the market but it might not be the optimal choice for every situation. Factors like data sampling, incomplete information due to privacy concerns, and an intricate interface can leave you feeling overwhelmed.
That's why there are abundant alternatives to Google Analytics that are worth exploring. So here are our top 6 Google Analytics Alternatives that Focus on User-Privacy.
Best Google Analytics Alternatives
We know that google analytics is the best when it comes to tracking various metrics related to your website or app. But there are several great alternatives that provide much more features.
We have gathered some of such best 6 alternatives that you can install and use for your websites. These alternatives provide a diverse range of options to suit your specific needs.
If the website of NASA is using this as an alternative to Google Analytics then you have to admit that there is something special about this tool. It's the most widely known Google Analytics tool in the market, with over 1 million websites, including sites like NASA, European Commission, United Nations, and Ahrefs.

With Matomo, you'll have the ability to thoroughly analyze the traffic on your website and uncover valuable insights, such as the geographical origin of your visitors, the referring sources on the internet, the sections of your site where visitors spend the most time, and much more.
All this data is a game changer when it comes to generating more sales and understanding your audience's needs.
Powerful features like goal tracking, funnels, and custom reports make it a strong alternative to Google Analytics.
When it comes to page speed, Matomo has done a great job of minimizing any potential impact by loading its scripts asynchronously and deferring them. In case you still encounter any performance issues, the developers have provided a detailed performance guide to assist you.
Top Features:
Now let us look at the top 3 fascinating features of the Matomo analytics app:
Open-Source: Matomo is an open-source analytics platform. This means that the source code of this app is available for customization allowing users more control and transparency over their analytics data.
Real-time tracking and reporting: Real-time analytics of this app is one of the highlight features. Matomo provides real-time tracking and reporting, allowing you to monitor your website or app performance as it happens. You can see live visitor data, such as active users, page views, and conversions, providing immediate insights into user behavior.
Data Ownership: Matamo allows users to have full ownership of their data. Unlike some other analytics tools, Matomo allows you to store and control your data on your own servers, ensuring data privacy and compliance with regulations like GDPR.
Other than the above features, various other options like Goal and Conversion Tracking, Customizable Dashboards, Heatmaps and Session Recording, A/B Testing, etc, are some of its noteworthy features.
Pricing:

All of these features and still it's free for self-hosted websites, with no limitations on the number of hits your site receives, such as page views, downloads, content tracking, etc.
Alternatively, if you prefer the convenience of cloud hosting provided by the company, you can opt for their $23/month plan, which covers 50,000 hits. However, this plan imposes certain restrictions.
Plausible, a website analytics platform that is fully compliant with GDPR regulations.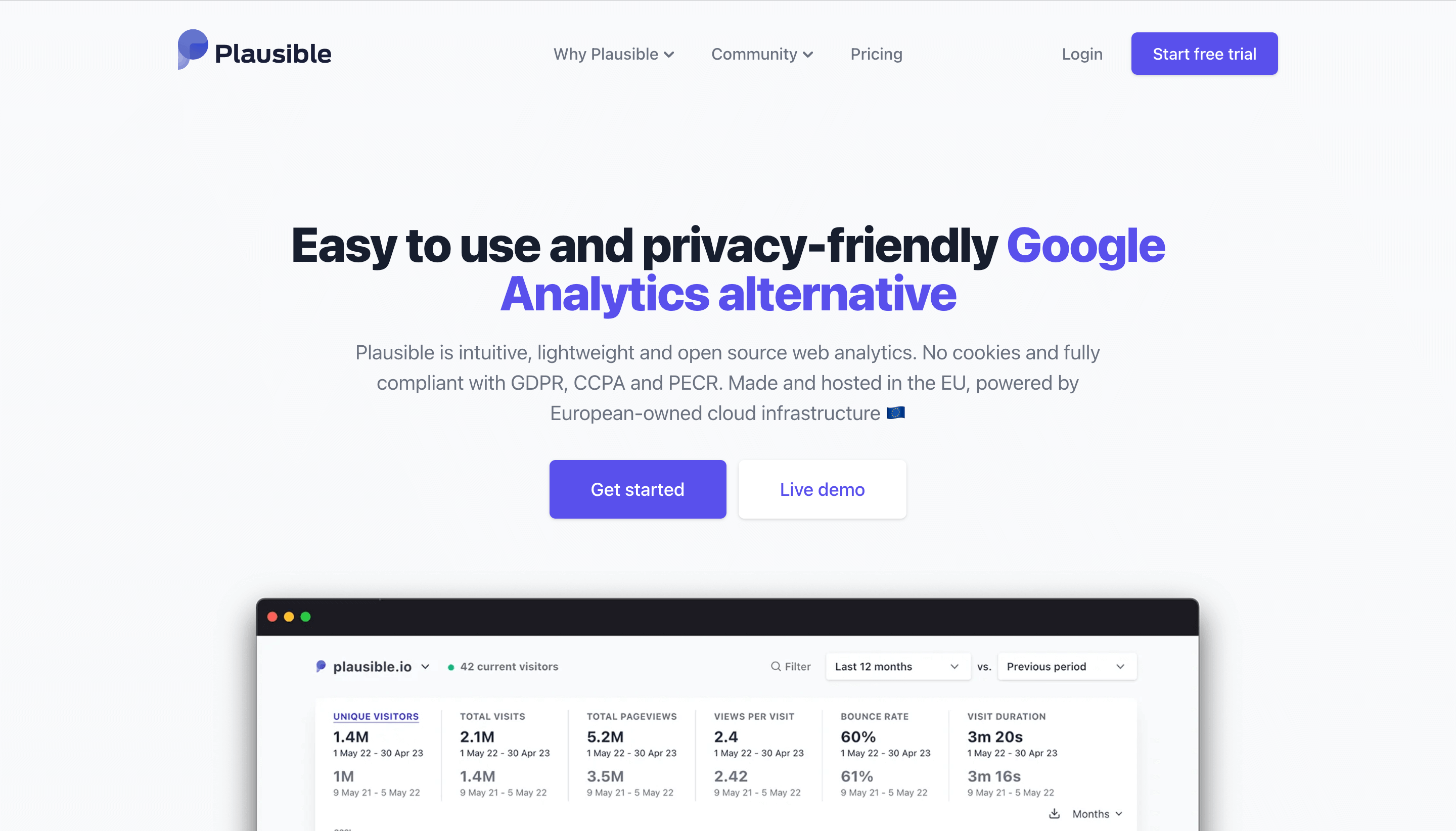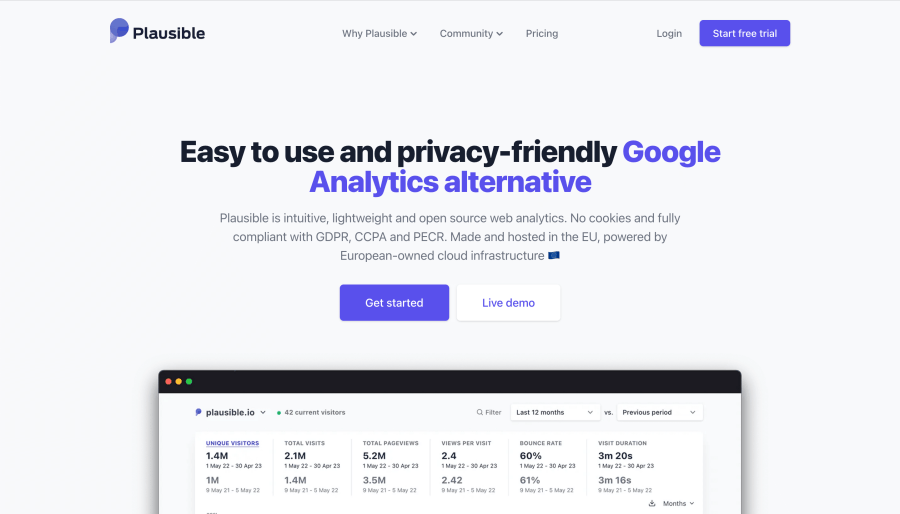 It prioritizes user privacy and ensures a lightning-fast experience with its lightweight script that adds less than 1 KB to your website. That is impressive! What sets Plausible apart is its progressive approach to web tracking. Unlike traditional methods, Plausible doesn't rely on cookies or collect personal data. It tracks user count based on unique IP addresses, which are cleared every 24 hours.
Additionally, Plausible is an open-source platform, meaning its code is visible and can be scrutinized to verify its privacy claims.
It only collects aggregated data without compromising your user's privacy and even avoids the invasive practice of tracking users across multiple devices, respecting their boundaries, and maintaining their anonymity.
This tool keeps things straightforward by presenting all your reports on a single page. This makes it easy to grasp the essential insights without overwhelming you with complex data.
Top Features:
Plausible has several features that digital marketers love. The top 3 features are as follows:
Focus on privacy: Plausible Analytics prioritizes user privacy. It does not use cookies, does not track personal data, and does not collect or store any personally identifiable information (PII).
Simple and Lightweight: Plausible Analytics offers a simple and lightweight implementation. The tracking script is small in size, reducing the impact on page load times and improving the overall user experience. It focuses on providing essential analytics without unnecessary bloat.
Traffic Sources: Plausible Analytics provides insights into your traffic sources. You can identify the channels that drive visitors to your website, such as search engines, social media, or direct traffic. This information helps you understand which marketing efforts are effective in driving traffic.
Other than the above, Plausible also provides real-time analytics, Pageviews and Unique Visitors count, Referral Analysis, event tracking, Data Export, etc.,
Pricing: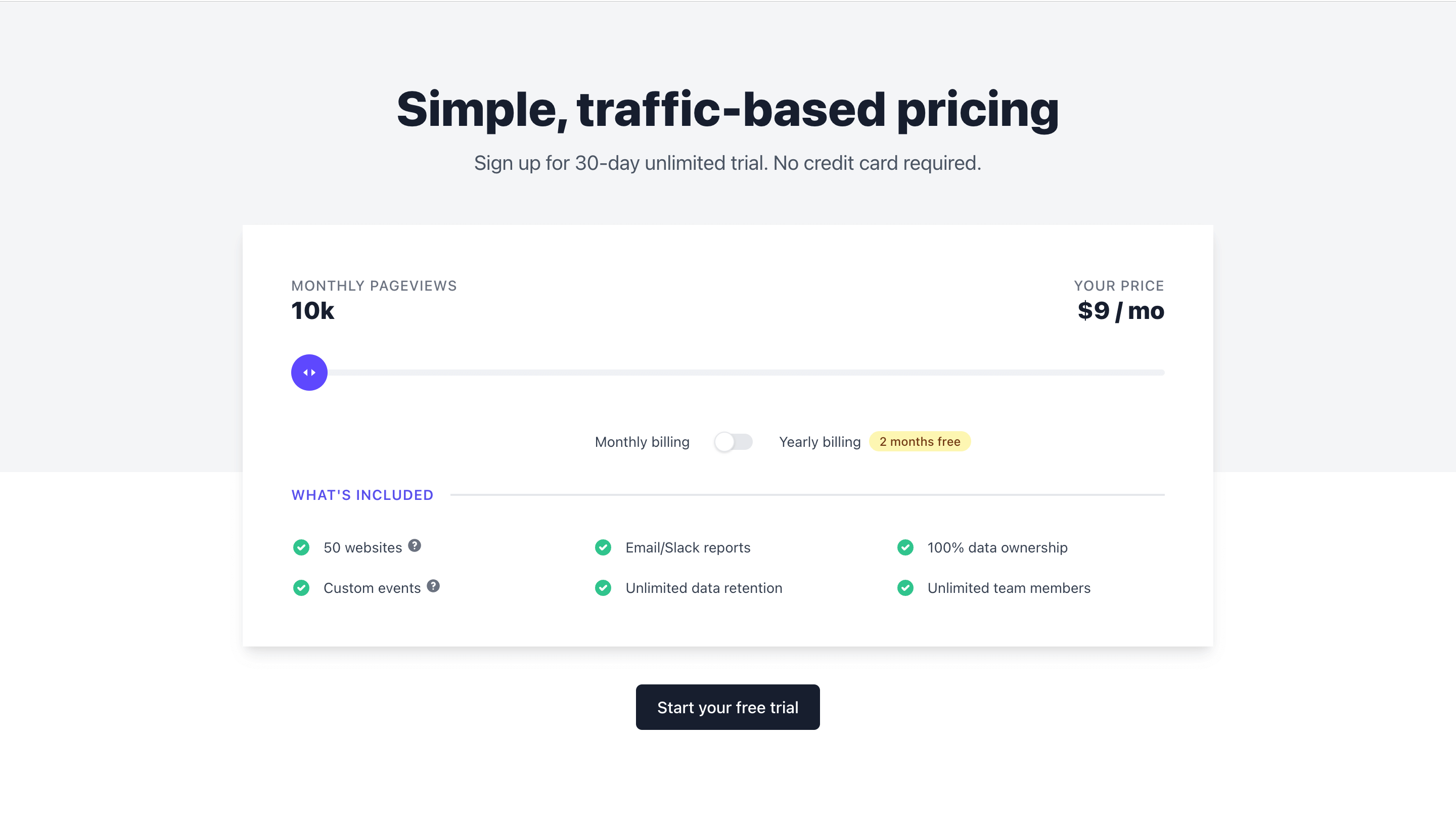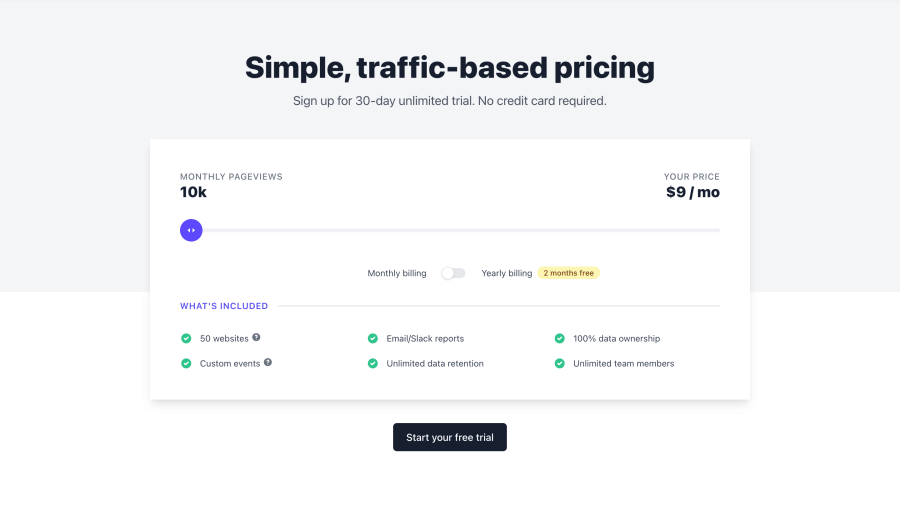 Plausible has kept the pricing based on the traffic that your website receives. The basic pricing starts at $9 per month per 10000 views. And it can go up to $169 a month depending on the number of views that you are expected to receive. There is also the option of monthly and yearly billing. To encourage yearly billing they also provide 2 months completely free if you go for yearly billing.
If you want to test the waters, you also have a free 30-day trial period.
Fathom is designed specially by keeping users privacy and speed as the base element.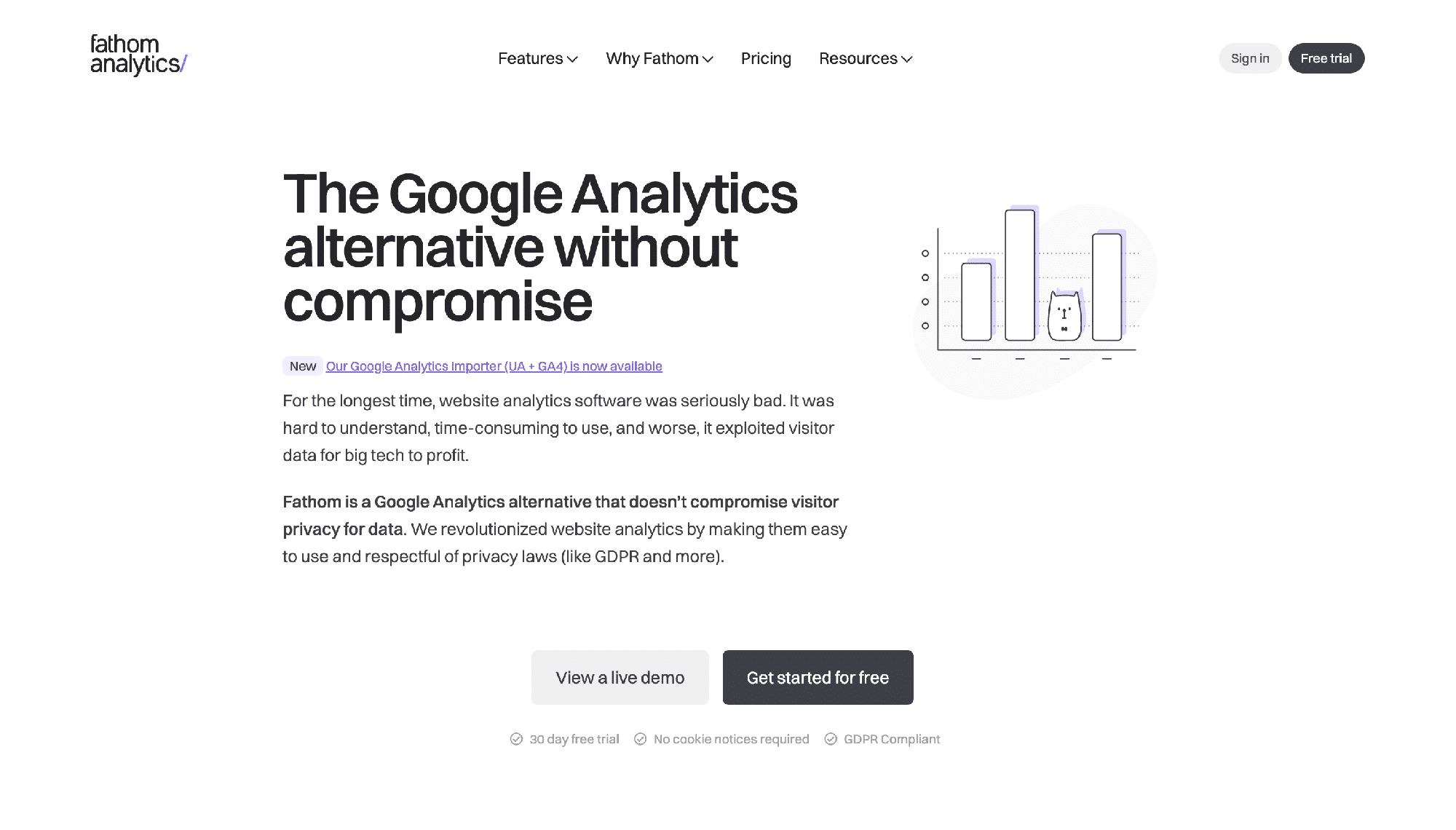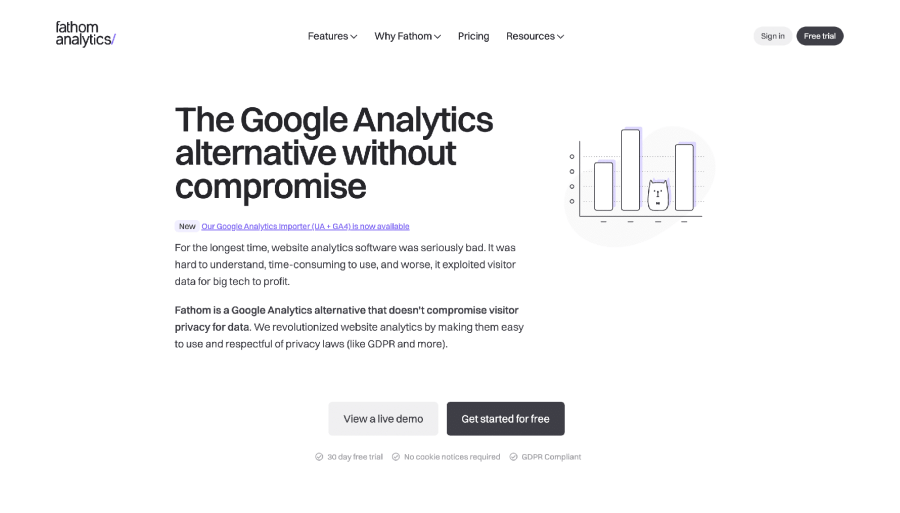 It goes the extra mile to safeguard the digital identities of your visitors by generating unique signatures for each individual through a process called hashing.
That simply means you can gather valuable analytical data for your website without invading your visitors' online activities outside of your platform. Fathom efficiently sidesteps ad blockers while preserving user privacy, ensuring that the data you collect remains as accurate as possible.
When it comes to analytics, you have the option to observe all the collected data in real time or within a specific timeframe that depends on the option that you choose. Also, you have the option to establish and track specific events and UTM campaigns according to your requirements.
Top Features:
Now let us have a look at the top 3 features of the Fathom analytics tool.
Easy Setup: Fathom Analytics offers a simple and straightforward setup process. It provides a single line of code that you can add to your website, making implementation quick and easy. The lightweight script helps maintain fast page load times and ensures a smooth user experience.
Website Metrics: Fathom Analytics tracks essential website metrics, such as page views, unique visitors, bounce rate, and average time on site. These metrics provide insights into your website's performance, user engagement, and popular content.
Geolocation: Fathom Analytics provides geolocation data, giving you insights into where your website visitors are located. You can see the countries and cities from which your visitors are accessing your site, which can be useful for targeting specific regions or tailoring content to different audiences.
Several other useful features of Fathom include Device and Browser Analysis, Goals and Conversion Tracking, Multiple Website Support, Privacy-Focused Approach, Referral tracking, etc.,
Pricing: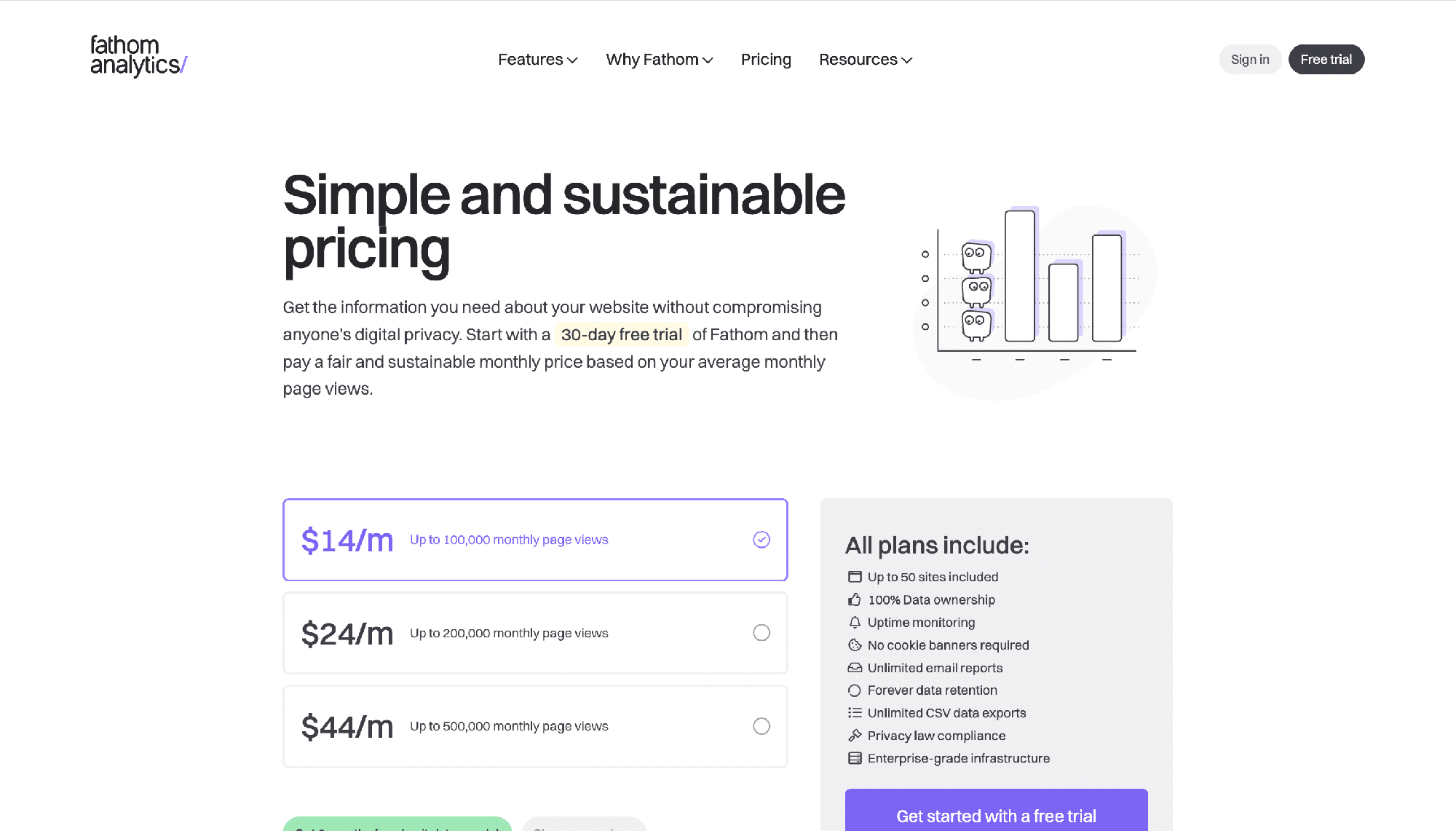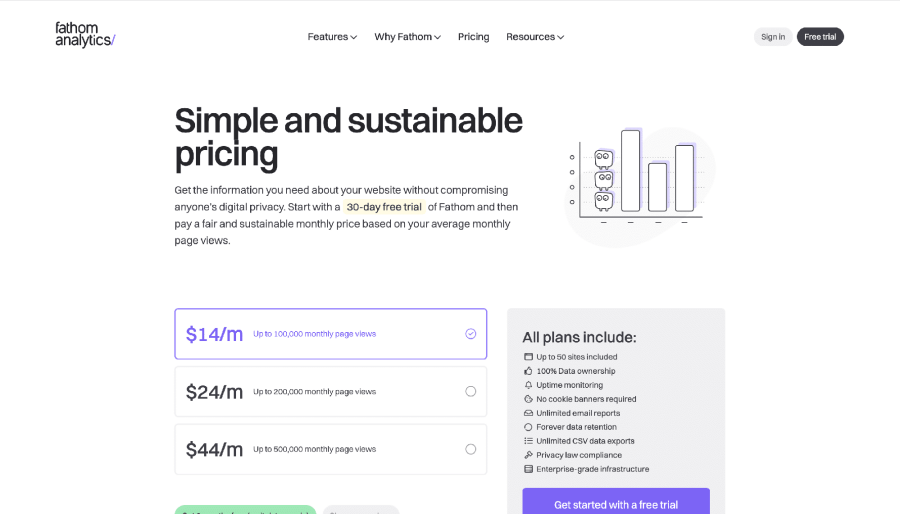 Fathom has kept an affordable price range, with the plan starting at $14 per month, which enables you to track up to 100,000 pageviews. If the monthly page views are up to 200,000 the price is $24 per month, and the price goes up to $44 per month when the page views go up to 500,000 per month.
The best part is you even get the advantage of using a 7-day trial period in which you can test if this is what you are looking for. You can cancel your trial and get a refund.
Users claim GoSquared Analytics is a web analytical tool that prioritizes user privacy and has most of the features provided by Google Analytics. Now the first impression of this tool is cluttered, but you have the power to customize its layout as per your preference.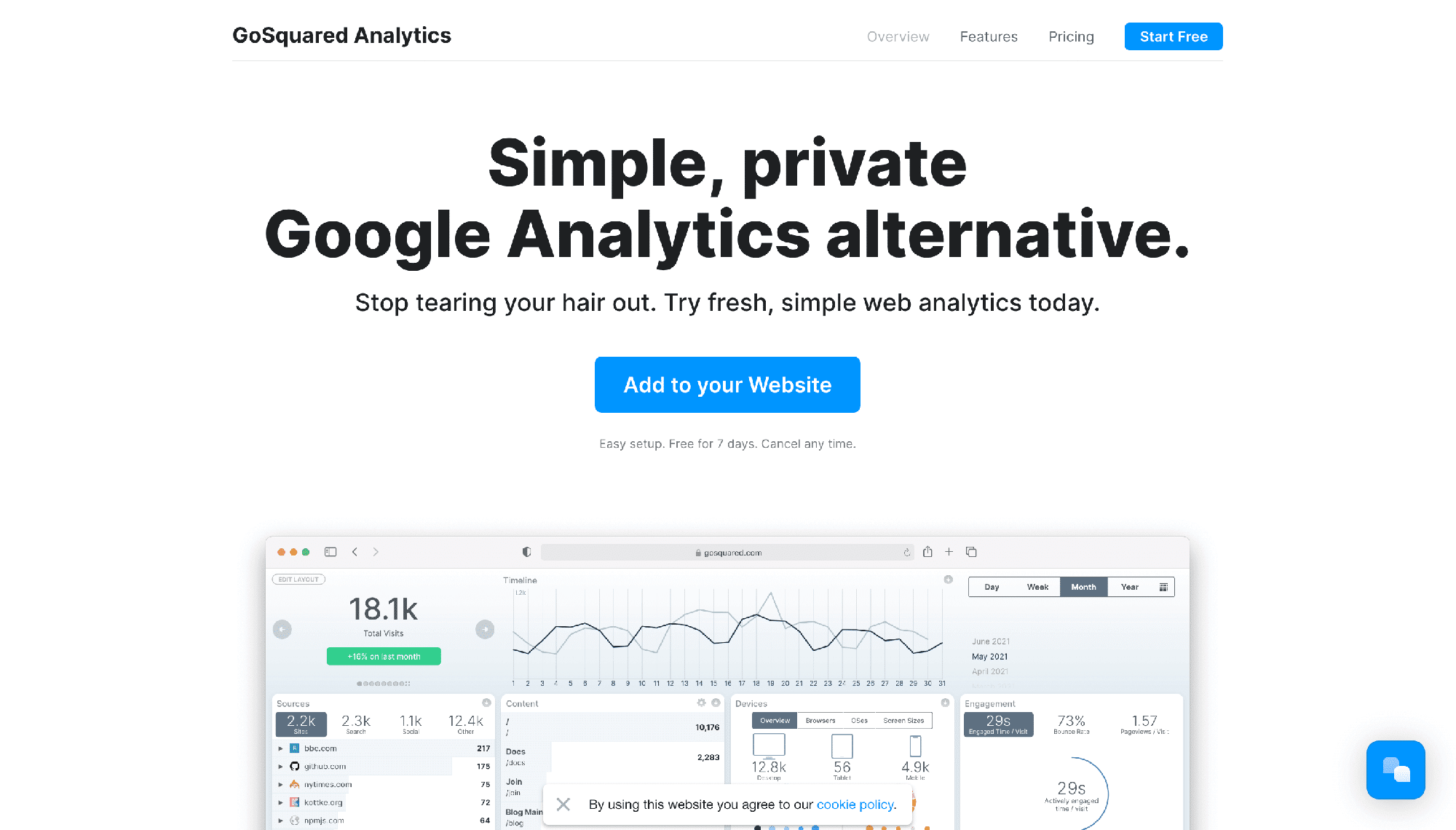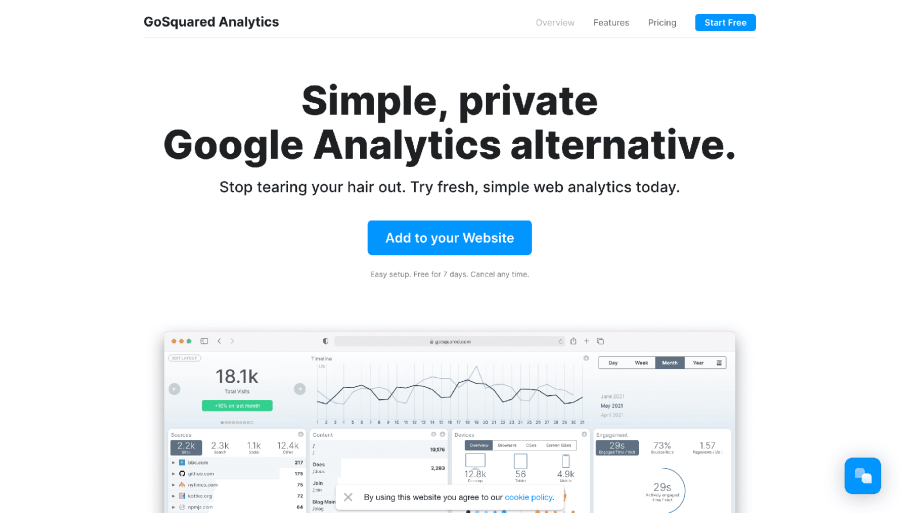 This means you can make it appear just the way you like it.
One of the great things about GoSquared Analytics is that it gives you the flexibility to switch between different data viewing options based on different timeframe that suits your needs.
It collects valuable information for you, track event,  and create campaigns to enhance your analytics experience even further.
Top Features:
Here are some notable features of GoSquared Analytics:
Visitor Tracking: GoSquared provides detailed information about your website visitors, including their location, device, browser, and referral source. You can understand who your audience is and tailor your marketing strategies accordingly.
Funnel Analysis: With GoSquared, you can create and analyze conversion funnels, which are sequences of steps that visitors take on your website to complete a specific goal. Funnel analysis helps you identify bottlenecks and optimize your website's user experience to increase conversions.
Traffic Sources: You can analyze the sources of your website traffic and determine which channels are driving the most visitors. GoSquared integrates with various platforms to track referrals from search engines, social media, advertising campaigns, and more.
Some other features of GoSquared Analytics are Conversion Tracking, Behavior Analytics, Customizable Dashboards, A/B Testing, etc.,
Pricing: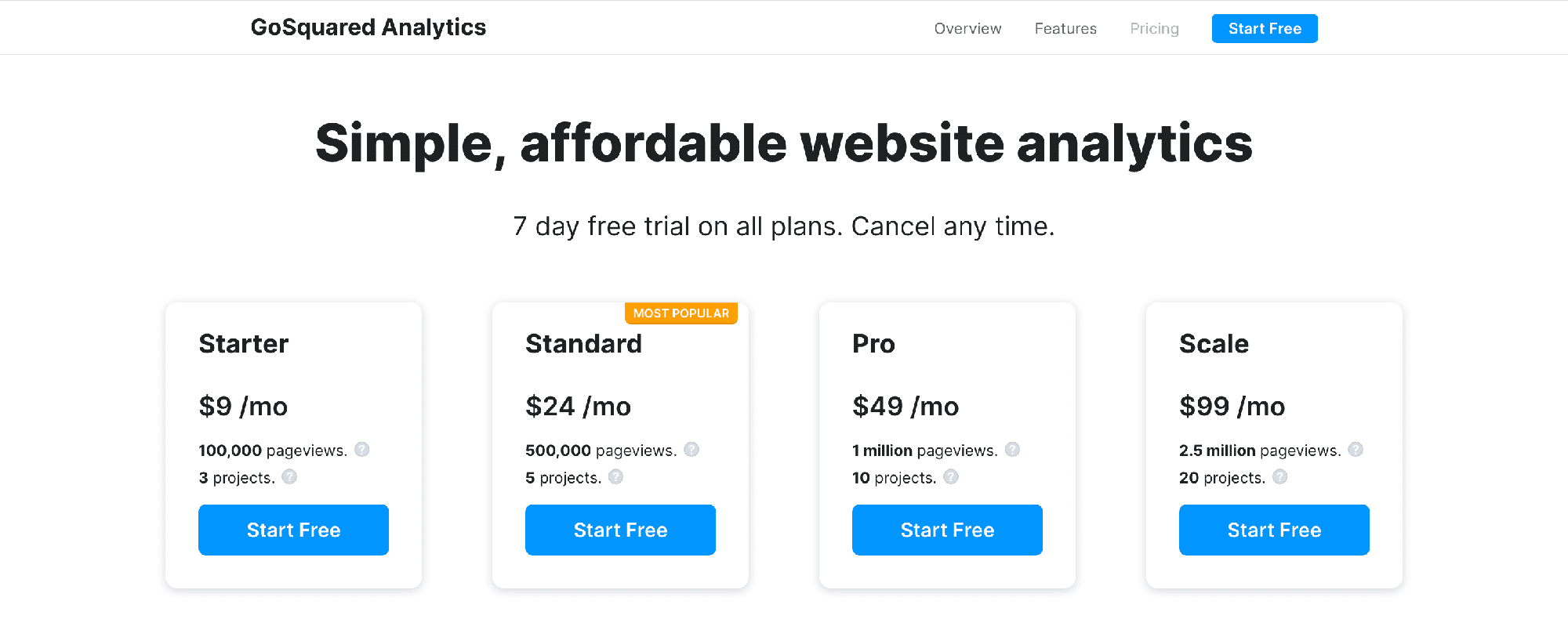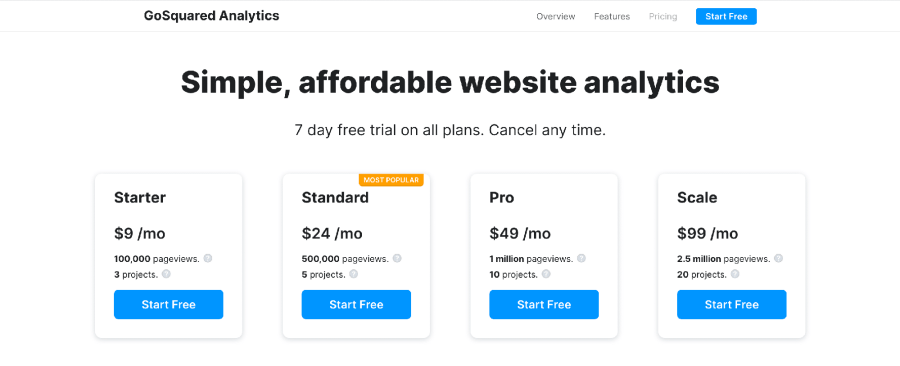 You can try GoSquared Analytics free of charge for a whole week to explore its capabilities. After that, if you decide to continue, the cost is only $9 per month for up to 100,000 page views.
Simple Analytics brings you a streamlined and user-friendly dashboard.
You have the power to get instant insights into your website's traffic, sources, and user behavior without the need for invasive cookies or intrusive tracking. Here the user's data is consistently encrypted, and never store any personal information about your visitors.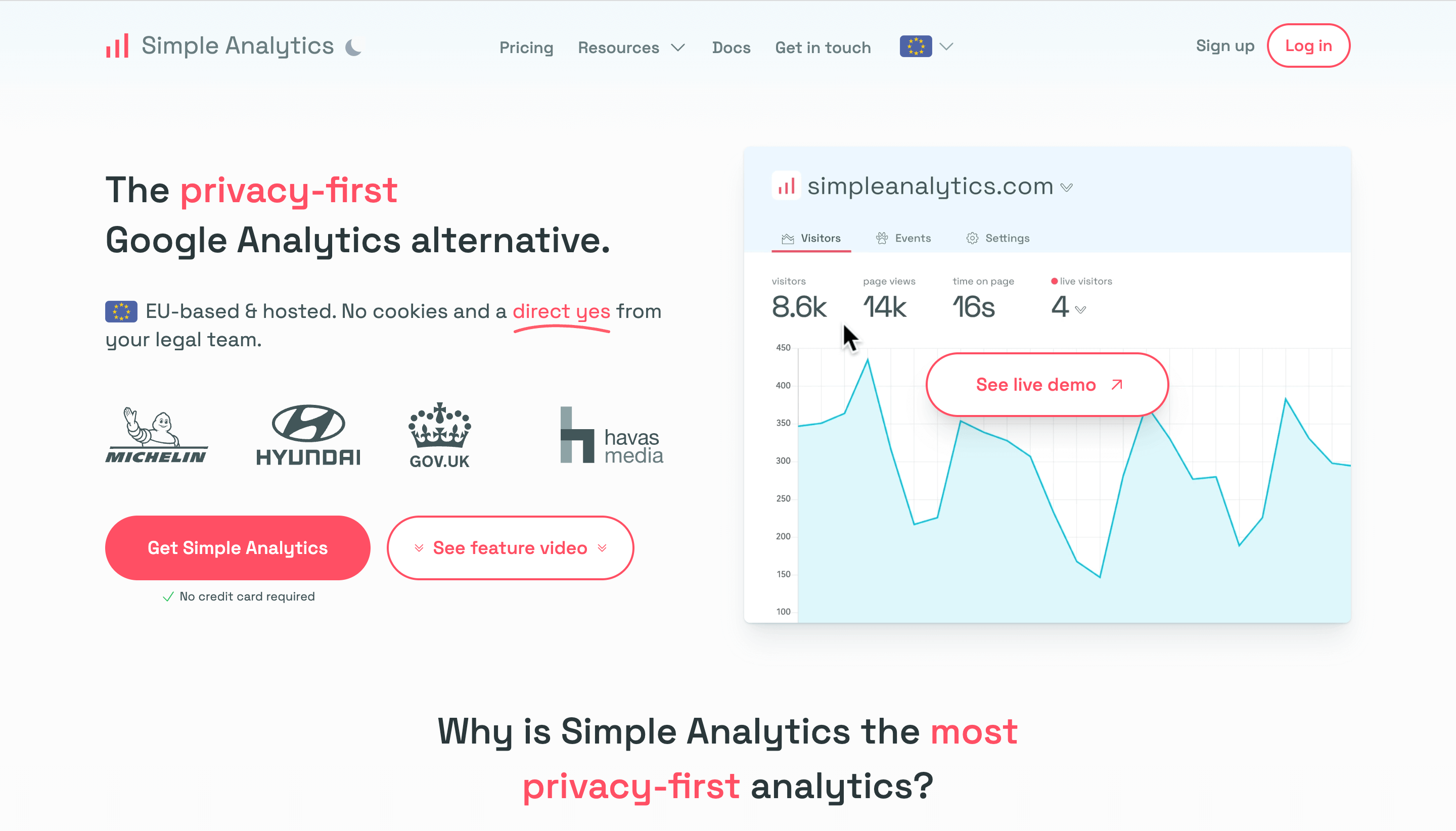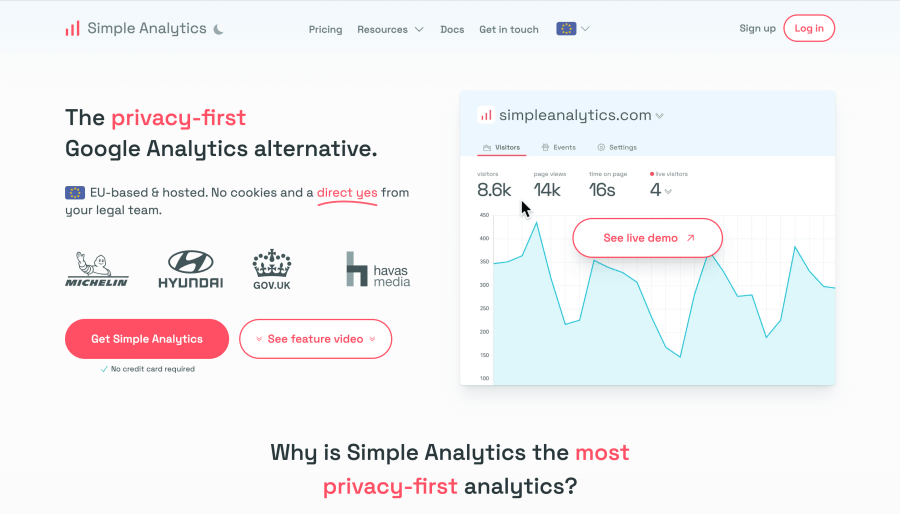 As a company operating within the EU and utilizing EU-based servers, it guarantees the security and protection of your valuable data.
It has features like Data Import and Export, which import your data from Google Analytics and export it to your preferred systems, such as Power BI, data lakes, and more.
This tool automatically collects events such as downloads, outbound links, and email clicks. You can schedule your reports to be shared automatically at any desired time.
Top Features:
Content Analytics: Simple Analytics provides insights into the performance of your website content. You can see which pages or articles are most popular, how long visitors spend on each page, and which pages lead to conversions or desired actions.
Customizable Dashboards: Simple Analytics offers customizable dashboards where you can visualize and organize the data that is most important to you. You can create personalized reports and monitor key metrics according to your specific business requirements.
Integration and APIs: Simple Analytics provides integrations and APIs that allow you to connect your analytics data with other tools and services. You can integrate Simple Analytics with content management systems, e-commerce platforms, or other systems to streamline your workflows.
Pricing: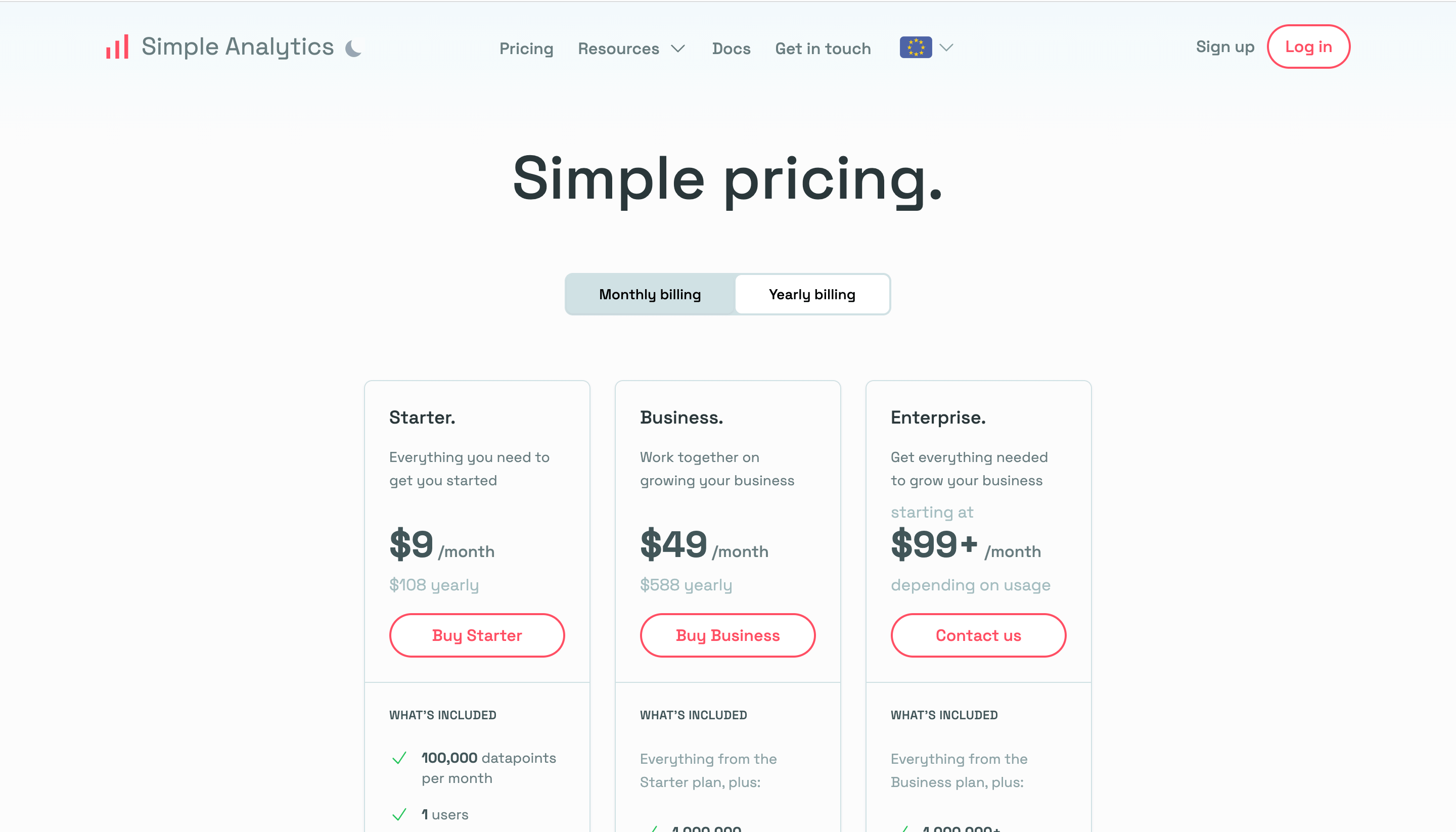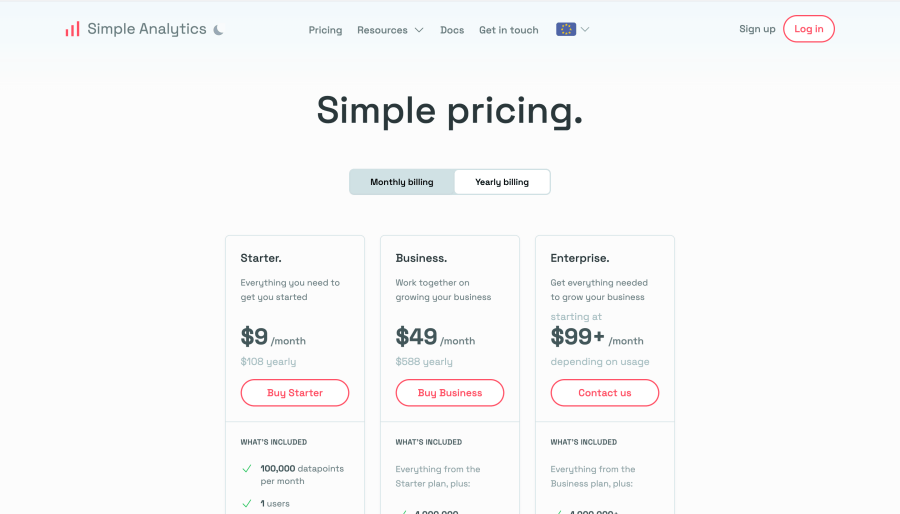 The starter plan is for $9 per month or $108 per year, with 100,000 data points/month on the yearly plan. You can track 10 websites but has only one user access.
The other two plans are called Business, with the pricing at $49 per month or $588 yearly, and the Enterprise plan at $99 per month.
StatCounter is another amazing alternative to Google Analytics that provides you with detailed data on your traffic output. It divides pieces of information into several sections so it's easy for you to navigate and understand.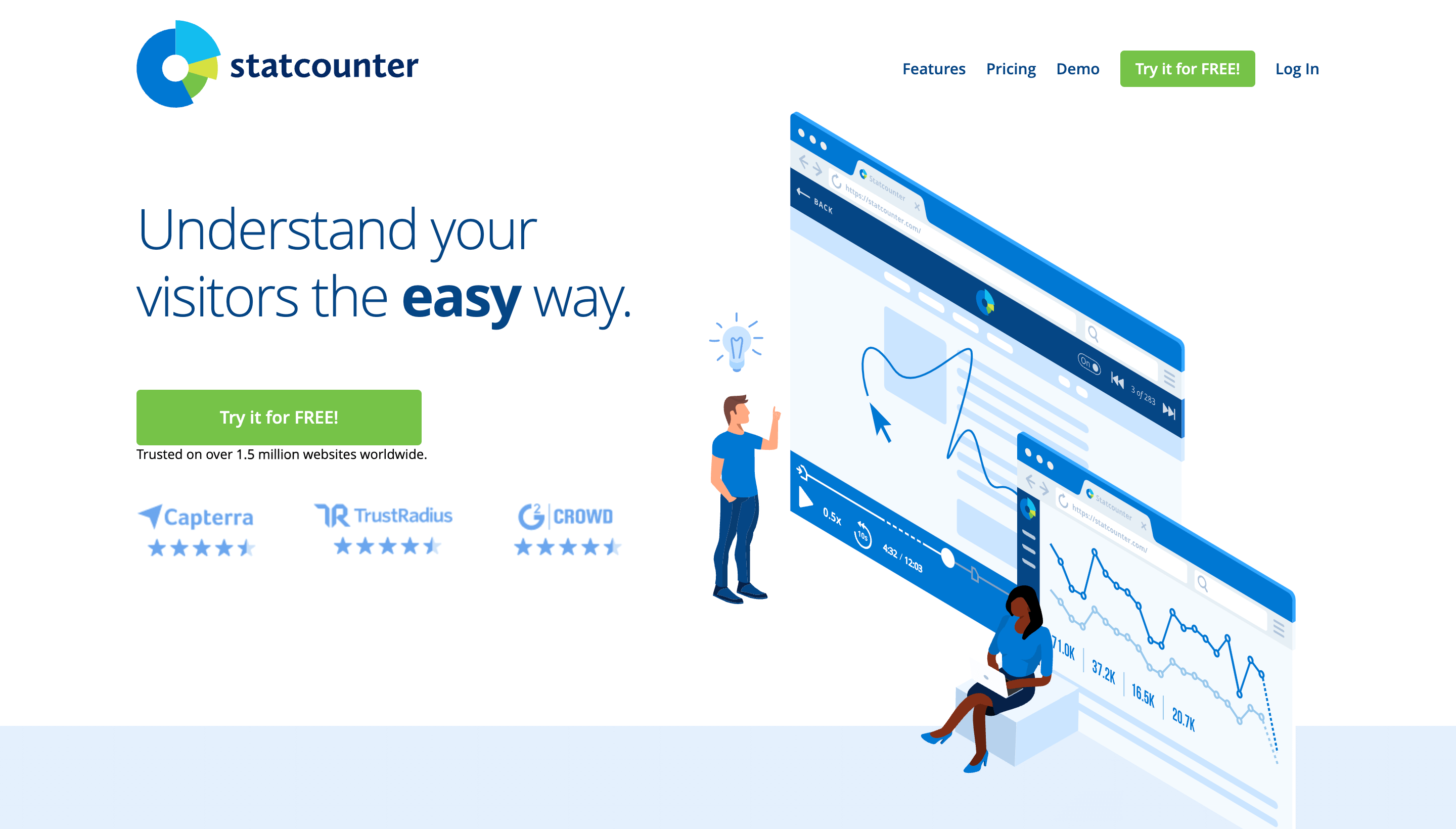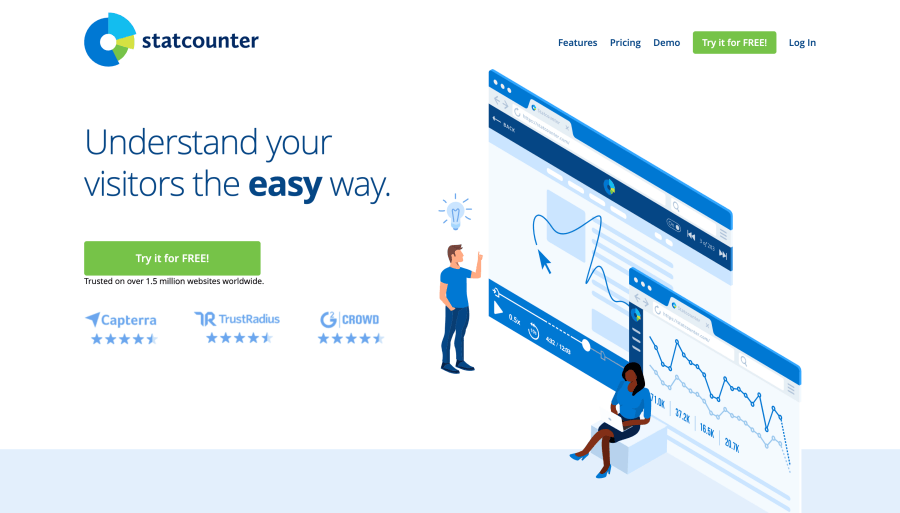 For those seeking a more comprehensive analysis, the Reports section comes into play. It is a comprehensive breakdown continuing valuable statistics regarding the geographical sources of your traffic, followed by a breakdown of the percentage derived from different avenues.
The Summary section provides you with an overview of the total number of pageviews and distinct visits within a specific timeframe.
StatCounter utilizes cookies, stored within your visitors' web browsers. These cookies do not retain any personal information, yet it is important to display a cookie consent banner on your website.
Top Features:
Easy Implementation: Statcounter offers a simple and straightforward implementation process. You can easily add a small tracking code snippet to your website's pages and start collecting data immediately.
Page Analysis: With Statcounter, you can analyze individual page views, including entry and exit pages, time spent on each page, and the path visitors take through your website. This information helps you understand user behavior and identify areas for improvement.
Keyword Analysis: Statcounter provides keyword analytics, allowing you to see the search terms that led visitors to your website. You can identify popular keywords, monitor changes in search trends, and optimize your content to improve search engine visibility.
Pricing: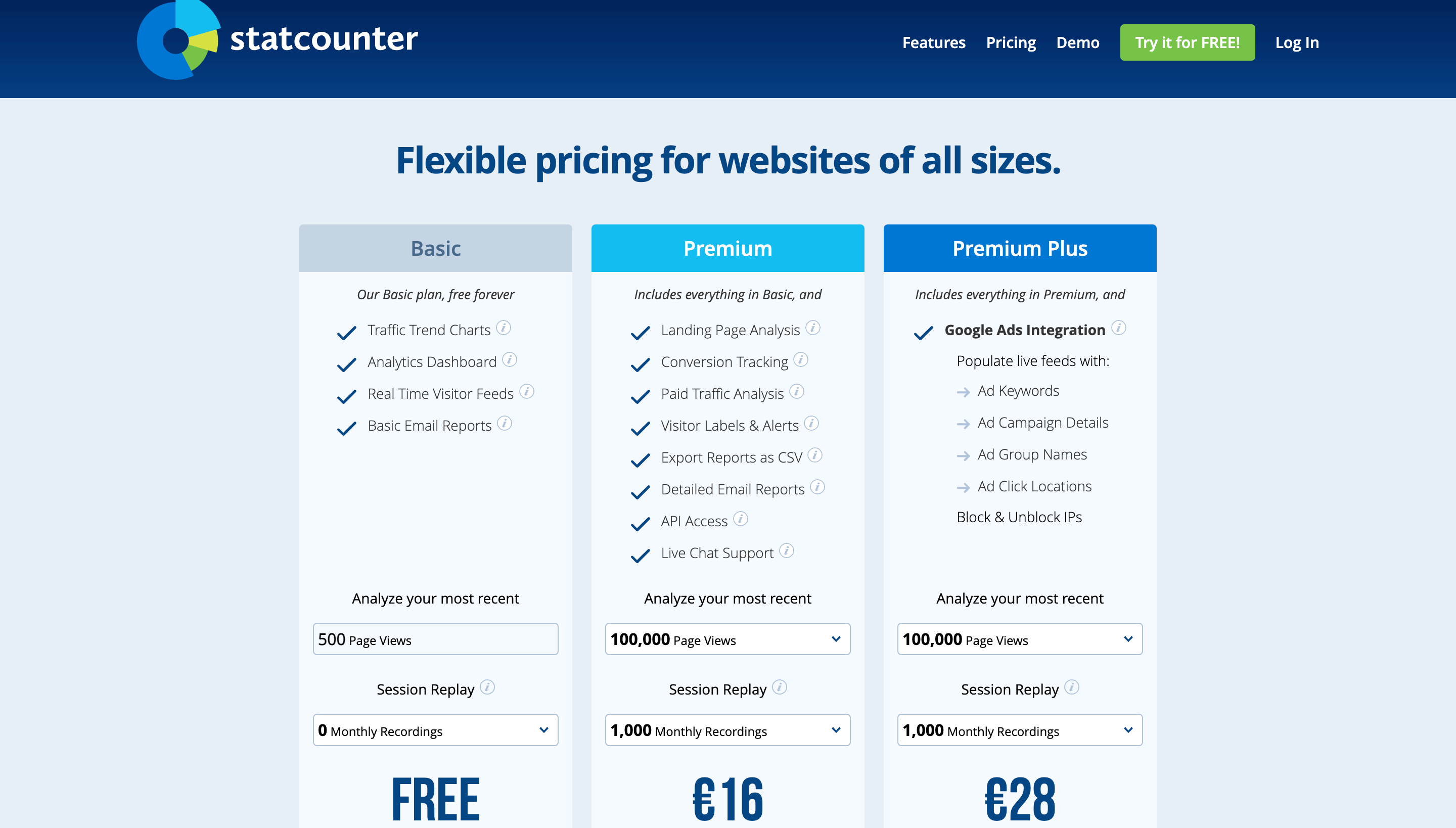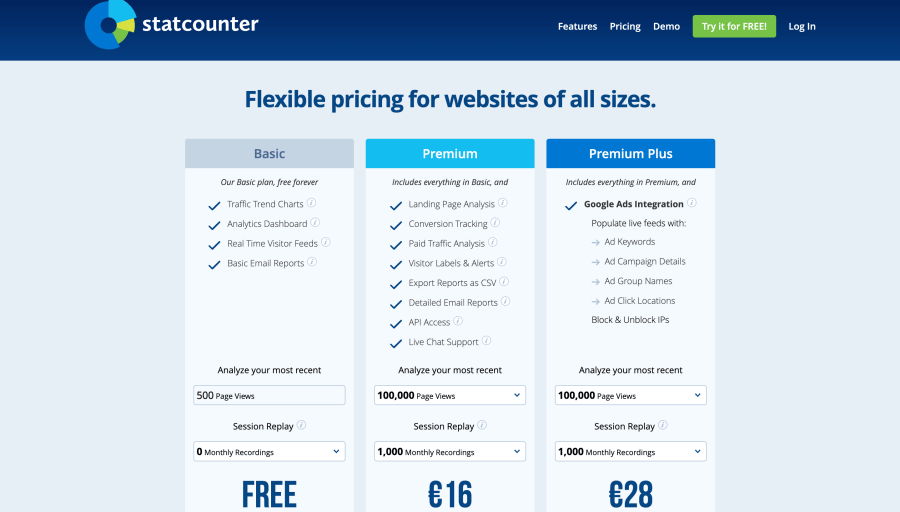 For pricing, you have both free and paid versions. The basic plan is free.
The starting subscription fee is 16 pounds per month on the premium, accommodating up to 100,000 pageviews, and 28 pounds per month on the premium plus plan.
Wrapping Up!
Google Analytics is undoubtedly the best and the most dominating one in the market, but you have the full right to choose the best based on your options and needs.
So if you have the budget and want to explore some options with additional privacy and features, these are some of the best that you should give a try.
Our best recommendations keeping privacy in mind will be Fathom, Plausible, and GoSquared. With that being said, consider sharing this article with other webmasters and business owners to safeguard their user's privacy.